Mobile game Flappy Bird was launched in May 2013 by Vietnam-based developer Dong Nguyen and published by DotGEARS Studios. It became popular fast, generating 50 million downloads by January 2014, making it one of the top free games on the Android and iOS app stores. The obvious question is – how much did Flappy Bird make? The game's author claimed that it generated $50,000 a day in in-app advertising.
It was criticized quickly for its similar design to Super Mario. Blaming its addictive nature, developer Nguyen removed the game from the app stores in February 2014, citing guilt as a major reason.
Flappy Bird Revenue Key Data Points
Download volume for Flappy Bird grew rapidly during the start of 2014 and then dropped as the game was removed. Zach Will suggests that it was a bump in reviews on the 9th January that led to the game's phenomenal success.
Flappy Bird's dramatic rise in downloads in January 2014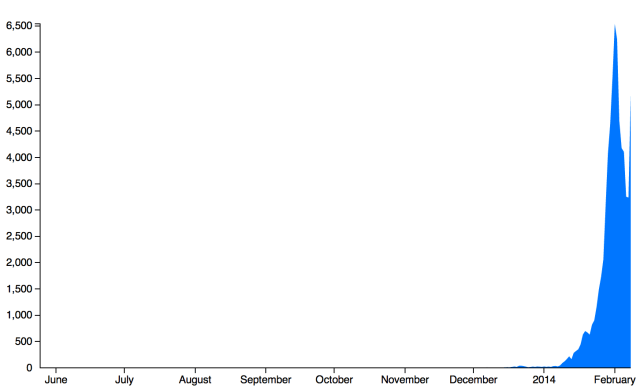 Source: Zachwill.com
After the game was taken down, users owning pre-installed copies of the game flocked to eBay to sell their devices. The Economist found that some mobile devices doubled in value thanks to the game, with iPads and the iPhone 5 fetching the highest sales prices.
The value of devices running Flappy Bird after its deletion from app stores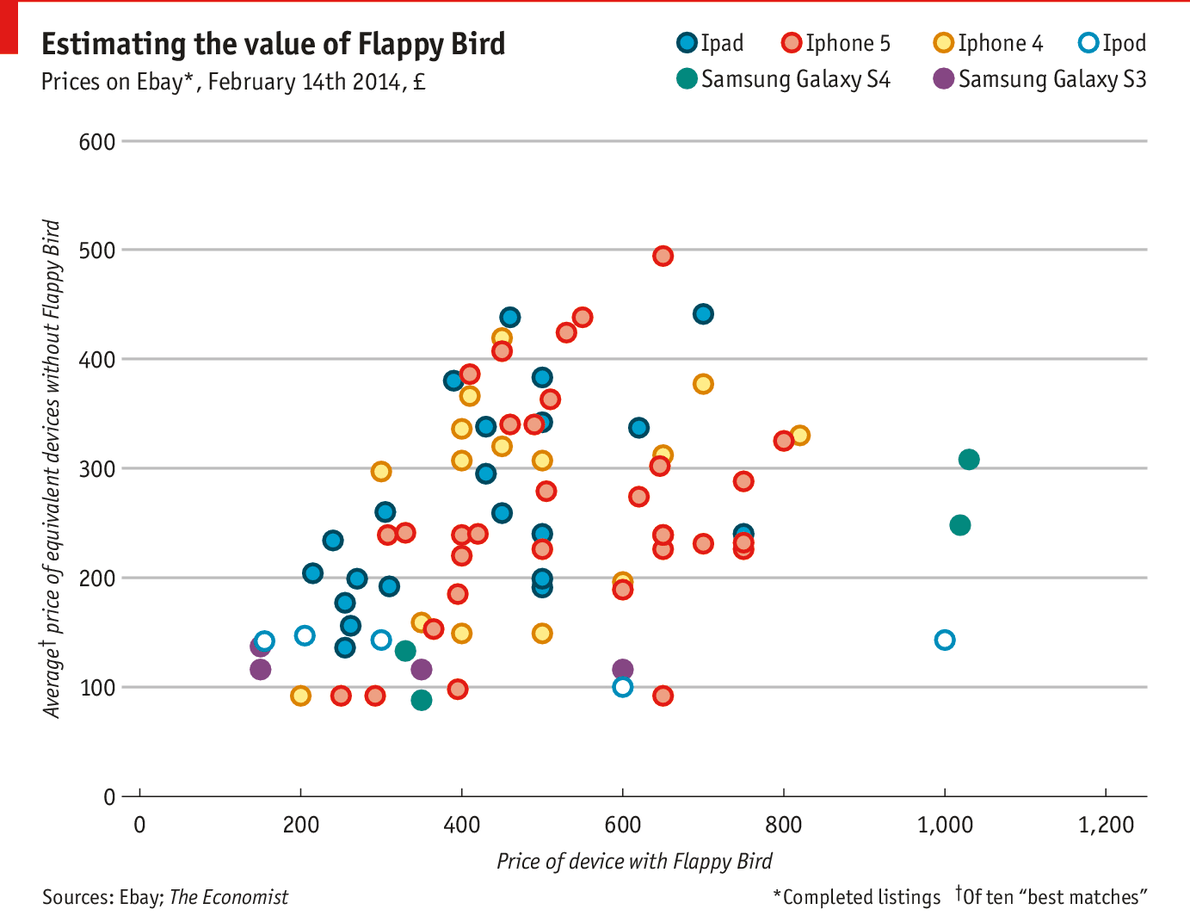 Source: TheEconomist.com
App Annie figures paint a slightly different picture as to Flappy Bird's success. Rank history confirms that the game experienced sharp bursts in downloads over a 24 hour period, before dropping low. This would suggest that advertising techniques, such as bot farms, were employed in order to hype the profile of the game and eventually generate organic downloads.
App Annie Flappy Bird Rank history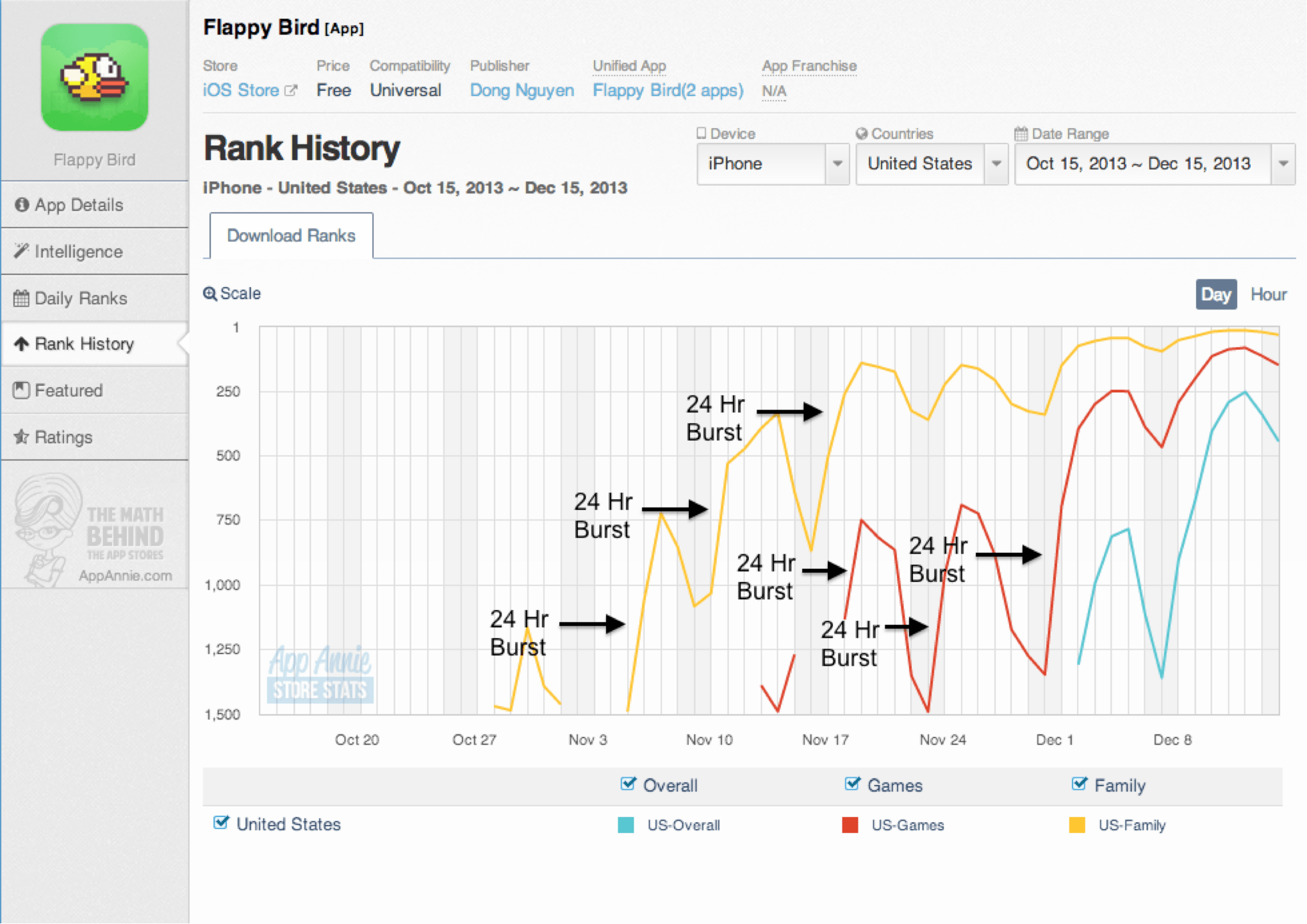 Source: AppAnnie.com
A graph by Canadian software developer, Connor Sauve, logged 419,000 attempts at the game, showing success rates versus failures. One user made nearly 200 attempts, staying alive for only 15 seconds. The statistics also show that users who were better at the game usually stopped playing earlier, than those who weren't.
Flappy Bird best scores per player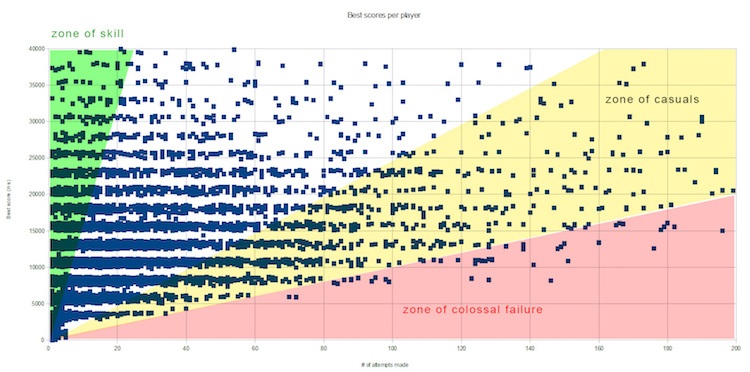 Source: The Register
A revised version of the game, called Flappy Birds Family was released exclusive to Amazon Fire TV in August 2014. Figures of the deal have not yet been released.
Flappy Bird is a rare example of a successful game from a previously unknown, indie developer. The data shows that once the game caught momentum it became a hit worldwide.