In 2018, the app as we know it turned 10. We've come a long way since the launch of the first 500 apps on the first iteration of Apple's App Store.
We've come a long way since then. In 2018, Tim Cook announced that there were 20 million registered iOS developers catering for the 500 million weekly visitors to the App Store alone. We don't have equivalent figures for Android, but previous unofficial estimates have put it above iOS in terms of developer volume.
Google, Apple, and to a lesser extent Microsoft and Amazon, control one of the world's biggest marketplaces.: there are over 5 billion mobile users in the world, with global internet penetration standing at 57%.
The major distribution channel for mobile apps is the app store: the aforementioned Apple App Store and the Google Play Store are the world's biggest.
An app store (or app marketplace) is a type of digital distribution platform for a smartphone, tablet and computer software. With an introduction of an app store software distribution model, software developers got a new way to distribute applications they develop and profit on it. In this guide we're doing our best to give you a comprehensive picture of what is the current status of apps download and usage, answer questions like "how many apps are there?" and more.
The app store model has its pros and cons. To the pros we can attribute an app store much bigger capacity to reach out app users, leveraging the trust, established by a company that runs an app store, as well as apps purchasing transactions handling takes place on an app store side. As an app store cons we should mention app discoverability issue that app owners have, lack of software trial support and the fact that app owners don't have access to information about people who purchase and download their software. Two biggest app stores are the Apple iOS App Store and Google's Google Play store.
The Apple's App Store is built on a curated model, it implies Apple's control over apps quality and their compliance to certain standards, defined by Apple. On the positive side of this model is the ability to provide app users with apps, free of malware, bugs and content, which is inappropriate for minors. On the negative side, there are inescapable issues with disapproving for publication of apps that mistakingly fall under Apple's app content publication guidances. The reason for Apple for choosing a curation model is that it's extremely important for the company to keep mobile apps quality on par with its iconicity high hardware standard and keep customer satisfaction rate as high as possible.
The Google's Google Play store app publication process implies much less strict guidelines for Android app developers to comply. An app review process takes much less time than the Apple's App Store one does. As a consequence app developers can publish their apps much faster but the flip side is that a significant number of malicious Android apps being published on Google Play and it's ongoing problem Google has to deal with. Google see its Android app store as yet another channel to distribute software, where the company can place ads and being able to profit on it.
From a business perspective, for Amazon its Amazon AppStore serves as an add value proposition for people who trust the company's brand and purchase on the Amazon's online store a great number of various products. Amazon doesn't consider its app store from a revenue generating perspective. That's why Amazon provides its customers Android apps and doesn't invest in creating its own mobile software ecosystem, as Apple and Google do with their iOS and Android OS respectively.
For those looking for app stats and data, this guide to app statistics is divided into the following sections:
We're putting together the data to analyze three biggest and the most dynamically evolving mobile application stores – the App Store, Google Play and Amazon AppStore. This guide covers both app statistics and app store statistics to build a comprehensive snapshot of the mobile app ecosystem in 2017.
Key App Statistics:
The total number of mobile app downloads in 2017 – 197 billion (a forecast) (Statista)
The total number of iOS app downloads in 2016 – 25+ billion (Source: App Annie)
The total number of Android app downloads in 2015 – 50 billions (Source: Benedict Evans)
The total number of Android app downloads in 2016 –  90 billion (App Annie)
The app category people spend time the most – Social Networking (29% of users) Source: comScore
The most popular app, both iOS and Android, by penetration – Facebook (81% of users) (Source: comScore)
The Mobile app Millennials use the most in 2015 – Facebook (21% of users) (Source: comScore)
The mobile app Millennials use the most in 2017 – Amazon (35% of users) (Source: BusinessInsider)
The time spent per user with digital media on mobile in US daily in 2017 – 2.3 hours (Source: comScore)
The age group that spends the most time on apps monthly in US in 2015 – 18-24 (90.6 hrs on smartphone apps, 34.7 hrs. on tablet apps) (Source: comScore)
The age group that spends the most time on apps monthly in US in 2017- 18-24 (93.5 hrs / month on smartphone apps, 27.6 hrs. / month on tablet apps) (Source: Statista)
The average number of apps people use daily – 9 , monthly – 30 (Source: TechCrunch)
The major age group of users that operate a smartphone with two hands – 55+ (39% of users) (Source: comScore)
Total number of iOS apps on the App Store – 2.2 million (as of the January of 2017) (Source: Statista)
Total number of Android apps on Google Play  – 3 million (as of June of 2017) (Source: Statista)
Total number of apps on Amazon AppStore – 600k+ (as of spring 2016) (Source: Statista)
The most popular iOS app category, by volume – Games (25%) (Source: Statista)
The most popular Android app category, by penetration – Tools (99.8%) (Source: Statista)
The most popular Amazon AppStore category – Games (21% of the total number of apps)
Total number of app publishers – 968k (Google Play), 498k (App Store), 75k (Amazon AppStore) (Source: App Annie)
App Download Statistics
Certainly the data that describes the mobile app ecosystem the best is the total app downloads statistics. On the following graph we see almost 50 billion app downloads jump this year, 197 billion in 2017 versus 149 billion in 2016. According to a projection, by 2021 the total app downloads number will jump to a stunning 352 billion. Major smartphones and tablets manufactures regular hardware updates and introduction of brand new features are what stand behind the exponential mobile app downloads growth. One caveat to keep in mind as we look at this data, is that recent studies reveal that people stick to using only a handful of apps and uninstall apps regularly because they don't use them anymore.
Number of mobile app downloads worldwide, 2016, 2017 and 2021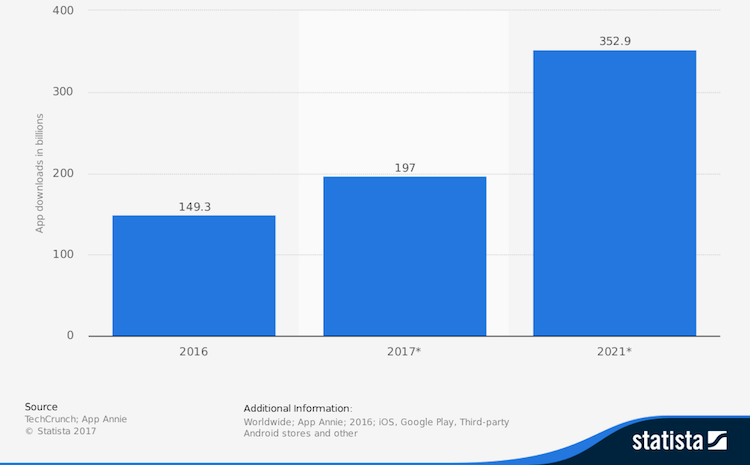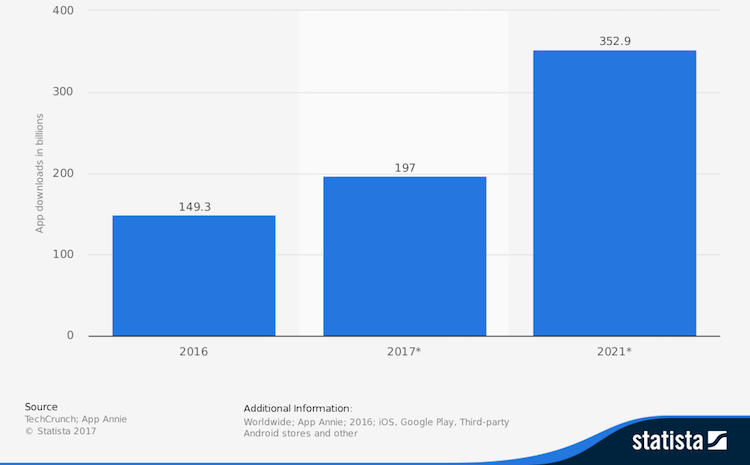 Source: Statista
If we look at the number of apps download statistics for two major mobile operating systems – iOS and Android and their growth year-over-year for the last several years, we see Google Play gaining significantly more, because Android is available for dozens of smartphone models, meanwhile iOS only for a handful of iPhone and iPad models developed by Apple. In 2016 the number of both iOS and Android app (on Google Play store only) downloads reached 90 billion, 13 billion increase from the previous year.
Cumulative Number of iOS and Android (Google Play only) App Downloads, 2014-2016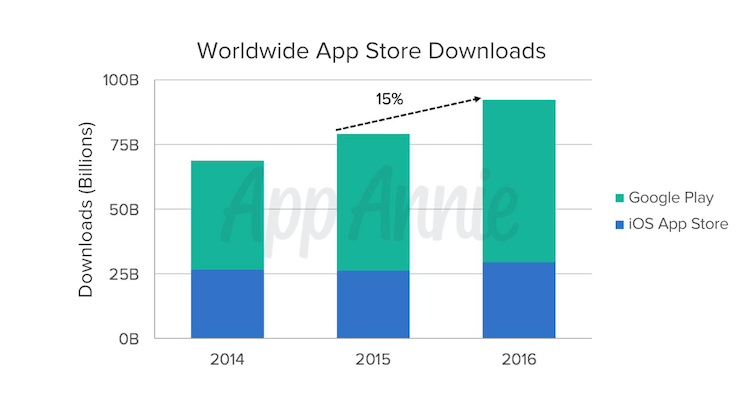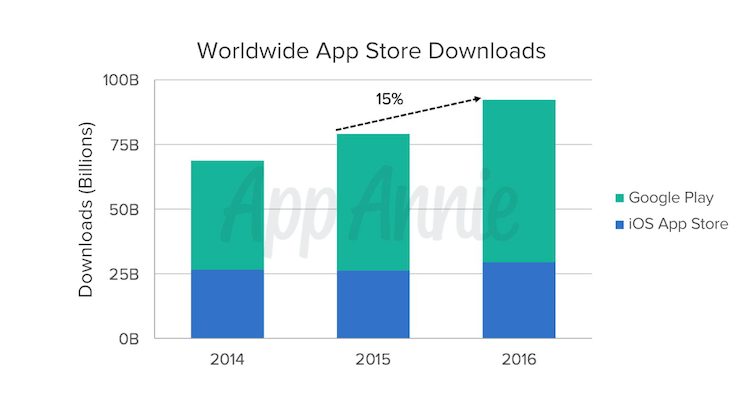 Source: App Annie 
Thanks to a great number of OEM that adopted Android as an operating system to drive their mobile devices, starting 2012 we see Android outpacing iOS.  In 2015 both Apple and Google released their figures for the total number of downloads for iOS and Android respectively. Android apps were downloaded 50 billion times and iOS only 25. Because Google didn't provide figures for the Android OS app downloads since summer 2013, we can only compare both platforms, as it was done by Benedict Evans, on the graph below. But even with this limited data we can see that Android continues to outpace iOS in a number of apps being downloaded.
Each year, either during its quarter financial conference calls or summer worldwide developers conference, Apple announces the number of iOS apps downloads. The graph demonstrates an exponential iOS app ecosystem growth, which was supported by continues iPhone and iPad models annual upgrade cycle.
Android vs. iOS App Downloads 2012-2015
Source: Benedict Evans

App Store Statistics
First up, is the pioneer of the mobile app ecosystem – the iOS App Store from Apple. On its launch the iOS app store had only minuscule portion of its today glory, just 500 apps but the enthusiasm of a mobile app software community was enormous and it propelled the store forward really fast. How many apps are there now? As of January 2017 – 2.2 million and counting. From the data set, compiled by Statista, based on Apple and Appleinsider data, and presented on the graph below, you can see evidence of a slowdown in the store growth and speaks to its maturity and saturation. Today' the iOS App Store growth is driven not by quantity but quality, each new smartphone and tablet hardware update brings new possibilities for app developers to innovate.
Number of available apps in the Apple App Store,  2008-2017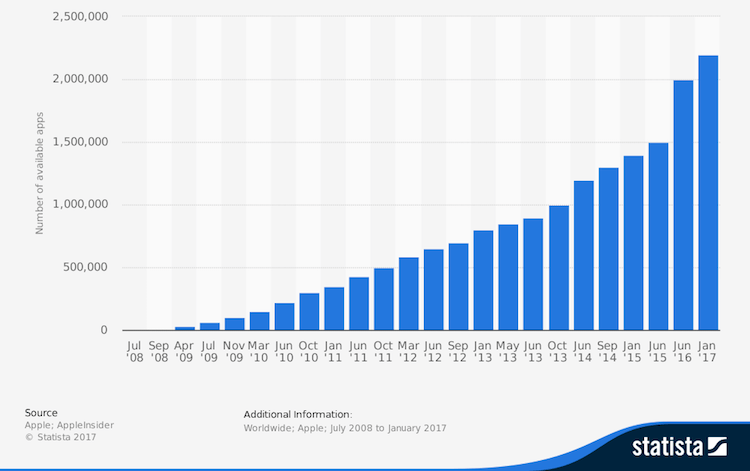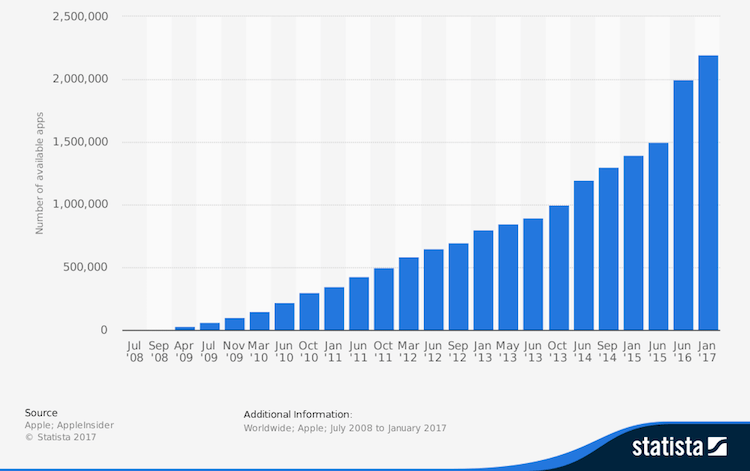 Source: Statista
The Android Market, which later become part of the Google Play marketplace, was launched 3 months after the Apple's App Store in October of 2008. By October of 2012 Google Play app store matched the Apple's App Store by the number of apps.
How many Android apps are there now? Well, by June of 2017 it reached 3 million Android app mark! The current rate of its growth is more than 1,300 apps a day. The reason why Google Play app market has been growing faster than the Apple's App Store is that Android OS, the operating system that drives apps published on it, was released by Google under open source licenses. Multiple companies sell smartphones and tablets that run Android OS and hence the overall volume of hardware, for which Android app developers create apps, is much larger than its Apple's iOS counterpart.
The Alphabet Inc., the Google's parent company from 2015, has multiple branches that provide Android OS with areas to grow into. Such as wearables, health care, robotics, autonomies car, smart home and desktop applications such as Chromebook.
Number of available applications in the Google Play Store, 2009-2017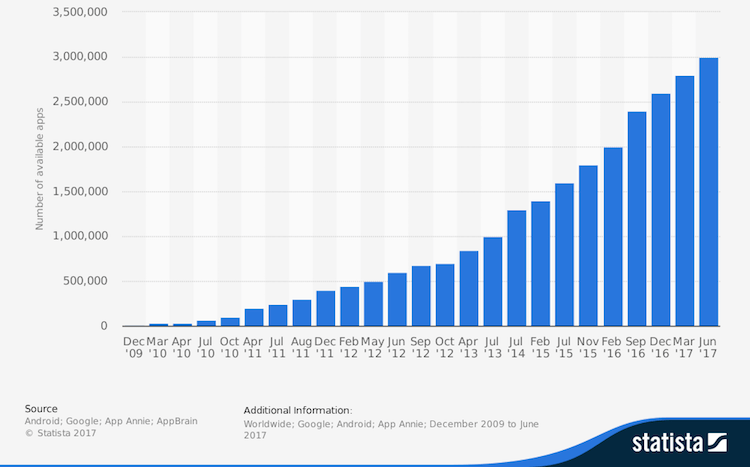 Source: Statista
Amazon Appstore is an app store for Android apps run by Amazon Inc., it was launch three years after the Google's Google Play app marketplace (former Android Market) in March of 2011. On its launch the app store had only 3,800 apps and on March 2015 it reached 400k application mark, with a growth rate range equals to 50k-100k apps year over year. Amazon has been launching a number of new features for app developers community to foster its app store growth, one of the latest ones is paying Alexa developers for Alexa skills they develop.
Number of available apps in the Amazon Appstore, 2011-2016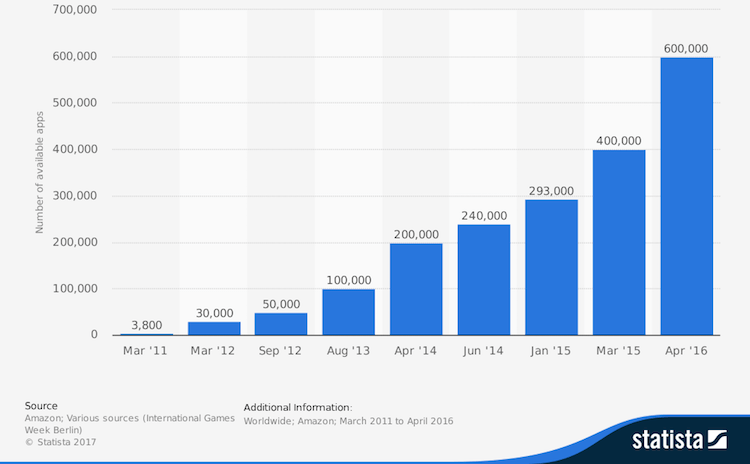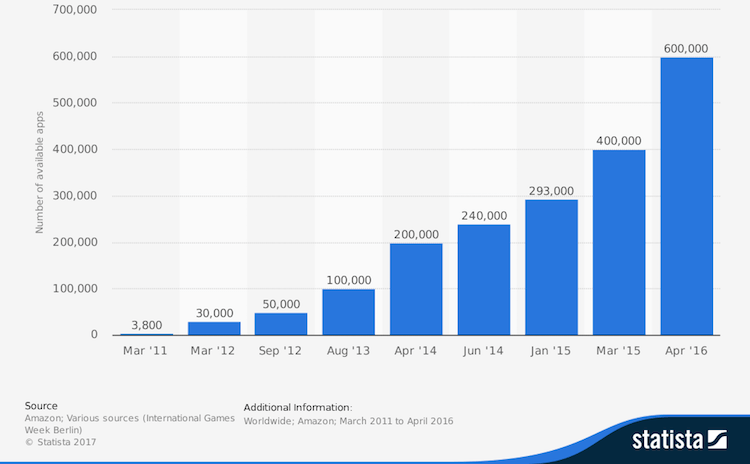 Source: Statista
A number of publishers each app store has reveals its adoption rate and how attractive and lucrative for app developers a specific store is. On the graph below we see a snapshot of the current number of publishers on the App Store, Google Play and Amazon AppStore. Even though the App Store continues its domination in terms of how much revenue it generates for app developers, Google Play has more registered publishers. As the matter of fact, Android has much higher level of adoption in India and China, countries with the biggest population in the world and in case of China, a rising middle class and therefore it's quite logical that Android app store should have more registered publishers than other platforms. The Amazon AppsStore number of registered publishers mirrors the platform, comparing to Apple's and Google's, smaller scale.
Number of App Publishers, by App Store, in thousands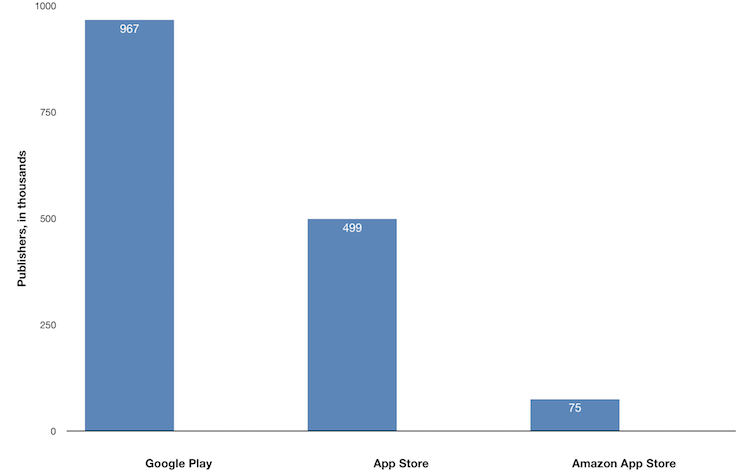 Source: AppAnnie

App Usage Statistics
From an app store statistics to mobile app statistics, starting with the most popular apps of today. It comes as no surprise that this year Facebook app demonstrates the highest level of penetration among 18+ years old and older with a whopping 81%, with YouTube comes second with 71% and Facebook Messenger third with 68%. It's interesting to note that among Top 10 most popular apps 3 apps – Facebook, FB Messenger and Instagram owned by Facebook and 5 apps – YouTube, Google Search, Google Maps, Google Play and Gmail owned by Google. Two giants essentially own the chart and Snapchat and Pandora are the only exceptions from this duopoly.
The most popular mobile app, both Android and iOS, in 2017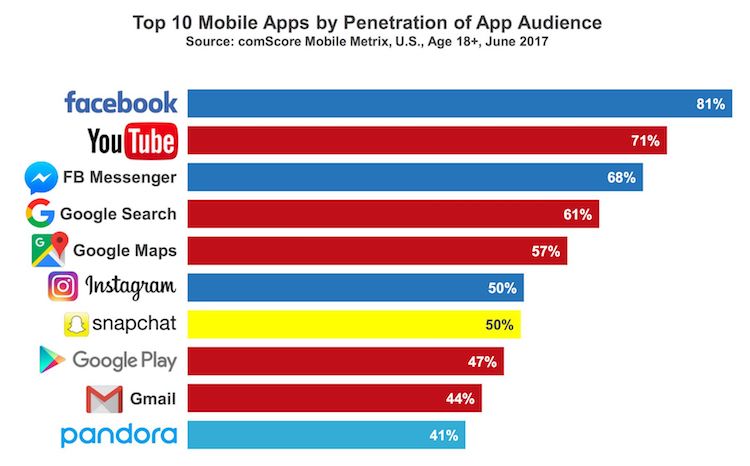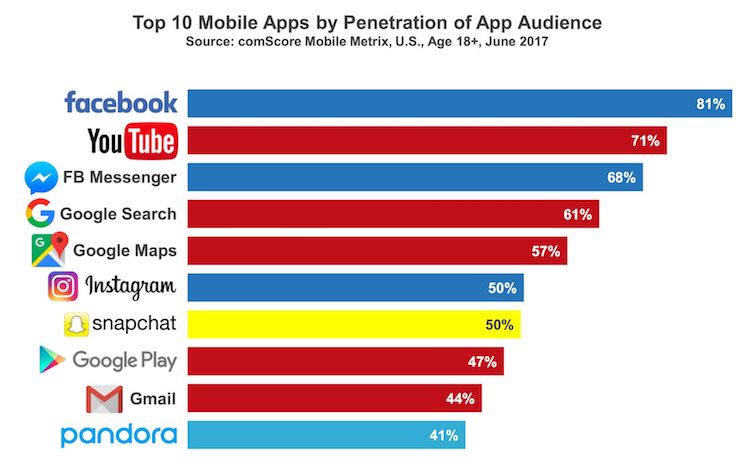 Source: comScore
Now let's look at what apps Millennials, the age group that is defined by people of age 18-34, prefer. Surprisingly, the app that millennials can't live without is not what you think, it's not Snapchat but Amazon. In recent comScore study Amazon app was called as essential by 35% of millennials, with Gmail that comes second with 30% and Facebook on the third place with 29%. As much as social media apps allow millennials to communicate anywhere and anytime they want, more functional apps present a greater value for this segment of a population.
The mobile app Millennials use the most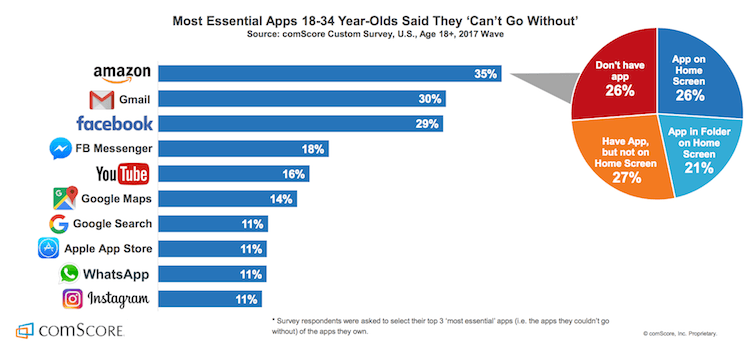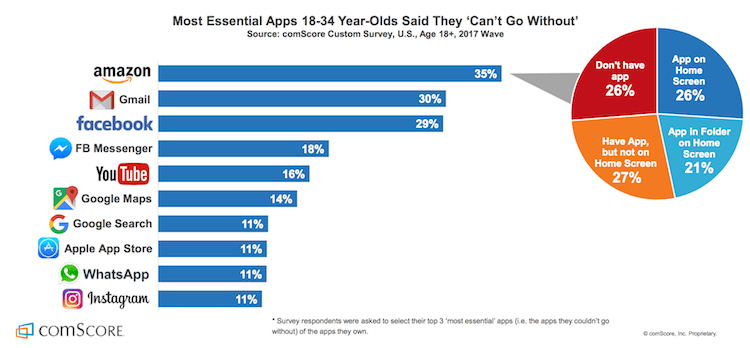 Source: comScore 
The next graph brings up the general time split between different types of media, such as TV, Print, Radio and Digital. In 2017 people in US people spend 5:50 hours with various digital media, among those mobile dominates, with 3:14 hrs a day. With no surprize, among non-digital TV still rules supreme with 4:04 hours a day. With the current trend of cord-cutters worldwide, TV segment will continue to shrink down, while people will continue to switch to consuming content on mobile devices.
Time Spent per Adult User per Day with Digital Media, USA, 2017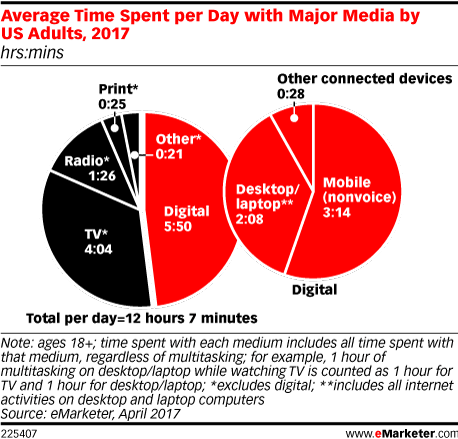 Source: eMarketer 
This year Americans age 18-24 spent more that an other age group on digital media, 3.2 hours to be precise. Age 25-34 spent a half hour less and it's no wonder – a combination of work and own family occupies more of your time in this age and hence less time is left to spent on watching movies and listening music. But on average, across all age groups, in 2017 Americans spent 140 minutes of their awake time to watch Netflix, Hulu, YouTube, listen Apple Music, Spotify and other movie and music streaming services.
The time spent per user with digital media on mobile in US daily in 2017

Source: comScore
As you can see on the graph people of different age spend different amount of time on apps. On average, all age groups combined spend more than twice as much on smartphone apps than on tablet ones. People have more chances to interact with a smartphone, essentially anywhere where a single-hand-operation mode is possible, but because of the form factor a table computer provides less variety of situations to use apps. Among all groups, the 18-24 age one demonstrates the greatest time spent. In this age people aren't generally married yet and not really busy with their career, they are on the peek of their social life, so, naturally, they have plenty of time to spend on apps.
In the Age 25-34 group people are focused on their career and hence less time for media content consumption apps, also they get married and have kids, all these factors combined decrease amount of time they can devote to apps. This tendency continues for the rest of the age groups with an interesting twist for time spend on tablet apps. Starting Age 35-44 amount of time people spend on iPad and other tablet computer apps increase, partly because of people's sight is getting worse gradually and tablets provide a better reading experience than smartphone do, partly because they spend time with their kids, using tablets for education and entertainment.
Number of mobile app hours per smartphone and tablet app user in the United States in June 2016, by age group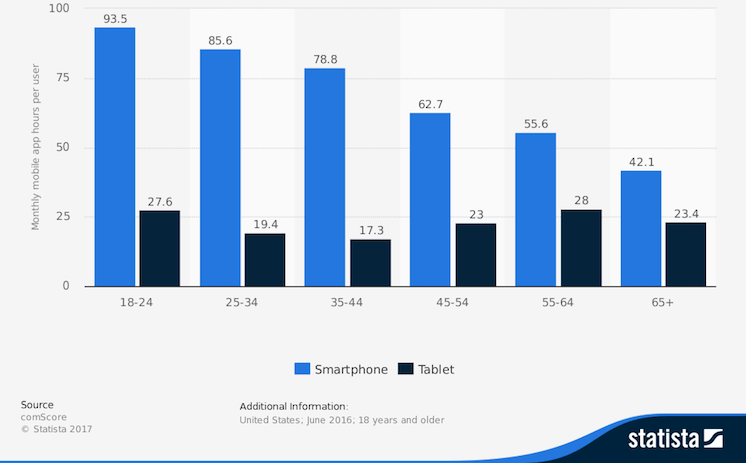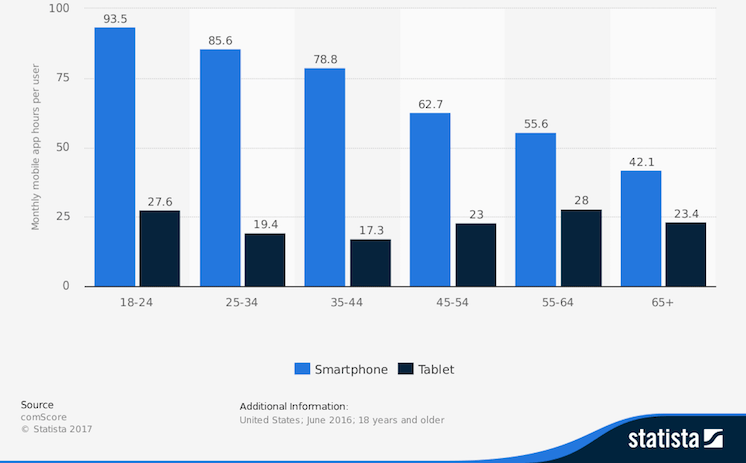 Source: Statista
It's been known for the last several years that despite the sea of choice for mobile apps available for both iOS and Android, in real life people tend to use on a daily basis only a few. Here is how much exactly – 10 apps a day on average or 30 apps on  monthly basis. The following graph brings up how many apps people use daily around the world, the champion on the chart is Brazil with close to 12 apps a day and the least number goes to France – 9 apps a day.
Average number of mobile apps used daily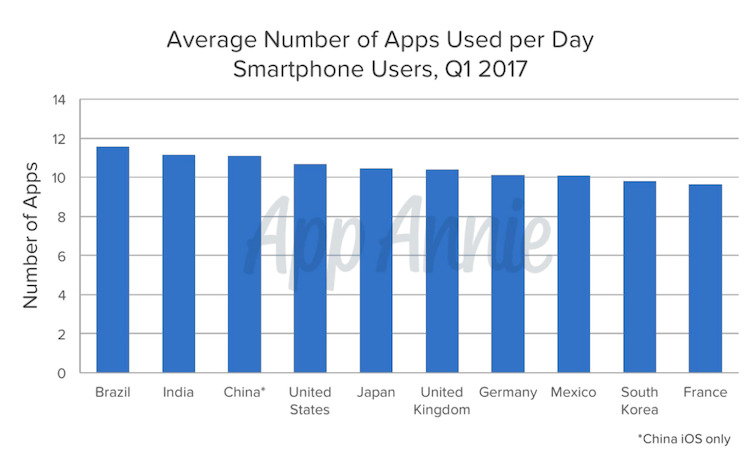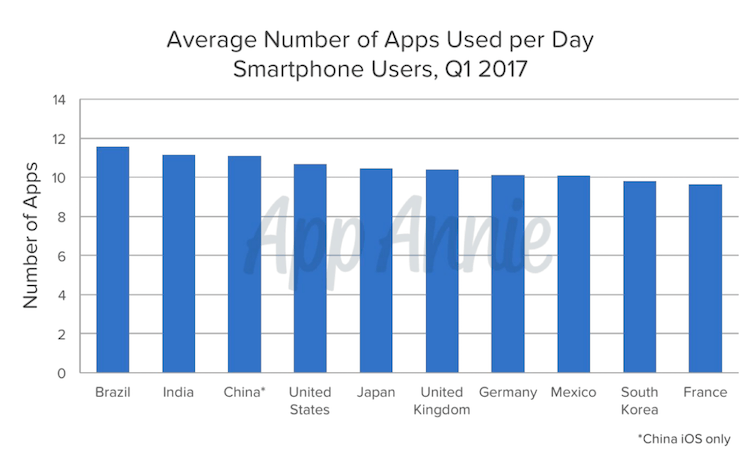 Source: TechCrunch
One of the smartphone competitive advantages over other mobile devices is that it can be operated with one hand. A four inch screen is virtually the upper limit for a screen size that can be managed easily with thumb taps, five and more inch screen phablets operating requires two hands. As you can see on the graph, the biggest jump at switching from a single to two-hands operation mode emerges at 55+ age group. I think we can attribute this jump to the lifestyle change. When you're young and your life is full of commutes, business trips, taking care of your kids, there are much more situations when you are forced to operate your smartphone with just one hand, like when you need to do something at home or work. Once you retire, you aren't in a rush anymore and you switch to more convenient two-hands operation mode. Last but not least it's a matter of how confident smartphone users with their gear, naturally younger generation has a higher level of confidence.
Percent of smartphone users who only operate photo with two hands, by age segment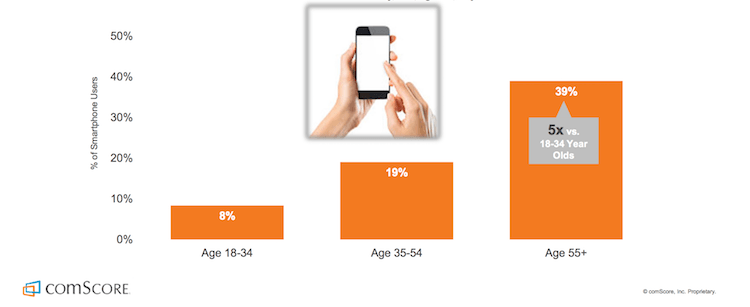 Source: comScore
For mobile app marketers, one of the key components of a solid app go-to-market strategy is knowing an actual demand for specific categories of apps. To be able to know this kind of insight you need to have lots of data and the following graph from this year comScore research brings up a percentage of time people spend with mobile apps from various app categories. The leading segment of the pie is Entertainment & Communication – 20%, the Music category got 18% and Multimedia and Games shared equal part of the pie – 10%.
Share of Mobile App Category Time Spent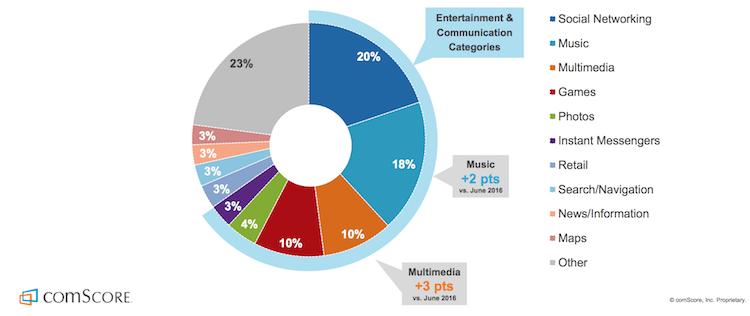 Source: comScore 
Every household in US has a combination of personal desktop / laptop computers and a number of smartphones and tablets. Let's see a percentage of time Americans age 18+ spend time with these devices. On average, 50% of the time is spent with a smartphone, 34% with a desktop or laptop computer and tablets get the same percent as mobile web on smartphones – 7%. Sadly tablets, that were promised to replace a regular desktop or laptop computer at home have only 2%. Perhaps this year with introduction by Apple 10.5-inch iPad Pro and 9.7-inch iPad entry models, the tablet market begin to grow again and it'll reflect on how much time people will be spending with their tablet computer.
Share of Time Spent on Desktop vs  Smartphone vs Tablet, US only, by age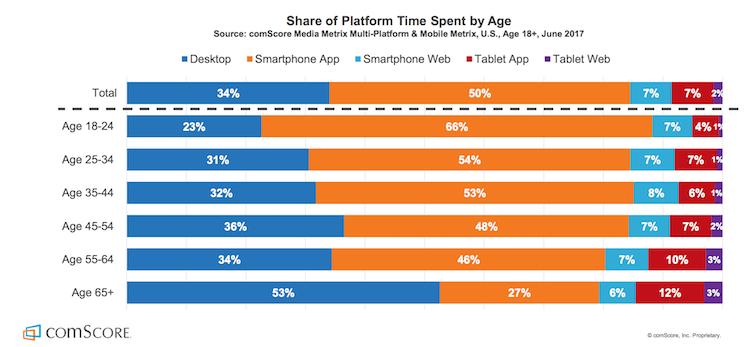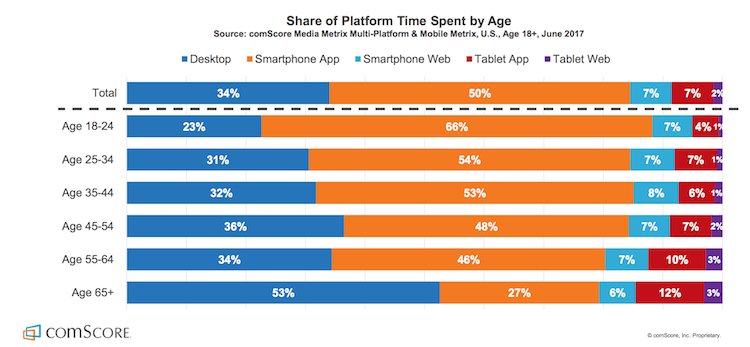 Source: comScore
Final Thoughts
The takeaway from the presented data would be this. People spend more time consuming digital media on mobile devices than on a desktop and this trend will definitely continue. Social networking, listening music, watching videos and playing games represent the bulk of what people do with their smartphones and tables. Essentially it's about communication and entertainment, two things that help people to cope with the level of stress in today's world.
Age 18-24 is the age group that spends the greatest amount of time on mobile apps. It goes to show you how important are mobile apps for people when they live a really active social life. Because time is one of the most precious commodities people have, they try to spend it wisely. People focus the time they spend on apps that are essential to them, hence about 80% of people use up to 3 apps most frequently. Even though smartphone is designed to be operated primarily with one hand, as people get older, more of more of them begin to use it with both.
The app store landscape features the Google and Apple duopoly with their Google Play and App Store mobile application stores. Next to this duopoly, with a big gap in a number of apps and generated revenue, comes the Amazon AppStore that, like Google Play, also provides its customer Android apps. Because each of these app stores has its own advantages, the smart strategy for app developers to follow is to release a mobile app on multiple platforms. Among these three stores, the App Store generates the biggest revenue, Google Play provides the greatest reach and Amazon AppStore serves as an alternative for Android developers to explore and define how much profit it'll able to generate for their apps. Building an app store, as crucial part of a mobile app ecosystem, is very complex, time and finance consuming effort and hence it's very unlikely that any company will be able to shake up the existing Apple-Google-Amazon trio of the mobile application stores.