This year the iTunes App Store, the first mobile app store launched that set off mobile app development as a business, turns 9. For many indie developers, mid and big size companies it's been a bumpy road with many ups and downs. There-is-an-app-for-that moment has long gone, the focus from app novelty has shifted to innovation and long-term profitability. The app business is matured and has become part and parcel of the world economy. Over the years, several monetization models emerged and lead to establishing numerous mobile advertising networks, affiliate networks as off-app-store channels for app developers to generate apps revenue.
Let's look the numbers for how much revenue was generated by the app economy for the last several years and a forecast for a few years in the future.
Key App Revenue Statistics:
Global mobile app revenue in 2016 – $88 billion
Global mobile app revenue forecast for 2020 – $189 billion
Global Paid-for mobile app revenues in 2017 – $29 billion
Worldwide In-app purchase revenues in 2017 – $37 billion
US mobile app advertising revenues in 2017 – $33 billion
Top Grossing iOS app in 2017 – Pokemon GO (over $2 billion)
First of all, let's look at the global mobile apps revenue data compiled by App Annie app market data company. In 2015 the total revenue generated across all mobile operating systems was about $70 billion, in 2016 this number reached $88 billion. By 2020 the combined mobile app revenue will reach a staggering $189 billion.
Global mobile apps revenue  2015, 2016 and 2020 in billion US Dollars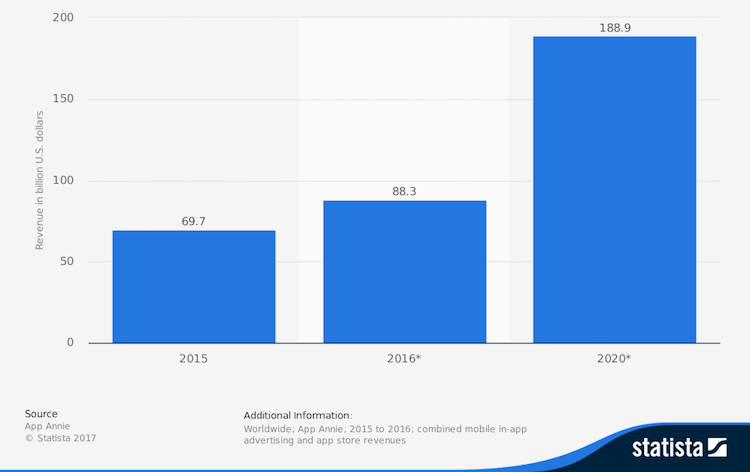 Source: Statista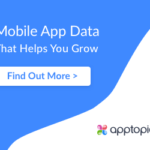 There are three well-established app monetization models for app developers to choose from – advertising, in-app purchases and Paid-for. For the first several years since major app stores were launched, the bulk of app developers revenue was generated with Paid-for model but than in 2009 Apple introduced in-app purchase microtransactions and everything changed. Gradually, year-over-year in-app purchases began to take over other monetization models and by 2017 way over 50% a mobile app revenue is generated via in-app purchases.
Share of global mobile app revenues from 2011 to 2017, by channel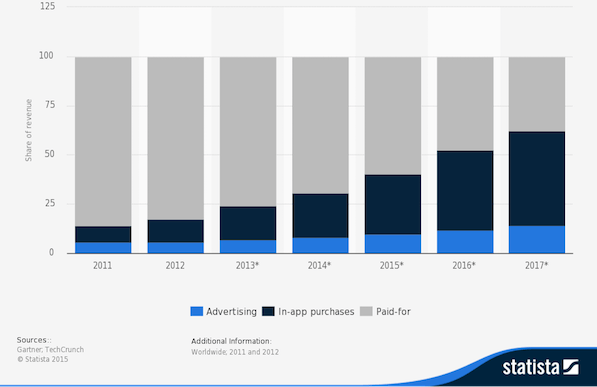 Source: Statista 
Now let's analyze the three major app revenue generation channels, starting with Paid-for one.
The graph below presents aggregated data from Statista that provides data for Paid-for mobile app revenue from 2011, two years after in-app purchase was introduced, till 2017. During this period the revenue went up from $7 billion in 2011 to $29 billion in 2017. Starting 2015, there is a clear slow down in its growth, which can be attributed to the mobile app ecosystem maturity, mobile app users do not download new apps as they used to and stick to using only a handful of apps.
Global Paid-for mobile app revenues from 2011 to 2017, in million U.S. dollars
Source: Statista
Because by 2011 in-purchase app monetization was only 2 years old, it managed to generate only $712 million, by 2012 it more than doubled and reached over $2 billion and in 2017 the total in-app purchase revenue worldwide reached about $37 billion. By comparing global app revenue generated with Paid-for and in-app purchase models in 2017, we see the latter bitting the former by about $8 billion.
Global in-app purchase revenues from 2011 to 2017, in million U.S. dollars
Source: Statista 
In a pursue to increase an app revenue, app developers turn to placing ads inside their apps. There are four major types of mobile ads – Display, Search, Social and Video. The data from BusinessInsider provides a percentage split for these four starting from 2013 to this year and a projected revenue for 2018. Throughout this period Search has been the major channel to generate mobile ad revenue, contributing from $3.7 billion out of 7 in 2013 to $17.7 billion out of $32.9 billion in 2017.
US mobile app advertising revenues from 2013 to 2018, in billion U.S. dollars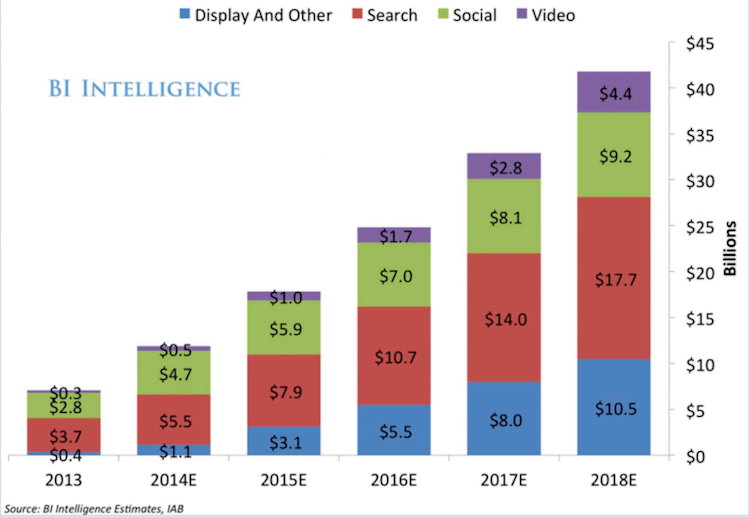 Source: BusinessInsider
Between two biggest mobile platforms – Apple's iOS and Google's Android, the former has always been more lucrative for app developers and the latter advantage has been its broader reach. Apple leverages its several hundred million iTunes users base that demonstrate high level of trust and satisfaction with Apple's hardware and software. Google's Android is available on dozens of smartphones and hence the Android's broad reach. In 2016 iOS generated twice as much as Android did, $34 billion against $17 and more than 3 times of revenue generated on third-party Android stores that brought only $10 billions. In 2017 the overall proportion remains the same – Apple's iOS generated $40 billion, Google Play $21 billion and third-party stores $20 billion. It's projected that in 2021 iOS total revenue will reach $60, Android reach $42 and third-party Android stores – $36 billion.
Global mobile app revenue by platform, 2016, 2017 and 2021, in million U.S. dollars
Source: 9to5Mac
The following data from Digi-Capital provides a comprehensive app revenue split between different app categories. For the last 6 years, heads down games beat all others categories by a great margin. In 2013 games were generating 74% of the total app revenue but by 2017 their contribution actually went down and constitutes just 49%, so games continue to be the major money-making category but its contribution to the total app revenue diminishes. Among non-game categories we can see such growing Social Networking, Entertainment, Medical and Books. Factoring in the upcoming release of iOS 11 this fall, which will bring Augmented Reality technology to the masses, it's reasonable to predict certain boost in mobile games revenue.
Global mobile app revenue, by category, 2014-2016, in billion U.S. dollars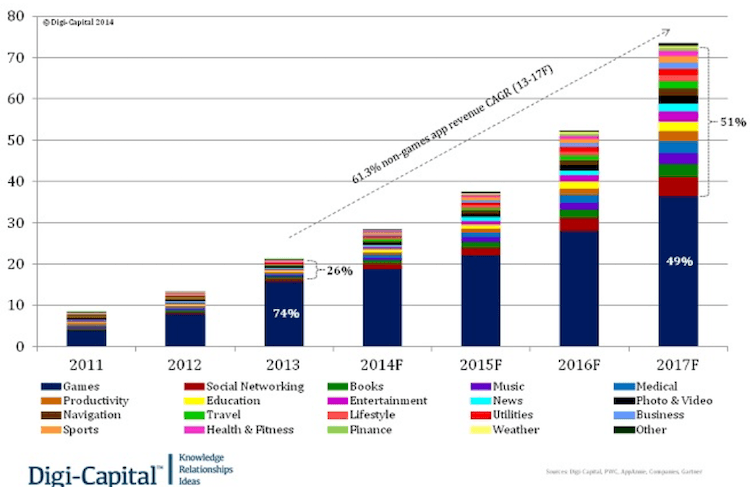 Source: Venturebeat
Switching from app categories to specific app that generated record revenues in 2017, we can see on the following graph that Pokemon GO, Candy Crush Saga and Clash Royale are Top 3 mobile games. All three managed to cross a billion dollar revenue threshold, with Pokemon GO bringing over $2 billion, Candy Crush Saga – over $1.5 billion and Clash Royale about $1.2 billion.
Top grossing iPhone mobile gaming apps in the US as of July 2017, ranked by daily revenue, in U.S. dollars
Source: Statista
According to SensorTower aggregated data, in Q1 of 2017 among Top 3 non-game apps that generated the biggest revenue are Netflix, Pandora and HBO NOW. The Top 10 chart for the iOS App Store and Android Google Play present slightly different picture. The App Store Top 3 apps are identical to the overall chart, while Google Play Top 3 apps are Pandora, HBO NOW and Tinder.
Top non-game apps by revenue in US, Q1 2017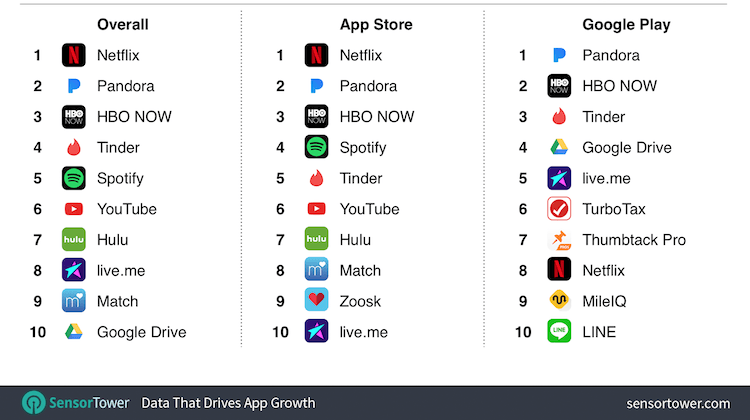 Source: SensorTower
Final Thoughts
In a big way the future level of apps revenue will depend on how fast such cutting edge technologies as  the Internet of Things technology (IoT), 5G, Augmented Reality (AR) and Virtual Reality (VR) will be evolving and their adoption rate. IoT emerges as a natural progression for software to continue to lead the humankind technological growth. Essentially the Internet of Things allows to capture more information to be used to optimize and improve many things in our life. AR and VR technologies will help to greatly improve many mobile apps that exist today and will lead to emerging new ones. 5G tech will allow IoT to get connectivity fast and reliable enough to place various data capturing sensors anywhere it'll be required.
Because of the app consumer market segment saturation, the Enterprise segment will likely to be a driver behind the app revenue growth in the coming years. Currently, Smart Home, Retail and Industrial are the three leading areas of IoT, that see the highest adoption rate among app developers. All three, as well as Wearables, do have a big potential to fuel app revenue growth  in a near future. Both Apple and Google heavily invest into R&D and popularization of IoT among app developers and launch AR technologies to bring Augmented Reality capabilities to iOS and Android.