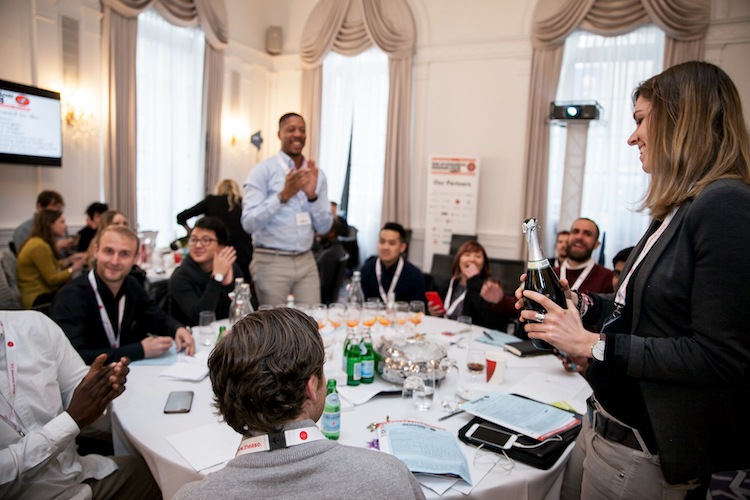 Since 2013 we've been building App Promotion Summit into something we think is a little bit special 😍
We only run 3 conferences a year (London, Berlin and NYC) so we can focus on making each one truly excellent 😎
Our aim is to make each event at least 10% better than the last time.
This is what we're doing to give APS NYC 2019 some extra secret sauce:
We only use amazing 5* venues and we'll be returning to the amazing Stewart Hotel in Midtown Manhattan (right across from Penn Station)
The main conference room is packed with a dozen 15-minute talks and 3 focused panels to maximize your app growth learning opportunities
We use an interactive roundtable format so you can take in the talks in comfort and meet tons of people all day
Our buzzing marketplace with 12 exhibitors showcases some of the world's top app marketing platforms and agencies
For the first time at APS NYC, our new networking app will allow you to meet & discuss with your fellow attendees and make more connections before, during and after the event
Great food and drink is crucial for us so we'll be serving a range of refreshments throughout the day including breakfast, morning coffee, lunch and afternoon tea
We run multiple workshop rooms (3 this year) offering in-depth, deep-dive sessions covering App Store Marketing, App Engagement & Advertising and Influencer Marketing
The 2019 drink of choice for our legendary Cocktail Roundtables session is the Moscow Mule 🍸
After that we'll be enjoying an evening Drinks Reception (and App Growth Awards launch), and if you're still standing there's the killer Afterparty at the end of the day…
If you came to one of our events in the past we hope you'll agree that all these things add up to make App Promotion Summit a little bit different.
If you have NOT attended yet then now is the time to come and connect, learn and do business.
We hope you can join us on Thursday June 27th to discover the future of mobile growth 🚀