With the adoption of mobile devices, the degree of smartphone utilization among elderly has become very high. Today, senior citizens are no more amateurs in using mobile devices. They love to try new apps with new features and benefits. They are increasingly becoming aware of mobile technology and exploring new ways to use smartphones and tablets. The primary use of mobile apps in elderly is to keep them in constant touch with their family members. 
Many smartphone manufacturing companies are providing specialized mobile phones that are geared to cater the needs of senior citizens. Technology should be an inclusive factor for elderly and not an exclusive factor. The devices and apps should be adapted to special abilities of older people. In a survey, it was found that more than 5% of US population is over 65. As the number of seniors continues to grow, the mobile industry has to adopt new trends to fulfill the needs of those users.
App developers need to identify the key issues faced by elderly people while developing an app. There is a lot more in smartphones than just pressing the button. We all know that smartphones have many features such as dual finger scrolling, swiping, pinching etc. App developers must focus on the needs of elderly people while designing and developing a mobile app. When it comes to using mobile devices, senior people may have technology anxiety. They may also face some challenges due to vision problems, complex user interface, lack of support system etc.
The following guidelines should be followed while developing apps for elderly:
Use minimal design to prevent cognitive issues in senior citizens
Avoid irrelevant content on the screen
Provide clear instructions on how to use the app
Provide only those features that are required by the person
Should have simple and easy navigation
Limited gesture control within the app
Following the above guidelines will result in an app that is not only functional but develops a sense of confidence in senior citizens. 
Factors to consider while developing apps for senior citizens
Designing mobile app for elderly people is not a difficult task. There are some key factors to consider while developing an app for elderly. Most of the designers come from a younger generation and often forget the limitations of senior citizens. There are more than 2 million apps in the app store that are designed for people of all ages. Here are the key factors to consider while developing a mobile app for elderly.
Top App Builders
See all app development software to find the best fit for your business.
Make the UI convenient
Remember that elderly people have poor vision and tiny 60 texts can be really annoying for them. If you want to focus on older users, keep the UI below 12-points. Some elderly have the ability to control the font size on their screen. However, it can lead to problems with the functioning of the app. Instead, break the content into smaller sections.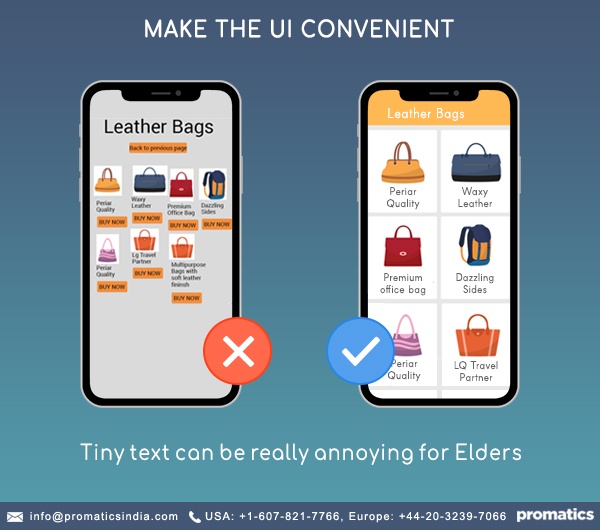 The color vision also decreases with age and it becomes difficult to distinguish between different colors. In some people, blue shades appear to be distorted or faded. Similarly, the hearing also declines in elderly – resulting in implications for the certain type of content. The best way to overcome this issue is to avoid blue font for important UI elements. Pay attention to contrast ratios with text and test the product using screen readers.  To enhance the user experience, provide subtitles in video and audio content. 
Pay attention to the size of user interface elements
As we all know that our motor skills decline with age, it becomes harder for elderly to use a smartphone in different ways. Older people tend to perform better using touch interfaces. It is advisable to reduce the  distance between the buttons on touch interfaces. Mobile app development services and solutions should also pay attention to the sizing of human interface guidelines. 
At the age of 60-65 years, the hand-eye coordination will reduce, which may hinder UI interaction. App developers should make the UI elements more effective and far from each other. One can try to reduce the clicks if required. Elderly people might find it difficult to carry out displacement action.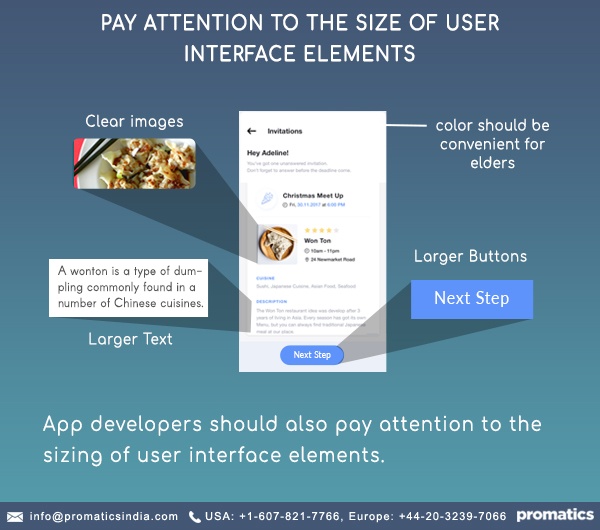 To overcome this issue, keep the scrolling simple and avoid displacement wherever possible.  Any user who turns to the interface should be able to navigate easily. Try using standard icons that display all parameters to one. Avoid hiding important information. Instead, use breadcrumbs to guide users to the respective sections of the web page. 
The main rule of thumb is that the app users should not have trouble recognizing similar colors. It is always better to opt for simple patterned background for an app. Elderly people are more likely to struggle to see items clearly on a complicated background. Understanding the color preferences will ensure that the app design is appealing. 
Avoid complex features and elements
Mobile apps with simple design attract users as they do not require complex interactions. It is better to avoid using slide-out menus as they may confuse elderly people. You can enhance the user experience just by adding a "Back" button to the main menu to give users a chance to get back to the previous action.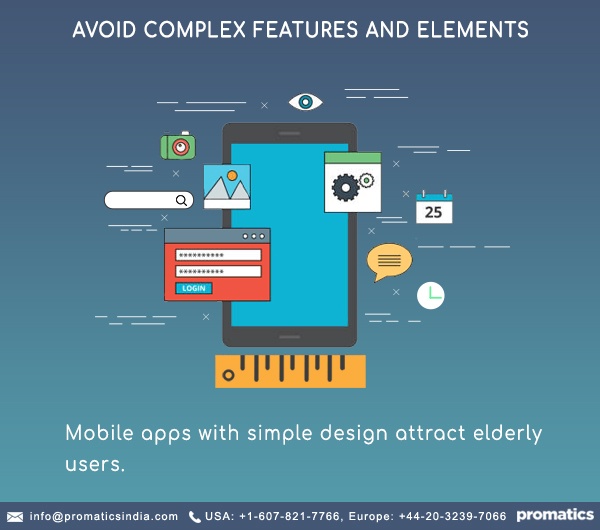 Mobile apps are loved by people because of their convenience and the information they offer. App developers must not ignore gestures while designing apps for elderly. Some people may find it difficult to scroll up in an attempt to access the previous page. It is better to avoid complex gestures in the app. Keep the gestures as simple as possible such as – simple tap, swipe etc. 
It is the responsibility of the app designer to ensure every senior citizen utilizes the features in an easy way. 
Conclusion
Elderly may not be able to understand the functionalities of the app. It is mobile app development agency's responsibility to ensure that everyone understands the app and utilizes it to make their lives better. At Promatics technologies private limited, we believe in inclusive design to enhance the usability of the app. If you are looking for a mobile app solution, drop us a line. We will revert with the best app development solution.