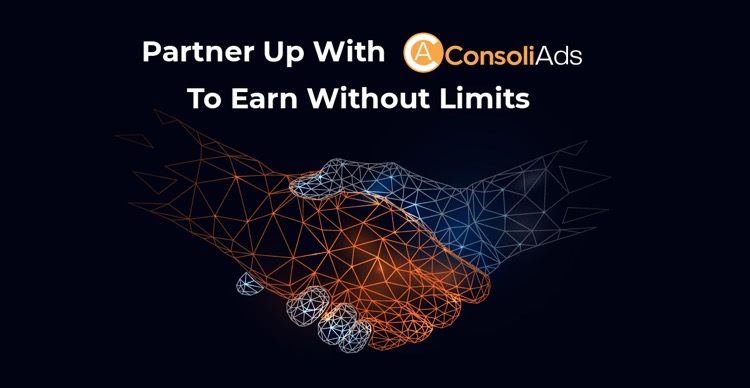 The pandemic has surely added to our laziness. Where the world merely acted like couch potatoes, the mobile app monetization industry soared revenues. Many among us developed some phenomenal mobile apps and games while accelerating the industry's revenue. The predictions reveal that soon in 2023 the mobile app market will reach a staggering $935 Billion.
This growth gave steroids to the need for app monetization, introducing the world to multiple strategies to monetize mobile games and apps. With this, many powerful mobile app monetization platforms and ad networks started making rounds in the industry. These platforms enabled games and app publishers to monetize apps seamlessly and accelerate revenue at best. Adding value to the fleet, ad mediation platforms also took charge of providing app publishers with maximum revenues at ease.
These app and game publishers worked around the clock to develop apps and later monetize them. But who does not want to earn while just sitting back and convincing a bunch of people for their good? Surely seems like an impossible job to get. But not with ConsoliAds!
ConsoliAds is giving you the opportunity to skyrocket your revenues by just convincing mobile game publishers and advertisers to monetize and advertise with them. Just join ConsoliAds Partner Program to earn without a limit!
Each successful conversion from your end can get you up to 20% of the referral's revenue. Whether you are an advertising agency or a tech junkie with solid contacts in the mobile app industry, this opportunity is for you!
What is ConsoliAds?
ConsoliAds Pte Ltd. is a leading Singapore-based one-stop mobile ads management platform that focuses on mobile app growth. A platform that focuses on changing your mobile app into a downright scalable business hassle-free.
ConsoliAds empowers mobile app publishers and advertisers to accelerate in-app revenue and acquire quality users from around the world. The platform enables them to foster growth by providing out and out mobile app monetization services and powerful audience targeting for highly effective user acquisition.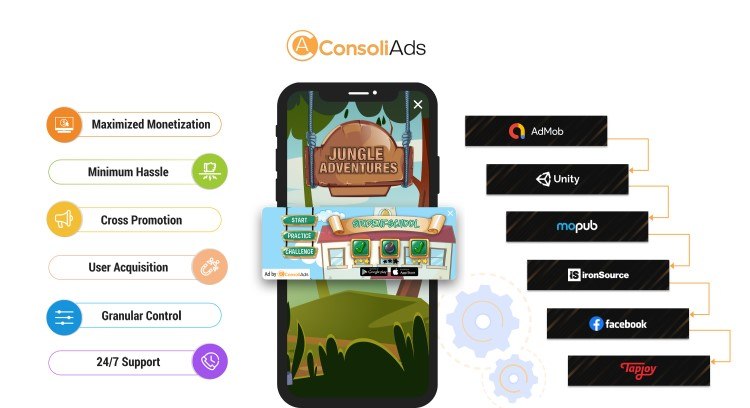 ConsoliAds for Mobile App Monetization
The platform is acknowledged among the top mobile ad mediation platforms offering mobile app monetization like no other. The platform thrives on active customer support and expert technical assistance for quick and easy SDK integration.
With just one powerful SDK, ConsoliAds gives publishers the ultimate power to monetize their mobile apps and boost their revenues up to 20%. But how? Here is the answer…
ConsoliAds connects mobile apps with the highest paying mobile ad networks with the integration of just one SDK! The dynamic auto-mediation feature then enables ad serving from only the highest paying mobile ad network whenever an ad request is made. With ConsoliAds, each unique impression brings in the best price to uplift your revenue like never before.
This mobile monetization platform lets app publishers grow revenue by offering mediation for all creative mobile ad formats. From icon, native, app open, banner, rewarded video to immersive ads, ConsoliAds offers mediation for all. The mobile app monetization platform lets you fully control ad placement and performance at ease. The convenience of having multiple ad networks at once and real-time placeholders' performance optimization enables publishers to boost overall show rates up to 95%.
Adding to this, comprehensive dashboards with in-depth analytics empower app publishers to optimize their monetization needs as per will. The absolute control of testing and live environment, moreover, make monetization simple, quick and hassle-free.
ConsoliAds for Mobile Advertising
ConsoliAds as a mobile ad network leverages mobile advertisers with robust innovative advertising campaigns. The platform ensures higher ROAS by empowering mobile advertisers with optimal advertising solutions. With concentrated and highly segmented targeting options, ConsoliAds lets mobile advertisers acquire users and have quality conversions. The mobile ad network thrives in the market with all top mobile ad formats for creative advertising campaigns.
Inventive ad formats and the power of appographics makes ConsoliAds one of the best ad networks for publishers and advertisers. The platform offers mobile advertisers to set up campaigns with a crisp amalgam of demographics and psychographics together. This, known as appographics, lets mobile advertisers segregate audiences at the maximum levels for a guaranteed return on ad spend.
The range of mobile ad formats include banner, native, interstitial, video and rewarded, icon, and immersive. ConsoliAds offers three dynamic advertising campaigns to facilitate both mobile app publishers and advertisers simultaneously. These campaigns include:
Network Advertising:
Let's advertisers promote an app or a brand with concentrated targeting within an inventory of the world's best apps.
Cross Promotion:
Let's advertisers promote an app into their existing mobile app inventory to successfully acquire a similar user base conveniently.
In-App Feature Promotion:
Let's mobile app publishers promote in-app features and offers within their app interface with innovative ad formats and pop-ups for better engagement.
With ConsoliAds, mobile advertisers get access to granular analytics and campaign management right at their fingertips. The range of in-depth breakdowns allows advertisers to review analytics and optimize campaigns without any hassle. The ad network offers scalable advertising campaigns that add up to get maximum ROAS with ease.
Moreover, ConsoliAds lets mobile advertisers enjoy the freedom of making a direct deal and boosting user acquisition by getting in touch with app publishers around you. These features, however, do not confine ConsoliAds as an ad network for direct mobile advertisers only! This mobile ad network lets advertising and marketing agencies run as many campaigns as they want while allocating scalable budgets for multiple clients.
What Are The Perks Of Joining The ConsoliAds Partner Program?
Skipped to this section right away? You seem convinced with the offer to earn without much hassle. If you have ample knowledge and experience in the mobile app industry and know how to convince people around you, this is a perfect job for you!
Every successful conversion from your referral on the ConsoliAds' platform will let you gain up to 20% of their earnings every month. Whether you refer a mobile app or game publisher for monetization or bring in an advertiser for user acquisition, every conversion will let you earn from ConsoliAds!
Not just this, with time, as the publisher gains more revenue or the advertiser increases his or her spending, the earning bracket for partners will grow simultaneously. The more referrals you bring in, the more you get to earn! ConsoliAds also offers amazing packages for agency affiliates to partner up with added benefits.
To partner up with ConsoliAds, just show us your marketing skills and join in! Partner Up with ConsoliAds to earn like never before.