Clear and flexible web-push service for webmasters:
Increases site performance
Quick and simple setup
Available free plan
Flexible built-in monetization
Expanding loyal user base
Users who turn on web-push agree to receive notifications. It's a good way to identify potential loyal customers.
Reducing unsubscribe rate
Keep your subscribers' attention and stay relevant – remind them of new posts and important news.
Informing your subscribers
The web push makes mass messages feel personal. Inform customers about what interests them, share special offers – and your notifications would be seen as friendly hints.
Increasing customer retention
A web push helps to gently remind your users of unfilled forms, abandoned shopping carts, or just the fact that you miss them. Retain customers by bringing their attention back to your site.
Monetization
Earn with our service online!
Awards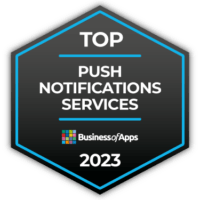 The Sender Features
Expanding loyal user base
Reducing unsubscribe rate
Informing your subscribers
Increasing customer retention
Monetization
The Sender Data
Sources: Company Data, Press Reports, Linkedin, Twitter, Owler, SimilarWeb