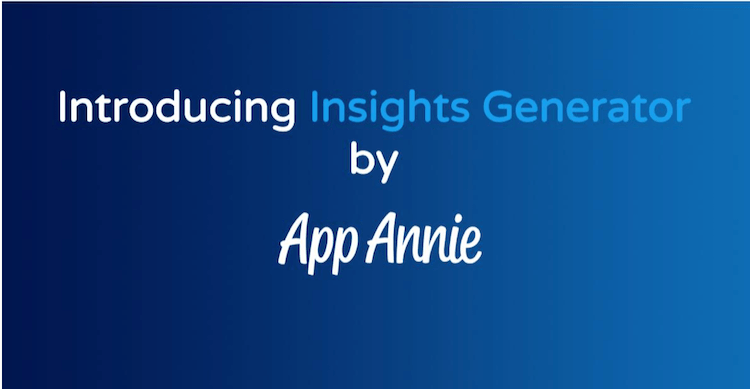 In 2018, over 6,000 mobile apps have been downloaded every second in the world. Consequently, data-driven market insights are crucial for app publishers to make strategic decisions. 
The main challenge faced by publishers is to drive meaningful insights from data.
To address this problem, App Annie recently released Insights Generator, that leverages App Annie's most comprehensive mobile market data and helps generate actionable insights in just a couple of clicks.
Insights Generator allows you to compare your app performance to a competitor app or a peer group and run complex analyses intuitively — all within one view. Included in the Insights Generator are pre-customized reports that compare across a number of vital metrics. You simply plug in your group of apps and unlock a number of strategic insights.
How good is your app at monetizing active users?
For any app publisher monetizing through the app stores, it is critical to understand how effectively top apps are monetizing their users.
The User Monetization report in Insights Generator illustrates who is effectively monetizing their users — by a number of strategic metrics including revenue and active users — and where opportunities for improvement lie.
This report below shows Candy Crush Saga and Fortnite leading the charge by successfully monetizing their large numbers of players, and also highlights that Pokémon GO is still a high  achieving game, with a large engaged user base and a good average revenue per user (ARPU).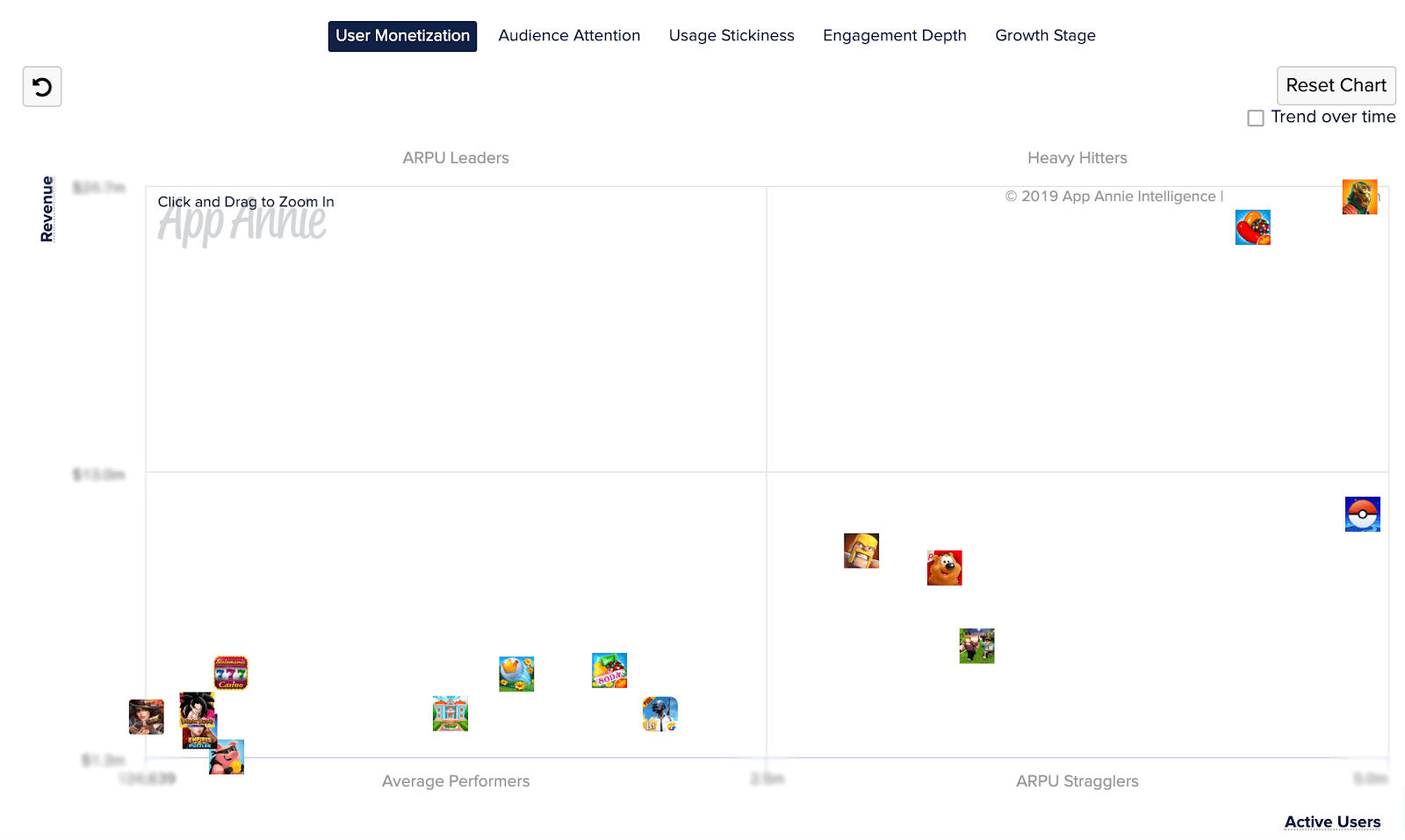 The User Monetization report allows you to get an understanding of the monetization potential of your app and provides the ability to benchmark against competitors.
How sticky is your app compared to the market?

 
Cultivating engagement, or stickiness, for an app is critical to downstream metrics like monetization, retention and lifetime value. 
For instance, travel apps continue to gain significant traction in terms of total sessions and overall adoption. Airbnb has established itself as a primary travel booking app by introducing features like Experiences and Restaurants which allow users to get more, not just out of their holiday destination, but also out of their local city.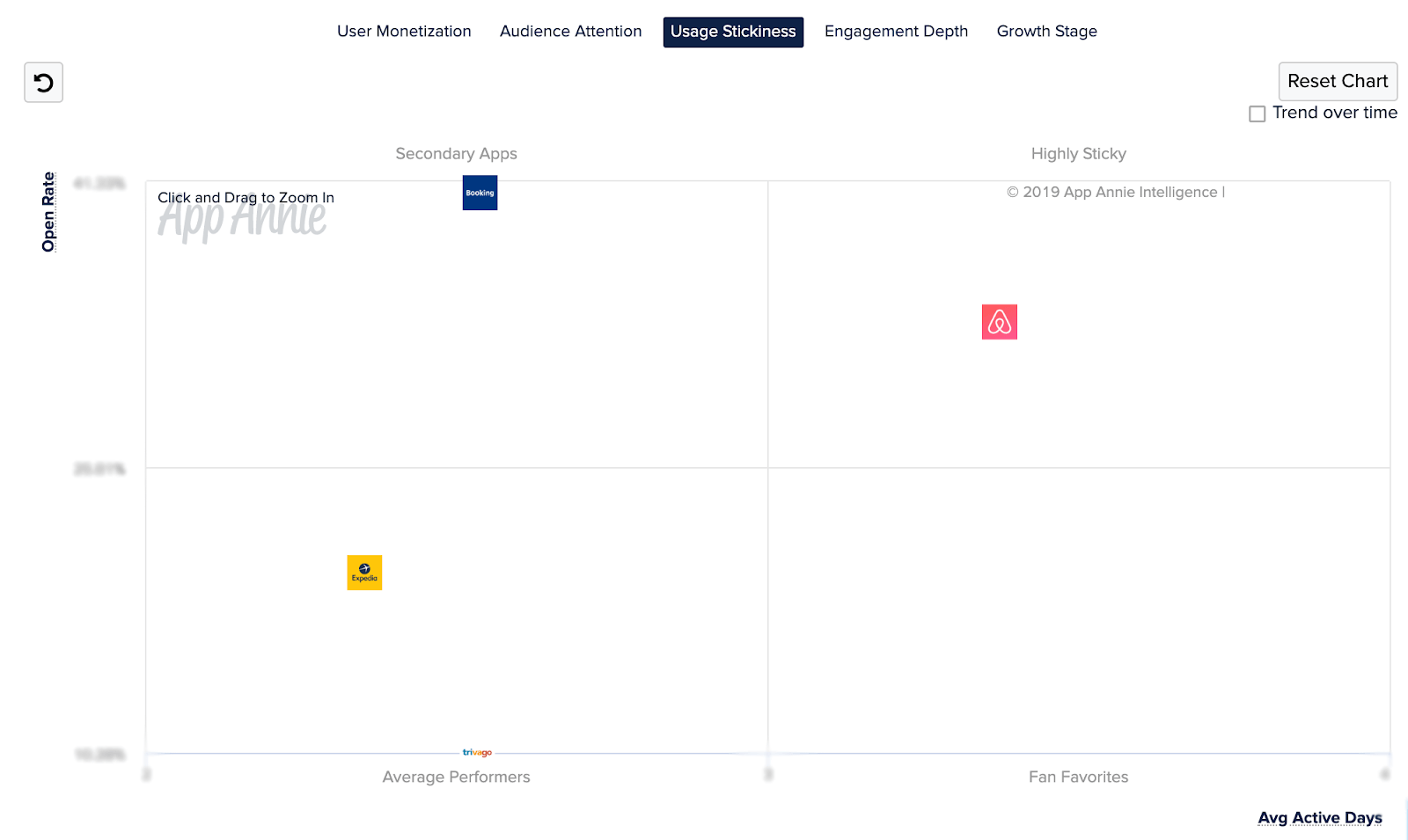 The Usage Stickiness Report illustrates that Airbnb's users are highly sticky, opening the app frequently throughout the month — a trend that has grown since the introduction of the Experiences and Restaurants features.
Who is growing in your market?

 
Insights Generator gives customers the ability to detect stealthy emerging competitive threats. The Growth Stage report in Insights Generator helps you identify fast growing apps in your category early so that you can craft a strategy to avoid losing market share.  
For example, in the US Food and Drink category, DoorDash gained significant traction on downloads and active users over the last few months. For the market leaders in the category, it is crucial to track the pace at which this app is acquiring users. Besides, with the 'trend over time' functionality in Insights Generator you can visualize the growth pattern of fast-moving apps in one view.
The Growth Stage Report from Insights Generator illustrates that DoorDash has grown quickly by acquiring new users and activating them to use the app.
Discover new insights every day
Insights Generator gives you the power to make better informed data-based decisions, and ultimately, a successful mobile strategy. With preloaded custom reports, Insights Generator empowers you to act on critical insights in a matter of minutes, and can contribute to the improvement of your app marketing strategy, including ASO and paid advertising. 
If you have an App Annie Intelligence account, try the new feature here.
You can also request more info about App Annie Intelligence by contacting sales.