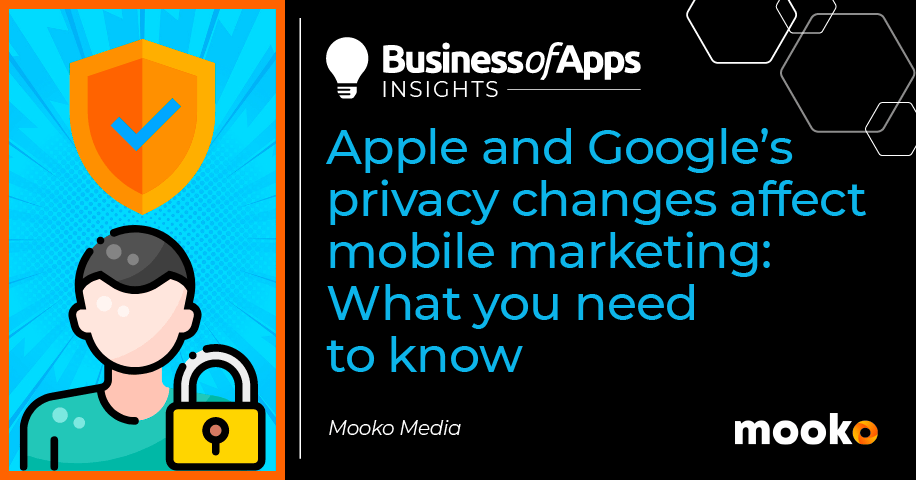 Let's find out what will change with Apple and Google's privacy updates.
Apple has created a more transparent, and intelligent way for users to track their privacy.
The newest system in-app advertising is also known as App Tracking Transparency, and it requires users to opt in before being tracked by advertisers. In other words, if someone wants an app to track them, they must let the app know–every time they use it. Experts believe this will ultimately be a good thing for consumers because transparency is always a healthy thing when it comes to privacy.
However, many of you may be wondering how this affects your mobile business? Well, there are two primary things you should know:
The new version of Apple's iOS14 prompts users to opt-in or out of receiving ads.
Apple will begin applying App Transparency to apps, but not the browser. If you want personalized ads from apps as opposed to a browser, like Facebook, then you need to opt-in. By only opting in when necessary and at the discretion of each user, Apple is giving the customer power over their phone and preventing invasive advertising.
The move is to provide greater privacy protection for Apple users; however, Facebook has said that this would hurt businesses that rely on the platform.
A consumer that opts out of tracking will see generic and non-personalized ads.
You don't need to panic: Generic ads can still be effective. In fact, the cost per conversion for generic ads is often lower than that of personalized ones.
A key benefit of low-targeted ads is that they can have higher overall engagement rates and make brand awareness more ubiquitous by getting better exposure across a wide variety of potential consumers. Organic ads are also free from the limitations of targeting individuals based on their personal interests, making them a cost-effective option when looking for an ad campaign.
When you tailor your ads to a specific person, you are also targeting their interests as well. Generic advertising can still be effective if your goal is to reach a group of similar people who have the same interests. What makes generic advertising so popular among advertisers is its simplicity and accessibility.
Google has also announced changes that will affect Android users.
Google will update its privacy policy, to limit the data that is shared on their Android devices. Though these changes are not as disruptive as Apple's last year.
What does the change mean for marketers?
Apple's major update was in Safari 14, included with macOS Big Sur and iPadOS 14.
Google has said that it will continue to support other technologies for at least two more years but has not given an exact time frame.
To succeed in the post-privacy world, your business must consider audience insights and how they like to be communicated with. What questions should you ponder?
What do consumers want from their interactions with brands?
Why are consumers seeing your ad, and what makes it appealing to them?
What does your brand stand for? What value does it offer customers?
Brands could test direct response campaigns with larger audiences based on broad targeting such as interests or demographics.
Companies can explore the audiences they want to target and experiment with social media. They can see what strategies would be successful for their ads and apps with a larger audience of people who may share interests or demographics.
Working with a Mobile Marketing Agency that has experience in user permissions and user data privacy can help you navigate Apple & Google's new privacy changes.
You can use retargeting to direct users back to your website who have previously been on your site. Retargeting is a powerful way to reach those people with specific ads that are tailored to their interests.
Ads can be tailored to a user that views and adds items to their shopping cart but didn't buy. To increase the likelihood of a purchase, you can show ads reminding the user about the products they left behind.
How these changes will affect marketing
The changes imposed by Apple and Google will undoubtedly force changes in the industry. Because of this, you may want to adjust your marketing strategies in response.
When marketing a physical product, you can drive people to the website and segment them based on what they were viewing ads in. In doing so, you take more control over your campaigns by segmenting your users into specific channels and limiting their data access to Facebook and Google. You're also able to create more conversion sections for free as IDFA is passed between websites. However, this flexibility does cost marketers some of their tracking abilities because IDFA data won't be passed along from app to app.
If you're marketing a non-physical product like software or digital services that require an app download and want to target customers through Facebook or Google Ads outside of apps and mobile search engines, then it's best to create landing pages within your own site (and not those of third parties). From there, redirect customers back into the app they've downloaded via deep linking technology — which will allow them to skip logins/registration forms when they return later.