App Annie is an app analytics and market data platform to help developers build a better app business. Track your app's downloads, revenue and rankings with app store analytics, spot trends with advertising analytics, then get user base insights from in-app analytics. App Annie offers the following to app developers:
One consolidated platform for your data needs
Combine data from all your ad platforms, automatically
Track your apps and competition with Store Stats
If you're serious about promoting your app, the products they offer are so useful and the data they provide so complete you can't really go without, so you'll want to know what it is exactly that they offer, their costs and pricing plan and, if that's not for you, what are the alternatives and competitors.
But what (or who) is App Annie? Is it worth paying for the premium service? What kind of competitive edge doe it provide over competitors? That's what this guide is for. It's divided into the following sections:
The guide will also answer something you might have asked yourself: why is the company called App Annie? Dive in below to find out.
App Annie Company Overview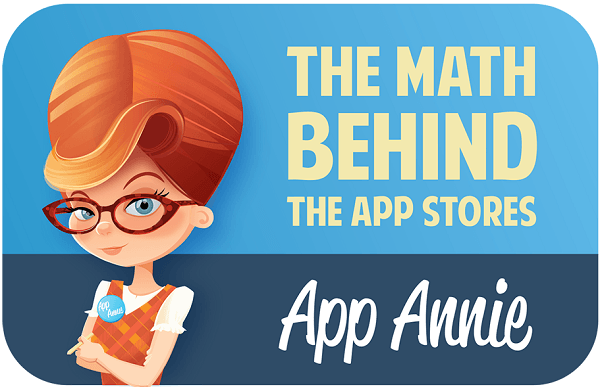 App Annie's most famous product is their index of the top apps in stores, but they offer a lot more.
The company is the go-to for detailed information about what's ranking in app stores, what keywords apps and their competitors use and any statistic or figure you may need to know for your own mobile application.
Founded in 2010 by Bertrand Schmitt, with it's sleek dashboard and functional API it has become the market leader for app market and store data. How did the name App Annie come to be?
In the words of Bertrand Schmitt himself:
"We initially called ourselves 'App Nanny' because we wanted to take care of all the apps [with data], but we decided that it might not be taken too seriously, so we settled for App Annie instead."

Bertrand Schmitt in interview with Business Insider.
It's made three acquisitions so far, and each of those companies did analytics and market intelligence extremely well. It bought Distimo (app store analytics) in 2014, Mobidia Technology (app analytics) in 2015 and Appscotch (market intelligence) in 2016.
The company is also trusted by some extremely large enterprises. Key clients include McDonald's, Pandora, Warner Brothers, Disney, Coca-Cola, Verizon, Geico, Amazon and AT&T. Since its start in Beijing, it moved its headquarters in San Francisco and also has offices in Beijing, Berlin, Hong Kong, London, Moscow, Mumbai, New York, Paris, Seoul, Shenzhen, Singapore, Tokyo, Utrecht and Vancouver.
The App Annie Client Wall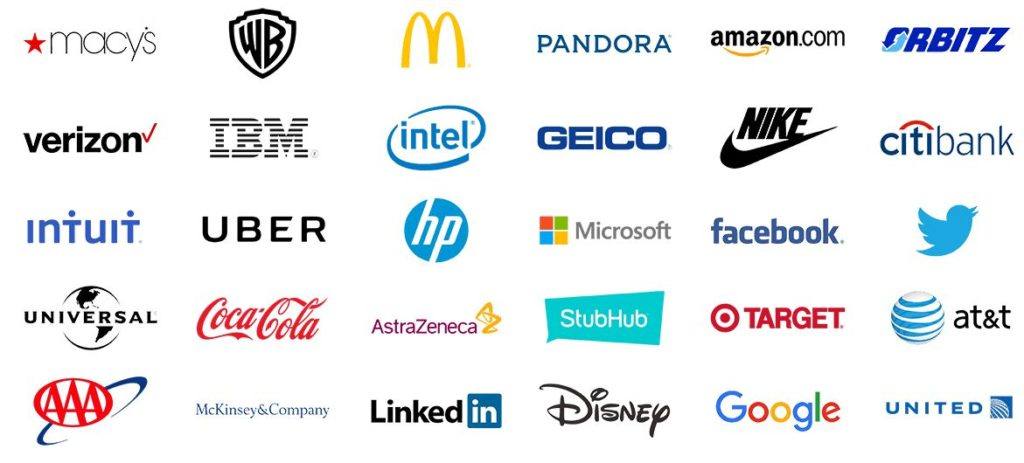 Source: Appannie.com
It has also been recognised by a number of publications and businesses worldwide, including being nominated in the top 100 cloud companies by Forbes and n.10 in the Technology Fast 500 for North America by Deloitte.
Each of their products has a free tier, allowing you to test them out and think carefully before signing up to their paid-for products: App Annie's pricing structure is highly dependent on your needs and means and they do not display costs on the website, so it's in your best interest to know exactly what you need.
In a world where app store optimization can double or triple sales, you want the best intelligence there is on what works and what doesn't. So let's dive in to the platform to help you decide, starting off with some key facts about the company.
App Annie Key Facts
App Annie is a large company not in the sense of the number of employees, but rather the amount of data it produces just how crucial it is to app marketing. Here are a few figures to chew on:
Employees: 450
Founded: 2010
Store Stats Subscribers: 700,000+
Market Data Intelligence Subscribers: 20,000+
App Analytics Subscribers: 80,000 publishers, 1 million apps.
Facebook likes: 32,000
Twitter followers: 22,000
Total Equity Funding: $

157M

in

6 Rounds
As you can tell from the stats, the company is very strong and has had an upward curve from pretty much the moment of inception. Up next: what they offer.
App Annie Products
App Annie divides its products into two major categories: Market and Analytics. The first supplies you with intelligence and statistics of what other people are doing, while the second is about your app and its performance.
Let's break down the services further.
Market – Store Stats and Market Intelligence
App Annie has made a name for itself for a number of reasons, one of which is their consumer index, which shows which apps are downloaded the most from the iTunes App Store and Google. Here's a quick video on app store stats and how it works.
Store Stats with App Annie

Store Stats is more of the same excellent data: App rank history, ratings tracker, app details and keyword rankings are all included, giving you the chance to find out how competitor apps are doing on the market. What Store Stats won't tell you, however, is why their performance is what it is.
In comes Market Intelligence (and its bigger brother, Enterprise Market Intelligence). This paid-for tier of market-related products offers everything Store Stats does plus ton of data to look under the hood of high-performing apps. As well as estimating downloads and revenues for top apps, publishers and market segments, keyword search volume and rank difficulties are tracked. This allows you to optimize your app's store page with the most sought-after keywords, informing you of which ones work and which ones do not for a given type of app.
This video is a short summary of how market intelligence can be used to optimize your app strategy.
App Annie Marketing Intelligence Video
Market Intelligence delves further into apps by tracking active users, duration and frequency of use, data usage, revenue per user, retention rates and even market penetration. It also gives you access to estimates of demographics and cross-app usage and a whole slew of advertising estimates: from the top advertisers to country breakdowns and share of voice.
The "Enterprise" level of Market Intelligence delivers all of the above, plus data on which devices are being used, the mobile network operator, time of day and ad pricing plans. Both tiers export data to CVS, cover app usage and advertising estimates, but only Enterprise has an API, reports and OEM estimates
N.B. It is important to state that all the statistics which App Annie collects come from apps that run App Annie's API. This means not all apps are included: for example, proprietary apps made by Apple to go on their iPhones and iPads do not count among these statistics. Youtube does not run App Annie, and so stats for the main video-streaming service in the world are not tracked. App Annie integrated Google Analytics in 2015, which has a 90+ percent share of the Android app market, but only 30% of iOS, so statistics are more accurate for Android.
While an important detail to keep track of, it does not invalidate the insights App Annie can give you. 90% of the top 100 app publishers in the world use App Annie, which has 1,000,000+ apps signed up to it. Even if proprietary Google and Apple apps are not included, the sample pool is huge and the data relevant.
Analytics – App Store and Advertising
The "Analytics" line of products is essentially the opposite to the "Marketing" line: it gives you insights into how your app and your ads are performing. Here's a brief video on how App Annie handles that.
App Analytics with App Annie
There are two versions of this: App Analytics and Advertising analytics. Here are the two explained in a little more detail.
App Store Analytics
App Store Analytics covers all the key metrics generated from your app's store page such as revenue and which keywords return your app, downloads by store, country and period and plenty more. This data (which you can access on the web, through the API, on mobile, through app reports or CSV file) can then be used to optimize your store's page through App Store Optimization, also known as ASO. If you're not sure how ASO works and what tools you can use to do it, check out our explainer: WTF is ASO?
The iOS Top App Charts Dashboard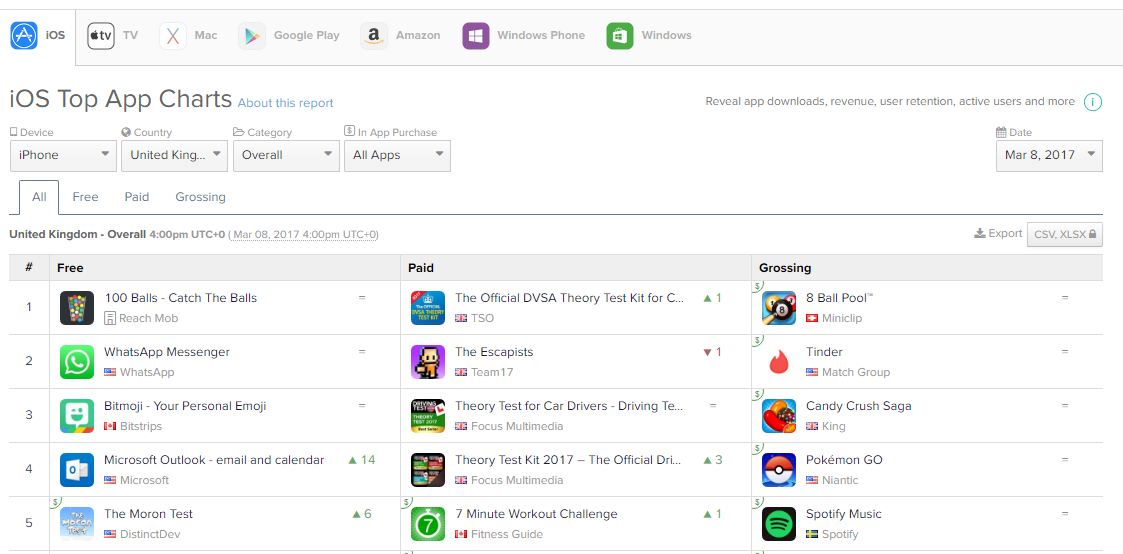 Source: Appannie.com
App Store Analytics Key Features
Supported platforms are iOS, TvOS, Google Play, Amazon, Windows Phone and Mac.
Aggregates store, ad platform and in-app usage data.
Compare data between versions and between different apps
Advertising Analytics
Advertising analytics helps you determine where your marketing budget is bringing in a good return on investment and where it isn't. Examine revenues, conversion and click-through rates by campaign, vertical, ad platform, demographic data and much more.
Ad Networks Integrated with App Annie's Ad Analytics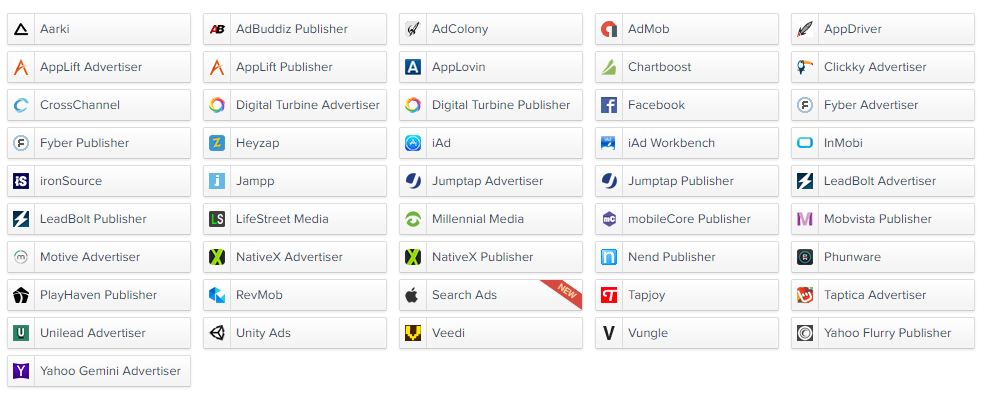 Source: Appannie.com
The platform delivers P&L reports for apps by combining data from all campaigns and allows you to dig into eCPMs, fill rates and much more. Data collection is automatic, occurs on a daily basis and requires no API or SDK setup.
Key Features
Supported platforms are Facebook, iAD, AdMob, Chartboost and thirty more.
Revenue metrics: eCPM, eCPM, Impressions, Clicks, and Fill Rate.
Expense metrics: Clicks, Installs, CTR, Impressions, CVR, and eCPI
Keep in mind that App Annie's platform does not cover technical in-app data like crash reports, A/B testing and all app performance metrics – it's much more focused on user engagement data, reviews and revenues. All this data is just as crucial, and you can read more about it in our guide to app analytics service providers.
So now we've given you a run-down of the products, how much does App Annie cost?
App Annie Pricing
App Annie's model is what's known as "Freemium". Some features are free, but there are premium tiers you need to pay for.
They give you their analytics package for free so they can in turn collect data for their paid tier of market intelligence. It's a good trade-off.
App Annie's pricing structure is highly dependent on your needs and means – given that it can vary so much, they do not display prices on their website, but require you to get in touch with them to get a quote.
The App Annie Pricing Page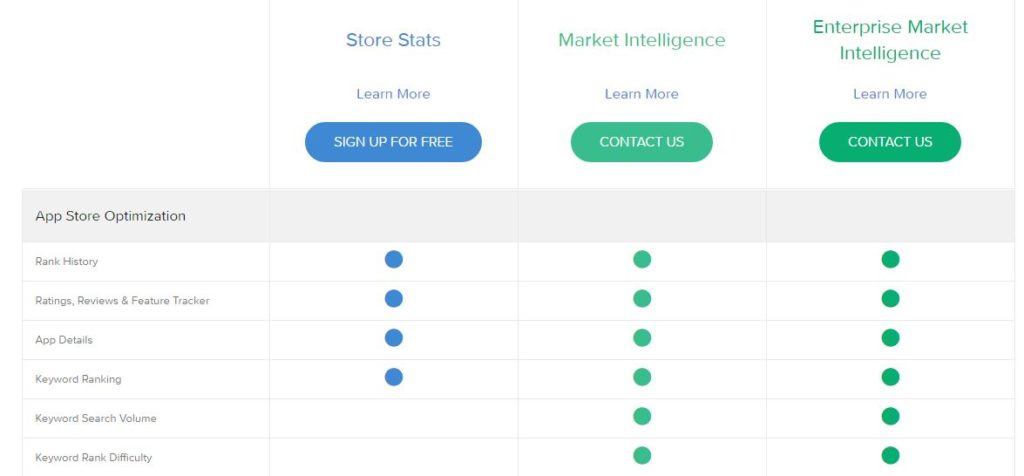 Source: Appannie.com
While their Analytics platform is completely free, the Market Data product has three tiers, of which the first is free. Estimates on costs start at $59/month to track a single app, while their Intelligence is estimated to cost a minimum of $15,000/year, with some claiming they easily reach six figures if you want to track multiple apps.
Store Stats, the free tier,has email only support only, and results are delivered on their web UI. There's also a user limit of one.
Market Intelligence Enterprise Market Intelligence, the premium tiers, offer much more. What Enterprise has to offer over the "standard", besides what we've already covered, is no user limits (the other tier reads "custom"), the Restful API, Advanced Tableau Workbooks and monthly CVS file reports.
App Annie is an extremely powerful tool and one of (if not the) best in its category – but the obscure price structure might be off-putting and it's always good to know what else is on the market, so here are some App Annie alternatives.
App Annie Competitors and Alternatives

Strong as it is, App Annie is the not the only player on the field when it comes to market intelligence and app store analytics – in fact it competes with a number of different companies in different areas. Below is a brief description of alternative tools divided by the type of services they offer -we've divided them into two categories: app analytics and market intelligence.
Market Intelligence Tools

An organic user acquisition service that helps app developers grow their audience using App Store Optimization and app marketplace intelligence. Sensor Tower gets you insights into the competitive landscape using the free Rankings and Leaderboard tools and track your app's performance and rankings with the ASO platform.
Pricing Structure: Custom for Enterprise, two tiers for Small Businesses: $79 and $399 a month
Type: Market intelligence, ASO, ad intelligence.
Get app download and revenue estimates
Discover the competitive landscape using the free Ranking and Leaders tools
Analyse reviews to identify your users' pain points

Apptopia's plans start at $49.99/month for five tracked apps, with optional add-ons of $14.99/app, and always include SDK analysis, monthly active users, downloads and revenues. Apptopia's "Breakout Predictor" also attempts to identify which apps will hit the top 100 before they do so.
Pricing Structure: $49.99/month (five apps), $899.99/month (all apps) and $2000/month.
Type: Market intelligence, ad analytics.
Base plan tracks five apps.
Additional apps to track cost $14.99/each.
Key partners include Verizon Wireless, Facebook and Universal.

Two different offers by Prioridata: Keyword Intelligence, for optimizing your app's store page, and Competitive Intelligence which tracks both your app's performance and that of your competitor apps across various countries and stores.
Pricing Structure: Both products freemium, Keywords is $66, $83 and $142/year while Competitive is $83/416$/$749 per year.
Type: Market intelligence, ASO.
Freemium model tracks 3 apps or five keywords (but in US only).
Trusted by Spotify.
Tracks apps in 57 countries and across 93 categories.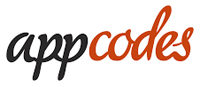 A tool for developers to optimize their app's performance in the app store. Use Appcodes to perform app store SEO, track your competitors, and investigate and hand-pick keywords for better results.
Pricing Structure: One tier, $14.95/month
Type: Market intelligence, ASO.
Keyword research and app SEO
Monitor your competitors
Tracks press mentions
While MetricsCat has no free tier, it does offer a 14-day free trial. Get weekly reports on competitor insights for the iOS App Store, Google Play and Windowsphone, and the software also offers keyword suggestions for ASO.
Pricing Structure: $499/month, $149/month, $99/month.
Type: Market intelligence and analytics.
Export data to Excel.
Widget creator to show reviews.
Lowest price tier allows you to track ten apps.

Provides the unusual option of downloading all of its app data as a JSON file or a SQLite database. Appfigures offers app performance tracking for developers and app owners, as well as Market Intelligence for marketers and analysts.
Pricing Structure: Analytics – Free, $4.99/month, $249/month; Intelligence – Contact for details.
Type: App analytics, Market intelligence.
Tracks and collects intelligence from more than five million apps.
Real-time emails and Slack alerts.
Trusted by Microsoft, Nike, Airbnb, and Slack to name a few.
App Analytics Tools

Mixpanel is an advanced analytics platform with nearly 3000 clients including miniclip, AirBnB, WordPress and Match.com. Mixpanel's SDK can be deployed on all major platforms, including mobile, in under 10 minutes.
Pricing Structure: Free, $99/month, $999/year and custom for enterprise-level.
Type: App Analytics.
Free up to 25,000 data points
Very scalable price plan up to 20M datapoints, and then open to negotiation
Huge scale of operations: over 34 billion actions analysed each month

Attribution and analytics software package for mobile applications, enabling mobile app marketers to examine store statistics, advertising sources and advanced analytics to fully monetize their application. Adjust is an official Facebook and Twitter partner.
Pricing Structure: Custom
Type: Ad Analytics, App Analytics.
Free 30 day trial available
Clients include T-Mobile, Bauer Media Group and Universal
All data stored in secure German data centres

appScatter is an "app strategy" platform which keeps track of what it calls the four main pillars of app strategy: distribution, tracking, performance and intelligence, with a specific focus on distributing apps on more stores than just iTunes and Google Play.
Pricing Structure: Free.
Type: Ad Analytics, App Analytics.
Focus on emerging markets.
Free access.
Seamless integration with adjust, Digital Turbine and many more.
Attribution analytics platform for mobile marketers. Tune's marketing console helps you evaluate campaign performance for each of your media partners, boost your organic results using app store analytics, and maximise your users' value.
Pricing Structure: Free for up to 10 apps, then custom.
Type: Ad Analytics, App Analytics.
Attribution analytics for accurate campaign performance insights
App store analytics to maximise installs
Build user segments to tailor in-app marketing

A mobile app tracking and attribution analytics platform for app developers and marketers. Use Appsflyer to manage, measure and optimize your mobile user acquisition process to improve your ROI. Interesting pay-per-use pricing plan too.
Pricing Structure: Pay-per-use or Custom
Type: Ad Analytics, App Analytics.
Real-time data to maximise your advertising ROI
Reports to maximise the lifetime value of your users
One universal SDK for easy integration

Yahoo!'s free mobile app analytics software package, deployed to over 540,000 applications by 170,000 developers including BBC Worldwide, American Idol and Skype. Flurry is available for any mobile platform and HTML 5.
Pricing Structure: Free
Type: App Analytics.
High focus on mobile games
Crash and user acquisition analytics also available
Free at any scale
Final Thoughts:
Without a doubt market intelligence, app store and app analytics are a key part of any app-related business strategy, and App Annie delivers on all three. Coupled with a world-class dashboard and a broad range of metrics, it really is a perfect tool to see how your app is performing and what it could be doing better; that said, if the potential price puts you off, there are plenty of other alternatives, starting from the very accessible price of free.
App Annie Info
App Annie News
App Annie Insights
Latest Tweets from App Annie:
App Annie Rankings
App Annie Competitors and Alternatives
Sorry, we don't have these details yet. If you are a App Annie representative, please get in touch to add additional information and contact options to your profile.