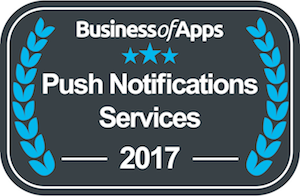 App Push Notification was pioneered by Apple in 2008 with the introduction of iOS 3. This technology has also been adopted by Android and Windows Phone OS. So what is a push notification? The Push Notification technology allows to deliver information from an app to a mobile device or desktop computer without a specific request from the app, meaning an app doesn't have to be launched to get a Push Notification.
Today app push notifications are being used to deliver all sorts of information to app users, like specials (e.g. "Get your 10% OFF this weekend only!" for e-commerce apps), location-based messages (e.g. "Come by and enjoy this fall SALE prices!" for brick and mortar retail store apps), available new content on news and media apps like Apple News, CNN, Netflix, YouTube and others (e.g. "The Late Show with Stephen Colbert…" episode that is being sent from the YouTube channel of the show) and the list is on and on.
One of the emerging trends we can see for the use of Push Notification technology is that companies begin to offer a delivery status tracking feature. It allows app owners to receive  a status message – delivered, opened, URL inside a message was clicked, etc for each push notification sent. The reason why this trend is emerging is simple – a churn rate, app owners are facing an increasing challenge of keeping their user base. People have several dozens of apps on their smartphones or tablets and there is just not enough time for them to pay an equal amount of attention to each app. So a push notification alone is not enough anymore, app owners need a reliable channel to get a feedback and see what kind of reaction their messages do trigger.
Having said that, while utilizing Push Notifications for mobile app users re-engagement, app developers, shouldn't forget about regulations that Apple has established to set the rules for using this technology in iOS apps and specifically this article:
4.5.4 Push Notifications must not be required for the app to function, and should not be used for advertising, promotions, or direct marketing purposes or to send sensitive personal or confidential information.
Meaning app developers need to keep a healthy balance – use Push Notifications to communicate with their users about information that is useful for them but do not abuse this technology.
Let's look at some numbers that will help us to see how important Push Notifications technology is for the app industry. According to the mid 2017 research conducted by Leanplum mobile marketing platform that specializes on app engagement, push notifications are capable to increase purchases up to 10 times and push in-app spend 16% up. The data also reveals that during a week push notifications sent on Saturday can double the number of purchases people do with mobile apps. And when it comes a question – during what time of a day people would do more purchases after getting push notifications, late afternoon rules supreme with 2.7 times increase.
The data from Urban Airship digital growth platform brings up another push notifications facet – how they influence mobile user retention on both iOS and Android platforms. According to their recent data, developers who neglect sending their mobile app users opt-in push notifications loose a whopping 95 cents for every dollar spent on user acquisition.
On the following graph you can see another find from Urban Airship paper, how sending push notifications influence churn rate on both major mobile platforms – iOS and Android. For the latter, not sending notifications results in 20% retention rate for the first week vs. 80% if notifications were sent. For iOS the numbers are less drastic but still impressive, 55% retention rate when developers don't send push notifications and 90% when they do.
Mobile user retention % as a function of push notifications sending frequency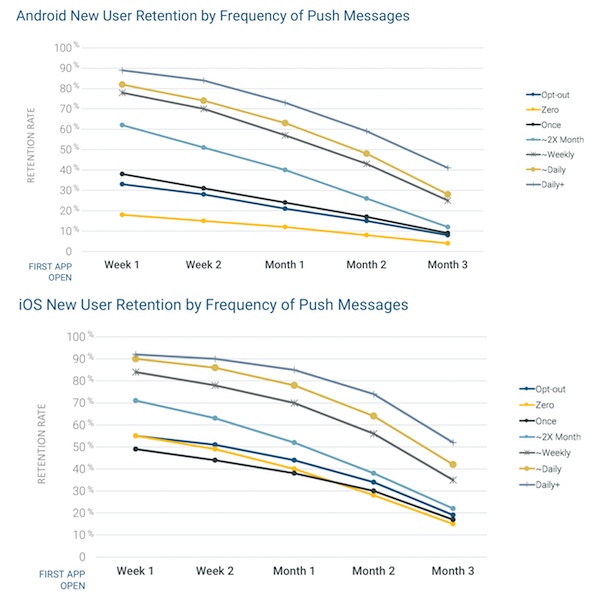 Source: Urban Airship
Now, when we've addressed the significance of Push Notifications technology and how important it is for helping to deal with user churn problem, let's take a look at top companies that provide app developers with platforms to send iOS and Android Push Notifications.
Note: the companies on the list we've complied below are not in any priority order. 
Our List of Push Notification Services
Batch  is a mobile app engagement platform, launched in 2014 by Simon Dawlat in France. It provides app push notification solution for app developers to send mobile push notifications on scale. Having native ads monetization component, allows Batch to provide its service free of charge.  One of the key features is its Batch Insights tool that allows app owners to track push notification campaigns of their competitors on the platform. The Batch API allows users to control their campaigns from their own app marketing dashboard. By tracking app usage frequency Batch creates users segments automatically, with custom segments creation available as well. Currently it has about 500 clients with hundreds of apps registered in the platform.
Pricing & Features: 
send rate: 500 messages / minute, no API – free
send rate: 2,000 messages / minute, API – $49/month
send rate:  20,000 message / minute, API, standard support – $199/month.
Free trial
Frequency based automatic users segments creation
High delivery speed
API for users own dashboard integration
Competitors campaign benchmarking
Search Engine to look up the extensive app push notifications database
Platforms & native app development support: Android, iOS, Windows Mobile, Unity, Air, Cordova, Ionic, and Phonegap
Batch mobile app engagement platform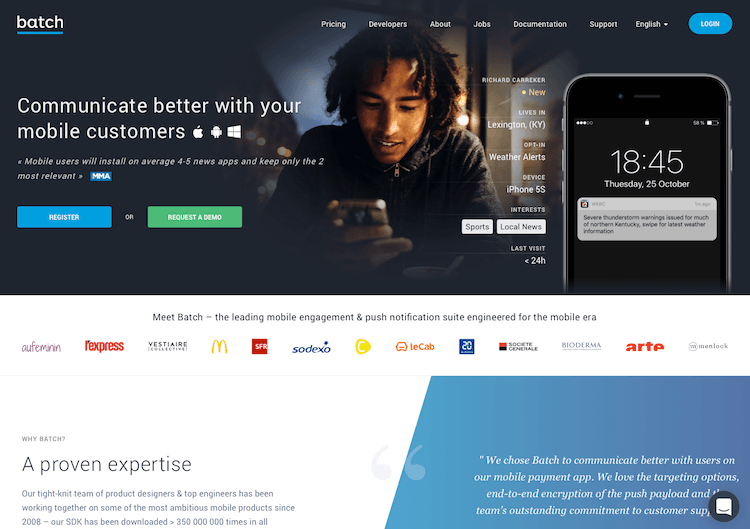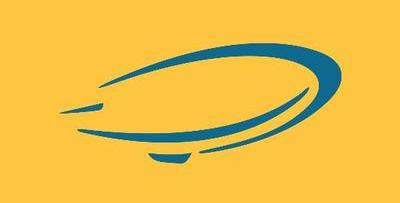 Urban Airship is a mobile engagement company, founded by Scott Kveton, Steven Osborn, Michael Richardson and Adam Lowry in 2009 in Portland, US. The company platform's functionality combines app push messaging, in-app messaging, location / proximity targeting and analytics. Urbanship is focused on leading brands to facilitate their mobile strategy and help them to be efficient with a mobile channel. The range of business verticals, the company works with, includes retail, media & entertainment, sports and travel & hospitality, companies like ABS News, Adidas, Virgin Galactic. Urban Airship manages to push 75 billion messages a month for 2 billion active app installs.
Pricing & Features 
45 days free trial
Exceptional throughput (300k messages / second)
High security level. It's hosted at a Tier 3 SSAE 16 certified data center with fully redundant power backup and fire suppression systems, 24/7 security guards, mantraps, controlled access, biometric authentication and video surveillance.
Platforms & native app development support: iOS, Android, Windows Phone, BlackBerry.
The Evolution of Push Notifications in 2:38

Amazon Simple Notification Service was launched by Amazon in April, 2010 to facilitate mobile app developers work and help them to build more sophisticated apps. The company's platform allows app owners, using a single API, to send app push notifications to multiple platforms (iOS, Android, Windows Phone and Fire OS). Among its clients such notable companies as WunderList, Yelp, Hike Messenger, Yik Yak.
Pricing & Features: 
First million of notifications delivery is free, after $.50 / million
Top level hardware infrastructure
Simple APIs and easy integration with mobile applications
Flexible message delivery over multiple transport protocols
Inexpensive, pay-as-you-go model with no up-front costs
Web-based AWS Management Console offers the simplicity of a point-and-click interface
Platforms & native app development support: iOS, Android, Windows Phone and Fire OS
New Mobile Push Notifications from Amazon SNS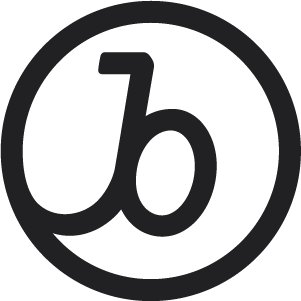 Braze, formerly known as AppBoy, is a marketing automation company, founded by Mark Ghermezian , Bill Magnuson and Jon Hyman in 2011 in NY, US. Helping app owners to solve app abandonment problem, increase engagement and reduce churn. Appboy features a sophisticated user profile system, advanced customer segmentation, and  multi-channel messaging (email, News Feed, push notifications, in-app messages), all these tools allow brands to be efficient at cultivating relationships with their customer base. Among the company's clients are Clients like iHeart Media, Gannett, Urban Outfitters, Epix, and Shutterfly. During 2011-2014 period the company went through 4 funding rounds and secured $22.5M in total.
Pricing & Features: 
intelligent push messages delivery
sophisticated message personalization
action-based delivery
Xamarin OS support
Platforms & native app development support: iOS, Android, Windows Mobile, Unity, Fire OS, Xamarin, Baidu and web
Enhanced PUSH Made Perfect: 5 Ground Rules for PUSH That Don't Spell S-P-A-M

Kumulos provides a White Label, Mobile App Performance Management platform for mobile app development and software development companies. One of the top features that Kumulos platform provides are Push Notifications that come with ability to customize it for a specific brand.
Pricing & Features:
$50/month and up, based on a specific package.
Schedule Push Notification Messages which are localized to time zone
Build effective segments, filters and channels to reach the right audience at the right time
Send background data with your notifications to make changes to the app
Reach the right audience based on location using the Kumulos Geo-fencing capabilities
Use the Kumulos API to automate push notification messages based on events in the app.
Track results directly in the white label push notification dashboards. View delivery and open rates broken out by time and platform.
Platforms & native app development support: Android, iOS
Enabling Push Notifications for iOS | Kumulos

SWRVE is one of the leading mobile marketing automation companies, founder in 2011 by Steven Collins in San Francisco, US. Sending push notifications is only one of the services that company provides, the others are app analytics, A/B testing, in-app campaigns and more. It's managed to secure such high profile clients as Electronics Arts, Warner Bros., Life360, Sony, McAfee. SWRVE company has gone through four rounds of funding and has got $21.4M.
Pricing & Features:
Segmentation capabilities that allow high level of push messages personalization
Local time push notifications delivery support
Analytics tools to do A/B testing
Platforms & native app development support: iOS and Android only.
SWRVE Push Notifications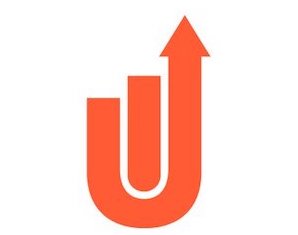 UpSight (formerly Kontagent+PlayHaven) is a mobile marketing and analytics company founded in 2007 by Albert Lai and Jeffrey Tsung. UpSight is headquartered in San Francisco, US with additional offices in Toronto, Canada and London, UK. The company's app push notification services features advanced level of customization with Emoji. Among the companies clients portfolio such established brands as Warner Brothers, Viacom, and Turner, and game publishing powerhouses such as BigFish, Activation, Electronic Arts and Glu Mobile. On April, 2015, the latest funding round has brought the company $7M.
Pricing & Features:
custom pricing, no plans
Simple to learn push messages web-based editor with performance analytics features
Emoji in messages support
User Explorer and Segment Builder to find valuable user segments and create highly targeted push campaigns.
Platforms & native app development support: iOS and Android.
Upsight iOS SDK Integration Guide (Support Video)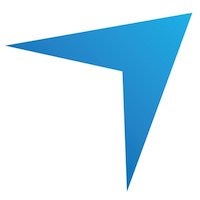 Accengage is a mobile app push notification service company, founded by Jérôme Stioui in 2014 in Paris, France.  The company's platform offers the suite of tools to help both app publishers and advertisers monitor the value of customers they acquire and increase mobile engagement. In addition to push notification tools, it offers mobile retargeting solution, mobile app tracking technology, and is connected to third-party analytics tools. Assengage clientele includes such established brands as Disney, KLM, Nestlé, Carrefour, Orange, Condé Nast, Century 21, Price Minister from the Rakuten Group. In January, 2015 the company secured $3M in its first funding round.
Pricing & Features:
Demo
Complete push notification solution: push notifications, in-app messaging. mobile retargeting
Capable to handle several billions push notifications / month
Dynamic segmentation and targeting
Real-time geofencing
Notifications personalization
Automation
Interconnection with user's CRM
Analytics Tools for mobile CRM scenarios
A/B Testing
Multi-app messages
Badge management
Facebook notifications
Platforms & native app development support: iOS and Android.
Push Notifications & In-App Messages From Accengage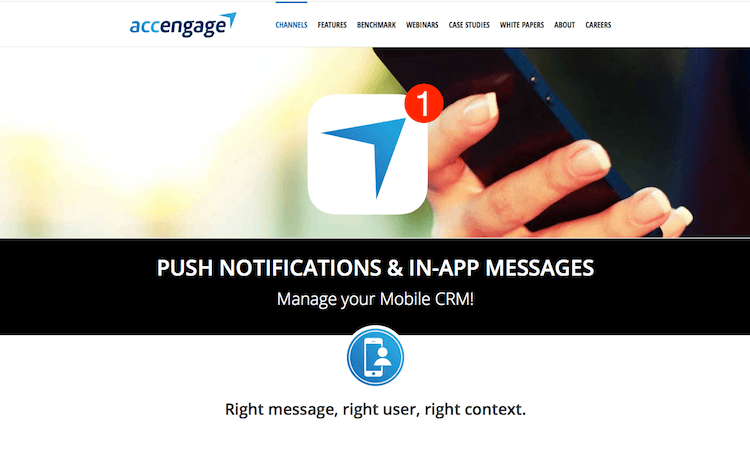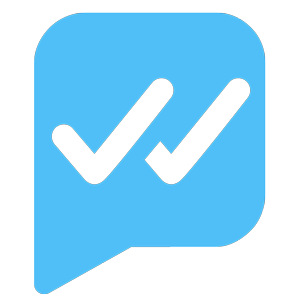 Catapush is a web and app push notifications company, founded by Luigi Orsi Carbone and Davide Marrone in April, 2015 in Italy. Catapush's platform empowers corporations with 2Way communication system, which sends data-driven transactional web and push notifications, each sent message is assigned a real time status – sent, delivered, read. The company's competitive advantage over its competitors is that it offers developers and businesses a real-time communication channel with their customers.
Pricing & Features: 
Up to 100 recipients – free
Up to 2,500 recipients – 29 euro/month
Up to 12,500 recipients – 129 euro/month
Uo to 25,000 recipients – 249 euro/month
Above 25,000 recipients – a custom pricing
2Way communication capability
Real-time IP dedicated channel for message delivery
Apple (APNs) and Android (GCM) support
Capable to push up to 100.000 messages simultaneously
SSL 128 bit encryption support
Focus on transactional push notifications
Platforms & native app development support: iOS and Android.
A real time messaging IP channel for push notifications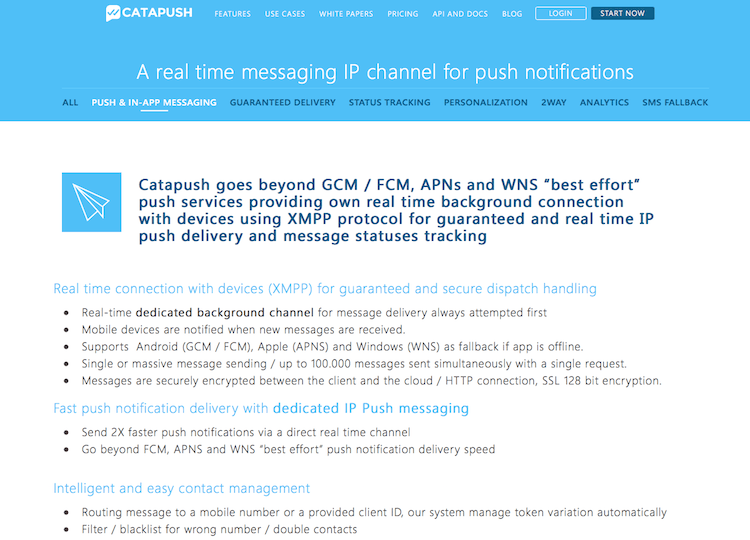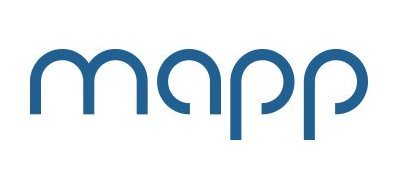 Mapp Digital is a global marketing technology company formerly known as Teradata's Digital Marketing division. Next to push notifications, Mapp offers a variety of in-app plugins to provide app publishers additional ways to interact with their customers. These include a Message Inbox, Customer Feedback form, and an Offer Wall. The Mobile Push module is part of the Mapp Customer Engagement Platform which is designed for multi-channel campaign execution (Email, Mobile Push, SMS, Social Media, Web). In addition, Mapp also offers a Data Management Platform (DMP).
Pricing & Features: 
Deep Linking tech support
Analytics
Geotargeting
Server to server integration
Best Time to Send suggestion tool
Platforms & native app development support: iOS and Android
Mapp – Your shortest route to customer engagement.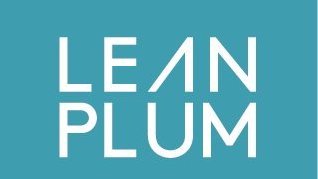 Leanplum is a mobile marketing platform that specializes on an app user engagement, founded in 2012 in San Francisco, US by Andrew First, Momchil Kyurkchiev. One of the tools that LeanPlum offers app developers and marketers is Push Notifications to help them convert, engage and retain mobile app users. Provides users with a an easy-to-use Campaign Composer to deliver targeted push notifications based on real-time user behaviors.
Pricing & Features:
provides enterprise pricing plans info upon request
demo available
supports emoji in push notifications to increase engagement
claims being capable to increase app revenue up to 7x, user retention up to 9.6 times and conversions – 17%
among its clients are NBC, TED, Tinder, Zynga.
Platforms & native app development support: iOS, Android, Unity, HTML5.
Retargeting Dormant Users

OneSignal is a multi-platform Push Notifications service company, founded in 2014 by George Deglin. The platform is being used by about 300k app developers to send 1,2 billion push notifications daily for 100k mobile apps.
Pricing & Features:
unlimited devices and notifications support
A/B testing
Localization
Delivery scheduling
Unlimited segments
Full API
data import & export
standard account is free, premium account pricing is available upon request
trusted by about 300k app developers
among its clients are UBER, Cisco, Adobe, Slate, LINE
Platforms & native app development support: iOS, Android and Web, Xcode, Unity, Marmalade, Adobe Air, Phonegap, Android Studio, Visual Studio, Cordova, Cocos2d-x, Corona, Xamarin, Ionic, React Native, Intel XDK, Titanium
OneSignal push notifications service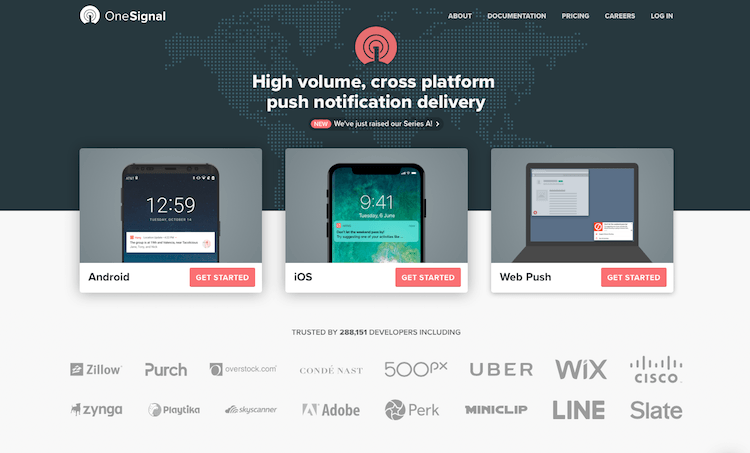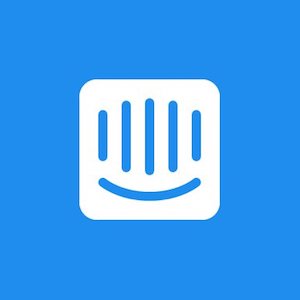 Inercom is a customer messaging platform that offers a suite of communication tools that help businesses to respond, engage and educate customers. Its Push Notifications solution allows app developers and marketers to reach out their app users outside an app with a message to onboard new users, announce new features, as well as re-engage users that are dormant and not using the app much.
Pricing & Features:
unlimited devices and notifications support
auto messaging
segmentation
in-app messages
automation
automated, one-off emails
metrics and goals tracking
Platforms & native app development support: iOS, Android.
Intercom Overview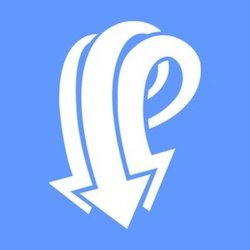 Pusher is a developer tools company launched in 2011 in London, UK by Max Williams and Damien Tanner.  It provides scalable infrastructure to power mobile apps real-time communication capabilities for more than 200k app developers worldwide. Among the company clients are MailChimp, The New York Times, ABC.
Pricing & Features:
Free account for up to 200k messages a day, $49-499 plan for 1 to 20 million messages a day and custom plan for above 20 million messages a day
Flexible Pub/Sub Messaging
Live user lists (presence)
Access control/authentication
Queryable API
Debug Tools
Webhooks
30+ libraries support for most popular languages and frameworks
integration with Slack
Platforms & native app development support: iOS, Android.
Getting Started with Pusher and Laravel Echo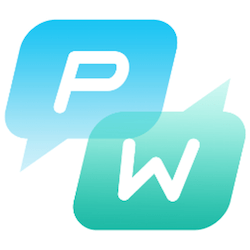 Pushwoosh is a push notifications service company founded in 2011 in Washington, US. The company offers a broad range of tools for marketing automation to send mobile and web push notifications, provide campaigns performance analysis, in-app messaging and more.
Pricing & Features:
free plan to support up to 1,000 devices, up to 50,00 $42/month, up to 300k devices for #126/month and an Enterprise plan for above 300k devices
14 day trial period with no credit card required
Private cloud
Segmentation
Deep Linking
Multi-Language support
in-app messaging
Statistics
support all development platforms (21 in total)
Platforms & native app development support: iOS, Android, BlackBerry, Windows, Unity, macOS, Alexa, FireFox, WordPress, HTML5 PhoneGap and others.
Pushwoosh for Shopify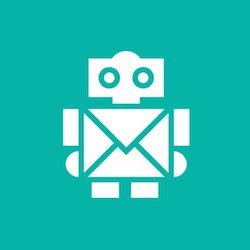 PushBots is a push notifications service company, founded in 2012 in Cairo, Egypt. The service allows developers to push messages on both mobile and desktop, it provides them with a light messaging kit to plug a single SDK to their iOS, Android and web apps. PushBots helps developers to analyze their user base, reach them on both mobile and web, track every message performance, as well as schedule and automate messaging.
Pricing & Features:
provides 4 plans: Starter for $29/month to support up to 10k devices, Basis for $49/month to support up to 50k devices, Plus for $129/month to support up to 150k devices and Ultimate for $199/month – up to 300k devices.
light SDK
both more mobile and web
Platforms & native app development support: iOS, Android, Web.
PushBots push notifications service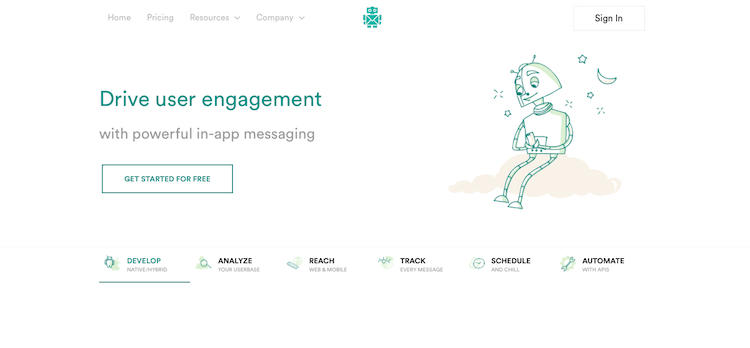 Final Thoughts
With the rapid growth of location-based apps, push notification technology becomes the key instrument in communication with customers and app users in general. Mobile games developers have been taking advantage of this technology for a number of years and so the bottom line is, that it's really hard to imagine modern mobile apps without push technology powered features. If your app doesn't support this technology yet, think about the ways how you can incorporate it into your app to facilitate users engagement and retention.