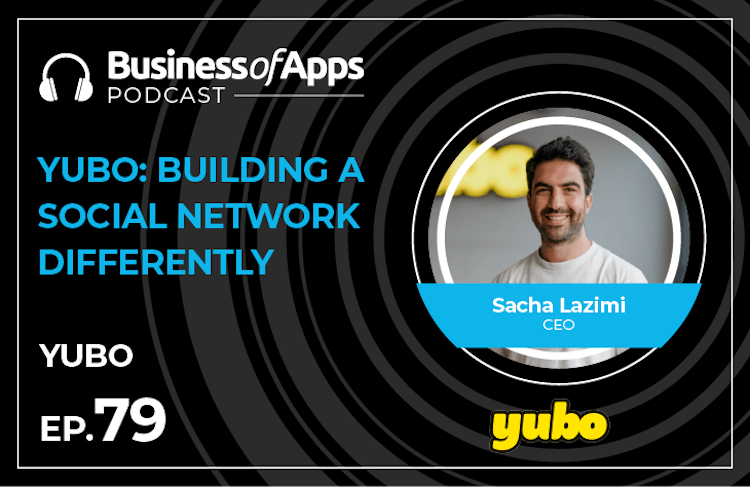 Even if you aren't a tech pundit, who has been following all stories about social media companies, inevitably you stumble upon a breaking story about Facebook, Instagram, YouTube, TikTok that talks about their negative impact on our society, on teenagers' mental health and even on the democracy itself.
You may get an impression that there is no way how you can design a social network differently, so you won't get such a flip side. But that's not the case and Sacha, CEO of Yubo, will tell us how it's actually possible to achieve.
Today's Topics Include:
✔️Sacha is on a mission to improve how people interact online, hence his involvement into developing multiple social media apps prior to Yubo
✔️Yubo is a social media platform for Gen Z to interact with each other in small groups
✔️ It doesn't compete with big social media platforms like Twitch, TikTok, Instagram, Snapchat. 
✔️ Yubo is the social media app that doesn't push its users to be hooked on such concepts as Likes, Comments and Followers.
✔️ The app applies 8 age-verification procedures to make sure it has on board legit age users only
✔️ The platform is ads free, it's freemium based with paid options & subscriptions to get more engagement
✔️ Yubo is used by Gen Z on their leisure time – after school, on weekends or holidays
✔️ Once COVID-19 hit both usage and engagement shot up
✔️ Yubo is available on both iOS and Android but the bulk of users on iOS
✔️ On which side of the Android & iOS duopoly Sacha is? iOS
✔️ What apps would Nico miss the most if he leaves the smartphone home. Good old placing calls function 🙂
✔️ What is missing from mobile app technology? 
Links and Resources:
Quotes from Sacha Lazimi:
"…with the same mission "To improve how people meet each other and connect online"
Yubo is just an iteration of what I've done with my co-founder and we always have the same mission.
Yubo is a social platform to socialize online all over the world and designed for Generation Z. It's a public space where you have a small group that interacting publicly through video, audio and chat."
Follow the Business Of Apps podcast