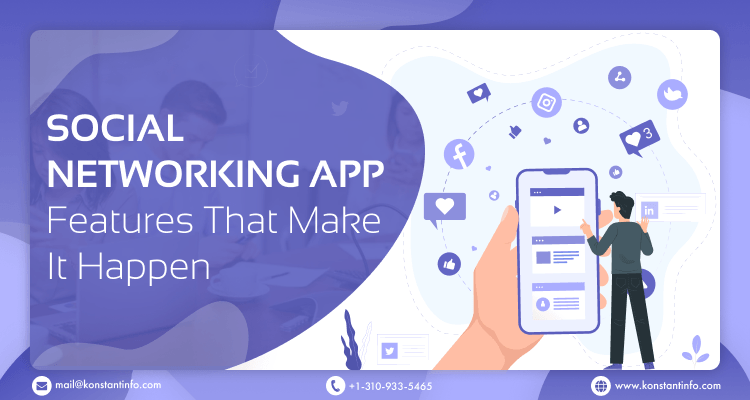 Do you often look for immediate rewards – the old-fashioned way or wish to rile up your audience towards swift action? Know what you need to create a social networking app!
Social Media apps are meant to resolve multifaceted business problems. It is about building a large process from several independent smaller processes and link these to create an efficient system. 
It is not necessary for every bit of content to be unique on social media apps – the users may/can copy + paste it from other resources which are eventually perceived as user-generated content (without copyright issues). User-generated content often drives engagement and leads to fetching organic traffic to the organization. 
What are we discussing here?
As we discuss how to make your app a social experience here, businesses must consider that features that they wish to include must directly or indirectly align with the social marketing app trends in the market. Simultaneously, a lousy process to develop a social media app/website will consume ten times as many hours as required by the work. A good process will eliminate any chances of time going waste and the technology in demand/in use will speed up the remaining real work. 
Must Read: 7 Features You Can't Afford to Miss in Social Media App
Types of Social Media Apps
We come across various social media platforms – some are for professionals (LinkedIn), some are meant for family and entertainment (Facebook), some are meant for news updates (Twitter) and some are meant to convey immediate information (WhatsApp).
Social Network apps: Facebook, Twitter, Linkedin
Media Sharing Networks: Instagram, Snapchat, Vimeo, Imgur
Networks for consumer reviews
Community and discussion forums: Quora and Reddit
Bookmarking and content curation networks: Pinterest, Mix, Flipboard
Blogging and Publishing Platforms: Tumblr, Medium
Interest-based networks: Goodreads, Last.fm
Anonymous social networks: Whisper, Ask.fm, and After School
Features in Social Media Apps
User Profile: Having a user profile that is able to retrieve the user data via REST API calls from LinkedIn, Google+, Twitter and Facebook.

 

Personalization: There must be a way to personalize they provide. A social media app should provide: Photo effects, background colors, customizable bios, links, shareability, discoverability of the content
Feed: Social media feed helps users to share the posts, user-generated stories, user-uploaded audio, video, presentation and photos.

 

GPS Settings: Let users share their location with their family and friends. This is implementable via location API that retrieves a device's location from GPS and mobile network providers. This location data can even help businesses in monetization.

 

In-App Advertisements – Developers do need to access certain libraries that offer integration with advertisements and other related services.
Third-Party Integrations – Developers should choose to integrate third-party services from verified providers only as the app store uses personal user data.

 

Status updates: Users may post pictures, text messages, videos on someone's timelines to express their desires and intentions.

 

Provide Rich Text Editors: It enables users to make their content creative, beautiful and unique.
Simple and Interactive Interface: To enable easy sharing of content.
Target Specific Audience: Social media apps like Instagram make use of filters that make their apps catchy. VSCO targets professional photographers, SoundCloud allows musicians to showcase their music out there.
Managing the Self Esteem: People like maintaining a sound image and get instant rewards in the form of likes, comments, share and subscriptions for their activities on the social media platform.

 

Social media platforms are often linked with one another – Users are able to share their WhatsApp stories on Facebook that remains active for 24 hours. Users' who post the status update is able to view the names of the people who watch their story. Oftentimes if the story is visible to public (then it is visible to everyone globally, even to those who are not connected as immediate – 2 degree – 3-degree friends)

 

Connections – Content-based connections, Explorer, Talker, Admirer, Searcher, Groups and Events
Social authorization
Feed – News and entertainment
Post Creation – Text/audio/video content
Post Likes/love/care/sad/wow expressions
Social notifications + push notifications
Analytics (hidden for users) – Includes using one Analytics tool (Google Analytics/ Firebase/ MixPanel; Basic SDK configuration (minimum analytics, OS versions, devices etc.), tracking screen (Develop, staging, production)
Content Management System (CMS) – Admin Authorization/Admin Management/User Management
What is trending in social networking app development?
Ephemeral Content (sharing stories that remain live for 24 hours)
Generation Z (people who are born after 1998)
Publishing Content (besides the websites, businesses are prompted to promote their content on social media platforms)
Video Content looks attractive and easier to perceive than written content
Live Streaming for live videos
Artificial Intelligence for chatbots
Augmented Reality for face filters
Must Read: A Quick Reference to Create a Social Media App
Where can we go from here?
Social media platforms for marketing often make use of special statuses, badges, levels, and tangible rewards. 
Modern and advanced social networking apps for Android and iOS do come with features like (1) creating a room (a group of close friends in a chit-chat video session), (2) sharing photo/video and writing captions and body of the content interspersed with emoticons, (3) tag friends in a post, sharing the feeling/activity type like happy/sad/nostalgic/creative/glad etc., (4) sharing current check-in (tracked via GPS), (5) GIF images, changing the background color of the post, (6) converting a photo into 3D, (7) Go Live, (8) Sell Something, (9) Camera, (10) Watch party, (11) Support Non-profit and (12) Ask for Recommendations. 
And of course, (13) Social networks (individual + groups), (14) Address book, (15) SMS, (16) Search, (17) Recommendations, (18) Multi-language support, (19) Messaging, (20) Added value content, (21) Backend, (22) Database and (23) Admin Panel are other features to look out for.
So, for a social networking app to be successful and trending it must cohere to certain rules like shades of blue, navigation consistency, platform guidelines, similarity on any device, round profile pictures, infinite scroll, simple design, custom opportunities, simple search and quick entry.