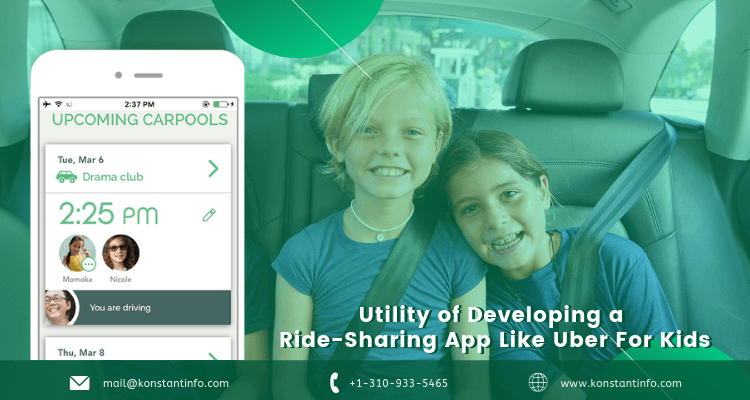 Ride-sharing apps are a boon for working parents, who do not want their kids to miss their activity classes or wish to have a ride around in their absence!
A mother is never alone in her thoughts. She always has to think twice. Once for herself and once for her baby. And when these responsibilities just get doubled up, grit and determination are required to manage, home, kids and finances. And there are often times when they don't just have things handed to themselves; they have to work hard for the things they want. 
Many working mothers feel guilty about not being at home. And when they are there, they wish it could be perfect. This pressure to make every minute happy puts working parents in a bind when it comes to setting limits and modifying behavior. Thinking is passive. It isn't enough to think outside the box. Working parents have to (at times) get used to acting outside the box. 
Call into Question on Ride Hailing App for Kids
In this context, if parents wish to send their children to activity classes or maybe to grandparents' house, they have to think twice. Many ridesharing platforms for kids have bred, that sounds like reasonably paying gigs and can make you get rid of time and hassle. It is a parent's determination and willingness to allow their children to travel alone without their supervision. The other part has to be the driver's willingness to happily drive kids to their respective destinations (without parent's supervision). It might not be a firm "yes" or a "no" but it can turn out to be a good deal if you truly love children of all ages, have minimum 5 years of experience in handling children at daycare or have probably worked at an NGO sort of organization. Ride-sharing app drivers can earn up to $30/hour as compared to regular rideshare services. In addition to this, a ride-hailing app driver for kids needs to have their own car that is not more than 10 years old. This service might include reimbursement for mileage that can be deducted at the end of the year to save them from taxes.  
Do apps like Uber for kids provide a solution to parents?
The reason why parents would jump at the chance to use ride-sharing apps like Uber for kids is simply because it would be a huge weight off their minds to be able to ensure their kids get to where they need to go at the hour when they (parents) are not around, without interrupting the busy workday.  
These cab driving apps like hopskipdrive, Zum, GoKart, Kango help shuttle your most important cargo – your kids. There are times when kids do not need a sitter to watch them along. They need a ride. Apps like GoKart are a combination of Uber and care.com. Such ride-hailing apps for kids offers all the convenience of a typical rideshare app and includes a thorough vetting process to ensure your child's safety.  
While kids can be messy, cranky or demanding and make it difficult for the cab drivers to drive all the way along. These cab drivers for kids are certified, and all the rides are insured. As regular ride-hailing apps like Uber and Lyft do not allow unaccompanied minor, the former service fills in the gap.
Prevalent Cab Riding Examples
With the rise in the trend of on-demand transportation services, global ride-hailing service market has seen advancements in connected and automatic vehicles. Major players in global cab sharing market are Uber Technologies Inc., Lyft, Inc., Grab, Daimler AG., ANI Technologies Pvt. Ltd., nuTonomy, Denso Corporation, Didi Chuxing Technology Co., TomTom NV, and Gett, Inc., etc.
How Apps for ride sharing for kids works?
Parents can easily schedule a ride 8 hours in advance for popular recurring activities like school sports etc. The ride also has a carpool feature to coordinate the pickup of kids from various locations at a discounted price and lucrative payment options.
Ridesharing services are also available for schools, who can book cabs for field trips or for students who require special care. These drivers are referred to as "caredrivers" and double as caregivers. They have to be 23 years and above and must have at least 5 years of experience along with a clean driving record. They undergo a multi-agency background check including a fingerprint check, carry detailed pickup and drop instructions from parents and conform to a predetermined code-word and date of birth of each kid they carry. Each ride is monitored in real-time by respective ride-hailing service teams. 
Conclude with a Cliffhanger
Ride-hailing, which uses app-based ride services, didn't exist 10 years ago. App development agencies have stepped up to develop ride-sharing apps for kids being their esteemed passengers, generating the same revenue with a difference. Cab services are now valued at $61.3 billion worldwide and that number is expected to grow to $218 billion by 2025. 
A few clicks on the smartphone can fetch a ride to the desired destination from the current location. This rise in centralized taxicab platforms is due to widespread ownership of smartphones coupled with innovation and technological advancements. The success of these app-based platforms is due to filling in the gap between demand and supply. 
Kids will no longer be underserved with major players like Uber and Lyft dominating within the market and is undoubtedly going to prove a convenient option to transport their kids from home to activity classes and vice versa.