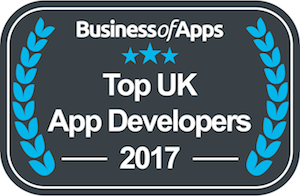 If you're searching for a UK app developer then you've come to the right place. The UK has been referred to as a "powerhouse" of the global app development market, and for iOS, Android and Cross Platform the data proves backs it all up.
In 2016, 91% of people in the 18-44 age bracket owned a smartphone – that's a total of 21 million phones for that range alone. Statista estimates there are a total of 42.4 million smartphone users in the United Kingdom.
The app development market naturally follows, with plenty of app developers both in London and beyond, another hub being Manchester. This guide looks at the UK app development scene in detail, counting up the cost of having a mobile application developed in the country. It covers what you should think about when choosing an app developer in the UK and then lists some of the best companies who operate in the country.
We have put this list of UK app developers together based on our own research, suggestions from our network and based on rankings and data from other third party sources and sites. The list is in no particular order, rather we have tried to aggregate and curate a range of useful suggestions for UK app development shops. Whether you choose to work with them or not is up to you to decide.This guide is divided into four sections, providing background on the market, typical app development costs and the best way to make your selection before providing some more details on specific app development companies operating in the UK market.
You can jump to the start of each section using the section headings below:
We begin with an overview of the app developer market in the UK.
The app developer market in the UK
It's a strong one.
Revenues in the UK app developer market are forecast to be more than £31 billion by 2025, and according to a report by Vision Mobile, the economy will be worth more than £30 billion by 2030.
App developers can be found all over the United Kingdom, but the majority is clustered around London. Of its 8000 app-development-related companies (around a fifth of all European app development agencies), 31% are located in the capital, and about 25% of those in the south-east part of the city.
Location of app development companies in UK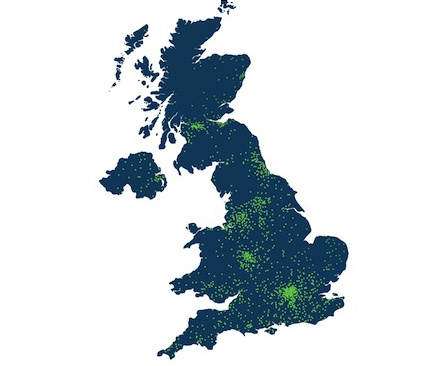 Source: Vision Mobile
It's estimated that these together employ 380,000 people (though not all of them are developers – this includes designers, admin and marketing people involved in the app industry.)
With all signs that the industry is growing, what kind of prices can you expect to develop a mobile application in the UK?
UK app development costs
How do UK app development costs measure up globally?
Globally, average prices for developing an iOS mobile app are approximately (in US Dollars) $27,000, $23,000 for Android and $18,000 for Windows phone.
The UK has some of the best app developers in the world, and thus costs can be close to the global average. According to Waracle, a Scottish developer, said in 2014 a single platform app could cost anywhere between £8000 and £13,000 and more, while a three-platform app can reach £50,000. Costs have only increased with demand since then.
Top 5 UK App Development Companies by Website Traffic
Source: Similarweb.com
The amount a developer charges per hour also comes close to global highs. Below you can find a graph for the estimated minimum and maximum you can expect to pay hourly for an app developer to work on your iOS or Android app.
Range of app development costs per hour in UK (US Dollars)

Data source: Statista
The reason for the high price is quality: not only are some of the best app developers in the world found here, but many US firms have offices here – while not technically from the UK, they operate on the territory and raise the average.
Having had a glimpse of the cost and skill of the developers in the UK, how do you go about choosing one?
How to choose app developers in the UK
There's a few things you should know:
Two major sections: the research you can do on your own, and the interview phase with the app developer, where you'll explore their skills and expertise while they try to understand your business and your app. The research you can do at home is as follows:
Review their portfolio: not only to see how many apps they've made and how successful they've been, but also to see which industries they've worked for. A niche social network app has vastly different characteristics and challenges to a mobile enterprise app for industry. Experience in your specific field of business is just as important as development skills.
Recommendations: ask others in your industry who have launched successful apps to recommend a developer, or find out who made the most successful apps if there's an industry benchmark.
Check out our Market Place: You'll find a wealth of information and app developer profiles in Business of App's Marketplace.
 Top 5 UK App Development Companies, by Twitter Followers
Source: Twitter
Selected UK app development companies
These are 24 of the best app development companies with offices in the UK. They're not ranked in any order, they're just "the best." We've gone for a mix of budgets, skills and expertise as well as made sure to choose companies from all over the UK, not just in London.
Highly business-focused app and software developer based in the US but with offices all over the world. Full spectrum development from Intellectsoft includes UX/UI, quality assurance, maintenance and product strategy. Counts Guinness and Harley Davidson in its portfolio.
Platforms: iOS, Android, Blackberry, HTML5
Sector Focus: Consumer products
Office: London
Employees: 228+
All products delivered are ready to go live.
Prices can start at 15k US Dollars for a high quality, medium-sized app.
Breakdown of all costs at all stages for  full transparency.
Fueled, based in New York, is an award-winning app designer, having delivered Drop, Afterlight and Nimble, to name a few of their projects. Fueled were also chosen by HBO to make a Game of Thrones app, which says a lot about trust!
Location: UK, USA
Platforms: iOS, Android, Windows
Sector Focus: Consumer products
Office: London
Employees: NA
Full-service mobile app development and strategy.
Support from strategy and planning teams for app development.
Focus on creating beautiful, engaging designs offering innovative user interfaces.
Based in Bournemouth, 3 Sided Cube won the Webby Award for best app in  2016 for their American Red Cross Blood Donor app in the health category.
Platforms: Android, iOS, Cross-platform
Sector Focus: Non-profit, retail, healthcare
Offices: Bournemouth
Employees: 24
Key clients: American Red Cross, Boots, Lush, Lloyds Banking.
Founded in 2009.
Top 50 creative agencies in the UK according to the Telegraph.
Corporation Pop is a mobile app development company (though it also does AR and VR) with a portfolio in the arts and entertainment with a particular knack for making educational and engaging games.
Platforms: Android, Cross-Platform, iOS
Sector Focus: Education, arts, healthcare
Offices: Manchester
Employees: 11
Key clients include the NHS, BBC and UniLad.
Works with every size of company, from SMEs to corporations.
Founded in 2003.
Fan Studio specializes in iOS app development, finding the best strategy to develop and launch your app, and give you advice whenever you need it.
Platforms: Android, iOS
Sector Focus: Games
Offices: London, Romania
Employees: NA
Member of UK Association for Interactive Entertainment
39 million app downloads totaled
Founded in 2008
The App Business is a global mobile software and mobile app development company specialising in creating intuitive user experiences and offers scalable, agile app development and QA.
Platforms: Android, iOS, iPad, Windows
Sector Focus: IT, Marketing, Business
Offices: London
Employees: 120+
High-quality mobile software and app development
Scalable, agile apps offering intuitive user experiences
Additional services include web and mobile site design, mobile consultancy and hosting
Not just a full-stack developer but also a tech consultancy, hedgehog lab cover everything in app development, from design and development to business plans and strategy. Offices are in London, Boston, Newcastle and India.
Platforms: iOS, Android, Web, AR, VR
Sector Focus: IT and Healthcare
Offices: Newcastle, London
Employees: 115
40 team members in 6 locations.
50+ high quality projects completed.
One of the outsourcing companies in this list, Octal IT Solution have worked with companies ranging from start-up size to Fortune 500 corporations, and they pride themselves in their attention to the specifics of your business.
Platforms: iOS, Android, Web
Sector Focus: Business Services
Offices: London
Employees: 150
Key clients include Oricom, Aviva and FIAT.
150+ skilled professionals.
Over 1200 clients since founding in 2004.
Award-winning web and mobile app development company delivering best-in-class solutions. App development is just one of Konstant's activities, understandable given 13 years of experience in and 170+ employees.
Platforms: iOS, Android, Mobile Web
Sector Focus: Arts, Transport, Media, Consumer Goods
Office: London
Employees: 170
Delivered 3500+ projects.
Key clients include Nestlé and Holiday Inn.
Ranked among top 10 Mobile App Developers by Appfutura.com
Promatics Technologies is a certified mobile apps development company. Having their presence in India, USA and United Kingdom they have worked for several multinational clients across the globe.
Platforms: iOS, Android, HTML5
Sector Focus: Business Services, Advertising and Marketing, Arts
Office: London
Employees: 100+
3000+ projects delivered.
Key clients include DHL, HP and Caltex.
Also certified eCommerce developers.
Has covered a number of sectors in its portfolio, ranging from finance and travel to healthcare and music streaming. Miquido created the famous SkyScanner app, which has been downloaded more than 10 million times.
Platforms: iOS, Android
Sector Focus: Business Services, Finance
Office: London
Employees: 100+
100+ delivered solutions for international clients and 20M+ satisfied users.
Grown from 3 to over 100 people in just 6 years.
Winner of Google best apps of 2016 (HelloFresh), Webit Awards 2017 (Picniic)
Mind Inventory covers both app and mobile web development, and does so with two different models: either with in-house development and design, or by allowing you to hire one of their devs to work with your team.
Platforms: iOS, Android, Windows
Sector Focus: Gaming, IT, Utilities, Arts
Office: Edinburgh
Employees: NA
Founded in 2011.
90+ strong developer pool.
More than 500 projects delivered.
Full-stack developers, taking apps from ideation to publishing via UX/UI design and development. Borne also looks beyond the "app ecosystem" by producing "digital products" instead of mere applications.
Platforms: iOS, Android
Sector Focus:  Social, Health
Office: London
Employees: NA
Digital product studio still founder owned.
Passionate about affecting change through the power of digital and mobile.
Clients include Shell, The British Army and Xendpay.
Based in London and Copenhagen and Aarhus, Nodes specialises in enterprise applications and has Scotrail, Tempur and Ironman as some of its top-line clients.
Platforms: iOS, Android, Windows
Sector Focus:  Business, Automotive, Industry
Office: London
Employees: 85
Multiplatform development – Android, iOS and Windows Phone.
They've launched 1200 apps for more than 400 brands.
Only in-house developers at the company's offices.
One of the leading app development companies in the UK, since 2010 they've delivered apps, strategic guidance and consulting to the mobile sector. Chelsea Apps Factory has worked with companies from start-up size to major enterprises like Ladbrokes and Waitrose
Platforms: iOS, Android, Windows
Sector Focus: Retail
Office: London
Employees: NA
Full Service mobile app and software development
Design team including Information Architects, End User Designers
Quality Assurance
Apadmi is a 55-man team dedicated to creating brand-led mobile app and server solutions. Their mission is to strengthen brand identity and engagement via apps, having done so for clients such as the British Museum, the BBC, X Factor and the Guardian.
Platforms: iOS, Android, Windows, HTML5, Blackberry
Sector Focus: Media, Health, Retail
Office: Manchester, London
Employees: 60
Long experience working for large corporate clients
Named as one of Europe's top developers 2014
Works across all platforms, including Java and ASP.NET
An all-round mobile app development company with a team of designers, developer and consultants, The Distance also offers its very own data management solution, called "The Core", designed to handle high volumes of traffic.
Platforms: iOS, Android
Sector Focus: Advertising, Business Services, Healthcare
Offices: York
Employees: NA
PocketCommerce, off-the-shelf solution customised for your own personal needs
Dedicated developers for both major platform
"The Core" and other solutions can be integrated with pre-existing apps
Magora Systems is a London-based app development company (though they also do web and software development) with an eclectic portfolio of mostly small-business clients.
Platforms: iOS, Android, HTML5, Windows Phone
Sector Focus: IT, Utilities, Education
Offices: London 
Employees: about 300
Key clients include Danone and Innovo Care.
Focus on B2B and B2C applications.
Founded in 2010.
Based in the UK with offices in London and Bristol, they've worked in a huge variety of sectors, from logistics to healthcare, financial to consumer retail. Mubaloo's key clients include London's Air Ambulance and Bang & Olufsen.
Platforms: iOS, Android, Windows, HTML5, Blackberry
Sector Focus: Financial Services
Offices: London, Bristol
Employees: NA 
Full-service, enterprise level development and strategy creation.
Current solution audits including code review.
User testing, conception and app prototyping.
Ready4S provide both consultancy and engineering services to top-of-the-line companies like Coca Cola, Roche and Credit Agricole. Founded in 2011, the 56-person team has since developed 65 apps and was named mobile app developer of the year in 2015 by Appfutura.
Platforms: iOS, Android, Windows
Sector Focus: Education
Office: Poole
Employees: 57
Passionate about creating mobile app solutions for your business.
Native apps for Android and iOS platform.
Team includes graphics, artists, end user designers and content writers.
The Sound Pipe Media is a London-based mobile app company which specialises in developing apps for Android, iOS and iPad. The company has a strong business focus, and can supplement development with AR work.
Platforms: iOS, Android, iPad
Sector Focus: Marketing, Arts
Office: London
Employees: 13
Online quote service available, starting at £8000.
Highly skilled app developers
Instant callback and fast turn around time
As well as app design and development, nomtek also takes care of maintenance of your business application, and uses agile techniques to deliver lean, cost-efficient and easy to use apps.
Platforms: iOS, Android
Sector Focus: IT, Utilities, Media
Office: London
Employees: 51
Key clients include Yelp and the Institute of Food Research
Wide ranging industry experience covering media, IT, education and healthcare
Creates native apps for iOS and Android
Waracle is one of the UK's leading mobile app development, IoT and digital consulting companies. Waracle understands the way your business responds to 'being mobile' will significantly influence your future success
Platforms: iOS, Android, Windows, Blackberry
Sector Focus: Financial, Healthcare
Offices: Dundee, Edinburgh, Glasgow, London
Employees: 51
Founded in 2004
Key clients include Clydesdale Bank and NHS
Has also worked in the logistics and tourism sectors.
The award-winning Red C is based in the heart of 'Tech City' – Shoreditch, London. The studio offers an extensive range of bespoke services to optimise the internal running of your company.
Platforms: Android, iOS, Blackberry, HTML5, Mobile Web
Sector Focus: Financial services, government, retail, non profit
Offices: London
Employees: 9
Custom-made mobile apps.
Focus on high-end graphics
Also supplies content management systems and web services
Final Thoughts
The UK app development scene is bubbling with talent and expertise, and has produced some of the best apps in the world. You need look no further to find quality app developers for your business, but if you want to dig deeper, you can browse through Business of App's Marketplace.