Welcome to another edition of Indie App Developer Chat. This time around we're talking to Matias Ini, the man behind InGames. Matias' latest Sudoku-style puzzle game Logic Dots, which is published by Ayopa Games, has been a big success, getting featured on the App Store and generating over 500k installs in its first 7 days. In this interview we find out how Matias approaches app design, the tools he uses and the challenges in bringing a successful app to market.
InGames: Indie App Developer Chat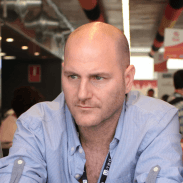 Who are InGames and how long have you been developing mobile games/apps?
My name is Matias Ini, I have been working in the video game industry for over 14 years, starting with games for the internet and now developing mobile games. I have had the luck to lead big projects like Boombang.tv (Virtual World) and Tiny Thief, mobile game for iOS/Android created by 5ants and published by Rovio Stars.
I am now working on my own projects at ingames.tv. We started developing casual games for BlackBerry and Nokia in 2010 reaching more than 10 million downloads. As these two platforms were dying, in 2014 we had to start focusing on iOS/Android. We have launched several games last year, including Logic Dots!
Where did the idea for Logic Dots come from and why did you decide to develop and take that particular idea to market?
When I was a kid I liked to play naval battle games so I decided to start a game of these characteristics but with a nice and minimalist interface. I think it is a game that appeals to a wide audience, as many people like playing games where you have to think.
I also found a similarity with Logic Dots and Sudoku in some way, and lot of people that played Logic Dots have confirmed this to me.
Logic Dots published by Ayopa Games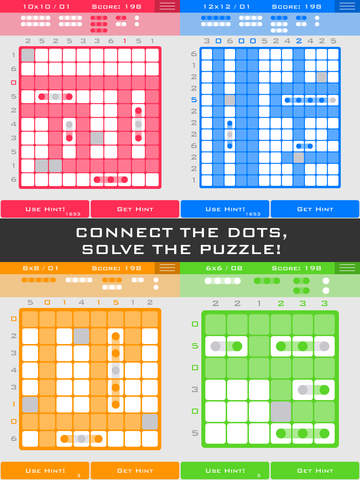 What tools did you use during the game's development?
Logic Dots was developed using Adobe Air. I know many people think that this platform is dead but I think that – depending on the type of project you are facing – it is a very good platform to develop for iOS/Android and also for web.
Why did you choose those tools? And did they prove to be a good fit for the project?
We chose Adobe Air for several reasons. The first one is because I have a lot of experience using this platform!
On the other hand it is easy to cover all possible resolutions as Flash allows you to use vector graphics. And finally we have our own framework to develop games in Adobe Air that gives the possibility to develop faster and with less bugs.
Can you explain your design process a little bit? How do you approach development?
As explained before we develop using our own framework that already integrates various modules like IAP, Game Center, ads, input, UI, sounds, graphics, States-oriented management, localization, and much more. The framework is growing and growing with each new development.
We started thinking about the whole game on a document, screen by screen and then we started to develop.
Maniac Monsters by InGames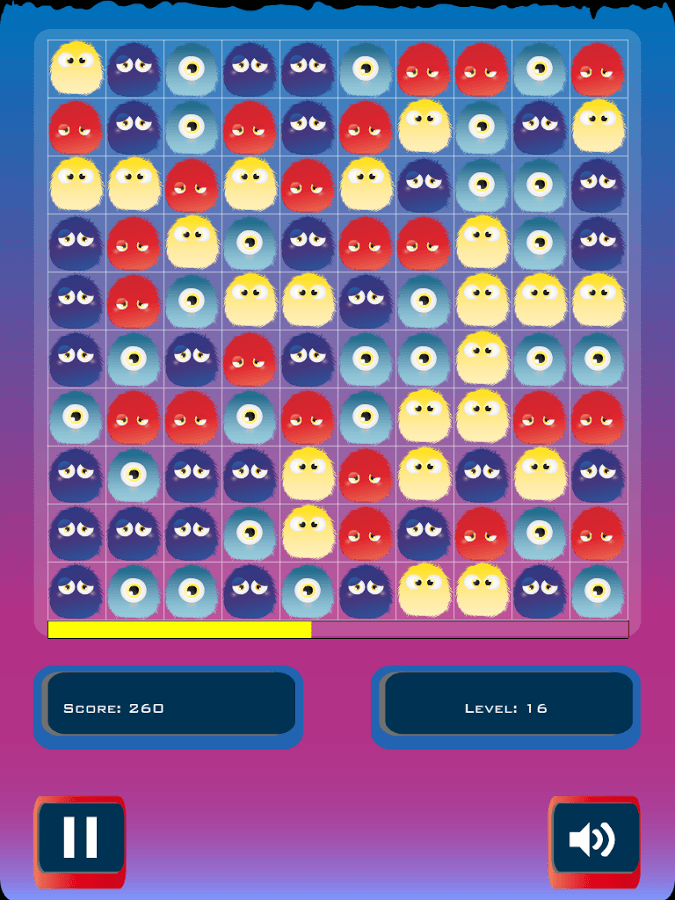 What were the main problems you faced during Logic Dots' development? Where did things go wrong?
Our biggest problem was how to teach users to play the game.
With our publisher (Ayopa Games) we knew we had a good game on our hands, but if we did not create a good tutorial the game would fail, as people would delete the game before knowing how to play it. We worked hard at this point, we changed the tutorials many, many times before launch. Luckily we believe that we have done well!
How did you overcome those issues?
Mainly we tested the new tutorials with different people. I always learn a lot seeing people play the game for the first time. At the same time it makes me very nervous since I hope that they should understand the game as I had conceived it, but that never happens 🙂
We were improving and improving the tutorials until the last day. We believe that we did a good job.
Did you have a game plan for marketing/promotion and how did it go?
Yes, we had a plan called Ayopa Games! Right now it is very difficult to get noticed in the stores due to the large amount of applications. I think it is the hardest part of developing and launching a game. That's why I look for a publisher that does that hard work for me.
I was lucky that the guys at Ayopa Games found Logic Dots interesting and with a lot of potential. From the first day I had a very good experience working with them as they helped me a lot to improve the game. They were very committed to the game and worked hard so that everything is perfect.
After such hard work (sleepless nights), we launched the game and we were lucky to be featured by Apple in many countries, some of them very important as USA, UK, Australia & Canada.
We managed to get 500k downloads in the first 7 days with was fantastic, and we were the #1 puzzle-board game on the App Store in several countries. One day in Australia and Canada we got above Candy Crush on rankings! I never thought we would achieve so much, I am really very happy with the results.
We launched the Android version of Logic Dots a few days ago, we hope to be able to have the same results as we had with Apple.
Thanks to Matias for a great interview. You can check out more of Matias' apps right here. If you're an indie dev with at least one published mobile app, get in touch and maybe you could be featured next on Indie App Developer Chat.