Dating app Tinder was launched in September 2012 across a row of college campuses. It uses Facebook basic data to analyze users and recommends compatible partners based on geographic location and common interests. Swiping right, the app enables Tinder users to like another user anonymously or pass on them by swiping left. If two users like each other, they can chat from within the app. There were many dating apps before Tinder, those apps originally started as online web services that later on went mobile.  Tinder's team took different approach and launched the app first and it got a wide recognition. The app won TechCrunch's Crunchie Award for "Best New Startup of 2013."
By the year 2014 the app was getting about a billion swap left / right for its users profiles and 12 million matches daily. Ever since it continued to grow, later on in spring 2015 adding Tinder Plus feature that allowed users to get unlimited matches, whereas the free Tinder app limits the number of right swipes in a 12-hour period.
Tinder app interface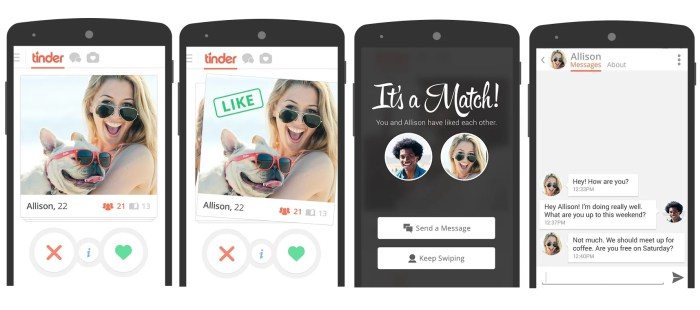 Source: The Next Digit
In a way Tinder has become a cultural phenomena but still – it can be characterized by a number of statistics, like Tinder user and usage statistics and revenue. Let's do precisely that.
Table of contents
The app is available in 196 countries in over 40 languages now and majority owned by InterActiveCorp (IAC). By March 2014, the app had generated one billion matches, 800m swipes and 10m matches per day, as well as 300 marriage proposals. 5% of Australia's population had a Tinder profile at that point.
During the FIFA World Cup June 2014 in Brazil, the app experienced a 50% increase in downloads and usage in the country. Brazil is Tinder's third largest user base, following the US and UK.
With that multi-million army of users and a quick growth, how much is Tinder worth now? According to Forbes, by July 2017 Tinder valuation reached $3bn, not bad for a match making app company that went public in fall of 2015.
Key Tinder Statistics
Majority-owned by InterActiveCorp it generates 1 billion matches, 800m swipes and 10m matches a day (Source: News.com)
Tinder is available in over 40 languages in 196 countries (Source: BusinessInsider.com)
Subscriber estimates vary between 100,000 and  297,000 users (Source: Techcrunch)
24% of Tinder users are paying for online dating services (Source: Global Web Index)
With the launch of Tinder Plus, Tinder jumped from spot No. 969 to No. 26 in the iOS download charts in March 2015 (Source: AppAnnie)
JMP Securities predicts Tinder to be worth $1.6bn, with $121m coming from subscriptions alone (Source: BusinessInsider)
In addition to Tinder, IAC owns Match, one of the largest dating sites worldwide. The company prides itself on owning a large portfolio of dating sites and apps, as users turn to multiple platforms to find their perfect match. Merwin confirmed that IAC hoped for Tinder users to translate to Match consumers eventually.
An evaluation by Clickz found that Tinder's massive growth can be attributed to millennials who predominantly use their mobile phones. Within a year, the online dating as a category went from desktop to mobile-dominated.
Online dating increased to 60% on mobile versus 40% using desktops in July 2014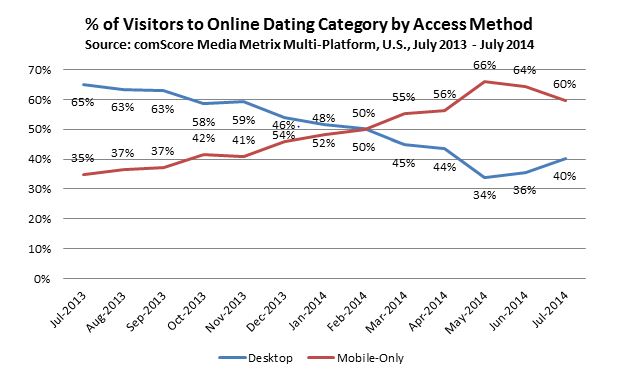 Source: clickz.com

Tinder User Statistics
Research by Global Web Index in April 2015 confirms that the 16-34 year-olds are Tinder's predominant audience with 38% falling into that age group. Tinder has 38% of female users and 62% of male users with more than half of them being single (54%). The app is being used largely in urban locations (76%).
Source: globalwebindex.net
Having suggested that 42% of its users were either married or in a relationship, Tinder rejected the findings by Global Web Index and told The Guardian:
"The results of this tiny, 681 person study in the UK is a totally inaccurate depiction of Tinder's user base – this firm is making guesses without having any access to real data on our millions of users worldwide (…) The single largest age group on Tinder, making up more than half of our entire user base, is 18-24. More than 93% of UK residents in that age range have never been married, according to the UK's office of National Statistics. Without revealing any data about our users, simple logic should reveal that it's essentially impossible for any of these claims to be accurate. Their methodology seems severely and fundamentally flawed."
Global Web Index confirmed that its data had been based on interviews with 170,000 users worldwide – "it's not guesswork, and not just the UK, as Tinder has suggested," a spokesperson said.

Tinder Usage Statistics
By July 2014, Tinder had reached spot three in the top five US dating properties with 3.6m visitors per day, up 1,400% from 2013.
Tinder ranked third among the top 5 US dating sites in July 2014
Source: clickz.com
But Global Web Index finds that Tinder has not yet overtaken traditional dating apps such as Match, with only 1% of global internet users on Tinder last month versus 31% using a traditional online dating site. This could be attributed to Tinder's reputation as a more "shallow" dating app, compared to traditional sites.
Traditional online dating sites are still preferable to online daters
Source: globalwebindex.net
However, research also found that a quarter of Tinder users are already paying for online dating, compared to one in eight dating site visitors. Translating these users into Tinder Plus customers will be an important next step for the company in the future.
24% of Tinder users are paying for an online dating service
Source: globalwebindex.net
In line with the above findings, 72% of Tinder's user base is visiting other online dating sites, with mobile phones the most important access devices at 58%, followed by PCs (54%) and tablets (35%).
Tinder users aren't exclusive to the site, but mobile devices are core access devices
Source: globalwebindex.net
With the launch of Tinder Plus, the company's subscription model, which offers options such as the ability to undo swipes and Passport, that lets you search for matches beyond your current physical location, the apps rank on research site App Annie, climbed six spots in Google Play's revenue rank. Having limited the number of right swipes on its free app, Tinder jumped from spot No. 969 to No. 26 in the iOS download charts. The dramatic jump upwards is directly linked to the Tinder Plus app launch. However, it remained in the top 100 iOS apps during March 2015.
Tinder App Annie rank March 2015
Source: techcrunch.com

Tinder Revenue
According to TechCrunch, subscriber estimates for Tinder Plus vary, with Credit Suisse estimating 100,000 and Morgan Stanley 297,000 users. Subscriptions cost up to $19.99 a month depending on age, a move that has been widely criticised. Tinder confirmed that Q1 2015 was the app's highest registration quarter to date. In December 2014, IAC confirmed that Tinder had been downloaded 40m times.
Given these strong results, it's high time, brands start to pay an interest in Tinder. With 85% interested in their appearance and 82% admitting to being brand-engaged, marketers are likely to jump at Tinder when it introduces advertising this year.
Tinder users are brand-engaged and like to inform their friends about new products
Source: globalwebindex.net
In fact, JMP Securities predicts that Tinder would be worth $1.6bn, 20% of IAC's business, with $121m coming from subscriptions alone. JMP predicts that advertising revenue could generate $70m by 2016. Tinder's first ad featured a profile of musician Jason Derulo. Users were able to swipe across his profile and receive a message from the star, prompting them to download his new song on iTunes.
JMP adds that the app could reach 58m in active users by 2016, having grown steadily over the last year.
Tinder US reach has grown steadily from 2014 to 2015
Source: businessinsider.com
Having overhauled its app to include all of the Facebook profile information of its users, Tinder has also added Instagram to its features, allowing users to scroll through a potential match's Instagram feed to get a better idea of him/her.
Sean Rad, Co-Founder and President of Tinder concludes:
"This is the first of many steps to take the recommendations engine to the next level and help you assess the person you're matching with and start those conversations. If we can provide our users with more relevant information for each connection, we can take them halfway there in terms of getting a conversation going."
Final Thoughts
For the last six years since the app was launched back in 2012, Tinder has managed to set a new standard for online dating industry to copy, went public, got into the roam of a billion dollars evaluation and became a conversation topic for many mainstream publications. Given the current life dynamics, people's isolation in big cities, Tinder has become the way to go when somebody wants to meet new people or find a soulmate. The testament to the app's popularity is that its swap left-right evaluation principle was copied by other non-dating related apps.