Snapchat is an image and video messaging app, developed by Stanford University students Evan Spiegel, Bobby Murphy, and Reggie Brown in 2011. It allows users to capture and send so called 'snaps' that are only viewable for a set duration between 1 to 10 seconds after which they are automatically deleted or with no time limitation until they were closed by recipient. The way Evan Spiegel later described Snapchat during interviews was that the underpinning concept for the app was to build it all around a smartphone camera. There were many other apps that allowed people to take pictures, and the most prominent was of course Instagram, but only with Snapchat mobile users got an app to actually communicate with no text but pictures. This was a pretty novel concept that allowed the app to distinguish itself from the rest really well.
Snapchat users have an option to save specific snaps on a private storage area with "Memories" feature. Also the app users can add to snaps various Augmented Reality objects and web links. Snapchat allows users to see locations on a map where other snapchatters made their snaps, thanks to the Crowd Surf feature snapchatters can see video footage of a particular event shot from different vantage points. In 2016 Snap Inc., the company that developed the app, began to sell Spectacles, glasses with a built-in camera capable of recording 10 seconds of video and posting it online via paired smartphone.
Looking to reach Gen Z on Snap? Fanbytes helps brands engage with 13 – 25 year olds on Snapchat in the most engaging and authentic ways on the planet.  They invented the trademarked Sandwich Ad optimised which combines the engagement and authenticity of influencers with the scale and data driven approach of an advertising network.  Does it work? With 93% average completion rates and average CTR's of 6% suggest that it does. But don't take our word for it, we'd love to show you our case studies. Request one here.
Snapchat image and video messaging app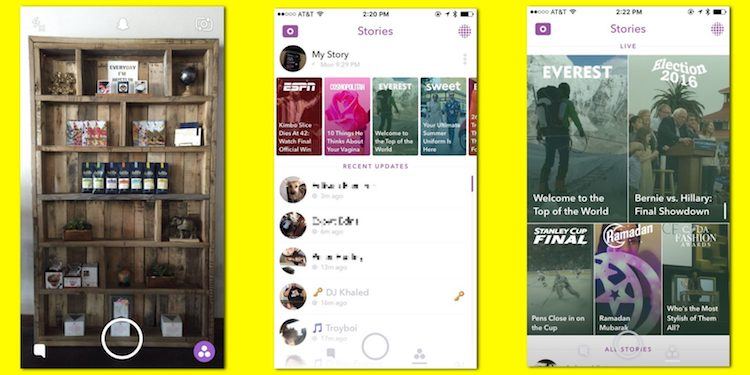 Source: 9to5Mac
Now let's shed the light on all Snapchat facets via its usage and user statistics, as well as revenue generated and stack it up against its biggest rival Instagram statistics.
Table of contents
Today Snapchat is uniquely positioned as a social media app that fits millennials communication needs better than any other social media and, with introduction video content shot for this platform specifically, essentially becomes a cable TV substitute for millennials. Let's review some of key Snapchat statistics data points that will allow you to get a better grasp on what is Snapchat today and how it got to this point.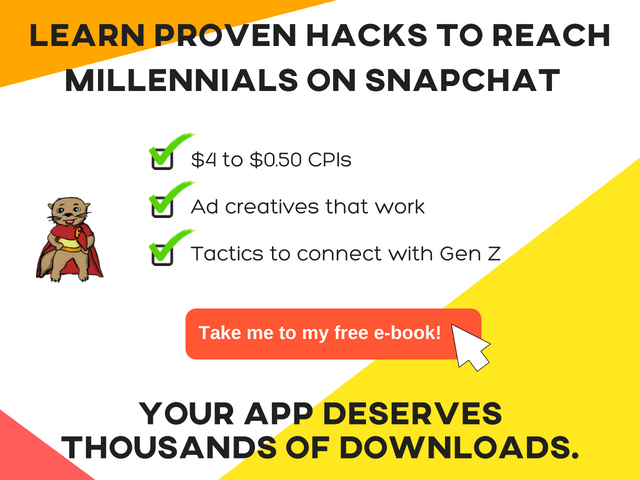 Snapchat Key Data Points
US penetration rate among 12-17 years old – 83% (Source: eMarketer)
53% of Snapchat US users are under 34 years old (Source: Statista)
28% of Snapchat US users are 18-24 years old (Source: Statista)
70% of Snapchat users are female (Source: Snapchat)
77% of college students use Snapchat (Source: Mashable)
50% of college students use the app as a means of communication (Source: Mashable)
Snapchat daily users worldwide – 173 million (Source: Statista)
Snapchat U.S. DAUs: – 68 million (Source: Snap Inc. S-1 filing)
Snapchat Europe DAUs – 52 million (Source: Snap Inc. S-1 filing)
Number of snaps sent daily – 3 billion+ (Source: Statista)
Snapchat users over 25 open the app 12 times / day for 20 mins in total (Source: Venturebeat)
Snapchat users under 25 open the app 25 times / day for 30 mins in total (Source: Venturebeat)
25% of Snapchat DAUs post to their Story every day (Source: TechCrunch)
Snapchat daily video views – 10 billion (Source: Mashable)
Snap Inc. net revenue Q2, 2017 – $182 million (Source: Snap Inc.)
Snap Inc. current market capitalization – $17.4 billion (Source: Yahoo Finance)
Snapchat Discover ad pricing – $50,000+ a day (Source: Wallaroomedia.com)
As of August 2017, the app had 173 million active users, with 3+ billion snaps sent every day. In addition, Snapchat Stories, a way to view a user's collection for longer than a few seconds, are being viewed 10 billion times a day.
The company initially raised $485,000 in 2012 led by Lightspeed Venture Partners, followed by multiple rounds throughout 2013 and a substantial $485m D series in 2014 from August Capital, Yahoo, GIC and Kleiner Perkins Caufield & Byers. In February 2015, it was reported that Snapchat was raising yet another round at a $19 billion valuation. In 2016 Snapchat raised $1.8 billion in a Series F round. On March 2, 2017 the company went public.
Back in 2015 Snapchat began to monetize its platform by introducing "Discover"- the feature that allows publishers to advertise their third-party short-form content.  With Discover, users can browse media content from partners such as CNN, Cosmopolitan and others. Snapchat then keeps 40% of ad revenue it sells to publishers on Discover.

Snapchat User Statistics
The core user group of Snapchat is millennials. The recent eMarketer data reveals that 83% of US teens age 12-17 use Snapchat at least once a month, Americans age 18-24 are on the second place with 79% and age 25-34 penetration rate is 48%.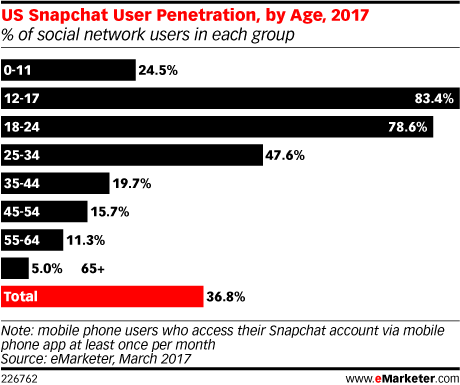 Source: eMarketer
However in 2017 Snapchat gained a higher adoption among older US population. The comScore's data for 2016 and 2017 shows that as much as 47% of Americans use Snapchat this year, 18% jump from 2016. The most striking growth among other age groups is with people 45 years old and older, where penetration double and more.
Age composition of Snapchat users aged 18+ in US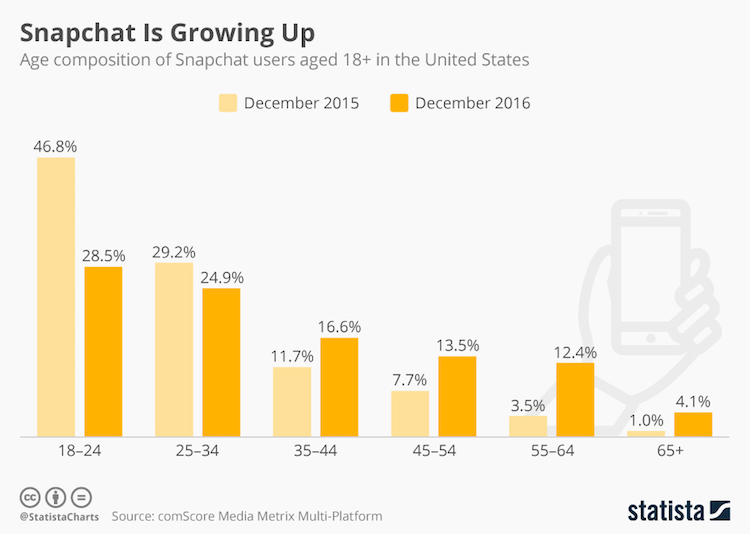 Source: Statista.com
According to Statista, Snapchat penetration among teens by gender is 51% for girls and 31% for boys.
Percentage of teenagers in US who use Snapchat in March 2015, by gender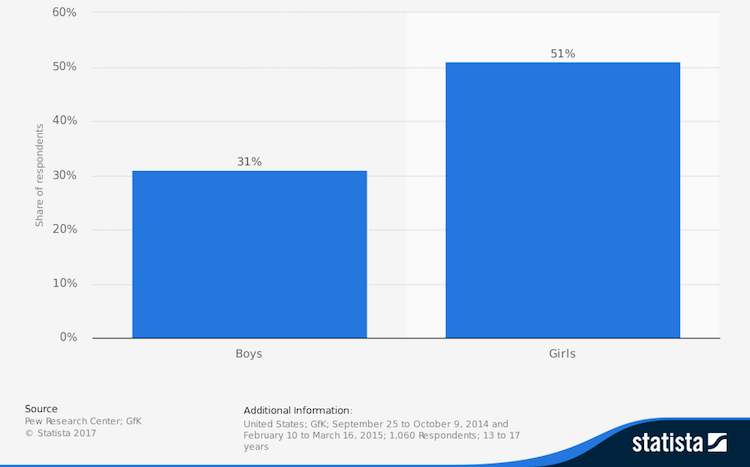 Source: Statista
Data collected by Sumpto, which questioned over 1,600 social media users across US colleges, highlights that 77% of college students use Snapchat at least once a day with evenings being a prime time for 81% of users as well as weekends (70%).
77% of college students use Snapchat
Source: mashable.com
The study adds that 37% of college students say they engage with Snapchat creatively, followed by 50% who are using the app as a means of communication. 2% admitted being involved in sexting through Snapchat.
Most Snapchat users engage in the app to communicate
Source: mashable.com
In addition, 35% of students believe Snapchat to offer the most amount of privacy across other social networks, an increasingly important criteria for millennial social media users.
However, the Sumpto research finds that marketers may have it all wrong and should start paying attention to Snapchat. It shows that 45% of college students would actually open a snap from an unknown brand and 73% of them would open snaps from a known brand. Another 69% of students would even add a known brand as their friend on Snapchat, opening up brands to a more personal stream of engagement with their customers. Promotions such as sales offers (67%) and coupons (58%) were the preferred information that students wish to be sent from brands.
Brand engagement on Snapchat could be huge
Source: BusinessInsider.com

Snapchat Usage Statistics
Snapchat is the latest social media giant that raised its power for the last 6 years but the bulk of its user base was from 2014 to 2017. In Q1 2014 Snapchat total number of users was slightly over 40 million and the bulk of those users were in North America. By Q1 2015 the company doubled its user base to 80 million and by Q1 of this year it managed more than double its number of users and it reached 166 million.
Snapchat daily active users worldwide, 2014-2017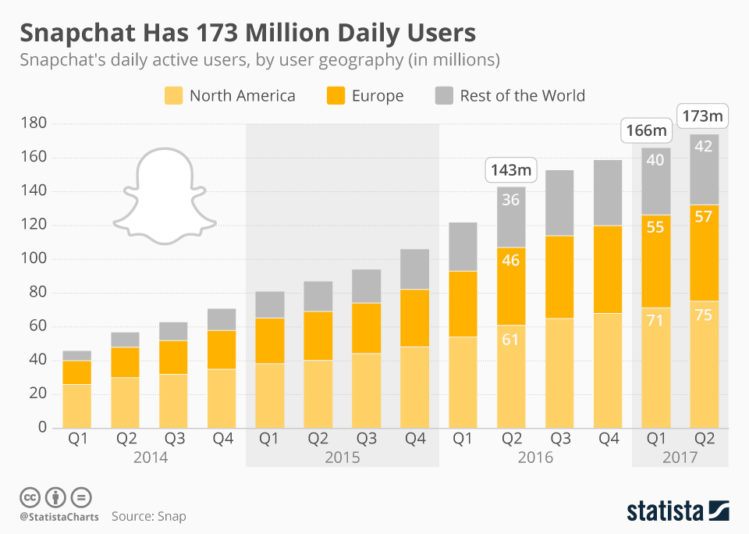 Source: Statista
When we look at Snapchat growth geographically in 2014-2016 period, we see the quickest user base expansion in North America, mostly in US, with 26 million people jumping on a new social media bandwagon back in the beginning of 2014 and 68 in the end of 2016. Europe has been having a slower growth rate, that began with only 14 million in early 2014 and went on 52 million in the end of the last year. The rest of the world is closing the race with 6 million people joining the social media site worldwide in the beginning of 2014 and 39 million in Q4 2016.
Quarterly Daily Active Users, in millions, by region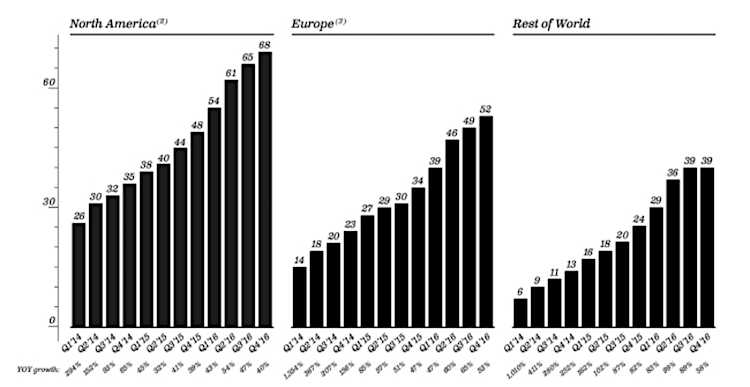 Source: Snap, Inc. S-1 filing
Certainly the most telling metric for Snapchat is the number of snaps that people send daily. In first quarter of 2017 this number gained 500 million snaps over 2.5 billion that snapchatters we're sending back in Q3 2016 and reached a whopping 3 billion snaps. To put this number in perspective, Twitter users send about 500 million tweets a day, on Facebook every minute 293,000 statuses are updated, and 136,000 photos are uploaded.
Number of snaps sent daily, 2016-2017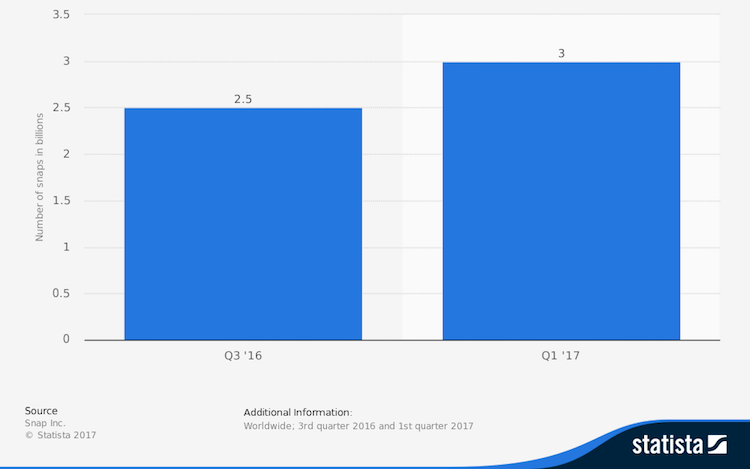 Source: Statista

Snap Inc. Revenue
On March 2, 2017 Snap Inc. company, originally Snapchat, went public, 6 years since its inception in 2011. Slightly sooner than other social media giants such as Facebook that went public in 2012, 7 years after its launch in 2005 and Twitter, that went public in 2013 also 7 years after its inception in 2006. According to the Snap Inc. S-1 filing, in Q2 2017 company made net revenue $182 million, more than twice from $72 million in Q2 2016. The total revenue for 2016 was  $404 million.
Snap Inc. Reports Second Quarter 2017 Results

Source: Snap Inc.

Snapchat vs. Instagram Statistics
The history of Snapchat app growth and development has been tightly intertwined with one of the Facebook assets that it purchased back in 2012 for $1 billion, namely – Instagram. Facebook team is notoriously famous for its ability to keep tabs close on any competitor that seriously threats its domination in social media. And so once Snapchat popularity took off, Facebook started routinely copy Snapchat features for Instagram to make sure its users won't switch to this newcomer. Over  the years Instagram got many copycat features from Snapchat, such as Stories, Direct Messages, Filters and more. Let's look at the most distinctive feature that first appeared on Snapchat and than being copied for Instagram – "Stories".
Stories
Now let's look at penetration of both "Snapchat Stories" and "Instagram Stories" among 18-34 years old people. We see that Snapchat beats Instagram 2:1. Within the 7 hundred respondents questioned by YouGov, 45% prefer "Snapchat Stories", only 21% "Instagram Stories" and 34% of respondents had no preference and are OK with using either of the two. The caveat to this data is the size of the pool – only 706 people, which may not be statistically significant enough to draw a conclusion.
Snapchat stories vs. Instagram Stories, 2017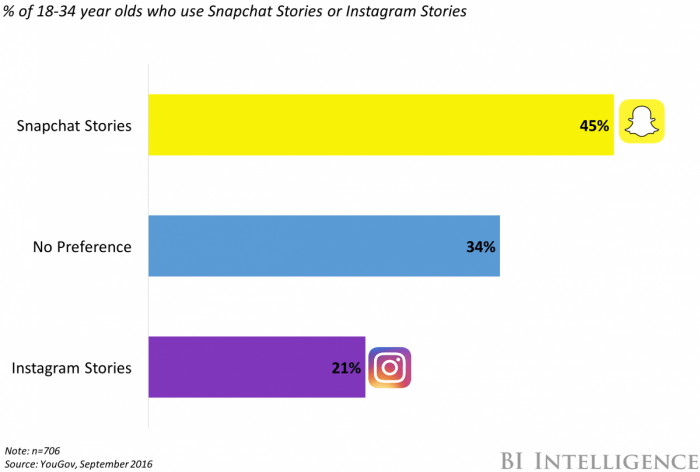 Source: BusinessInsider
Let's look at another metric, for which we do have a much greater data pool – DAU (stands for daily active users) of both Stories version on Snapchat and Instagram. Starting August 2016, when Instagram Stories were launched, we see initial steep growth from 0 to 100 million DAU within the next 2 months. Meanwhile during the same period Snapchat continued to grow on pretty much the same pace as it grew before Instagram launched its "Stories" copy, adding several million users a month. By April 2017 Instagram reported 200 million daily active users of its "Stories", while Snapchat presumably has only 160+ million. To understand this dynamic, we need to remember the size of the Facebook user base – 2 billion, vs. Snapchat user base – 173 million
and so no wonder that Instagram is capable to attract more users for its Stories than Snapchat does. It was only a matter of the right execution of this feature adaptation to the Instagram platform.
Instagram Stories vs. Snapchat Stories Daily Active Users, 2016-2017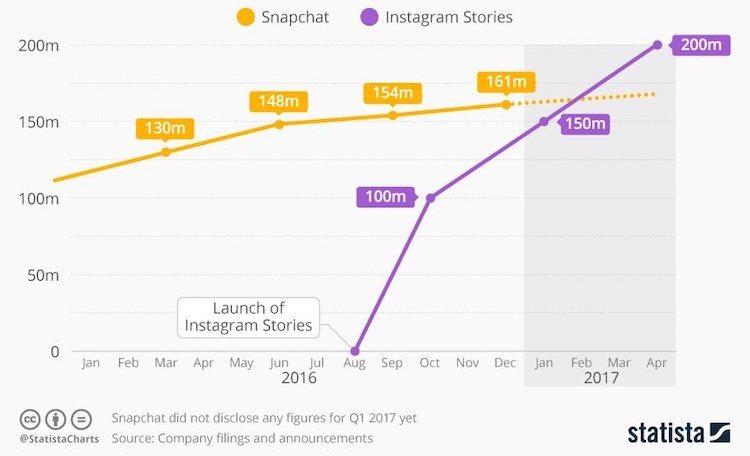 Source: Statista

Final Thoughts
As for any major social media, or any big online company for that matter, the growth factor is crucial for Snapchat in a long run. If it reaches a plateau in its growth like Twitter did, it'll certainly upset the stock market. But on the other hand, if the Snapchat team will be consumed by worries about its stock valuation and not its users, it'll hurt it as well.
Perhaps the key to its growth and adoption worldwide are new technologies Snapchat has been experimenting with, like Spectacles it began  to sell last year in limited quantities, recent Snapchat server-side feature that allows to stitch video snaps shot from different vantage points on some event to produce continues video footage that was impossible to produce before. As well as adding even more Augmented Reality features to the app, especially with the upcoming Apple's iOS 11 release this fall.