WhatsApp is a messaging app for smartphones created in 2009 by two former Yahoo employees, Brian Acton and Jan Koum.
It was Koum who saw the potential of operating through the Apple App Store after purchasing an iPhone in early 2009. The app initially focused on statuses; Koum later revealed that part of his motivation was to stop missing calls will he was the gym.
The app, developed by Igor Solomennikov, who the team found through RentACoder.com, leveraged Apple's new push notification feature to update users' networks with status updates. Users quickly came to use this as if it were an instant messaging service, planting the seed for what the app would become. WhatsApp 2.0 incorporated the messaging function that would come to become the app's defining feature.
WhatsApp was unique at the time, outside of Blackberry's BBM, in providing a free message service that allowed users to log in with their phone number. WhatsApp 2.0 was an instant success, with 250,000 active users. This was enough for Acton to convince a circle of fellow ex-Yahoo employees to part with $250,000 in seed funding.
WhatsApp incorporated multimedia messaging later in the same year, and was released on Android the following. From that point, WhatsApp marched to ubiquitous status, ranking in the top three most-downloaded apps on both iOS and Android. By October 2011, one billion messages were being sent per day; by early 2013, WhatsApp could boast 200 million active users. That figure is impressive enough, but by the end of 2017, WhatsApp was up to 1.5 billion active monthly users.
Naturally, this growth has attracted money – even with WhatsApp revenue figures so low as to be nonexistent. Venture capital titans Sequoia Capital invested $8 million in April 2011 after eight months of negotiations, and a further $50 million in February 2013, giving WhatsApp a valuation of $1.5 billion.
By this point it wasn't only venture capital firms who were interested in the messaging service. Facebook clearly saw WhatsApp as a potential threat to its own service, and therefore flexed its muscles. In February 2014, it moved to acquire WhatsApp for $19 billion – which remains its largest acquisition to date (and one of the largest tech acquisitions in history).
This has caused some degree of controversy with data being shared with the parent company, despite promises of increasing levels of encryption (reportedly 'end-to-end' by 2016). Both founders have left the company based on these concerns.
WhatsApp, however, remains comfortably the market leader its sector. Since its simple beginnings, it has added features such as voice calling, video calling, group calls (video and voice), and in early 2018 launched WhatsApp Business.
To learn more about how many people use WhatsApp, how it compares to it rivals, and whether WhatsApp revenue figures have climbed, continue reading.
Table of Contents
WhatsApp Key Statistics
1.5 billion users in 180 countries makes WhatsApp the most-popular messaging app in the world – 0.2 billion more than stablemate Facebook Messenger
One billion daily active WhatsApp users
India is the biggest WhatsApp market in the world, with 200 million users (it's estimated in some quarters that this has increased to 300 million)
120 million WhatsApp users in Brazil
US WhatsApp market relatively small, at 23 million
WhatsApp market penetration highest in the Netherlands, at 85%, followed by Spain (83.1%) and Italy (83%)
450 million users of WhatApp Status, eclipsing Snapchat Stories
Three million users of WhatsApp Business
65 billion WhatsApp messages sent per day, or 29 million per minute
Two billion minutes spent making WhatsApp voice and video calls per day
55 million WhatsApp video calls made per day, lasting 340 million minutes in total
85 billion hours of WhatsApp usage measured May-July 2018
WhatsApp acquired by Facebook for $19 billion in 2014
WhatsApp User Statistics
At the last count (Q4 2017), WhatsApp could boast 1.5 billion monthly users over 180 countries. This crowns an extraordinary decade of relentless user growth for the app. Notably when the app was acquired by Facebook, it counted slightly under a third of these numbers – making the acquisition look a savvy one on the basis of user volume.
WhatsApp user numbers, April 2013-December 2017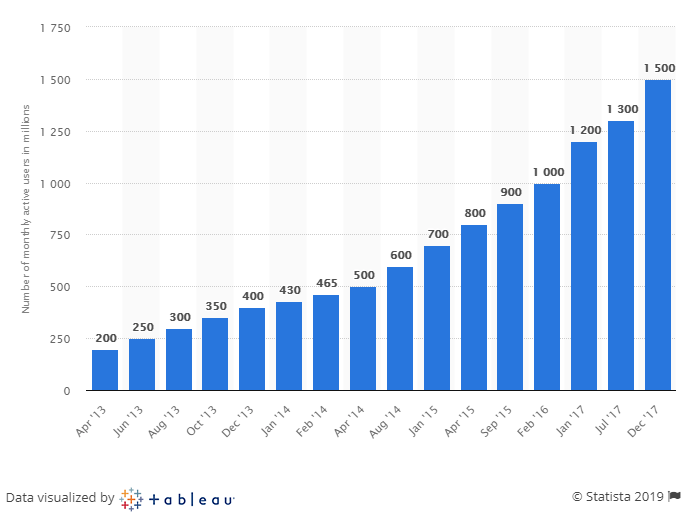 Source: Statista
According to the latest statistics available, as of October 2018, this puts WhatsApp in the number one spot in a ranking of global messenger apps, with some 200 million more users than Facebook Messenger.
China-orientated WeChat comes in third here, with about quarter of billion fewer users, followed by QQ Mobile (also Chinese) in at fourth. Competition tails off abruptly at this stage.
WhatsApp users vs. other messenger apps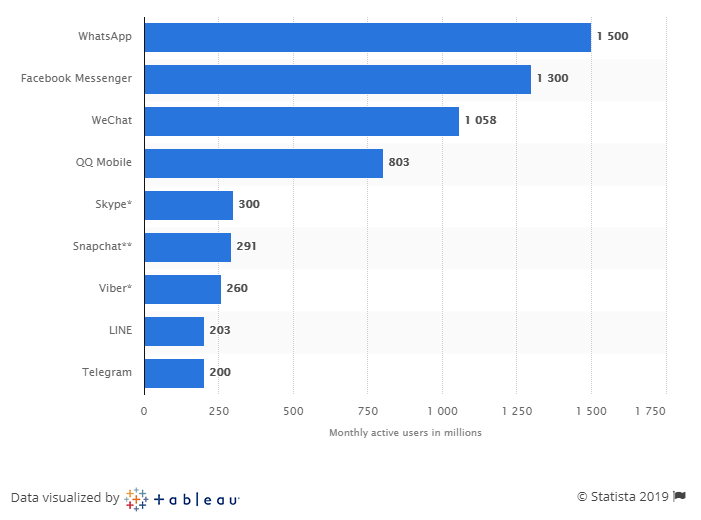 Source: Statista
It also puts WhatsApp into the number two spot in terms of users in the Facebook empire, ahead of stablemates Facebook Messenger and Instagram, behind only Facebook itself.
Facebook apps by user numbers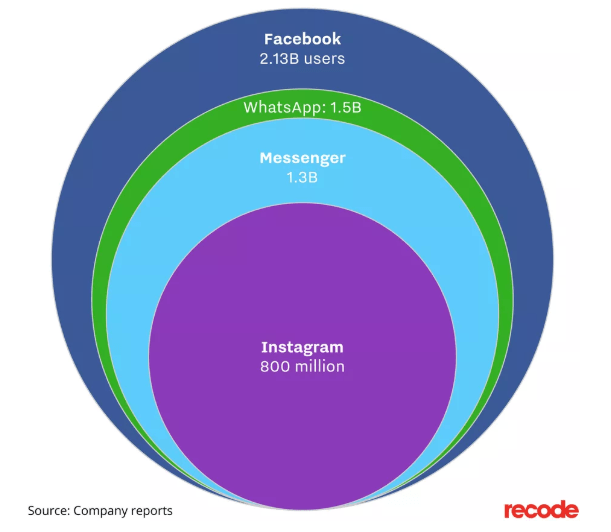 Source: recode
One billion WhatsApp users used the app on a daily basis as of July 2017 (at the time, monthly users numbered 1.3 billion). Facebook has been somewhat reticent with providing more recent figures than this.
The jaw-dropping price paid by Facebook for WhatsApp – at the time the highest-ever figure paid for a private company – was based on the growth potential it showed from the off. As the below graph shows, this eclipses the figures attained by the likes of Skype, Twitter of even parent company Facebook.
WhatsApp early user growth vs. other apps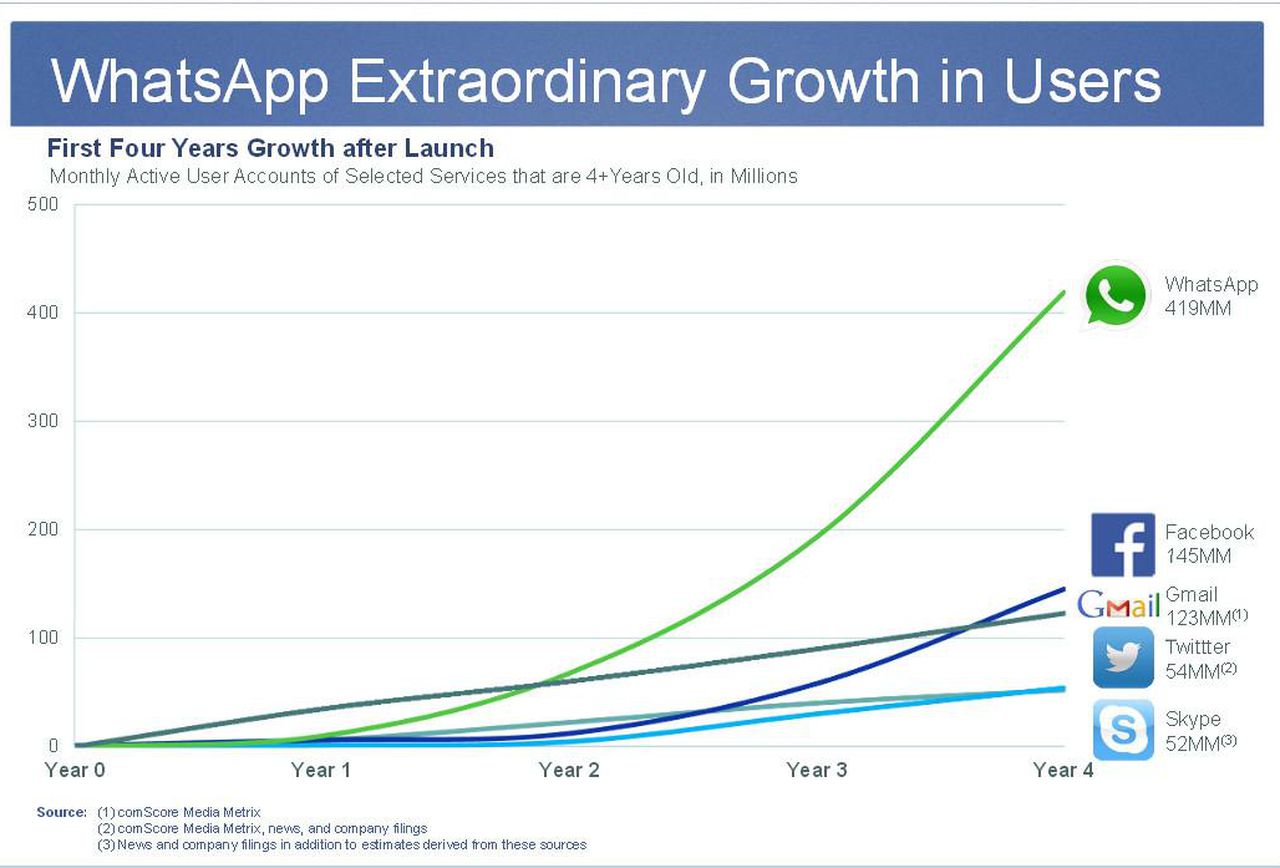 Source: Forbes
The below graphic dates from the beginning of 2018, at which point WhatsApp user numbers were figured at 1.3 billion. We can see, however, that already WhatsApp measures us as one of the world's top apps. In the intervening time it has pulled ahead of Facebook Messenger, making it the biggest app in the world outside of the seemingly untouchable Facebook and YouTube.
WhatsApp total users vs. other apps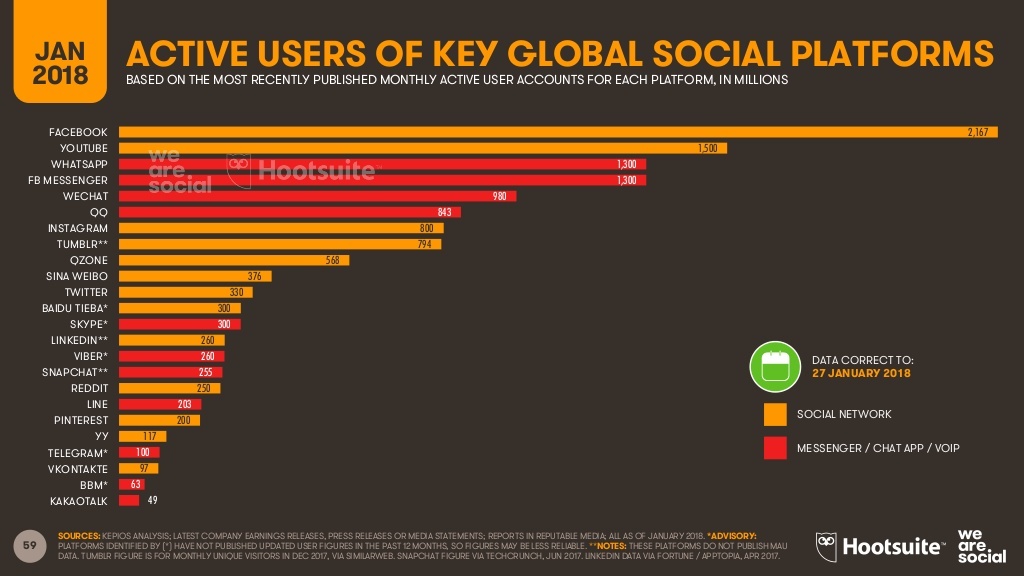 Source: Hootsuite/We Are Social
If we look at the top apps in terms of MAU, on the other hand, we see that WhatsApp is in second place, behind only Facebook. It ranks third in terms of downloads, with Facebook and Facebook Messenger in the lead.
Top apps by MAU and downloads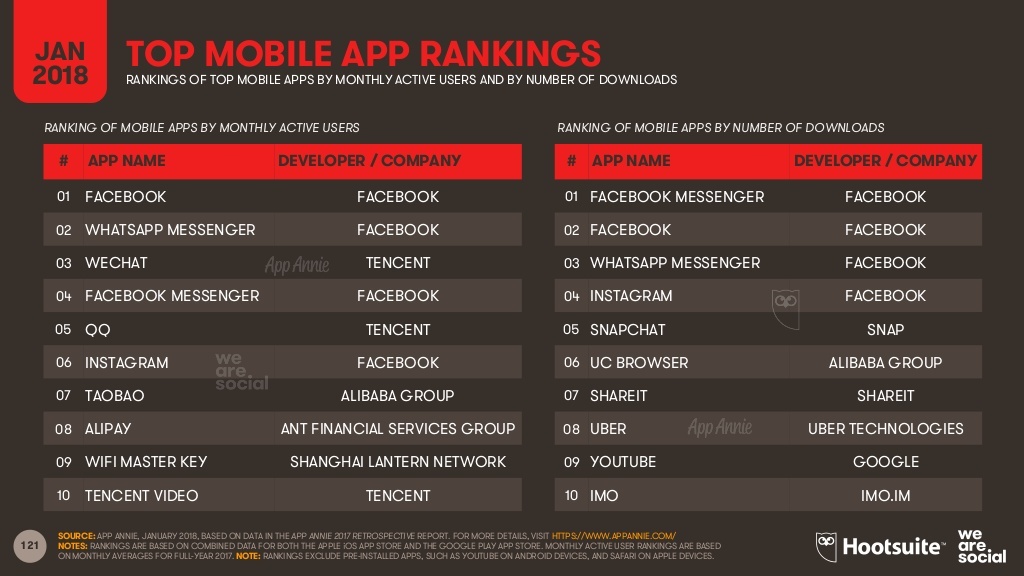 Source: Hootsuite/We Are Social
A more recent analysis published by GlobalWebIndex shows similar results. This study measures the percentage of internet users outside of China who are members of popular apps, and what percentage are users. Much like Hootsuite's findings, we see that Facebook Messenger has a higher membership rate, but a lower usership percentage than WhatsApp. The latter is used by 60% of the survey sample – again this puts it behind only Facebook and YouTube.
It sneaks ahead of Facebook Messenger on this metric, which suffers by virtue of a disparity between members and users of 17 percentage points. WhatsApp's lead over Facebook Messenger stands at 15 percentage points if we look at users who use the app more than once per day.
Social services, membership vs. users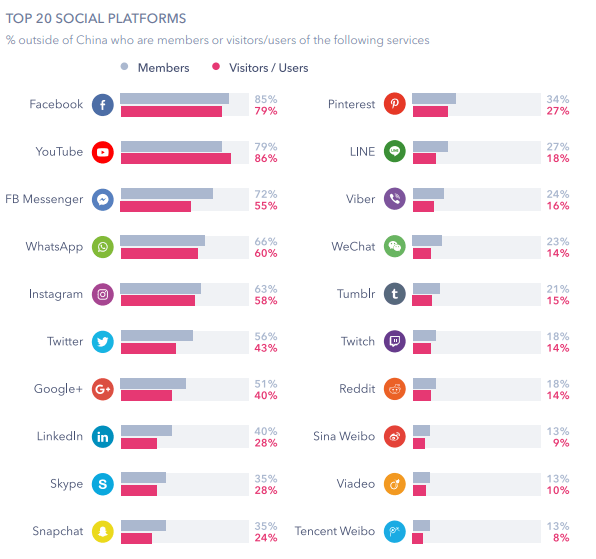 Source: GlobalWebIndex
WhatsApp markets
The below shows the most-popular messaging apps around the world, based on their rank in the Google Play Store – ergo pertaining to Android devices. As is clear by the swathes of green (similar to that used in the WhatsApp livery) WhatsApp is the dominant messaging app around the world. According to these figures, WhatsApp misses out on the top spot in only 25 countries (though these include notable markets such as the US, Canada, and France.
Most-popular messaging apps around the world (Android)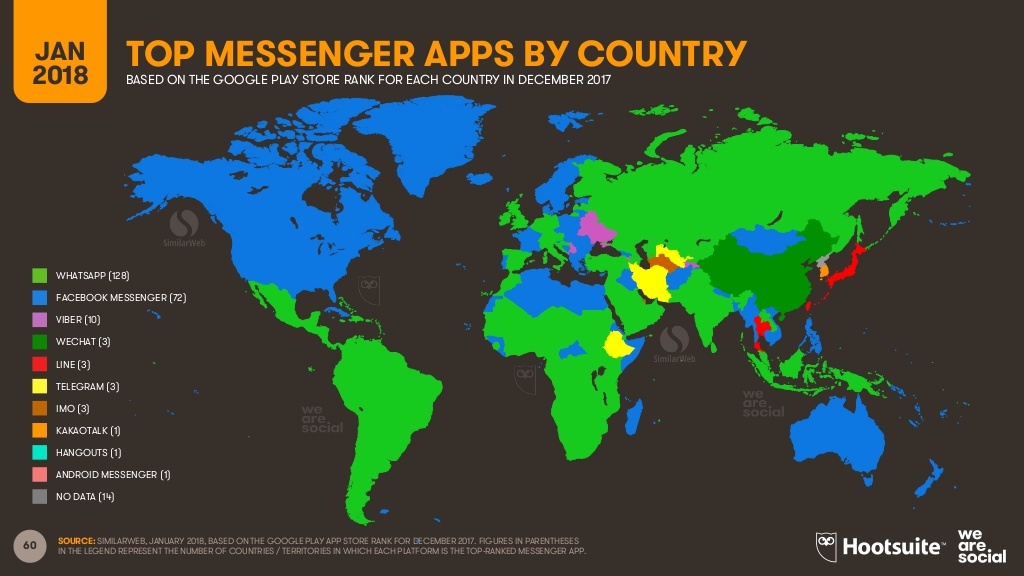 Source: Hootsuite/We Are Social
India is reportedly WhatsApp's biggest market, with 200 million users.
According to figures published on Statista, market penetration is relatively low in India, standing at somewhere between a quarter and a third. Far higher levels of WhatsApp usage penetration can be found in Germany (65%), Brazil (56%), Malaysia (68%), and Saudi Arabia, which tops the list at 73% market penetration. These figures pertain to the third quarter of 2017.
WhatsApp market penetration by country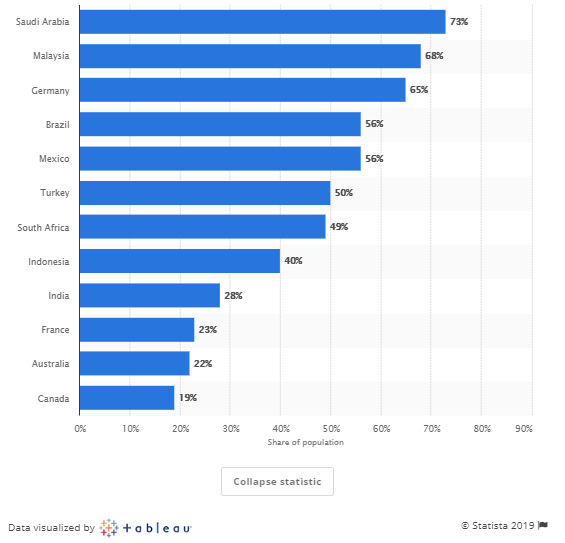 Source: Statista
An alternative 2018 study published by eMarketer finds that the Netherlands tops the list in terms of WhatsApp penetration, at 85% of smartphone users, followed by Spain and Italy. eMarketer predict that Italy will overtake Spain over the course of 2019. Indeed, penetration in these top-five markets – all European – is set to increase over the course of the year.
Top-five countries by WhatsApp penetration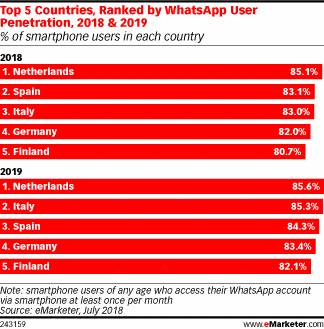 Source: eMarketer
The US is a relatively small market for WhatsApp, which is used by a relatively paltry 22.5 million users (as of July 2018). This is up marginally from the 21.3 million posted a year before. In its home market, Facebook Messenger seems to be by far the more popular choice, with not too far shy of six times more users.
US users of Facebook-owned apps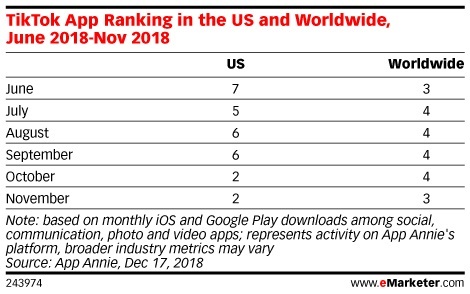 Source: eMarketer
According to self-reported figures, around 50% of UK-internet users use WhatsApp, putting it a little behind Facebook Messenger. This makes it the fourth most-used social platform in the country.
UK social media usage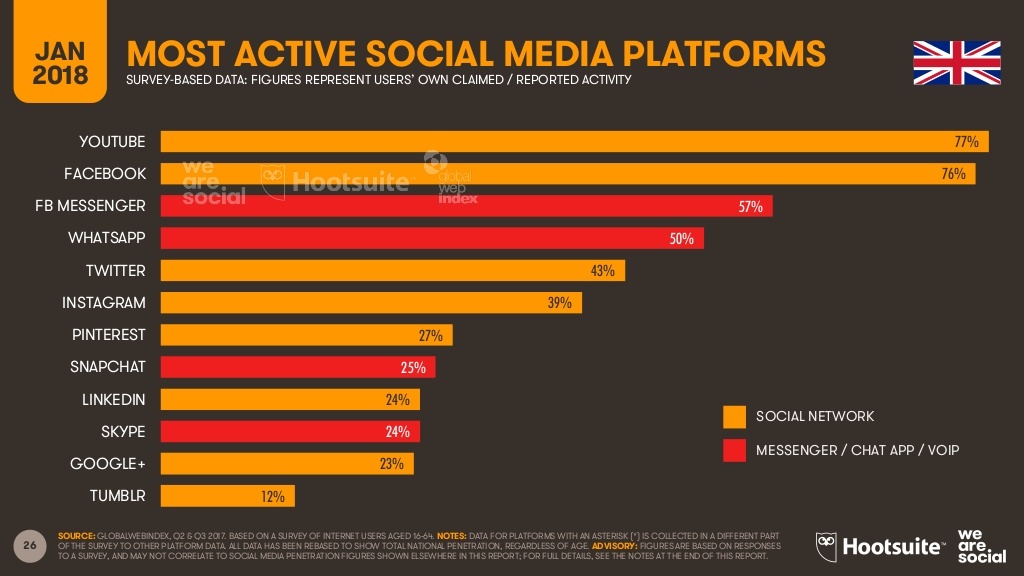 Source: Hootsuite/We Are Social
According to App Annie stats, referenced by Hootsuite, however, WhatsApp is the most used app in the UK (monthly active users), and the most downloaded.
UK apps by downloads and active users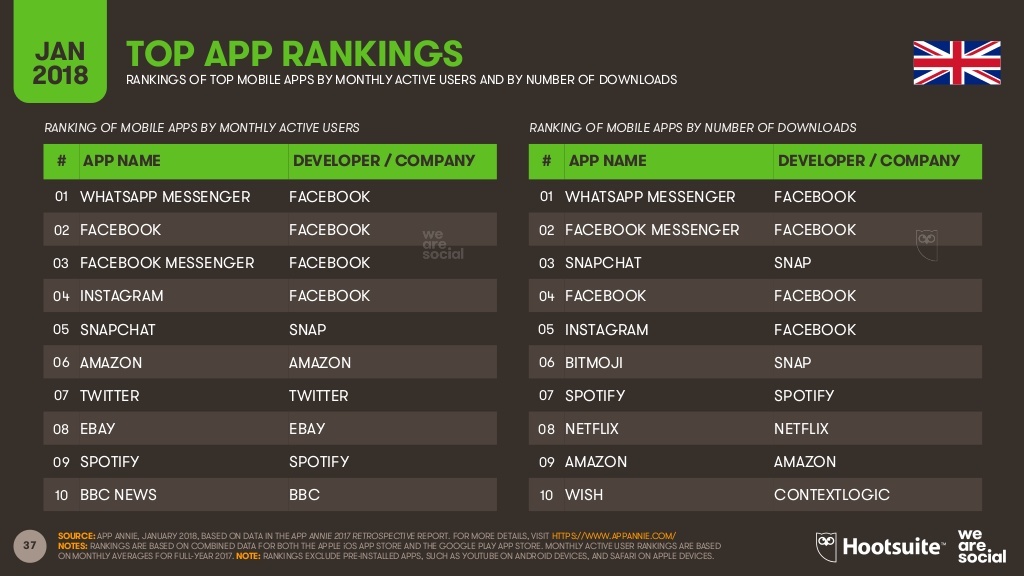 Source: Hootsuite/We are Social
The 200 million figure for India dates back to 2017; it was estimated that by January 2018, Indian WhatsApp user numbers reached 300 million.
Indian WhatsApp user growth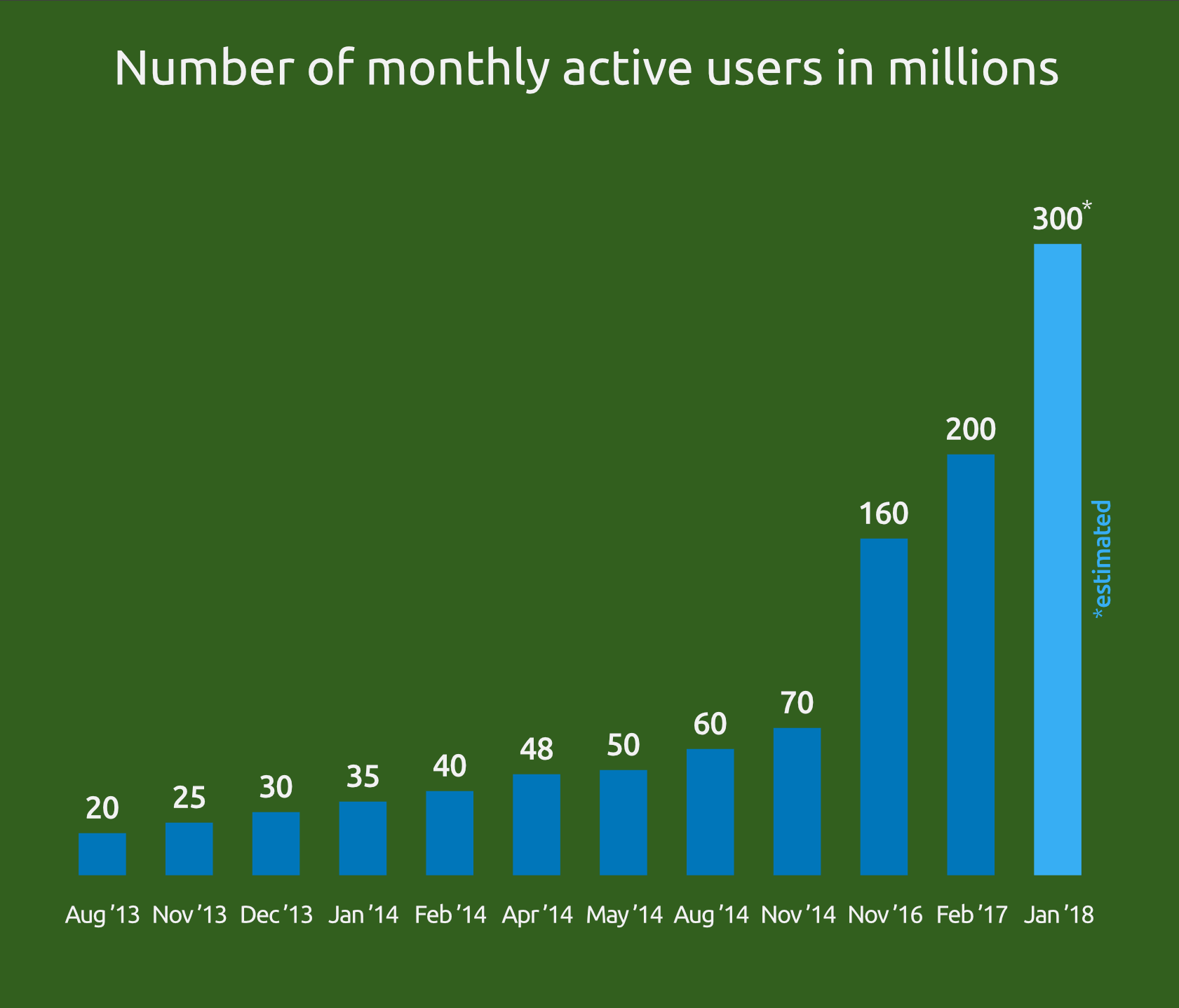 Source: Messenger People
Self-reported statistics indicate that 28% of Indian internet users use WhatsApp, putting it behind only Facebook and YouTube.
India social media usage
Source: Hootsuite/We Are Social
Once again, WhatsApp tops the monthly-active usage chart, and finishes second only behind Facebook in terms of the numbers of downloads.
India apps by downloads and active users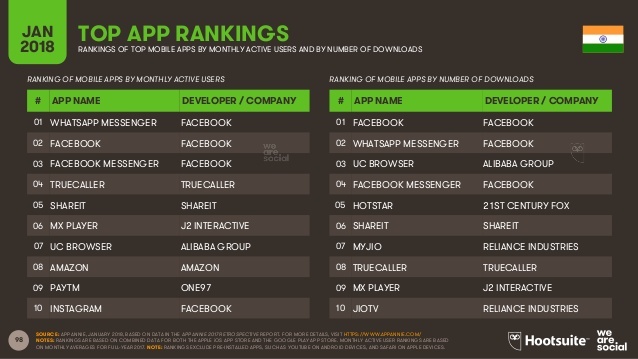 Source: Hootsuite/We Are Social
As demonstrated above, WhatsApp's popularity is a global phenomenon. As of May 2017, WhatsApp could count 120 million users in Brazil, for instance. With a total population of 211 million, and total internet penetration standing at 66%, it's clear that WhatsApp is a force to be reckoned with in Latin America's most-populous and wealthy nation.
As in India, however, this has led to issues with the spread of dubious and malicious information – namely the dissemination of fake news in support of then presidential candidate (now incumbent) Jair Bolsonaro in the run up to the 2018 election.
In Latin America's second-largest economy, Mexico, WhatsApp penetration stands at 91% – behind only Facebook.
WhatsApp is also the most popular app across Africa (with a few exceptions, mostly concentrated in north and east Africa). The app has reportedly driven internet uptake in the continent – accounting for as much of 50% of data usage in Zimbabwe.
WhatsApp demographics
According to We are Flint, WhatsApp usage is most concentrated in younger age groups in the UK, with 84% of 25-34 year olds using the app, followed by 80% of 18-24 olds. That said, usage is nearly as high in the 35-44 year old grouping, and declines relatively gradually as we go up through age groups.
The same applies across social and income grades. Though we see a greater preponderance of WhatsApp usage from those in higher income brackets or in white collar/skilled professions, usage remains relatively high in lower paygrades and among unskilled workers. The same applies to urban/rural users.
Usage is slightly higher among women than men.
UK WhatsApp demographics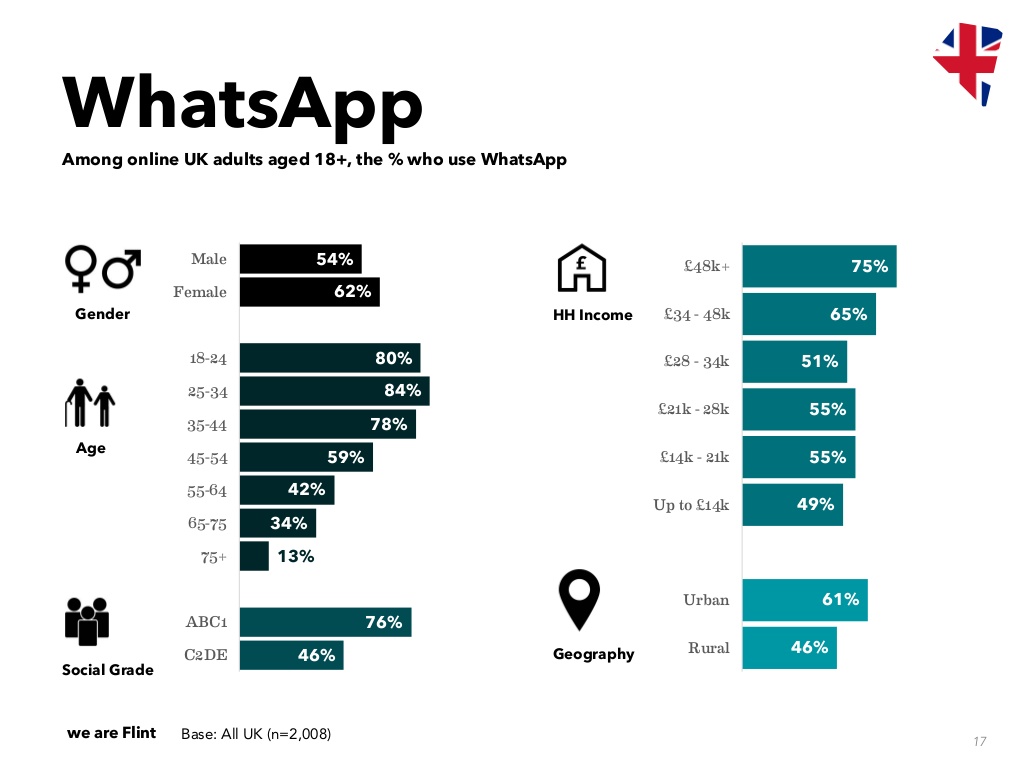 Source: We are Flint
In the US, on the other hand, a solid percentage more men than women use WhatsApp. We see roughly the same trends in terms of the ages of users (despite the smaller percentages), while usage is far more concentrated in urban areas. Similar trends are also apparent in terms of salary bands.
US WhatsApp demographics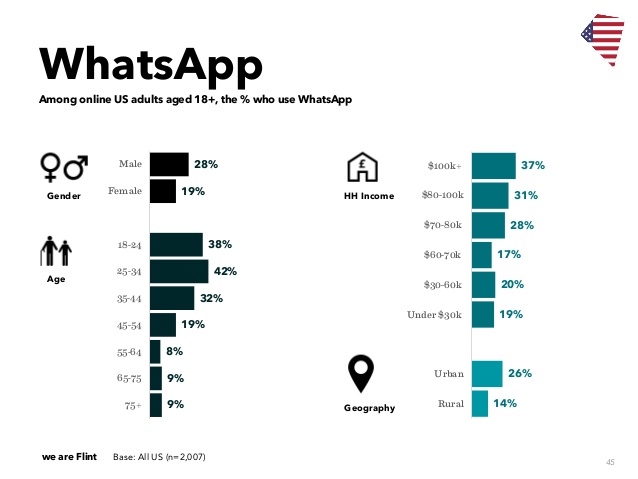 Source: We are Flint
The Pew Research Center investigated WhatsApp penetration in the US by ethic group, finding that usage was most concentrated among Hispanic Americans, at nearly 50%. Black users follow at just over one in five, with penetration lowest among the white Americans at 14%.
In all, this analysis pegs overall US penetration at 22% (February 2018).
US WhatsApp penetration by race/ethnicity

Source: Quartz
A greater share of Indian WhatsApp users unsurprisingly live in urban centres rather than rurally. We saw a significant increase in urban users between 2017 and 2018, climbing from 20% to 38% of those surveyed by research institute Lokniti-CSDS. Interesting, though, we also saw a huge surge in rural Indian WhatsApp users, with usage more than doubling over the same period, to reach a level higher than that at which urban penetration had stood the preceding year.
Urban/rural WhatsApp users in India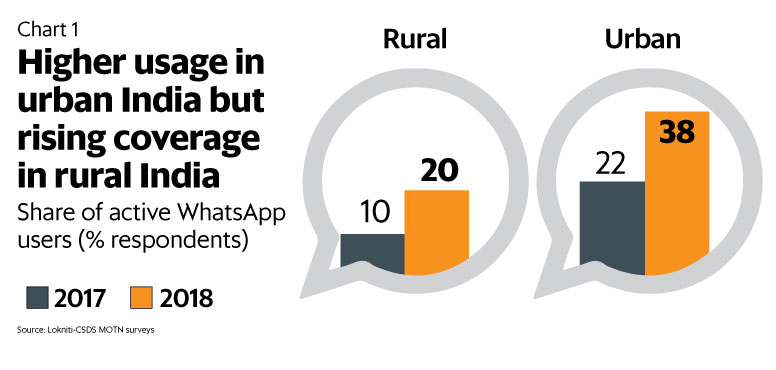 Source: Livemint
Looking at it by social class, again we see WhatsApp usage has increased across the board. While we see higher proportions of users among the wealthier echelons of Indian society, the most significant rise in usage came from those classed as 'lower income'. Between 2017 and 2018, usage increased six-fold in this bracket. Middle class usage more than doubled in this time also.
Indian WhatsApp user by social class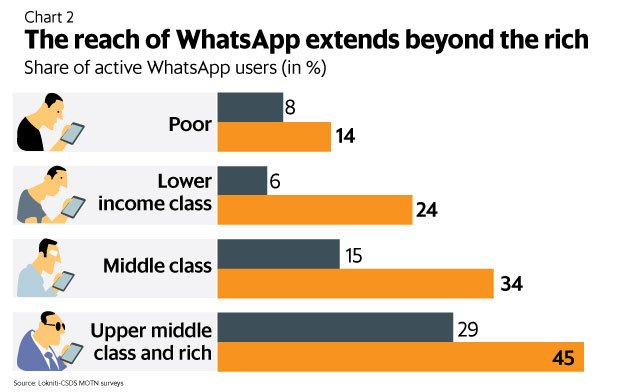 Source: Livemint
By age, the story is relatively predictable, with the younger demographics where usage is higher both seeing an increase of roughly two-thirds. While growth in percentage terms is in fact stronger for older demographics, they remain some way behind overall.
Indian WhatsApp usage by age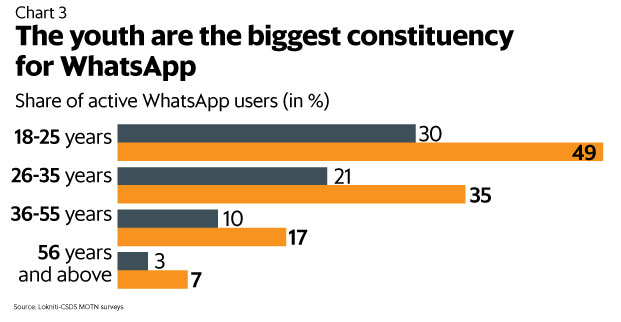 Source: Livemint
A demographic breakdown (drawn from We Are Social data) once again shows the 18-35 demographic dominant, accounting for 55% of users. This data is broken down by users who are older or younger than this key demographic. Interestingly, it shows that while the over 35s account for more than pre-adult teenagers, the 13-17 demographic should not be underestimated.
Indian WhatsApp user numbers and demographics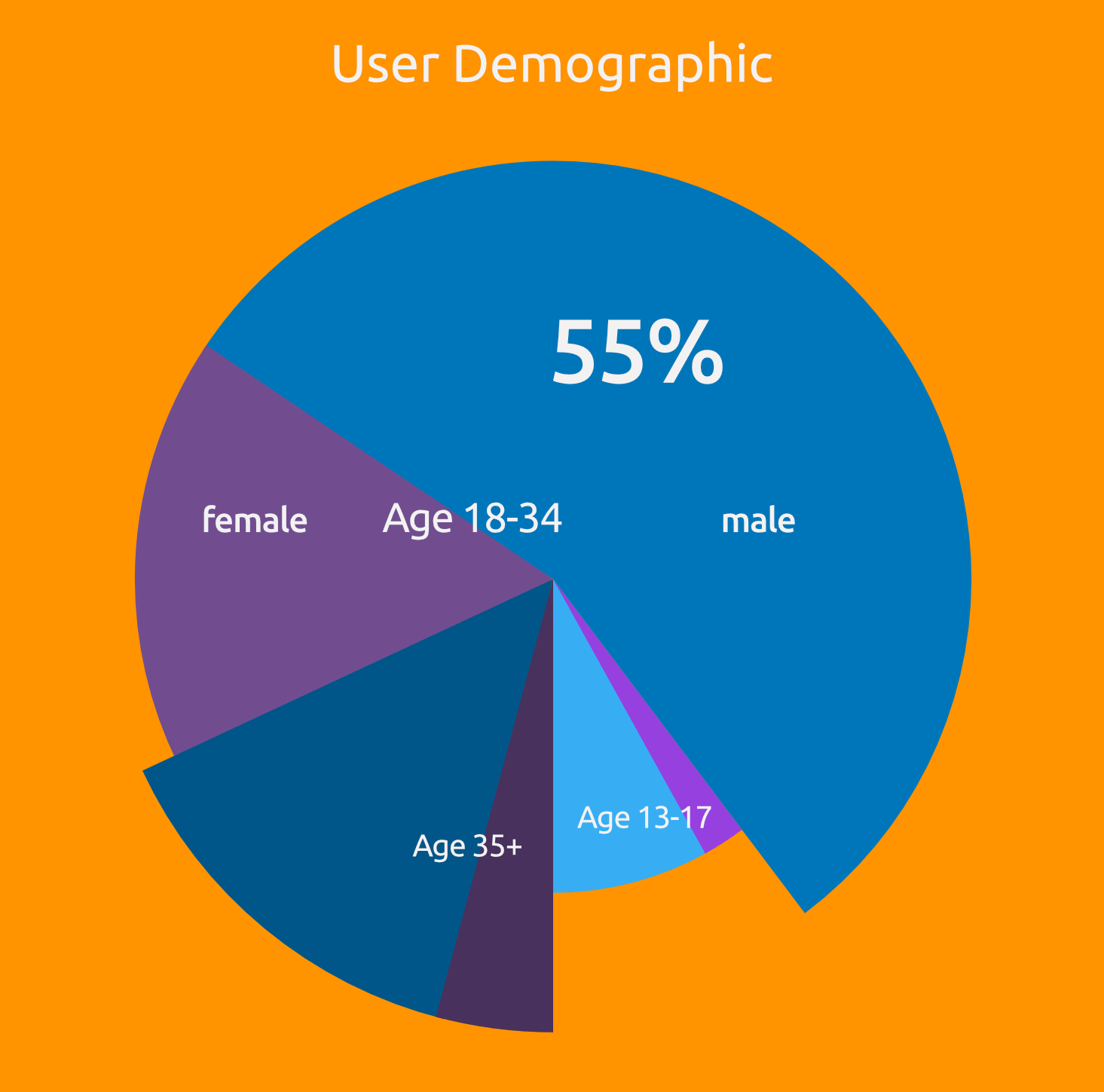 Source: Messenger People
While it could not compete in terms of domestic services WeChat or QQ, WhatsApp counted around two million Chinese users before it was blocked by the government in 2017.
WhatsApp Status
Like Facebook stablemate Instagram, WhatsApp introduced a Snapchat Stories aping feature – in this instance known as Status. This allows users to share text, photos, videos, and GIFs that disappear after 24 hours.
And like Instagram, the feature, launched in 2017, rapidly came to eclipse Snapchat, reporting 300 million users as of late 2017; nearly twice as many as Snapchat's original feature. By May 2018, this had increased even further to 450 million
WhatsApp Status users
Source: Statista
WhatsApp Business
WhatsApp began to verify business accounts in August 2017. A few months later, in January 2018, WhatsApp Business was launched, initially in five key markets (UK, Indonesia, Italy, Mexico, and the US).
As of May 2018, 3 million businesses had signed up for WhatsApp Business. Businesses can only contact people who have provided their number and agreed to be contacted. The app is aimed at small and medium-sized business owners, and is aimed to facilitate better client-customer communication. Businesses can create profiles with useful details, and automate and sort messages, as well as simply replying to them. As with standard WhatsApp, messages from businesses will be encrypted.
In August 2018, WhatsApp launched the WhatsApp Business API, which allows businesses to respond to messages sent by customers, who must message first. Businesses have 24 hours to reply for free (from the last message), after which they will be charged at a fixed per-message rate. This is notable in being WhatsApp's first revenue-generating enterprise product.
The API is aimed to help businesses programmatically send out confirmations, reminders, or even tickets. The WhatsApp Business app remains free to use. WhatsApp have, however, announced that they are looking for ways to monetise the app in future, potentially by charging bigger businesses.
It seems here as elsewhere, WhatsApp faces an uphill battle on its home turf, with a mere 8% of US smartphone users interested in communicating with brands through the app. This compares with 37% and 22% who would use stablemates Facebook Messenger and Instagram respectively.
It should be noted that the comfortably the most commonly-elected option in this survey was that users were not at all interested in communicating with brands using messenger apps whatsoever.
Through which platforms are US smartphone users willing to communicate with brands?
Source: eMarketer
WhatsApp payments
Over the first half of 2018, WhatsApp rolled out a new payments feature to selected users in India – reaching about one million by the midway point in the year. the feature leveraged the National Payments Corporations of India (NPCI) unified payments interface. This cuts out the intermediary stage of loading money to a wallet, allowing users to transfer money directly from their bank account, according to Quartz India.
In late 2018, WhatsApp made a formal request to expand the payments system across India to the Reserve Bank of India (India's central bank). It has not, however, presented a timeline for coming into compliance with the NCPI's data-localisation norms. A system announced in October did not pass muster, with the NCPI unsatisfied with the lack of assurances that data would not be stored overseas.
The Indian government also demanded that WhatsApp set up an Indian headquarters before it could fully roll out WhatsApp Pay. Accordingly, Abhijit Bose – former head of payment device maker Ezetap – has been recruited as the head of WhatsApp India. He joins previously-appointed grievance officer Komal Lahiri.
Credit Suisse predict that the payments market in India will be worth $1 trillion by 2023. The market is currently led by Alibaba-backed Paytm.
WhatsApp Usage Statistics
According to WhatsApp, as of May 2018, WhatsApp users sent 65 billion messages per day. On average 29 million WhatsApp messages are sent per minute (as of 2017 – this may be even higher now).
In the same statement from which the first number is taken, it was also revealed that WhatsApp users spent 2 billion minutes making voice and video calls per day. Back in 2017, it was announced that 55 million WhatsApp video calls were made per day, lasting a combined total of 340 million minutes.
In August 2018, it was reported (by Apptopia), that between May and July 2018, collectively we spent over 85 billion hours using WhatsApp – vastly eclipsing the 31 billion hours spent on Facebook. In total, that is the equivalent of each human being on the planet spending roughly 11.5 hours using WhatsApp over this period.
Most-used apps globally (by time spent)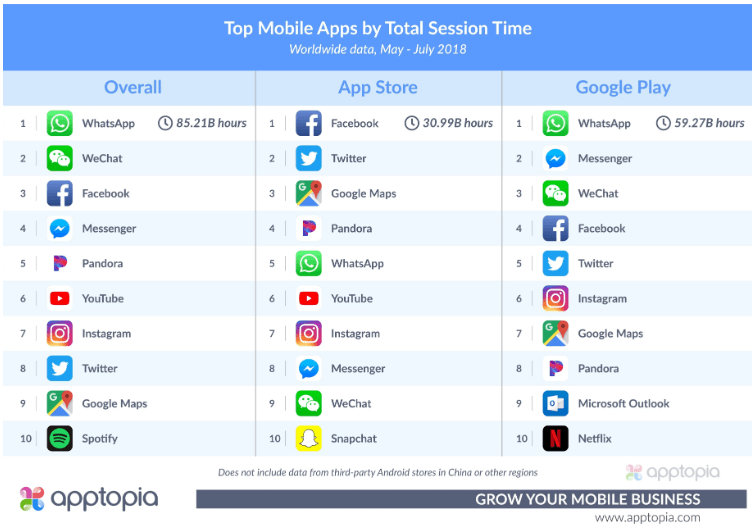 Source: Apptopia
WhatsApp usage in the UK greatly eclipses the US in percentage terms at least, with 58% of UK app users vs. only 24% of US users using the app. This disparity is even greater in terms of daily usage, with 35% of UK WhatsApp users using the app on a daily basis, compared with 10% of US app uses.
Daily users US vs. UK
Source: We Are Flint
As with general usage, India is the biggest market for video calls. WhatsApp announced in 2017 that Indian users made 50 million minutes of video calls per day.
WhatsApp groups, messaging volume, and response time
A small Israeli study of university-age students (18-34) carried out by the Jerusalem College of Technology and Bar-Ilan University analysed the differences between male and female WhatsApp usage. The study found that female users tended to send a good deal more messages per day on average – though the received messages per day totals are relatively similar.
It seems that female users are more likely to be in smaller groups than males. Both male and female users have the same number of groups on average.
WhatsApp usage by gender (university-age users)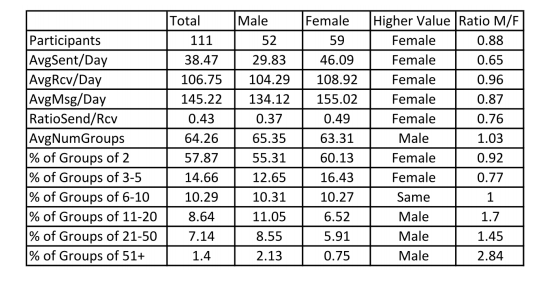 Source: A Study of WhatsApp Usage Patterns and Prediction Models without Message Content
The study found that around seven out of every 10 WhatsApp groups contained the minimum of two people. Around one in 10 contained three, with the preponderance of groups falling as they become larger (though nearly 1% contain over 50 people).
Proportion of total WhatsApp groups by size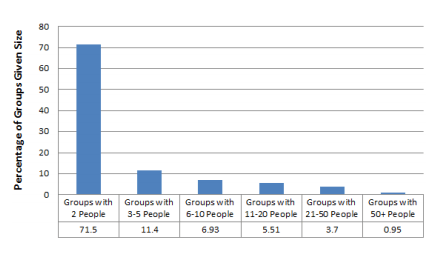 Source: A Study of WhatsApp Usage Patterns and Prediction Models without Message Content
In terms of reply time, the most popular response by some time was under one minute – suggesting that the sample investigated (using propriety software that doesn't unencrypt the content of messages) use the app almost akin to an instant messenger service. Percentages for any other response time were relatively low, with the exception of 'no response'.
Notably, the survey does not include a section for replies that take over an hour (perhaps counted as no response). Perhaps less of an issue for a demographic that is still studying, though very much a real issue for those messaging others in full-time employment.
Response time to messages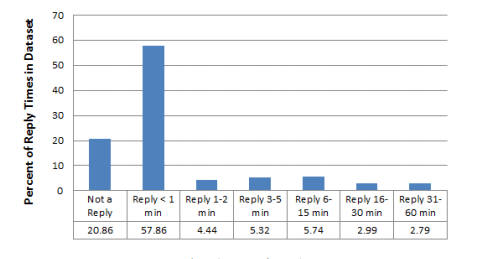 Source: A Study of WhatsApp Usage Patterns and Prediction Models without Message Content
As we might expect, the most-active times on WhatsApp are the 12 hours between midday and midnight.
Most-active times on WhatsApp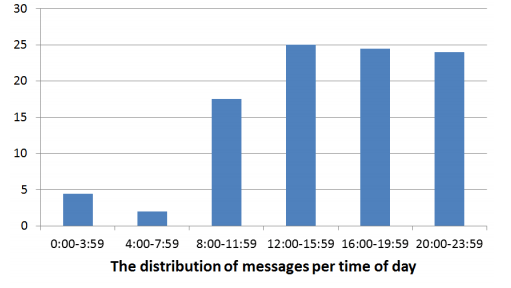 Source: A Study of WhatsApp Usage Patterns and Prediction Models without Message Content
Based on the results above, and further demographic data, the researchers built various predictive models, all contained within the paper.
WhatsApp as a news source
In India, WhatsApp/Facebook are less trusted than traditional media as sources of news, with 61% finding information gleaned through these sources untrustworthy. That said, 29% do trust them as news sources, which can have dangerous repercussions – namely a spate of lynchings that occurred in the wake of fictitious allegations forwarded through viral messages. WhatsApp moved to restrict the forwarding of messages, under threat of legal action from the state, to prevent further tragedies. Indian WhatsApp users reportedly forward more than those from any other nation, WhatsApp revealed.
Trust in WhatsApp as a news source vs. other media in India
Source: Livemint
WhatsApp Revenue Statistics
Facebook acquired WhatsApp in February 2014 for the princely sum of $19 billion. This remains Facebook's largest acquisition – and one of the biggest in history.
It's therefore difficult to give precise figures pertaining to WhatsApp revenue, given that Facebook does not release separate stats for its various business segments. In Q3 2018, Facebook reported close to $14 billion worth of revenue, with net income of a little over $5 billion.
Total Facebook revenue over 2017 stood at $41 billion.
WhatsApp revenue generation has always been modest. In the year preceding the acquisition by Facebook, the figure stood at a relatively paltry $1.3 million – generated by a $1 per year charge levied by WhatsApp up until early 2016 (with the first year free) in some markets, or a fixed $1 download charge in others.
WhatsApp announced this charge would be scrapped in a blog post in January 2016, hinting at a future revenue model which hinged on WhatsApp Business. Later the same year, Forbes predicted that WhatsApp would come to generate revenue of $4 per user, up to a total of $5 billion. Notably they had also forecasted total monthly user levels of 1.3 billion by 2020 – a level WhatsApp had attained by midway through 2017. At this point, the estimates for prospective WhatsApp revenue were upped, ranging from $5 billion to $15 billion, with ARPU ranging from $4 to $12.
ARPU for rivals Line and WeChat stands at around $7 and $9, respectively, though both apps incorporate ads.
As mentioned above, in the WhatsApp Business section, it is this business segment in which we see a first concerted push to monetise – with the API set to charge businesses for slow replies to customers with whom they are connected. With WhatsApp Business currently targeted at SMEs, a move to charge larger businesses to use WhatsApp services may be on the cards in the future.
WhatsApp Business, however, is coming up against a perhaps unexpected rival: traditional SMS messages. Mobile operators reportedly made $9 billion from business messaging in 2017 – three quarters of the total value of the market. It is predicted that this percentage could rise to as much as 84% by 2022. Mobile operators have one clear advantage over WhatsApp: ubiquity, with prospective reach taking in every single mobile device that receives phone signal.
Integration with Facebook Marketplace and the payments platform in India have also been earmarked as potential WhatsApp revenue streams. The latter in particular could be a big earner for WhatsApp. The mobile payments market in China, dominated by Alipay and WeChat Pay, handled 81 trillion yuan's worth of transactions in the first 10 months of 2017 ($12 trillion). It is estimated that WeChat Pay's share of these transactions accounted for $2 trillion over 2016 – a figure that is likely to have increased substantially. Line handles around $6 billion worth of transactions per year, with around 10 million monthly transactions (as of late 2017).
There are concerns, however, around data security – particularly given Facebook's shaky history on the subject. Could a way toward profitably possibly include the sharing of data that users believed to be confidential for profit? It was concerns about Facebook's intentions in this department which led to the resignation of WhatsApp founder Jan Koum in April 2018. Cofounder Brian Acton cleared his desk in 2017, going on the found rival app Signal – notably with a focus on security and privacy.
WhatsApp funding rounds and valuation history
In the years leading up to the Facebook acquisition, WhatsApp received two sizeable investments from tech-focused venture capital firm Sequoia Capital. The first, in 2011, was of $8 million, followed two years on with a heftier $52 million. This was said to give Sequoia a stake in the "high-teens". This, of course, paid off handsomely for the investors, with the NY Times DealBook estimating that they made 50 times the stake in the sale – $3 billion, $2.3 billion of which in the form of Facebook stock.
Sequoia Capital added to its stake in Facebook in 2018, in the wake of the Cambridge Analytica scandal and the concomitant dip in Facebook share price.
The only other funding round of note was the $250,000 seed investment raised by Brian Acton from a circle of fellow ex-Yahoo employees.
The $19 billion paid by Facebook was well in excess of the last prior valuation of WhatsApp, during the 2013 funding round. This pegged WhatsApp's value at $1.5 billion. At the time of the 2011 funding round it stood at around the $80 million mark.
Final Thoughts
WhatsApp is one of those apps of which one might ask a lot of questions. It is a humble messenger app, the core functionality of which ostensibly offers nothing that one could not achieve using traditional SMS messaging.
Yes, it does include a reasonably wide range of other functions on top, but again, these are all available through a range of apps that predate it, and some that have been released since too.
Some worrying – and pressing – questions around data privacy have hurt WhatsApp's reputation; not helped by its parent company, Facebook, not being in possession of the best track record on this issue. And from a business point of view? Well, there's no getting around the question of WhatsApp's freeness to use and its lack of advertisements…basically,  the near complete lack of WhatApp revenue.
And yet here we have an app that caught the eye of one the biggest modern business superpowers, who deemed it to be worth an astonishing $19 billion. And an app that can boast one of the biggest active user bases in the world – second only, indeed, to Facebook. Perhaps it may be that Facebook could not risk having such a huge rival outside its stable – a potentially hinderance to its march to global dominance.
Of course, a long game is being played, in which WhatsApp Business and the mobile payments market look set to play a key part. As business' sphere of operation continues to shift from the high street into the devices in our pockets, the way we communicate with and transfer money to businesses could well be a key digital battleground of the future. We should not also forget that payments market initially being targeted by WhatsApp is India, which shows a desire to engage with informal as well as formal economies – effectively taking on cash itself.
We should also not forget the key role that WhatsApp has played in the ongoing communications and digital revolution. It has brought many across the developing world into the online sphere, and has provided an affordable alternative to what can be prohibitively expensive carrier charges in many markets.
In a way then, this humble app can be said to have changed the world, subtly but wide-rangingly. It's hard to imagine a WhatsApp-free communications sphere. And if future developments go WhatsApp and Facebook's way, this may become even more the case in the years to come…