WhatsApp Messenger is a messaging app for smartphones created in 2009 by two former Yahoo employees, Brian Acton and Jan Koum. It is one of the most successful messaging apps to date with an unprecedented growth story that relied on little marketing. In October 2009, WhatsApp Inc raised $250,000 in seed funding. The app officially released for the iOS App Store just a month later and was adapted for release for all major operating systems. By 2011, it had become a top seller on iPhone, Android and Blackberry without much marketing spend. The company raised $8m in a Series A from Sequoia Capital in April 2011. In October during the same year, one billion messages were being sent in a single day by its users. By February 2013, the app reached 200m active users and Sequoia invested another $50m, valuing the company at $1.5bn.
It hit 600m active users in January 2015, making it the most popular messaging app to date, and rose to 900m by September this year. The company was acquired by Facebook in February 2014 for $19bn, making it the largest venture-backed exit during that year.
WhatsApp instant communication app interface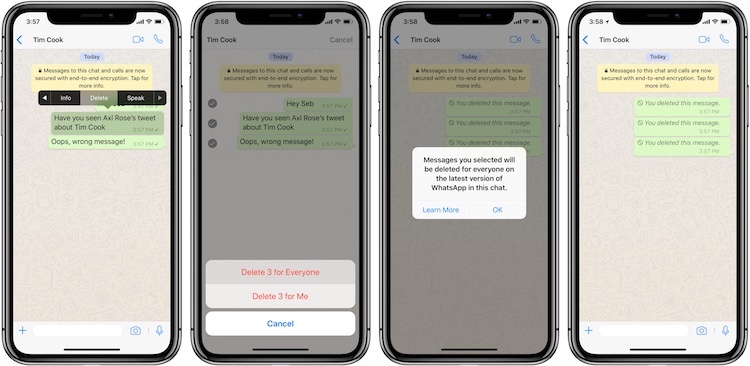 Source: iDownloadblog
Let's see how one of the most popular communication apps on the planet and one of the Facebook empire assets is doing on the market, by looking at WhatsApp users and usage statistics, as well as its revenue.
Table of contents
Here is what is WhatsApp communication app today through the lens  of a number of key data points.
WhatsApp Key Statistics
In 2017 WhatsApp user numbers reached 1,5 billion people using the app on a monthly basis (Source: USA Today)
WhatsApp Inc raised $250,000 in seed funding on October 2009 (Source: Crunchbase)
Series A funding from Sequoia Capital of $8m in April 2011 (Source: Crunchbase)
Series C funding by Sequoia Capital in July 2013 at $50m (Source: Crunchbase)
It was acquired by Facebook in February 2014 for $19bn (Source: Statista)
WhatsApp average user value is $42 (Source: Statista)
Citigroup has forecast that WhatsApp could generate revenue of $1bn by 2017 (Source: Barrons)
India and South Africa are top markets for WhatsApp (Source: GlobalWebIndex)
The average WhatsApp user sends 1,000 messages per month (Source: Mashable)
As of 2015, WhatsApp is nearing one billion users. According to Statista, it took WhatsApp only 21 months to go from 200m to 700m users. Facebook took 25 months to reach the same goal.
WhatsApp Usage Statistics
For the first four years of its growth WhatsApp managed to outpace Skype, Twitter, Gmail and even Facebook. By 2013 the total number of people who were using the app passed 400 million.
WhatsApp growth in comparison
Source: comscore.com
Much of its success has been attributed to word of mouth, as well as its simplistic functionality. WhatsApp provides communication features similar to SMS, but messaging on the app is free once purchased for $0.99. The company has remained true to its simplistic approach, keeping its app free from advertising and gimmicks – an approach that worked in its favour. Jim Goetz, Partner, Sequoia Capital, explains:
"When we first partnered with WhatsApp in January 2011, it had more than a dozen direct competitors, and all were supported by advertising. (In Botswana alone there were 16 social messaging apps). Jan and Brian ignored conventional wisdom. Rather than target users with ads – an approach they had grown to dislike during their time at Yahoo – they chose the opposite tack and charged a dollar for a product that is based on knowing as little about you as possible. WhatsApp does not collect personal information like your name, gender, address, or age. Registration is authenticated using a phone number, a significant innovation that eliminates the frustration of remembering a username and password. Once delivered, messages are deleted from WhatsApp's servers."
In addition, the company was helped by a strong focus on cross-platform operability, catering to developing markets where a lot of people still use mobile phones. The affordability of the service compared to the cost of a single SMS made it hugely attractive. It's single largest user base is India, making up 10% of its global users.
Nearing a billion monthly users
Source: statista.com
The messenger enjoys great popularity in India with a 96% reach, followed by Malaysia (89%) and Indonesia (41%). Indian people spend more than 42 minutes a day in the app with an average 27 app sessions a day.
WhatsApp reach strongest in India
Source: informatemi.com
According to figures from Globalwebindex in Q 2015, South Africa ranked ahead of Malaysia and India for WhatsApp popularity, with almost 70% of online adults using the messenger. Competitor WeChat enjoys a similar reach in China.
South Africa ranking top in 2015
Source: adweek.com
A closer look at the company's largest competitor WeChat highlights different user behaviours. However, it shows that both apps are fairly 'addictive' and users return multiple times per day to check and send messages.
WeChat versus WhatsApp in user behaviour
Source: krds.com
The average WhatsApp user sends over 1,000 messages per month with over 2,000 messages being received. Average users upload 40 photos, send 13 voice messages and 7 video messages, according to Mashable research carried out by Statista.
WhatsApp usage averages per month
Source: mashable.com
WhatsApp User Statistics
Compared to other US social networks, WhatsApp is being used predominantly by 13-34 year-olds (9.8%). Teens favor YouTube, Facebook and Instagram in the US.
US Whatsapp and social network usage
Source: emarketer.com
However, in the UK, WhatsApp enjoys greater usage by teens with 37% reporting weekly usage.
UK teenager usage of Whatsapp and other social networks
Source: emarketer.com
WhatsApp Revenue
However, when it comes to value per average user, Facebook outranks WhatsApp by $99.1. Twitter and LinkedIn users also represent greater value per single user compared to the messenger app.
Social and messaging apps average value per user
Source: statista.com
During the first half of 2014, WhatsApp generated just $15m in revenue and made a loss of $232.5m. However, Facebook has plans to roll out the service with a B2C option that would take a cut from each message. According to a forecast by Citigroup's Mark May, WhatsApp could contribute $1bn in revenue to Facebook by 2017, growing to $2bn by 2018.
WhatsApp revenue forecast
Source: blogs.barrons.com
Final Thoughts
Similarly to WeChat, WhatsApp can be used by marketers to promote their products. However, the company continues to implement ad solutions as part of the app. WhatsApp does allow companies to send personalised messages to users and correspond directly, bonding and building a relationship. Images and e-brochures can also be sent using the app. The approach is time consuming, but ultimately can lead to great lifetime value.
WhatsApp is one of the few apps that managed to chart growth despite little marketing efforts. This growth continues due to its acquisition by Facebook. Revenue and monetisation are concerns for the future of WhatsApp. It is likely that growth may level off, despite a continued global expansion.