Uber Technologies Inc is the maker of transportation app Uber, which enables customers to book drivers using their own cars. It is the best example of an economy sector disrupting company, essentially it is on a mission to replace a taxi as old-school public transportation globally. It was founded by Travis Kalanick and Garrett Camp in 2009 with the app released in June 2010, initially the service was an attempt to provide an affordable black car service that later morphed into hail-riding giant company with a multi-billion revenue.
In this guide we want to cover multiple facets of the company, including Uber revenue, drivers income, number of drivers the company has registered in its system, Uber valuation and more.
In 2015 the company was busy launching the Uber Advanced Technology Center in collaboration with Carnegie Mellon, as well as car sharing service UberPOOL in LA and NYC, as well as food delivery services UberFRESH and UberEATS.
China's Baidu was reported to invest $600m in December 2014, though precise financial figures of the deal were not disclosed. In August 2016 due to inability to compete with Chinese hail-riding rival company Didi Chuxing, Uber sold its operations in China to Didi.
Since its launch the app has sparked protests in cities such as Paris, Berlin and London from cab drivers threatened by its low prices. The app has since been banned in Berlin by the government, and the firm's application for a new licence in London has been rejected, pending an appeal by Uber. Overall, Uber statistics alone can't do justice of describing the company growth trajectory, we need to mention that over the years it was involved in some really intense controversy. At 2017 the number of scandals around the Uber's brand simply skyrocketed and it lead to the company CEO Travis Kalanick resignation in June of 2017, although he remains on the board of the company.
One of the most important contributing factors to the Uber growth has been its focus on developing own self-driving cars technology and it was even pointed out to be an existential question for the company. In May 2017 the company's self-driving group internal document was revealed and it brought to the light of the day the first Uber stats that showed how far it'd come towards having fully-autonomous cars. Uber's test cars drove 20,000+ miles, number of miles driven autonomously were going up but test drivers had to take over a car basically every mile.
Throughout 2009-2016 time period Uber in total raised about $11.5 billion from 14 rounds of venture capital and private equity investors.
Contents
Let's walk through a number of Uber stats that collectively help us to build a comprehensive picture of the Uber's growth.
 Uber Key Data Points
Uber's Growth
According to Uber, in 2017 Uber customer number reached 40 million / month and by May of this year Uber's share of the United States ride hailing market was 77%. The company's fast rise to success directly correlates with the decrease in traditional taxi usage.
How many people use Uber vs. taxi vs car rental
Source: bizjournals.com
A good indicator of the hail-riding service popularity is its adoption in big cities. Let's take a look at Uber users number against Lyft and Yellow Taxi in New York. According to Todd W. Schneider blog from May 2015 to September 2016 we see a steep decline in how many times a Yellow Taxi was called in the Big Apple, from over 400k to 300k times. Uber grew from than 100k to over 200k and Lyft demonstrated a rather modest growth, from next to zero to about 40k times.
NYC Daily Trips: Yellow Taxi, Uber and Lyft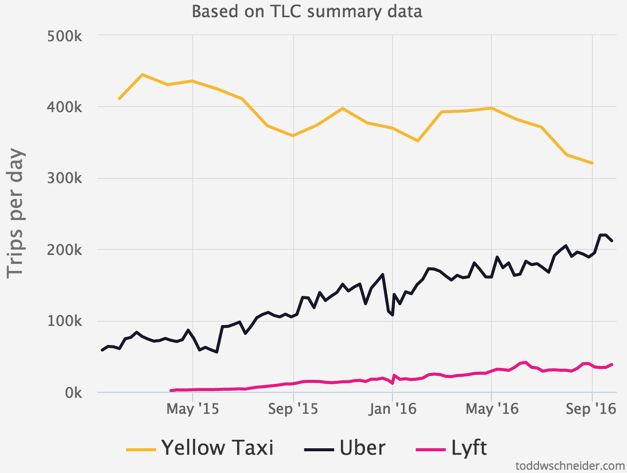 Source: Toddwshnier.com
Given the fast rise of smartphone adoption globally, Uber's success doesn't come as a surprise. But there are many reasons why customers prefer to book Uber versus taxis. Among those are: clear overview of pricing prior to booking, one-tap rides, follow drivers on map, cashless convenience, fare splitting as well as feedback options.
Taxi versus Uber services
Source: slideshare.net
Uber Drivers Income
Despite being the biggest startup company on the planet, Uber is only one of several companies that collectively present today's sharing economy. Below you can see the 2017 data complied by Earnest.com that compare average and median income of workers from Airbnb, TaskRabbit, Etsy, Lyft and several other companies. On this chart Uber takes the 4th place with $364/month, after  Airbnb with an average income of a host $924, TaskRabbit workers with $380/month and another hail-riding company Lyft drivers with $377 / month.
Average and median monthly income per sharing economy worker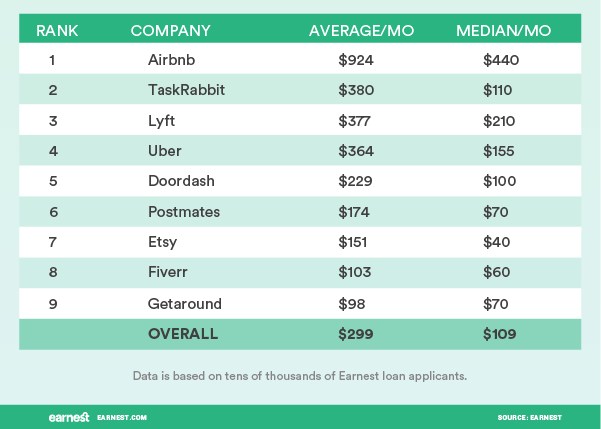 Source: Earnest.com
SherpaShare platform for independent workers report provides data that compares Uber and Lyft drivers earnings in different US cities. According to the data published in summer of 2016 for the US top 20 cities, Uber drivers an average monthly earning was $14 / trip and Lyft drivers earnings were pretty much alined with this figure.
Uber vs. Lyft average earning per trip in 2015
Source: SherpaShare
Now let's look at how Uber's trip fares varies in different cities in US. The same SherpaShare reveals figures for trip fares in 6 top US cities. The average fare trip in New York city beats other 5 cities, as well as the national average, with $24 plus per trip against $12 national wide and less than $14 for Austin, San Francisco, Chicago, Baltimore and Nashville.
Average cross fare per trip, January – May 2015
Source: SherpaShare

Number of Uber Drivers
Because Uber was launched 7 plus years ago in United States, it's interesting to answer the question – how many drivers does Uber have in the US by now?
Findings by Benenson Strategy Group show that Uber had over 160,000 active drivers by the end of 2014 in the US, receiving total payments of $656.8m during Q4 2014 from the company. By 2017 the total number of Uber drivers worldwide passed 1.5 million.
Active Uber drivers
Source: amazonaws.com
Interestingly, the study found that 14% of drivers were female, exceeding the percentage of women taxi and chauffeur drivers. 71% of Uber drivers have family at home and prefer the flexibility that Uber allows them.
Large number of Uber drivers in the US are female
Source: newsroom.uber.com
Now, on top of the how many people drive for Uber, it's interesting to analyze their retention rate. Due to its low barriers to entry and flexible options, many drivers test Uber. However, continuation rates drop off steadily over time.
Uber driver continuation rates half over 12 months
Source: amazonaws.com
A survey by the Bureau of Labor Statistics adds that the reason why many drivers choose Uber is that 87% of them wish to be their own boss. 85% want to have a better life-work balance. Interestingly, 51% of Uber drivers only work 15 hours or less per week. However, the top reason for driving with Uber is still a demand to earn a higher income for 91%.
Why are people choosing to drive with Uber?
Source: newsroom.uber.com

Uber Revenue
In August of 2015 Uber internal documents were leaked and it gave general public a rare opportunity to take a look at Uber growth rate. In 2014, one and a half year after the company launched UberX, which allowed anybody to join Uber and ride people using their own car, total revenue was $2.9 billion. In 2015 that number skyrocketed to 10 billion and in 2016 Uber managed to double its annual gross revenue.
Uber growth chart (gross revenue) 2014-2016, in billions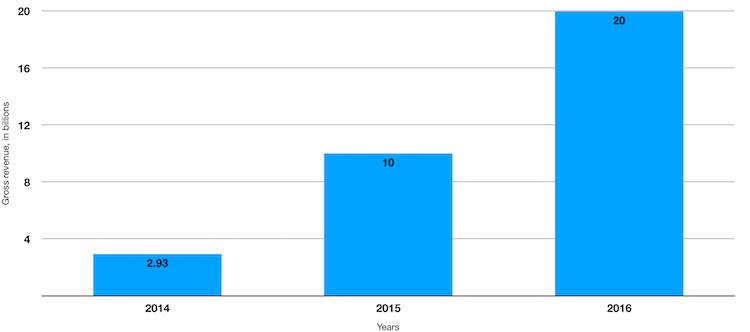 Source: BusinessInsider
The net revenue growth looks similar to the gross revenue one,  in 2014 Uber earned $500 million, in 2015 it tripled its net revenue – it reached $1.5 billion and in 2016 the company managed to go north from $6.5 billion. This trajectory may look spectacular, except the fact that by the end of 2016 Uber's adjusted net loss was $2.8 billion and if we factor in the loss from selling its China subsidiary, it most likely passed $3 billion mark.
Uber net revenue 2014-2016, in billions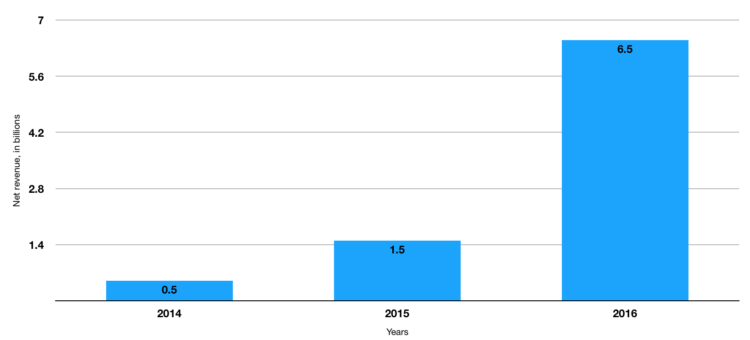 To put Uber's revenue in perspective, let's stack Uber and Lyft's revenue for the 2014-2016 time period to see how both companies performed over the course of the last several years. The fundamental difference between companies go-to-market strategies, how Uber has been aggressive in its marketing and Lyft's soft approach to its expansion result in significant revenue difference. In 2014 Uber generated $0.5 billion and Lyft only $130 million, in 2015 Uber managed to triple its net revenue and reached $1.5 billion mark, while Lyft generated only $300 million. In 2016 Uber net revenue reached a whopping $6.5 billion but Lyft finished that year with only $700.
Uber vs. Lyft net revenue 2014-2016, in billions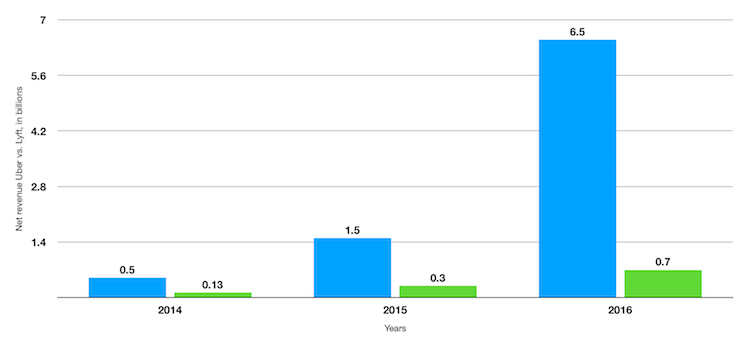 Source: FutureAdvisor

Uber vs. Lyft
Now let's put the number of Uber's booked rides year over year in perspective and compare it with its closest viral Lyft. In 2014 Uber passengers booked 172 million rides and Lyft riders only 18, by 2015 Uber managed to provide 1 billion rides, while Lyft only 54 million.
By mid 2016 Uber had 2 billion booked rides and counting, while Lyft was still barely seen in its rare mirror with 163 million. Such drastic difference between number of rides can be explained by the fact the Uber operates globally in 600 cities and Lyft is available only in US.
Number of rides Uber vs Lyft, in millions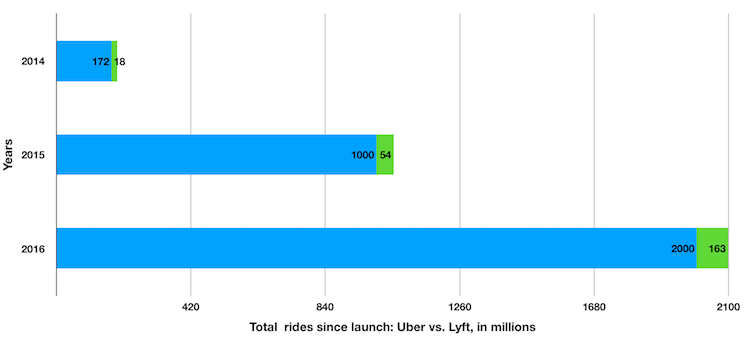 Source: Forbes
Given Uber's head start, it outscores Lyft significantly when spending on both apps is compared. At a total of $28.6m spent on both services (as of May 2014), Uber took the majority share of $26.4m and Lyft $2.2m. Uber had up to six times more new rides per month and a total of 1.23m rides. However, Lyft rides were an average $8 cheaper than Uber.
Uber vs Lyft
Source: fortune.com
When comparing users of Uber and Lyft it becomes evident that customers of the two platforms aren't all that different. Whilst more women (58%) than men (42%) use Lyft, Uber user genders are fairly close in terms of percentage. Both on Lyft as well as Uber, the age group taking the most rides are the 25-34 year-olds.
Uber vs Lyft user profiles
Source: 5isolutionsinc.com
However, the latest data research from Wefi Intelligence, which tracks mobile user analytics anonymously, shows that Uber's success may have inadvertendly given Lyft a boost. Over the first four months in 2015, the percentage of Uber users who installed Lyft (green line) has grown, rising from 6% to 10%.
Uber boosts Lyft
Source: forbes.com

Perhaps even more interesting, the competitor is generating higher engagement than Uber. Wefi shows that people with Lyft installed were more likely to open that app than Uber users.
Lyft sparks greater engagement
Source: forbes.com

Uber Valuation
The above mentioned impressive record of investments made by venture capitals into Uber leads to equally impressive Uber current valuation. To get a sense of perspective, let's stack up Uber evaluation overtime next to other Unicorn startups. In 2013 Uber valuation was $3.9 billion, while Palantir Technologies big data analysis startup was already evaluated $9 billion and Snapchat image messaging app jumped from $2 to 7 billion by the end of 2013. In 2014 Uber valuation got a huge venture capital kick and reached $19 billion and ever since Uber never let other Unicorn startups to pass it. Uber valuation 2017 is $68 billion.
Valuation History for Selected Unicorn Startups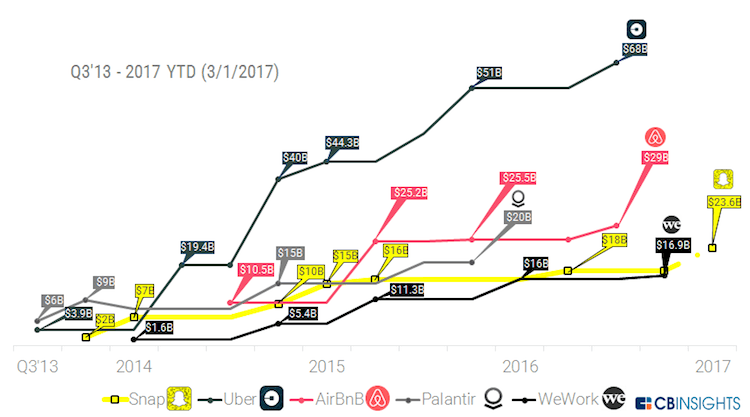 Source: CBInsights
Hail-riding companies industry is dominated by Uber but not limited to this San-Francisco-based transportation company. According to the latest disclosed valuation numbers, the overall chart that stacks Uber next to its closest rivals looks like the following. It consists of Didi Chuxing, Chinese hail-riding giant that Uber failed to compete with, with $34 billion, Lyft with $7.5 billion, Ola Cabs, an Indian online transportation network company, with $3.5, Grab, the Malaysian company that offers wide range of ride-hailing and logistics services, with $3 billion and finally Careem, the Dubai-based transportation network company, with $1 billion.
Valuations of Learning Ride-hailing Companies, April 2017

Source: TheAtlas.com
Final Thoughts
For the last seven years Uber went the path from a small startup to one of the biggest tech companies in the world. Along with Aibnb, it gave the world a new type of economy – a sharing-economy. Its gross revenue in 2016 reached $20 billion but it also lost $2,8 billion and it goes to show you another facet of the company –  despite its phenomenal track of success, it's very unstable and it may hurt its potential to gain more venture capital down the road. It grew several times of the size its closest rival Lyft but it seems like it begins to boost its market share in US.
The company's China go-to-market strategy was a particularly interesting  case. Uber tried to conquer it exactly the way it did in other countries – by brute force, by aggressive pricing and what-ever-it-takes marketing moves to circumnavigate local regulations and it lost. On other hand, Lyft took radically different path – it's been growing way more cautiously and it seems like in a long run this strategy will pay off. In 2017 Uber's market shared shrunk from 84 to 77% and most likely that 7% went to Lyft, the second biggest hail-riding company.
The self-driving cars technology aims to give the company an advantage over its competitors in generating revenue, by cutting off on paying its drivers, which won't be needed anymore once self-driving cars begin to roam roads and highways. As of 2017 it remains to be seen when Uber's self-driving cars fleet will begin to operate, as of this year the program is still in beta.
Perhaps the biggest issue that Uber has been facing is its leadership and specifically Travis Kolanick leadership issues. In many ways the company's future directly depends on how the company will manage to drive out, pun intended, its current crisis.