WeChat was originally launched as a messaging and communication app in 2011 by Chinese investment holding company Tencent Holdings Limited.  Today it's available in 20 languages for all major operating systems such as iOS, Android, macOS and Windows 10 Mobile. In seven years it's morphed into a giant communication multi-layer platform that even serves a model for other big communication platforms to adopt certain features from. Plus to the standard messaging app functionality, WeChat provides users with a number of services to send money, make payments, buy products and services. The app is the most popular one that has become a target for a government censorship, and its particular case, Chinese government. And what is interesting in particular is that the team behind WeChat has two different censorship policies – for the mainland China and the rest of the world.
As of Q1 2018, WeChat has 1 billion active monthly users and WeChat user number that check the app daily reached 900 million. More than 100m of users are based outside of China. In 2014, WeChat restricted the number of friends a single user may have to 5,000.
WeChat app interface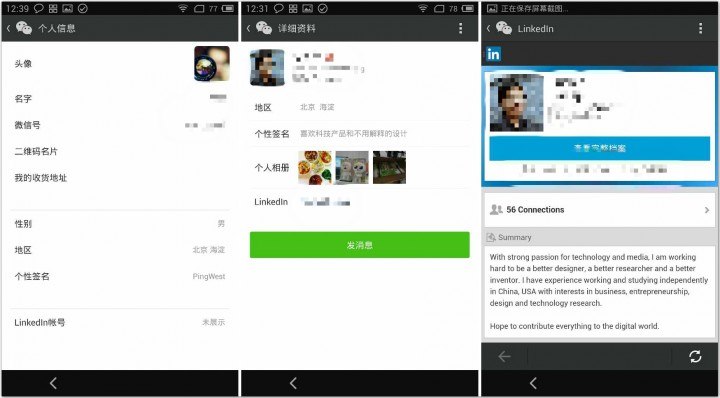 Source: Tech in Asia
Today WeChat combines features of a communication, social media and mobile payment apps.  Let's walk through the data that describes the app in terms of how people are using it, their demographics and revenue the app generates for the company that has developed it.
Table of contents
In China, WeChat also functions as a popular promotional platform for brands, creatives and marketers. But as the app's footprint increased, there have been concerns the app may pose a risk to national security. Security experts in India, Australia and United States rose concerns that because the app is owned by Chinese government company, it doesn't publish information about government requests to disclose WeChat app users and it doesn't support a end-to-end encryption. Having drawn this brief sketch of the app, let's look at its key stats.
Key WeChat statistics
WeChat currently has 1bn active monthly users (Source: Statista)
It has 900+ million daily active users worldwide (Source: Technode)
100m of its users are outside of China (Source: The next Web)
WeChat users are restricted to 5,000 friends (Source: China Internet Watch)
The app has sparked a range of security risks in many of its markets (Source: The Guardian)
In ranks second, behind What'sApp among the top social messaging apps (Source: Canalys)
Chinese Android users spent an average 209min per month on WeChat, compared to 106min on iOS (Source: Tech in Asia)
46% of Chinese users have made WeChat their number one app (Source: Technode)
80% of Chinese users follow an official account (Source: Technode)
90% of its users are between 18-36 years old with a 1.8:1 ratio male to female (Source: Technode)
$15.3bn in mobile data consumption was driven by Chinese WeChat users in 2013 (Source: Technode)
WeChat contributes to $1.76bn in lifestyle spending in China (Source: Technode)
Tencent revenue grew by 24% in Q1 2015 (Source: Bloomberg)
WeChat is estimated to be worth $100bn (Source: Forbes)
Now let's draw a picture of what WeChat is through three different lenses – app usage, app user and app revenue.
WeChat Usage Statistics
Whilst its biggest rival WhatsApp has a stronger presence in Western markets, WeChat dominates in China and ranks second in an overview of top social messaging apps.
WeChat is a top three social messaging app
Source: canalys.com
A breakdown by region from UptoDown in 2014 highlights WeChat's dominant position in China.
WeChat dominates in China
Source: uptodown.com
A study by TNS highlighted the average time Chinese Android smartphone users spent using top five social messaging apps. WeChat users generally spent 209min per month using the app, making for 7% of total time spent using their phones monthly. This compares to 106min, but a 10% total on iOS.
Source: techinasia.com
Similar research from the China Press and Publication Academy in April 2015, found that the average Chinese adult read on WeChat twice a day for over 40min.
Celebrating four years of WeChat, Tencent launched a series of key figures for the Chinese market in January 2015. TechNode summarised the findings and discovered that 46% of Chinese survey respondents have made WeChat their number one app, whilst 86% were driven to interact more with their friends due to WeChat.
WeChat key market figures in China
Source: Technode.com
60% of WeChat users reported opening the app more than 10 times daily with 40% seeking out content through official accounts and groups. Of the 80% of users following official accounts, 41% do so to get information, signifying WeChat's status as a leading social media platform in China. WeChat is an important channel for both entrepreneurs (with 30% having an account) and businesses (53% of official accounts accept WeChat payments).
WeChat is more than a messaging app
Source: Technode.com

WeChat User Statistics
The summary also included stats on gender and age groups with 36% of WeChat users being female and 64% male, a ratio of 1:1.8. The average age of users is 26 years. 90% of users are below 36. However, only 2% are younger than 18.
The average age group on WeChat is between 18 and 36 years
Source: Technode.com
When it comes to occupation, WeChat users are predominantly working within private enterprise (32%), followed by the self-employed (28%) and students (20%). Unsurprisingly, both private enterprises and the self-employed are using WeChat for promotional purposes.
WeChat users by occupation
Source: Technode.com
WeChat Revenue
$15.3bn in mobile data consumption was driven by Chinese WeChat users in 2013, making up a total 4.24% of all mobile data consumption in China.
Mobile data consumed through WeChat makes up 4.24% of all data consumed in China
Source: Technode.com
Tencent claims that WeChat contributes to $1.76bn in lifestyle spending with the entertainment sector ranking the highest at 54% and a spend of $943m in 2013. 53% of small to medium businesses doing business on WeChat either earn revenue directly through the app or linked interfaces, with the majority of those earning revenues generation below $16k per year. 47% reported not earning any revenues.
WeChat lifestyle spend is estimated at $1.76bn
Source: Technode.com
Final Thoughts
When it comes to generating cash, WeChat leads among its competitors, according to Chao Wang, analyst at Nomura International in Hong Kong. It sells in-app services and has integrated online payment features to encourage shoppers to pay through the app. Tencent confirmed a 24% rise in revenue in Q1 2015 with net income growing 50% to $954m. The strong results may in part be due to WeChat announcing in-app advertising earlier this year. BMW and Coca Cola were the first brands to test the service. Tencent further said it planned to make WeChat one of the first messaging apps available on the Apple Watch. As of 2015, WeChat is estimated to be worth $100bn should it be able to monetise.