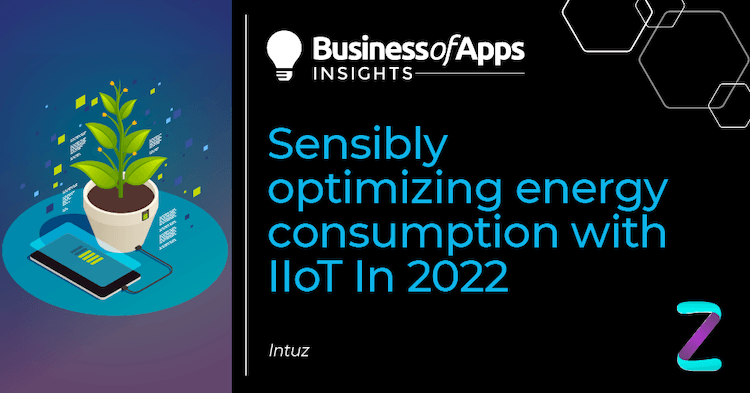 The world is on the cusp of massive climate change. With the rising demand for fossil fuels coupled with uncertainty over their availability, there are concerns about the energy sector.
On top of that, the buildup of greenhouse gases may be causing an undesirable impact on the global climate, further raising questions about the utilization of renewable energy resources in all types of facilities such as Smart Buildings.
Industrial energy consumption contributes to 45% of all global energy and feedstock fuels. In the US, the industrial sector accounts for 33% of the entire country's energy consumption.
There is a high pressure to monitor and cut energy consumption from the government and widely accepted social groups. But continuously tracking energy usage across plants and assets is a challenge as it often uses outdated and siloed processes.
Deploying the Industrial Internet of Things (IIoT) to develop and optimize industrial processes is key to reducing energy wastage and emission.
What is IIoT?
In layman's words, it is simply a network between all the industrial assets. IIoT refers to the devices, sensors, servers, and instruments interconnected via the computers' industrial applications, including energy management and manufacturing.
IIoT is a technology that enables the digital transformation of industries with predictive maintenance, data monitoring, and grid asset optimization.
It creates a connection between all the devices, plants, machines, and systems of an industry such as manufacturing or energy management by creating a digital network that helps stakeholders track, collect, and analyze actionable insights.
IIoT classifies and arranges data so that it helps derive insights and lead better decision-making for the industries.
The role of IIoT in energy consumption reduction
IIoT apps enable utility companies to have a range of real-time insights into their assets and operations and become more flexible, efficient, and agile.

Download our MMP Buyers Guide
Having a trusted partner for accurate, unbiased, indisputable data and real-time insights is no longer a nice-to-have, it's a must-have. Download our guide to help choose your next MMP provider.
DOWNLOAD
The apps allow them to transform energy data into new services and help ensure interoperability to integrate all energy data types through connected systems.
Besides the fundamental disruptions in energy systems, IIoT for energy consumption helps focus on value creation through customer-centric operations and new revenue streams.
IIoT takes significant steps to create an impactful technology that helps the stakeholders like yourself save energy and reduce consumption. Here is how:
1. Cost monitoring
IIoT apps connect all your assets and systems under a single virtual space that collects data and information from all possible data points. This allows you to access real-time data on your energy consumption and its total costs.
When you get historical data of such an essential metric throughout the year, you can create comparisons and make changes accordingly. This will help you keep the energy costs under control by decreasing energy consumption.
2. Smart energy distribution
IIoT is not only about providing you with data to make decisions. You can also deploy smart grids in your facility to reduce energy losses. You can deploy intelligent triggers to monitor data without constantly tracking it manually.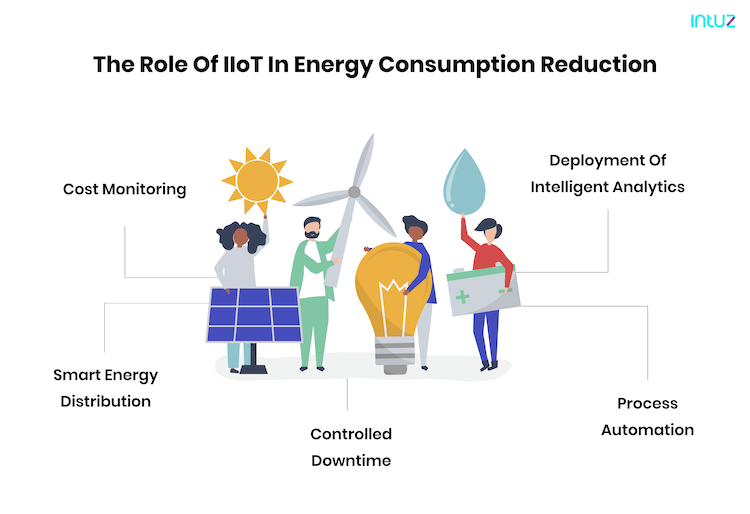 3. Controlled downtime
Through AI-based predictive analytics, you can predict a power or machine failure before it even actually occurs. This is extremely useful as it allows you to keep your production unhampered.
Thanks to IIoT app development, you can fetch data on your plant's health in real-time and take precautions like maintenance or shutdown to prevent any unfavorable situation that might hamper your processes.
For example, if the AI recognizes a pattern in your power outages or machine failures, it will notify you when that particular pattern is about to repeat.
4. Process automation
IIoT also helps you effectively automate menial or repetitive tasks in a process that previously required human intervention. This can help you increase the operational efficiency of your human labor and reduce energy consumption and risk.
Because human involvement is little, automation decreases the possible chance of repetitive errors. In a nutshell, IIoT results in a productive and error-free workflow.
5. Deployment of intelligent analytics
Get Artificial Intelligence-based analytics collected from various data points thanks to IIoT apps. Use the technology to build a reliable data stream that contains consistent data from the facility regarding energy consumption, power shortages, failures, errors, and son. These advanced analytics can be used to maximize energy optimization.
Four everyday energy IoT use cases
While it is clear the benefits that industrial IoT apps bring to the table when it comes to keeping energy consumption thoroughly optimized, let us have a look at some of the most common use cases that can help you explore the benefits of IoT.
1. E-mobility
Using electric vehicles makes it easier for facilities to drive the movement of clean energy consumption. Therefore, fetch real-time data on the maintenance and service of your electric vehicle charging points.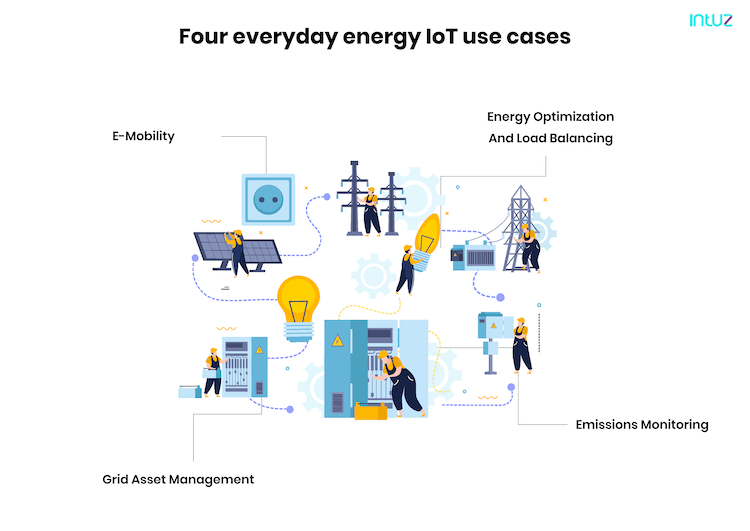 Use data analytics to coordinate charging points and solve common issues without moving from your desktop. IIoT also helps you regulate whether energy consumption at one point is exceeding its level. Create new visibility into energy usage.
2. Grid asset management
With smart grids deployed in your establishment, you can conveniently visualize, track and analyze metrics. It becomes easy to track data on energy losses, performance deviations, and the kill watts used with the right technology.
Further, you can segment the data according to your needs and define rules to trigger alerts that notify you every time a set action is performed.
For example, a trigger when energy consumption exceeds your average number can help you gain a deeper insight into your processes. Smart asset condition monitoring allows you to track the health of your assets and predict maintenance. This results in fewer failures and low downtime.
3. Emissions monitoring
The IIoT technology connects all your assets, products, and systems in one place so that you can keep track of your emissions in almost real-time. Collect and organize all your industry data in visual charts to quickly extract information out of it.
Ensure that you create achievable emission goals and try to optimize your processes to maximize sustainability. You will get more clarity on adopting clean energy after looking at the visual reports of your emissions.
4. Energy optimization and load balancing
Industries are under massive pressure to optimize energy consumption due to strict regulations and increased global environmental awareness of the consumers. Therefore, leverage IIoT for energy optimization by balancing the supply and demand of energy.
It is the perfect way to keep the pressure off your grid and prevent power failures due to overload. Energy optimization can be achieved by monitoring your workflows and identifying the high energy-consuming assets.
Distribute your energy resources to avoid significant infrastructure upgrades and costly failures. That is the best way to balance the load.
IoT energy apps to outperform
Using such apps would give you an edge in managing and optimizing your industrial processes and nudge you to take a step forward towards sustainability. There are two ways you can enter the world of IIoT:
1. Accelerate development with a managed app platform
Start your journey by building IoT apps that are customized for your industry through a managed app platform. Leverage no-code solutions that will help you visually create and deploy solutions to your industry.
These apps are secure and updated after keeping in mind your industry requirements. You can use a blend of your industry expertise and pre-coded elements to create a perfect solution that would help you enhance your overall processes.
2. Build from ground up with custom IoT services 
If pre-existing solutions are not what you want, you can build highly personalized and flexible IoT solutions with an IIoT app development service provider. Create an asset workflow and management system to integrate your operations and get actionable insights to help you lead a path of reduced energy consumption.
Over to you
The path to energy optimization starts with IIoT. Regardless of your approach, it is essential that you understand the importance of adopting it. IIoT is fast, secure, and scalable and can help you optimize your energy consumption sensibly.
Gain transparency across plants by capturing and analyzing data to arrive at critical assets for each asset in your facility. Deploying an AI-based solution enables communication between your plants and projects and helps you become more predictive and profitable in the long run.