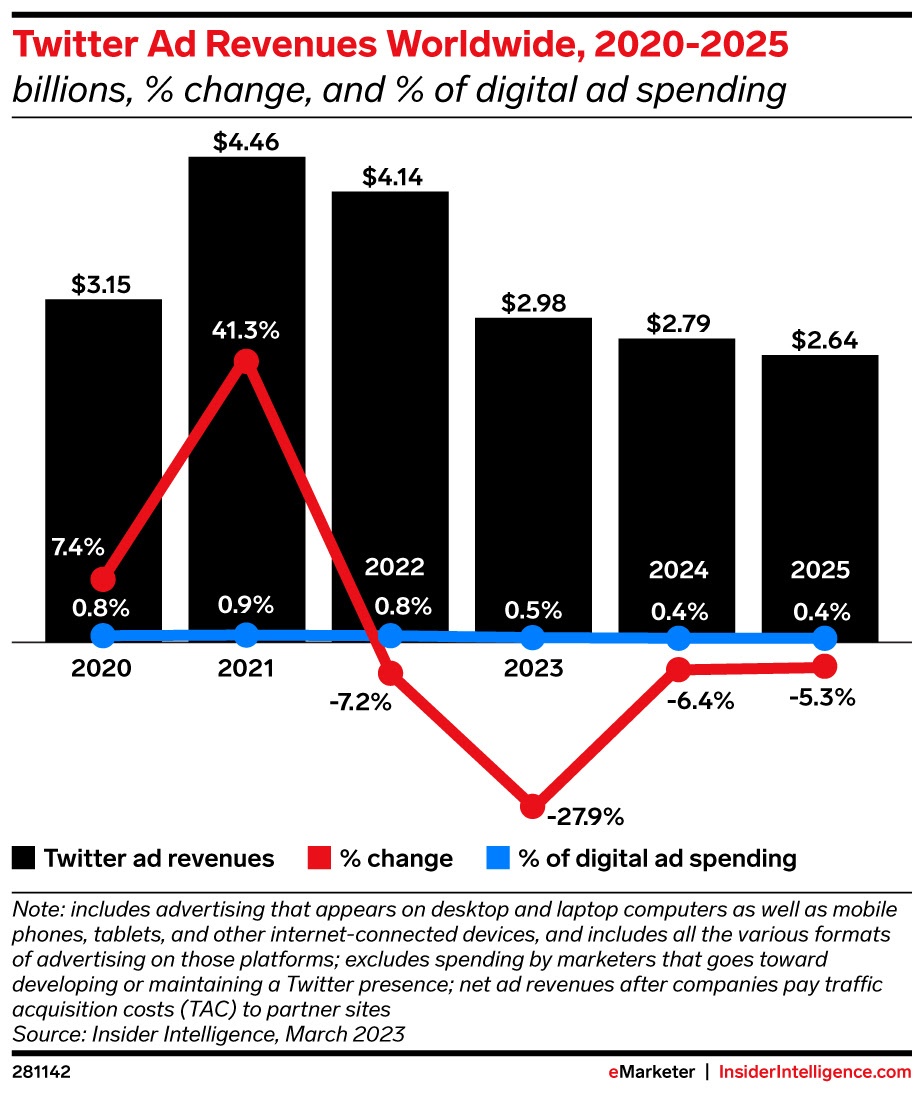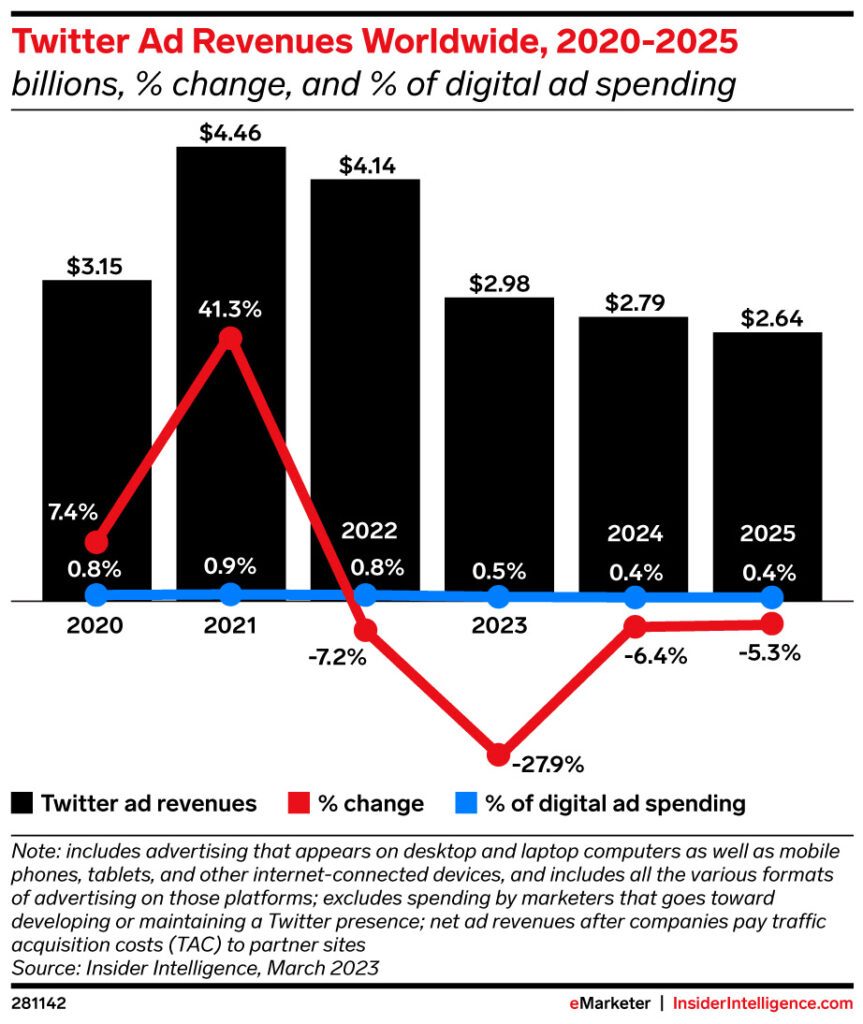 Twitter's ad business has taken a significant hit following Elon Musk's acquisition of the social media platform almost six months ago. Recent reports reveal that the company's core revenue stream has been severely impacted, with Insider Intelligence downgrading Twitter's global ad revenues by 37% in their latest worldwide ad revenues forecast. 
Twitter ad revenues are taking a dive
This marks the second consecutive downgrade since Musk expressed interest in buying the company in April 2022. In Q3 2022, Insider Intelligence revised their outlook for Twitter's ad business by 30% compared to the previous forecast. So what's the impact of Musk's takeover on Twitter's ad business and what are the potential implications for the platform's future?
The latest forecast anticipates a sharp decline in Twitter's global ad revenues, with a projected drop of 27.9%, from $4.14 billion in 2022 to $2.98 billion by the end of 2023. As a consequence, Twitter's share of the global digital ad market is expected to slightly decrease from 0.8% to 0.5%. To provide context, the Q3 2022 forecast initially projected 2023 revenues to reach $4.74 billion, highlighting the considerable downgrade in the company's projected earnings.
What's behind the downgrade?
"The biggest problem with Twitter's ad business is that advertisers don't trust Musk," said Jasmine Enberg, principal analyst at Insider Intelligence. "None of Twitter's efforts to bring back major advertisers, including ad incentives and brand safety partnerships, will work with Musk at the helm. Twitter needs to unravel Musk's personal brand from the company's corporate image to regain advertiser trust and bring back ad dollars."
Insider Intelligence also forecast Twitter's US ad revenues to drop by 28.6% in 2023, from $2.36 billion to $1.68 billion. Twitter's share of the US digital ad market will drop from 1.0% to 0.6%.
Twitter ad revenues fall a whopping 29%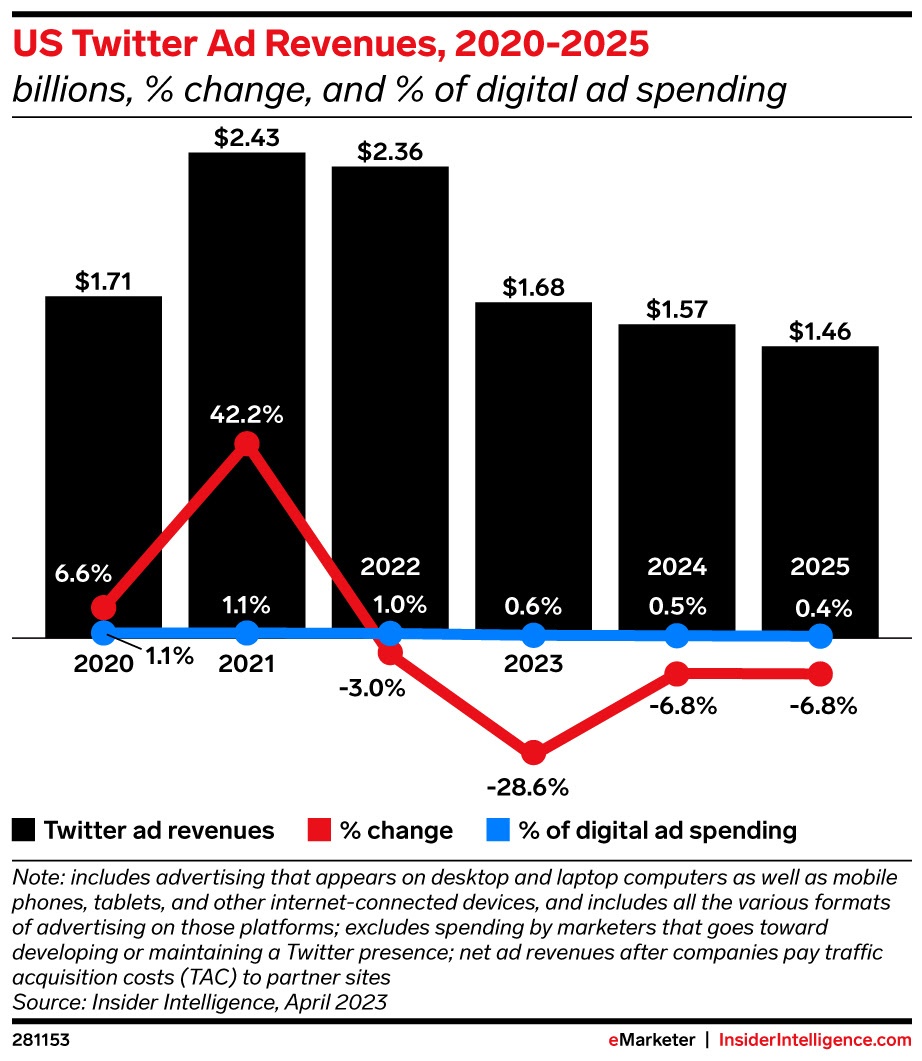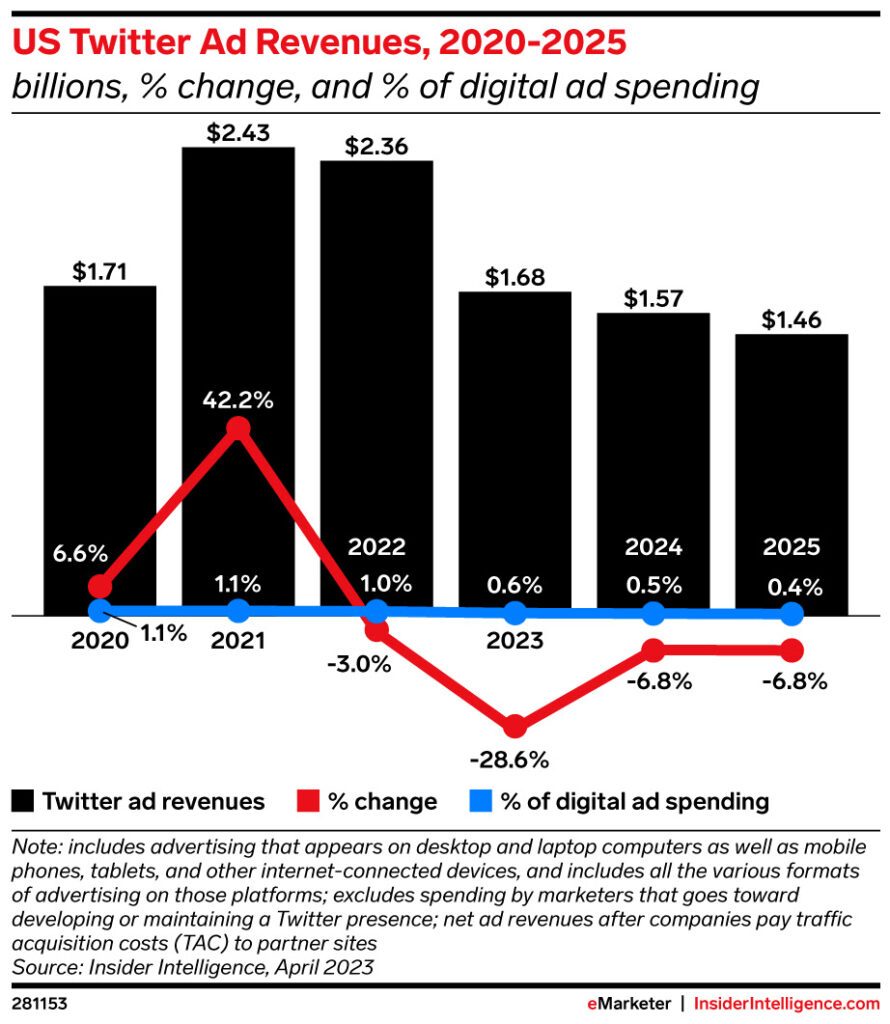 Source: Insider Intelligence
In the UK, ad revenues are expected to fall from £282.1 ($347.6) million in 2022 to £202.2 ($249.1) million by the end of the year, a decrease of 28.3%.
"Twitter's content moderation and ad performance issues predate Musk, but they weren't necessarily dealbreakers because advertisers trusted that Twitter was on their side," said Enberg. "True, Musk exacerbated many of those problems, but as brands and advertisers consider whether to resume spending, they are now grappling with the larger question of whether to spend on a platform defined by chaos, arbitrary changes, and uncertainty over its future."
Twitter is losing users
Another problem is that Twitter appears to be losing users for the first time since 2008. Its worldwide user base is anticipated to decline by 3.9%, with another 5.1% next year, a loss of 32.7 million users in just two years.
Twitter's primary user demographic in the US, consisting of individuals aged 18 to 44 years, is expected to remain relatively stable. However, the platform is projected to experience a significant decline in users aged 45 and above, as well as those aged 17 and under. A substantial proportion of these users are deemed marginal and may have only recently joined the platform to follow the acquisition saga that unfolded last year. Moreover, political leanings also appear to influence users' decisions to either continue using the platform or abandon it.
Users abandon Twitter
Source: Insider Intelligence
The amount of time spent on the platform is expected to drop by 2minutes in 2023, followed by another two minutes in 2024. While part of this can be attributed to technical issues and an increase in harmful content on the platform under Musk's leadership, there are also underlying challenges that contribute to this trend. Specifically, Twitter lags behind in the area of social video, which has become the primary driver of time spent on social media.
Users flock to TikTok and co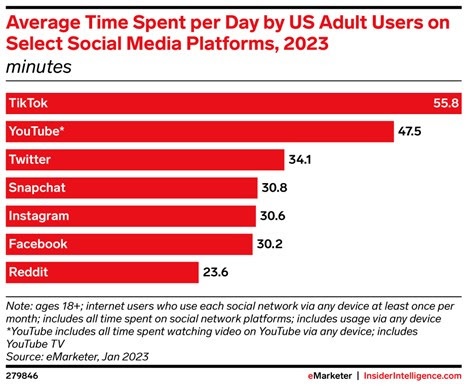 Source: Insider Intelligence
"Twitter engagement is still heavily dependent on the news cycle," said Enberg.  "The takeover saga caused a spike in time spent in 2022 that has now dissipated, as users have lost interest in Musk's antics."
Key takeaways
Twitter's global ad revenues drop 37%
Twitter's US ad revenues to drop by 28.6% in 2023,
Worldwide user base is anticipated to decline by 3.9% in 2023