Snapchat users may or may not hate ads. The results of some recent studies highlight very different results. So let's take a look at them.
The bad
A study by J.P. Morgan in March this year examined Snapchat's sponsored filters for advertisers and whether the app's audience engaged with them.
According to over half of US Snapchat users who were surveyed, engagement was zero. That means they never interacted with a sponsored lens or filter.
A whopping three quarters of respondents admitted that they never even swiped a Snapchat ad, whilst 68% said they did not watch video ads on the social media app.


Overall, sponsored filters and lenses performed slightly better in terms of engagement, but eMarketer analyst Cathy Boyle says they are making it more difficult to get a meaningful measurement of ad performance. That may mean effectiveness is not guaranteed.
At the same time, an analysis by Neil Doshi of Mizuho Securities USA found that 64% of around 1,000 surveyed Snapchat users hardly ever clicked on ads within the app. Doshi says that this may be due to flawed targeting and that ad relevance could remedy the issue. According to over half of the respondents, they just weren't interested in the advert, whilst 42% found them somewhat more relevant and 6% deemed ads to be very interesting and relevant.
The good
Meanwhile, Snapchat released its very own survey results at the beginning of this year that paint a different picture. The study conducted by Millward Brown Digital found that Snapchat users do not dislike adverts after all. Indeed, Branded Stories apparently were quite the hit.
60% of the 600 US respondents shown an ad as part of the Our Story feed said they liked the advert. Another 44% approved of the Branded Stories ads.
From the results it's not entirely clear why people liked the ads, but overall the results place Snapchat ad units ahead of 17% approval rates for generic smartphone ads, according to Millward Brown Digital.
In addition, the study highlights that around 16% of respondents who had seen an ad on Snapchat remembered it.
Users who viewed the 20-second video advert for video game "Dragon Age: Inquisition" were 7% more likely to purchase the game than those who had not seen the ad. In addition, the campaign for Universal movies "Ouija" (Gif below) and "Dumb and Dumber To" also pushed ticket sales by 13%.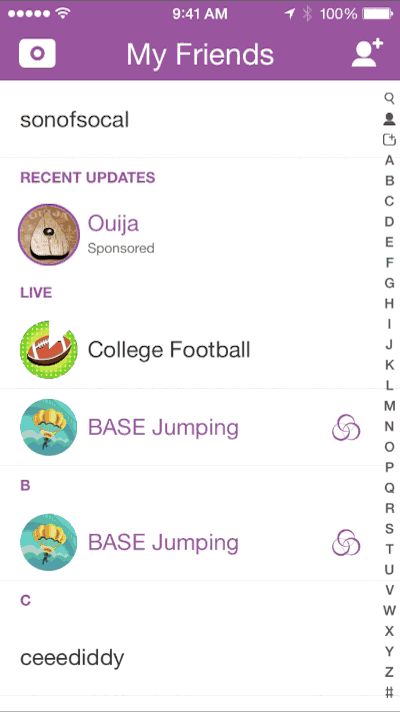 The market
Whilst the Millward Brown study should be approached carefully, since it was commissioned by the company itself, Snapchat financial forecasts speak a different language. Overall, the company is expected to rake in revenues of over $3 billion by 2019.
Brian Wieser, Senior Analyst at Pivotal Research noted:
"Snap is a promising early-stage company with significant opportunity. Unfortunately, it is significantly overvalued given the likely scale of its long-term opportunity and the risks associated with executing against that opportunity."
Despite an initial overvaluation of its IPO, the company could be bigger than Twitter, Yahoo and AOL in three years time. Advertising plays a major role in this forecast.
Nick Baughan, CEO Maxus UK, the media agency, adds:
"At the moment Snapchat sits firmly in most agencies and advertisers' innovation pot. As responsible advertisers and agencies we need to make sure we are where audiences are. But there is no point in being innovative unless Snapchat can back it up with evidence-based innovation."
Overall, the company has been working hard to innovate its features and recently added Search to its Stories feed. This allows users to search through the entire platform and discover new videos and other content.
Whilst Snapchat's audience still trails that of Facebook and Facebook-owned companies WhatsApp and Instagram at 161 million daily active users, the actual time that users spend in-app is rather valuable. It is currently estimated to be between 25 to 30 minutes per user each day. And the latest Search feature may well help to expand that time, given that content is no longer restricted to 24 hours.


It remains to be seen if Snapchat can succeed, but whether users like ads or not, they've become an important part of boosting the company's revenue growth and are here to stay.