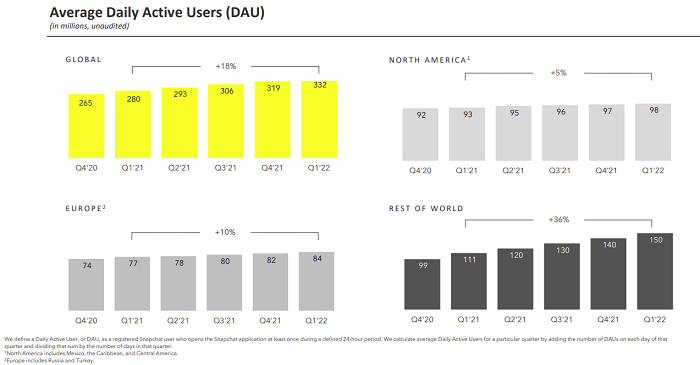 Snap Inc revenues grew some 38% year-on-year to $1.06 billion in Q1 2022. 
Dynamic Ads that matches users to the most relevant product ads were a key revenue driver for the company. Revenues tripled for Dynamic Ads.
"By dynamically building ads from product catalogs, we're able to greatly expand the set of ads that are created. Dynamic Ads can update automatically as new products are entered into the catalog, remaining up to date and driving ROI."
Snapchat added 13 million more daily active users during Q1 2022 for a total 332 million as the app continues to bolster its niche offering for Gen Z and millennials.
The majority of new users came from India where mobile adoption continues to grow. 
India boasts a huge population with massive potential for social apps to reach new users and grow. 
However, this does not translate well to revenues, the majority of which came from North American users.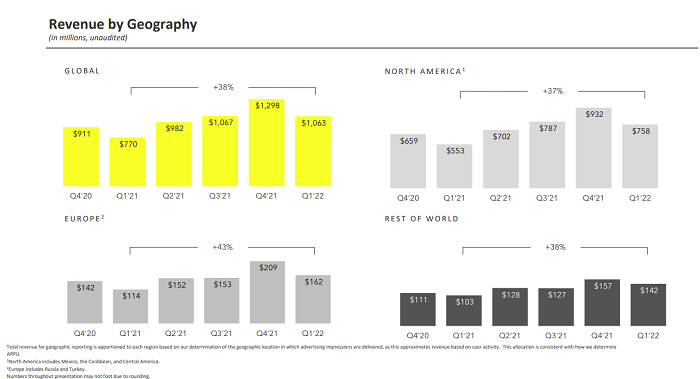 Snap also said that interest in its AR tools continued to rise with more than 250 million Snapchatters engaging with AR each day. 
Around 250k creators have already built 2.5 million Lenses using its Lens Studio, which is twice as much as in Q1 2021.
But Snap isn't just bolstering innovation in AR tools. It has also turned to VR to explore Bitmoki avatars. 
Short-form video is becoming a greater focus for Snap as it keeps expanding Spotlight.
Meanwhile, the company said that both Discover and publisher content saw increasing adoption with time spent by users rising 25% from the previous year.
Among its Discover partners, six recently reached over 100 million global viewers in Q1. 
While none of these results are necessarily mind-blowing, they show that Snap continues to grow.