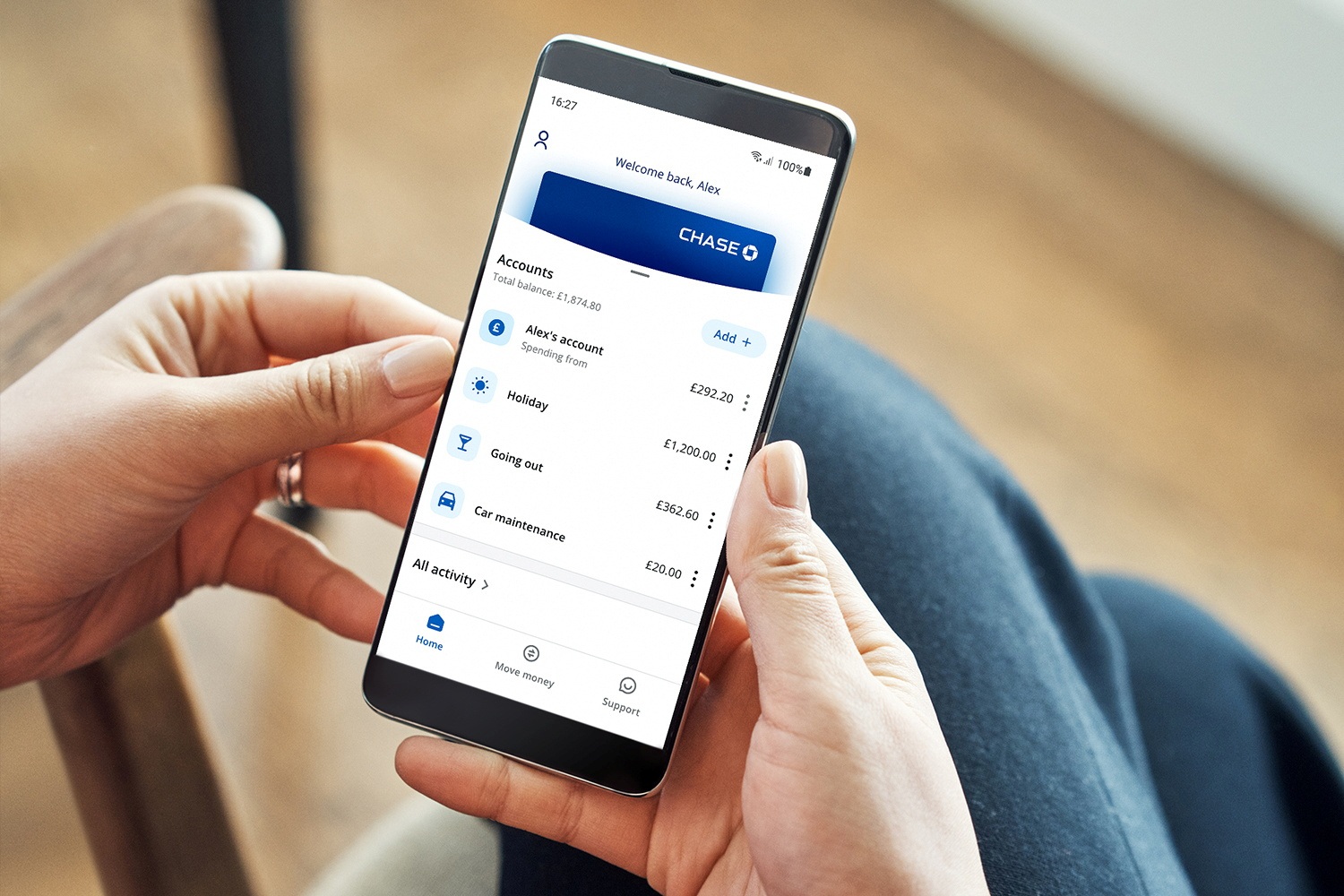 With the Covid-19 pandemic, a growing number of customers began utilising banking apps. Downloads of banking apps in Europe and the UK rose 5% last year compared to the previous year, according to research from app analytics and marketing company App Radar. Here are the findings. 
Neobanks make the biggest splash
Out of all the Google Play Store banking app downloads analysed, neobanks made the biggest gains. Downloads of neobanking apps in Europe were up 11% last year compared to the previous year. 
UK neobanks also performed slightly better than their European counterparts with Android downloads rising 15% versus 10%. 
Legacy banks on the other hand haven't gained as many Android downloads as neobanks. European and UK downloads dropped 1.5% on the Google Play Store last year. But it appears UK legacy banks have fared slightly better adding 10% more users on Android than banks in Europe (decreased 8%). 
Top banking apps by Google Play Store downloads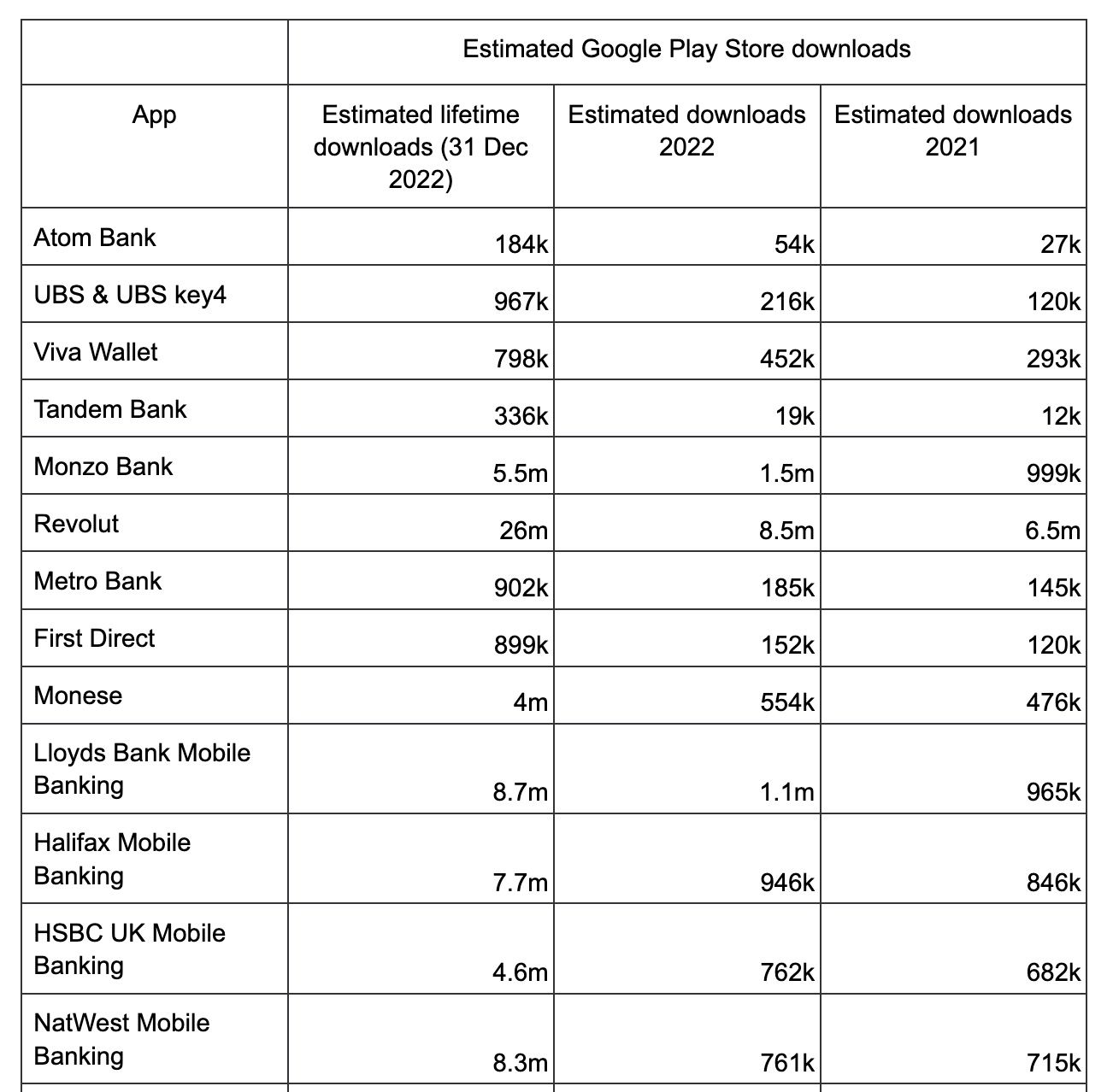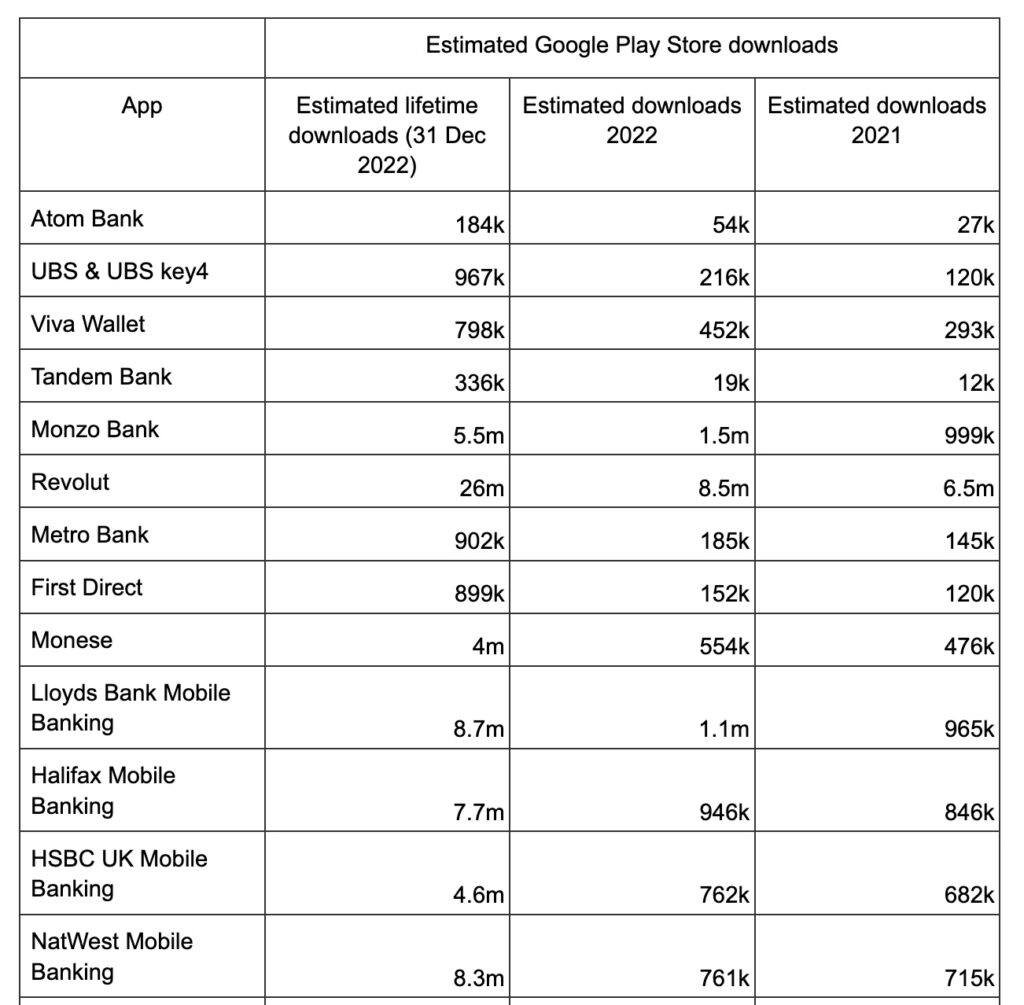 Source: App Radar
Atom Bank sees the highest gains
On Android, the neobanks with the highest growth was Atom Bank with downloads rising 101%, followed by Viva Wallet by 54%, Tandem Bank by 53%, Monzo by 49%, Revolut by 31% and Metro Bank by 28%.
UBS was the legacy bank with the most noticeable lead of 79% of downloads, followed by Lloyds (16%), Halifax (12%) and HSBC (12%).
"[The findings] show that even though legacy banks may still have a larger general market share than neobanks, the gap is decreasing and competition is increasing," said Silvio Peruci, Managing Director, App Radar.

"UK legacy banks' gains are smaller when looking at percentage growth. However, none of those legacy banks analysed experienced a decrease, which points to the fact that they are steadily adding new younger customers or converting existing customers to mobile banking."
Revolut is one of the most popular apps in terms of lifetime downloads at 26 million, followed by Credit Agricole at 13 million. 
"We'll have to see how these apps fare in 2023, but with the ongoing cost of living crisis, both sides of the market will have to zero in on their user acquisition strategy. With more choices available than ever for consumers, companies will have to fight for new users with innovative functionality and smart marketing techniques to attract and retain users."
Key takeaways
Downloads of neobanking apps in Europe were up 11% last year compared to the previous year
Neobanks with the highest growth was Atom Bank with downloads rising 101%
UBS was the legacy bank with the most noticeable downloads at 79%