While Instagram has long been the dominant platform for influencer marketing efforts, there is a new kid on the block that's rapidly gaining ground – TikTok. With its short-form videos and vast user base, TikTok is projected to become the second-highest-ranking platform in terms of marketing spend in the coming year. As brands seek to engage younger audiences and stay ahead of the competition, they are increasingly turning to TikTok and its vast pool of creators to amplify their marketing efforts. Now Emplifi, the leading customer engagement platform, has taken a closer look at the influencer landscape on Instagram to discern the most important trends.
Everyone's influencing on Instagram
Instagram remains the go-to platform for influencers, with 90% actively using the app to reach their followers. TikTok is the second most popular platform for influencers, with 66% actively creating content on the app. However, Twitter and Pinterest appear to be falling behind, as only 4% of influencers see these platforms as a potential opportunity for brand partnerships.
Sponsored content remains a significant part of the influencer industry, with 7% of influencer posts being sponsored. The holiday season sees a peak in sponsored content. Although year-over-year data shows a slight decrease in sponsored posts, likely due to marketing budget cuts.
Majority of influencers use Instagram
Source: Emplifi
Interestingly, the study also revealed that the larger the influencer, the less frequently they share sponsored content on Instagram. On average, XS influencers (with 10,000 followers or less) post 67% more sponsored content than XL influencers (with 1 million followers or more) and L influencers (with 100,000 to 1 million followers) on Instagram.
In terms of content format, XL and L influencers seem to be heavily leaning into short-form video content on Instagram, sharing 27% more video content on average than S and XS influencers. As the influencer industry continues to evolve, understanding the nuances of platform preferences and content formats among influencers of different sizes will be crucial for brands looking to engage with their target audience.
But it's all about Reels
Despite the relative stagnancy of branded Instagram Reels in 2023, there has been a significant increase in the number of Reels posted by brands and celebrities in the first quarter of the year. In fact, compared to the same period in 2022, there has been a remarkable 241% increase in Reels content.
Notably, the study by Emplifi reveals that in Q1 2023, XL and L influencers were more inclined towards video content on Instagram, sharing 27% more video content on average than S and XS influencers. This shift towards video content could be attributed to the availability of resources, as creating video content typically requires more time, effort, and budget than static content.
Sponsored content on Instagram
Source: Emplifi
As social media continues to evolve and become increasingly saturated with content, brands and influencers alike will need to find new and innovative ways to engage with their audience. With the rise of short-form video content, it's no surprise that brands and influencers are investing more in this format to capture the attention of their followers.
The industries that benefit most from influencer content revealed
Interestingly, healthcare brands have the potential to expand their reach significantly by collaborating with influencers, with the potential to increase their reach by up to 18x their current level. This holds true for companies specialising in medical products such as eyewear, medtech, and medication. Notably, influencers achieve approximately 5x more audience engagement (likes, comments, shares, etc.) on their average posts compared to those of healthcare brands, making influencer collaborations an effective tool for boosting the effectiveness of healthcare brand campaigns.
Accommodation brands can also greatly benefit from partnering with influencers. Emplifi's data reveals that these brands have the potential to expand their social media reach by up to 18x and achieve 4.2x more audience engagement compared to their current performance.
Industries with the most efficient influencer cooperation on Instagram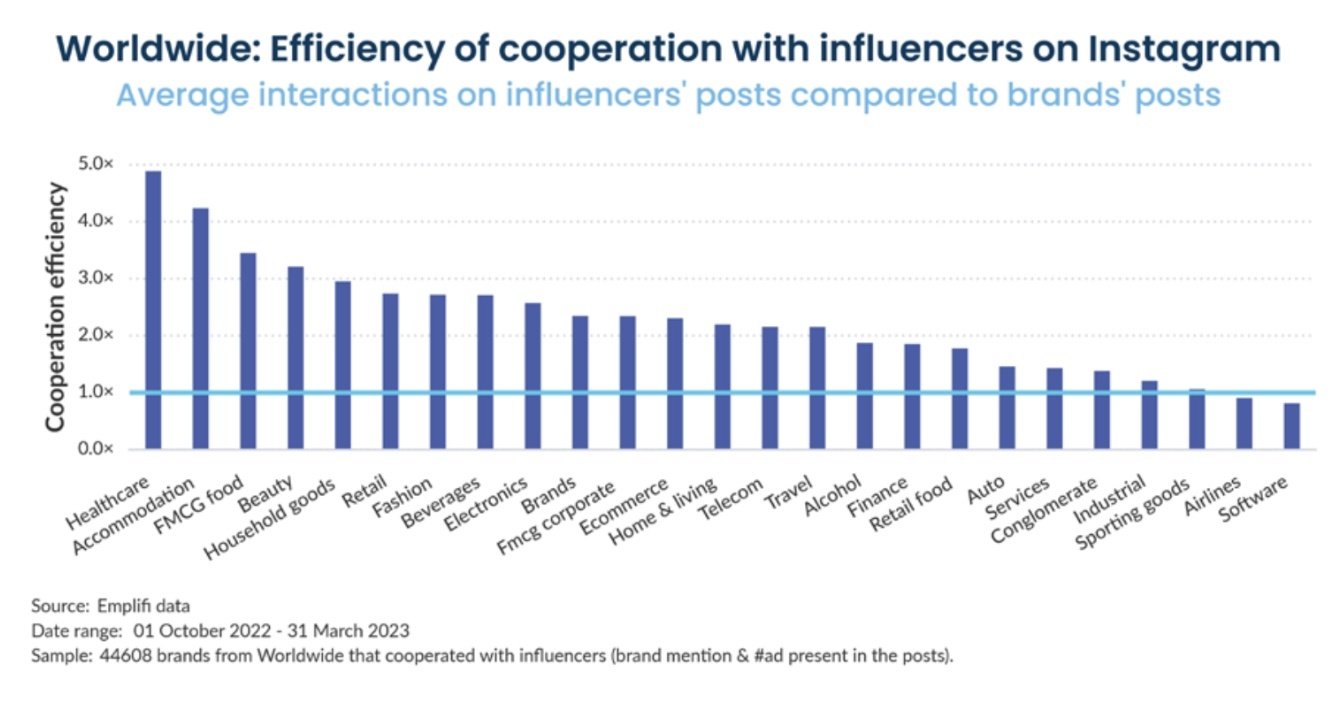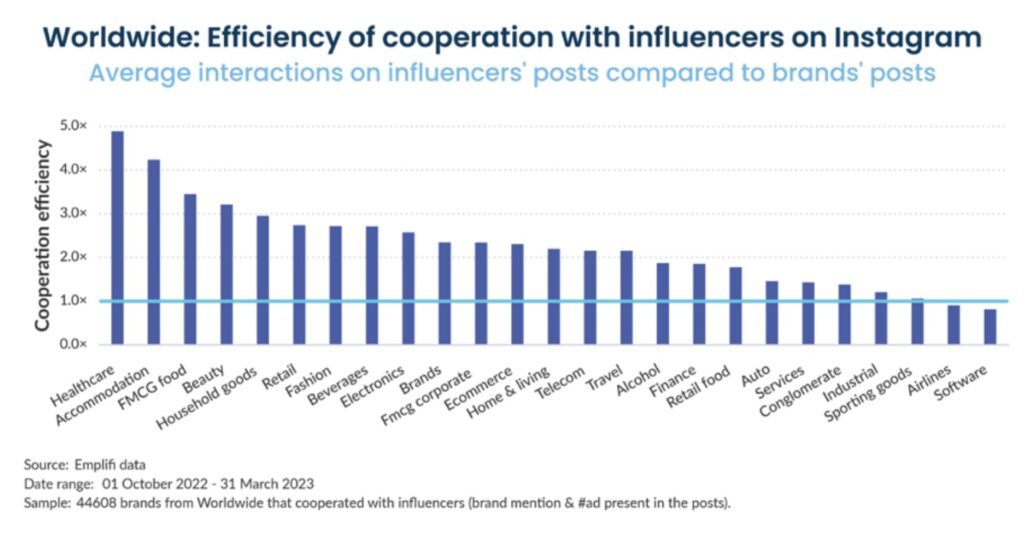 Source: Emplifi
In the beauty industry, where influencer marketing has been well-established, influencer campaigns have proven to be highly effective. Beauty brands that run influencer marketing campaigns can win 14x the reach and 3.2x the engagement compared to non-influencer campaigns. As influencer marketing continues to gain traction across industries, it is important for brands to understand the unique opportunities and challenges associated with each industry, and to tailor their influencer marketing strategies accordingly.
Key takeaways
90% of influencers use Instagram followed by TikTok

 

241% increase in Reels content
Healthcare brands can achieve some of the highest reach through influencer marketing