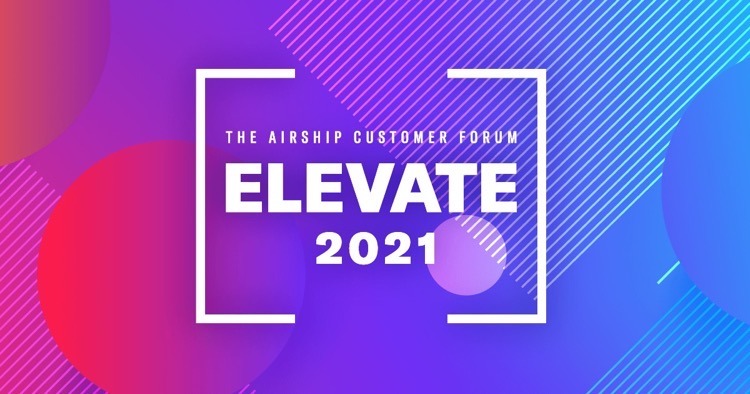 Elevate 2021, the Customer Forum from app experience platform, Airship, featured insights and innovations presented by market-leading analysts and professionals from across the globe.
Mobile professionals from the likes of Disneyland Paris, Shell, BBC, Chipotle and Allstate talked through how they have been driving business success through their mobile apps. All sessions are now available for free here and you can find some of the key highlights below.
COVID-19 accelerates digital transformation
Speakers described how the pandemic and related lockdowns have accelerated the shift toward mobile apps as a preferred destination for almost everything, propelling brands to sharpen their mobile app experience capabilities.
Airship speakers, including CEO Brett Caine, highlighted the increasingly important role that mobile apps play in our day-to-day lives. Caine cited Airship findings that mobile app audiences from its global customers grew 31% year-over-year in 2020, which was almost twice as fast as 2019 growth.
Renowned tech analyst Benedict Evans explained how the pandemic shifted the internet's position in the ecommerce funnel. "Because people are now using the internet to decide what to buy… it's no longer just a price comparison engine. Now, it's a much more fundamental part of the purchasing journey."
Apptopia CEO Jonathan Kay shared extraordinary data that revealed the benefits of investing in the mobile app experience to meet ever-increasing customer expectations as compared to the downside impact of not doing so. 
Mobile success requires prioritizing the user experience
Examples from all speakers highlighted the necessity of ensuring every app ultimately addresses consumer preferences for a respectful, easy and relevant experience. The more those experiences feel personal and contextual, the better for all involved. 
Benedict Evans noted that consumers expect digital-first experiences because they know what a great experience looks like. What might work inside brick-and-mortar stores doesn't necessarily translate into what works in a mobile app. As he so aptly put it, "there's digital and there's good digital." The difference will make the difference between winning and losing.
Joseph Brookes, Digital Product Lead at Shell highlighted the importance of establishing better internal cross-functional collaboration when they rebuilt their app, bringing different teams together towards a 'connected customer' strategy. This meant that Shell redefined its product team to bring teams that would otherwise work in silos, from loyalty, digital payments, data and CRM, working towards the same shared objectives. By making this internal change, it enabled them to bring the product to market quicker, and to take actions within the app at scale and globally. 
In the case of Disneyland Paris, their approach had the unique challenge of transferring Disney's magical moments in its theme parks into magical digital experiences, especially in the app. User feedback has been key in streamlining Disney offerings to ensure a purpose-built app experience that complements their physical spaces. Yasmin Kouchouk, Director, Digital Experiences, stated, "2019 for us was about ensuring basic functionality so that we could grow from there and drive business value." This data-driven approach has allowed for a consistent schedule of introducing new elements based on user information. In 2021, Disney continues to optimize everything from maps, booking ride slots, meet and greets, guest itineraries, and planning mealtimes based on a multitude of factors that contribute to more personalized guest experiences. 
Mobile success requires a next generation technology innovation
From the keynotes to our panelists, our experts spotlighted rising customer expectations as a key driver of their mobile strategies, solutions and investments.
Allstate's Cheryl Washkowiak described how intelligent automation (powered by Airship) empowers the insurance brand to elevate mobile engagement with their customers. With event-triggered automations, Allstate is now able to provide its customers with highly contextual and personalized messages in the precise moments of need, whether it's a natural disaster or as simple as when a bill is due for payment.
Carolyn Letts spoke about the importance of integrations, especially for cross-channel promotions, and pointed out how team-wide inclusion making use of Airship strategic services sessions helped them discover and use features they might not have considered otherwise. The formation of the BBC's Notification Strategy Group has worked well to ensure all app content managers are working cohesively and staying on top of the ever-looming conundrum "how many notifications is too much?" When running multiple apps under one organization, it is important to weigh the risk of cross-promoting the same message across too many platforms to singular users. Airship integrations provide tangible metrics that allow them to fine-tune this balance. 
Meko Elmekway, Head of Digital Sales Capabilities at EnBW noted that shifting the mindset to understanding digital as a priority has taken some time in an industry – energy & utilities – not traditionally considered digitally-forward. Yet now the business takes a mobile-first and mobile-only approach, having seen tangible results and growth from investing in its digital services. Meko summarized, "Whatever journeys we are designing, we must be conscious that our customers are in the driving seat. Consumers have choices and we have to convince them and build trust. Ultimately they have choices. So it's up to us to stay relevant."
Insights & preferences create better experiences & more loyal customers
All presenters spoke about the importance of understanding meaningful customer insights in order to shape more personalized communications, experiences and products. GetPlus cofounder, COO and CMO Adrian Hoon described how rich and relevant customer data has powered GetPlus' incredible growth, enabling the Indonesian multi-brand loyalty program to deliver customized rewards and incentives that keep customers engaged, happy and loyal. Hoon explained that "consumers today are willing to share personal data with the brands they love, but in return they expect those brands to reward them and tailor their offerings."
Kristen Reinke, CRM Marketing Manager for ACE Hardware outlined the instrumental role that mobile plays for their loyalty members, allowing ACE to reach these engaged and valuable customers with unique offers, promotions and useful how-to content — all of which are designed to provide significant value.
Chipotle's highly regarded loyalty program got multiple shout outs at the event, and not just during our fireside chat with Chipotle. Apptopia's Jonathan Kay shared data that showed how Chipotle's loyalty program drives industry-leading app engagement with clear and measurable spikes when Chipotle promotes new and exclusive rewards and features.
More broadly, Apptopia's data also showed how investing in loyalty translates into higher revenues, reiterating that simply having a loyalty program isn't enough. Brands that invest in the app experience for their customers — especially their most loyal customers — are primed to see +50% gains in customer growth, time on app, retention, and a significant bump in revenue.
If you missed the event, you can still access all of the global presentations, panels, roundtables and technical labs for free, on demand here.