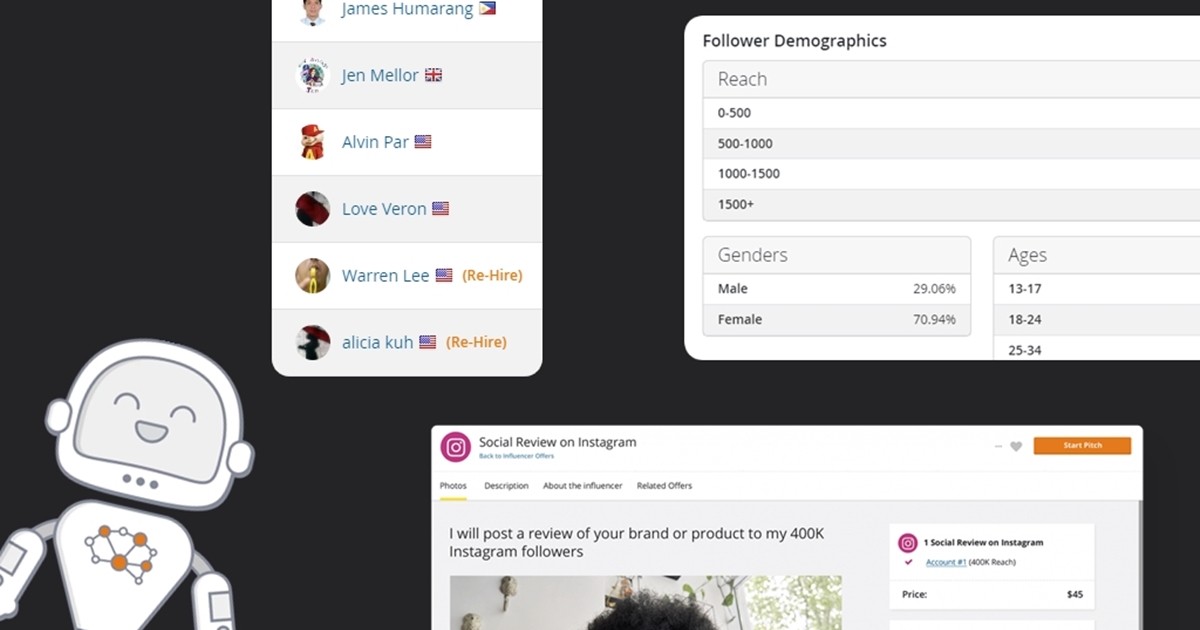 Welcome to 2023! Last year was quite the roller coaster for many, which saw us rolling out massive FREE plan changes to try and help those brands financially impacted by all the turmoil. Now that 2022 is behind us and given it's been several months since I've provided a seasonal wrap-up, let's dig in.
This post was first published on intellifluence.com.
27,000+ active brands
We keep on growing. Most of you lovely brands joining us are coming in on the FREE influencer marketing plan. Thank you for choosing us to test the waters and especially those of you that realize we're a good fit and upgrade to Starter through Advanced.
216,000+ influencers
Back in August, we were almost to 200,000 so casually increasing the base of creators by 8% over a few months after 6.5 years in operations is nothing we take for granted.
Throughout this period we've been quietly rolling out the logic to remove spam signups, so the raw numbers are even higher. That's not what you're here for, so let's look at the fun stuff. Per usual, I can't disclose various security and fraud updates and will skip the numerous bug fixes as well as admin-only changes, so here are the Fall pull requests of note from the ~200 to choose from.
Audience demographics and plan expansion for free brand users
Audience demographics
We have been asked for demographics repeatedly over the years. My biggest reason for not doing so is a good amount of the data encountered in our testing appeared to be unreliable. We now have a mix of processes to capture and determine audience demographics for Instagram, YouTube, and TikTok (which are of course the most popular social networks by usage). Currently, we are updating demographics on verified users of these social platforms when their overall audience size justifies a deeper dive for brands.
Free brand improvements
I won't say a whole lot since we actually had an announcement specifically for it, but FREE brands can run a campaign to get a better sense of the full capabilities stack at Intellifluence.
Worked with expansion
Brands can now determine who they've worked with across an entire account, an individual campaign, or a singular brand alias associated with an account.
Marketplace visibility filters
Some brands have so many campaigns that they needed a way to filter deeper to find active and visible campaigns faster.
More talent manager overhauls
In our system, talent managers have a special role which requires them to be able to oversee and interact on the behalf of multiple influencers simultaneously. At times our development will focus on drastically improving one user type, so we used some of the past few months to catch up on the functionality for talent managers to put it on par with the rest of the user types.
Re-hire
I love this one, which came from one of our most active Advanced brands. Sometimes a brand might have a great experience with an influencer and wishes to immediately re-hire them without having to jump through another campaign setup. We made it a lot easier to keep working with the creators you like working with.
Private public marketplace offers
A request from another of our Advanced brands was the desire to set up a Marketplace Offer that could be applied to, in order to skip having to perform outbound pitches in the system, but also a way to set it as private so a brand could provide the offer when encountering the right influencers potentially outside of the Intellifluence ecosystem. This has worked great as the brand is able to DM commenters on their Instagram channel with the offer with ease.
Cleaning up influencer offers
Some of the improvements here have to do with being able to toggle what's available by hiding temporarily inactive influencers' offers as well as those that are associated with social accounts that are de-verified. The goal here is to only show the highest quality offers to brands as we can.
Product campaign logic
Some campaigns are more complex than others and occasionally influencers would get confused about what they're allowed to do when it comes to product purchases, refunds, and reviews. The improvements here focus on ensuring Sallybot knows when to warn the brand or influencer if a campaign's parameters are being potentially violated and provide appropriate warnings to prevent such issues. It'll also now prevent pitch acceptance if a brand has been locked or deactivated, protecting our influencers.
Mobile dynamic linking
It's somewhat simple conceptually but has had a nice impact. Influencers have access to iOS and Android apps to manage their workflow, but when getting emails from the system would have to separately go to the app to interact; we simply tightened the experience so the app is utilized if it exists on an influencer's phone.
Sallybot messaging
We're always looking at support feedback, so whenever we're getting the same type of request, question, or complaint, we try to solve it programmatically. In these cases, the answer was to inject transaction thread messaging to pre-answer questions related primarily to money. Happy users = happy support team = happy Joe.
Gracefully recognize links
Sometimes influencers will post review links in a message rather than the available process, so we made the system smarter to recognize the URL as a potentially finished product and allow brands to treat it as such if they choose.
Flags in more places
If you're working on a lot of campaigns that span geographies, it can be helpful to know where an influencer is from. The simple way to provide this information at a glance is to display the flag that corresponds to their current mailing address in more areas where you might be making decisions that require geographical nuance.
What's next?
A lot of workflow improvements are currently in the pipeline, designed to make interaction with the platform smoother and faster. As we continue to scale users, this is one of the best uses of our time: increasing everyone's happiness. We're also hard at work with our partnership initiatives and deeper integration of support into the everyday use cases that drive our continued growth.