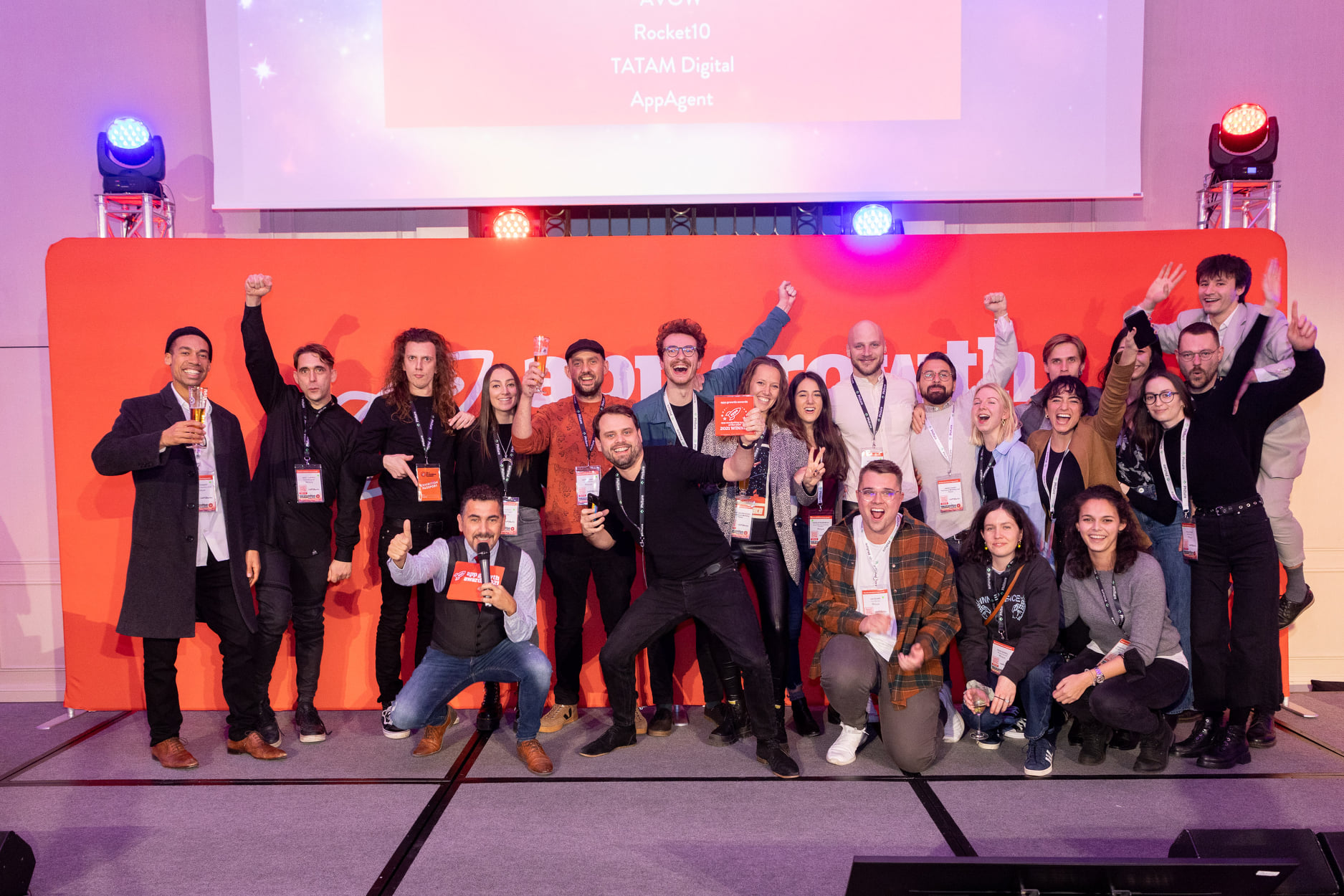 We are delighted to reveal the 2022 shortlisted finalists for the App Growth Awards, now in its sixth year of celebrating success in the global app industry.
Our expert panel of 15 independent judges whittled down over 340 submissions – more than we've ever before. The vast array of entries from a myriad of companies highlights the growing size of an increasingly sophisticated app growth ecosystem.
All of the shortlisted finalists will be celebrated and the winners announced at our ceremony on December 1st at Hotel Adlon in Berlin.
The shortlisted finalists, by category, are as follows:
App Advertising Platform
AppLovin
HUAWEI Ads
Liftoff
Skai
App Analytics Platform
Adjust Datascape
devtodev
Adapty
Swaarm
App Data Platform
AppTweak
App Radar
Adapty
Qonversion
App Engagement Platform
CleverTap
Iterable
MoEngage
OneSignal
App Revenue Platform
Purchasely
Qonversion
wappier
MMP of the Year
Airbridge
AppsFlyer
Adjust
Branch
ASO Tool
AppTweak
Asodesk
App Radar
SplitMetrics
ASO Agency
ConsultMyApp
Gummicube
Phiture
RadASO
User Acquisition Company
AppAgent
Bango
HUAWEI Ads
Persona.ly
App Marketing Agency
Apptamin
Geeklab
Phiture
SplitMetrics
App Growth Innovation
Phiture – Lifesum
Purchasely
Smadex
SplashLearn
App Marketer of the Year
Alice Muir, Phiture
Hannah Parvaz
Jess Hill, Apadmi
Soner Sensoy, Storyly
Yanina Velikova, Admiral Media
App Video
Customlytics – Storytelling Birthday Campaign
Photomyne – Video Loop for FilmBox App
PhotoSì – App Video
Phiture – The Trail to Success: Komoot
Fastest Growing App
PickleJar Live
Playsee
SplashLearn
Sweatcoin
Growth Team of the Year
Yodel Mobile
Entravision + tyba
G5 Games Marketing Team
Plarium Product Marketing Team
Subscription App Campaign
PPC – Minimalist Phone Campaign
Adapty – In-app Paywalls
Quit Social Media
Saga Sleep – Stella
Finance App Campaign
Thing or Two – Banco Azteca
Storyly – Kapital Bank
Chip – 'Save Smart, Not Hard'
ConsultMyApp – Snoop
Shopping App Campaign
Customlytics – Shop Apotheke
Yodel Mobile – Quidco
Storyly – Dolap
The Hut Group – Shopping Apps
Entertainment App Campaign
Smule – adidas Runtastic Challenge
App Growth Network – Coin Splash
Affle – Dil Filmy Toh Suno Filmy
InMobi – Streaming Campaign
Mobile Games Campaign
Smadex Creative Studio
AppAgent – Game of Words
Goodgame Studios – BitLife
G5 Entertainment – Sherlock
App Store Marketing Campaign
REPLUG – Fitness AI
Admiral Media – ImmoScout24
SplashLearn – Kids Learning App
Wave – Wave The Rainbow
Retention Campaign
Nasty Gal – Love Island
PhotoSì – Retention Campaign
REPLUG – SEEN
Shopmium – Cashback Boost Campaign
Influencer App Campaign
Sweatcoin – Promote Sweatcoin
Tatam Digital – Blinkist Curious Minds
Admiral Media – TikTok Campaign
Customlytics – Micro Influencers
Paid Social App Campaign
Customlytics – WeShare Campaign
REPLUG – ODXClub
Admiral Media – TikTok Campaign
Adquantum – Fitness app
Outstanding Contribution to the App Industry
The winner will be announced on the night!
Congratulations to them all, and commiserations to the entries that didn't make it through.