Data revealed by research company Gartner shows that for the first time, Microsoft's Windows Phone platform has fallen below 1% market share globally. It's also shown that Android has attracted further market share, and continues to pull ahead of second placed iOS.
At the beginning of 2015, Microsoft's Windows Phone operating system managed a 2.5% market share, which subsequently fell to a mere 0.7% at the start of 2016, barely keeping ahead of BlackBerry OS with 0.2%.
Microsoft's Windows Phone platform now has less than 1% market share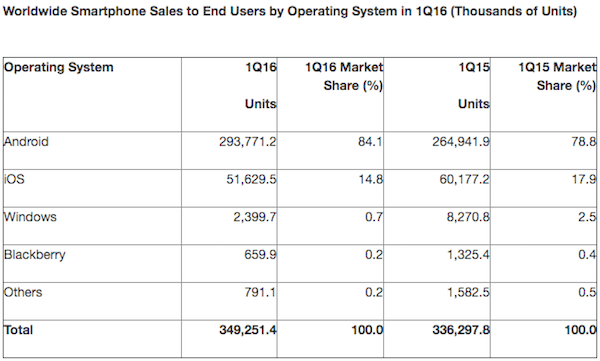 Google's Android is now estimated to have an 84.1% share of the global smartphone market, up from 78.8% at the start of last year. It has certainly culled users from Microsoft, but also from Apple's iOS operating system, which fell to 14.8% share this year from 17.9% last year.
Elsewhere in its latest report, Gartner says 349 million smartphones were sold during the first three months of 2016, a slight 3.9% increase over the same period in 2015. Read the entire report by visiting Gartner's website here.