Microsoft has released an update to the Windows App Studio, which enables developers to make apps without using any code, and in a short amount of time. Cleverly, the update streamlines the app submission process, and apps can now be sent to the Store using only Dev Center, rather than visiting Visual Studio first.
There are also several other new features, including a Live Tiles Editor, where Dynamic Live Tiles can be designed inside the App Studio. Additionally, the new version has an advanced theme and icon editor, an editor for the Hero image, UX improvements, and initial support for Windows 10 IoT.
A Live Tile Editor is among the new features in the updated Windows App Studio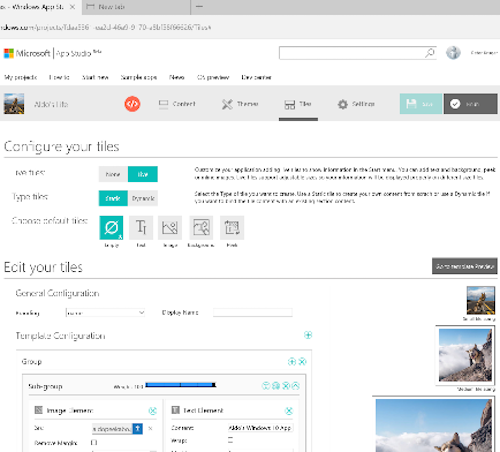 Microsoft says that while the App Studio is designed to produce universal apps, developers with active Windows 8.1 projects can simply convert them over with a few clicks. It has also released a new app, named the Windows App Studio Collection App, where app collections can be managed and updated, without the need to use the App Studio website.
More on the Studio Collection App can be found here, while additional information on the App Studio is here.