Instagram rolled out advertising last year and with the help of Facebook's advertising targeting features, it is now predicted to make $1.85bn in advertising revenues globally. However, according to eMarketer report, Instagram Advertising 2017: Big Strides in Its First Year, but Questions Remain ad performance on Instagram is mixed.
The research finds that fewer marketers are planning to spend on Instagram ads (31%) as polled in September compared to those questioned in February 2016 (34%). In addition, 12% of advertisers said they planned to decrease spend on Instagram ads, compared to 8% polled earlier in the year.
US marketers planning to spend on Instagram ads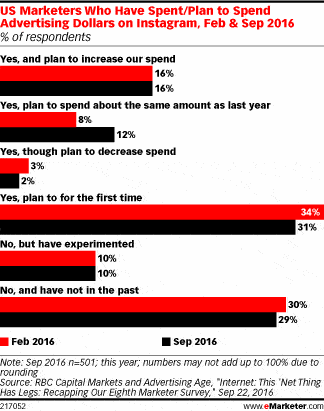 Source: emarketer.com
Facebook recently announced that the picture app now has 500,000 advertisers, having doubled its user base over just six months. This could be an indication of the variety of businesses that are trialling the platform to see of there is value.
Initially, Instagram was slow to launch advertising on the mobile app and when it finally did, demand was huge.
According to ad automation company Nanigans, over half of its clients were using Instagram by April 2016 compared to a third in October 2015. Average monthly client spending increased 29% between February and April 2016.
Indeed, it seems that more US marketers are wanting to use Instagram for client campaigns in 2016 compared to 2015. Data by 
Strata
 found that 63% of US ad agencies planned to use Instagram for campaigns in 2016, up from 34% in 2015. That's an intention nearly as high as that for YouTube (67%).
US ad agencies plan to utilise Instagram for client campaigns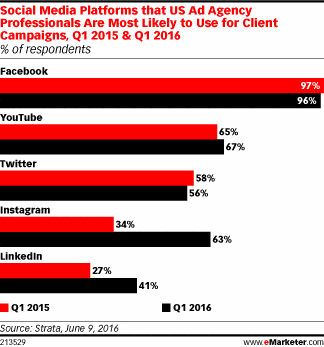 Source: emarketer.com