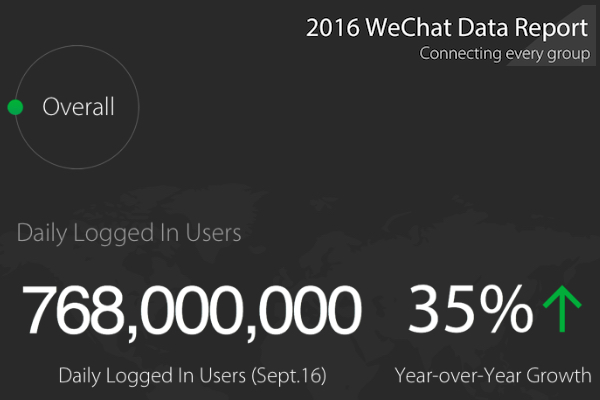 Half of WeChat's 768 million daily users spend at least 90 minutes in the app, according to the latest figures from the social app. WeChat revealed this statistic and more in its 2016 Data Report, looking back at its performance over the last 12 months.
The 768 million users represents a 35% growth over 2015's numbers, and messages sent though the platform have also seen considerable growth, rising 67% over the year before's figures.
WeChat's 2016 Data Report reveals statistics related to the social messaging app
A typical WeChat app user was born in the 80s or 90s, sends 80% of all the messages, and makes up 65% of the active users. Young WeChatters aged between 17 and 21 are fewer, just 14% of the monthly active users, but are among the most prolific. Users over the age of 65 make up just 1% of the user base.
On average, a a young WeChat user sends 81 messages each day, 13% of which are voice messages, while the average user sends 74 messages, with 16% coming with voice. WeChat also talks about its senior users, saying they send 44 messages a day, but 22% are using their voice. WeChat's Moments blog posts are also popular with its young users, with 74% posting a Moment using pictures, text, or video. The average user dips a little to 65%.
The complete WeChat 2016 Data Report can be viewed here.