The games studio behind the hugely enjoyable Job Simulator game for the HTC Vive, Owlchemy Labs, has completed its Series A funding round with $5m in the bank. Several of the VR-focused funds have been involved, including HTC itself, Colopl VR Fund, and The VR Fund. The round was led by Qualcomm, while Capital Factory and several angel investors were also involved.
Owlchemy Labs has completed its Series A funding round
Job Simulator is one of the games included with the HTC Vive VR headset, and the studio will continue to add more content over time. However, the investment will be primarily used to create more original VR games, hope additional content developers, and to improve VR technology.
Alex Schwartz, Owlchemy Labs CEO, said: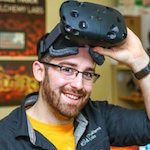 "VR has been a deep passion of ours for many years and being at the forefront of designing new virtual worlds is truly a dream for our whole team. We've solved some of the toughest design and development challenges in this new medium, and with this investment we'll apply these lessons to a portfolio of full games."
You can learn more about Owlchemy Labs and its game projects by visiting its website here.