The Apple Watch hasn't been the wearable technology success it needed to be, according to analysts at TrendForce, and now the industry's expectations are on virtual reality headsets.
By the end of 2015, TrendForce says around 8 million VR headsets will have been shipped, but next year, this figure is likely to increase to a massive 27 million. It estimates VR and smart headwear will account for $60b in sales next year, as Sony, HTC, and Oculus all launch their consumer edition headsets.
TrendForce's data shows VR will likely drive wearable device growth over the coming years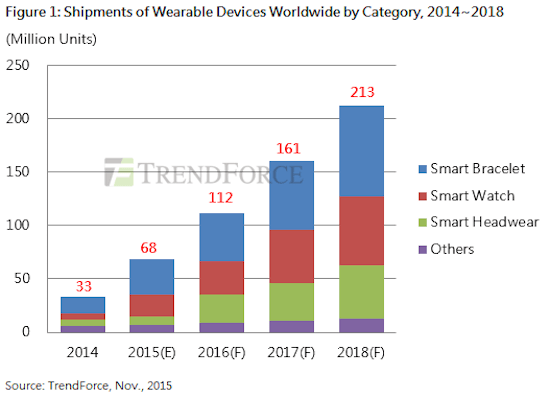 However, this doesn't mean smart wrist wear will disappear. TrendForce still expect fitness bands and smartwatches to increase in popularity, but states the main growth driver for wearables over the next few years will be VR.
Jason Tsai, wearable device analyst for TrendForce, said:
"Apple Watch has not been able to significantly lift the overall demand for smartwatches. Smart bracelet remains dominant in the wearables market. The industry is betting on wearable virtual reality technologies to be the main growth driver for next year. Hence, a lot of attention has been paid to several VR devices that are set to launch at the start of 2016."
In another set of figures, TrendForce says it has lowered the annual Apple Watch shipment estimate from 15 million to 12 million this year, and expects 20 million shipments during 2016. For smart bracelets and fitness trackers, the 2016 shipments are expected to reach 45 million.