Android 6.0 Marshmallow is the most up to date version of Google's mobile operating system, but it's not the most widely used, despite being available since late 2015. Version 6.0 is used on 7.5% of all Android devices at the moment, according to Google's latest figures, with Android Jelly Bean, KitKat, and Lollipop all ahead of it.
However, while this is concerning — the latest version of Android includes essential security fixes that are important for consumers — the number of 6.0 Marshmallow users has been steadily rising, and all other versions have been falling.
Android Marshmallow is the only version of Android gaining new users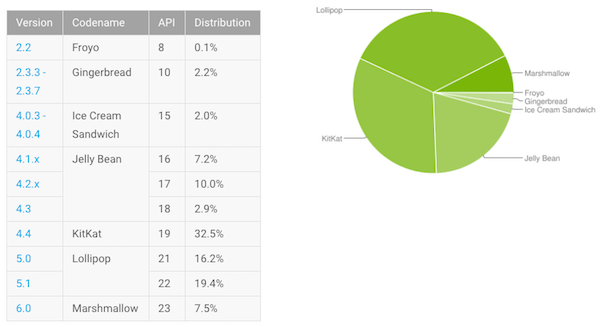 In April, Google showed 4.6% of phones ran Marshmallow, highlighting a nearly 3% rise over the past month. All other versions fell by nominal amounts — 4.4 KitKat reduced from 33.4% to 32.5% for example — except for 5.1 Lollipop, which remained steady at 19.4%.
Google is expected to announce the next version of Android at its Google I/O conference, that take's place between May 18 and May 20.