Security company Trustonic has announced Trustonic Hybrid Protection, a new platform for use by developers to secure their apps. It works in an unusual way, by always using the highest available level of security on a device, regardless of whether it supports the Trustonic Execution Environment (TEE) or not.
Trustonic's Hybrid Protection provides the highest level of app security available on the device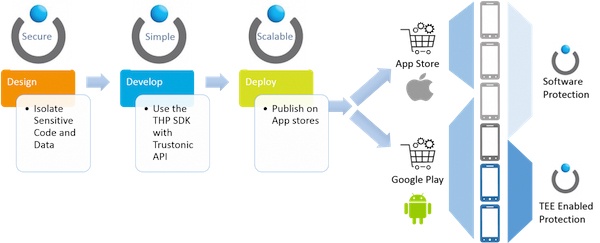 It works like this. When apps with Trustonic's TEE platform are installed on a device that supports TEE, app code is fully protected by Trustonic's platform. If support isn't found, then the app will swap to software-based protection. This ensures apps have the best available security in operation, no matter the device's capability. It's even possible to use both software and TEE protection together.
It's convenient too. The single API works for both Android and iOS, and selection of security levels is automatic. Sensitive code is selected through the API, packaged, and the app is published as usual. Trustonic has more information on the Hybrid Protection platform on its website here.