Tom Young is CMO of ConsumerAcquisition, a social advertising technology company. Tom contributed to the development of AdRules™, an ad management technology for mobile app advertising on Facebook and Instagram. Tom has managed over $100 million in ad spend over the last 10 years, and has acquired more than 40 million mobile app users on Facebook and Instagram.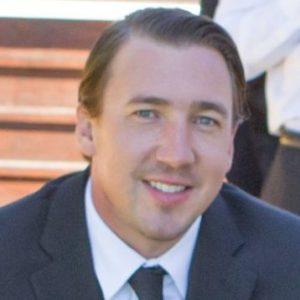 What is Consumer Acquisition and how are you positioned in the market?
ConsumerAcquisition is a social technology company that helps brands, direct response advertisers and agencies achieve performance at scale with Facebook mobile app install advertising.
We're a social ad tech company that also offers fully managed services. We have a narrow focus on Facebook and Instagram mobile app advertising, and we consistently deliver results that outperform the competition. Our entire team consists of senior-level talent that have individually spent millions of dollars on Facebook and Instagram, which allows us to maintain a high-quality service.
ConsumerAcquisition simplifies social media mobile app advertising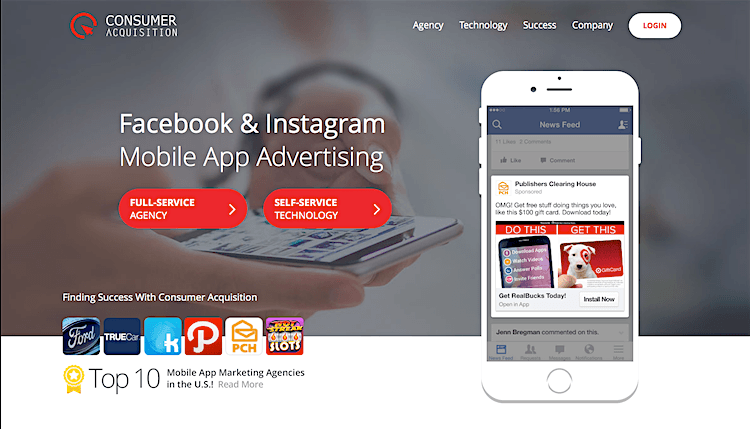 What types of clients do you work with?
We work with brands, direct response advertisers and agencies, and we focus on mobile apps and games. Sample clients include:
Mobile apps and games: ShopKick, Publisher's Clearing House, MobilityWare, PlayDraft, Perk, Path
Web clients: Ford.com, TrueCar, Bills.com, SunBasket, TheFind, RealCloud, SocialProof
What geographies are you focused on and where are you seeing the most growth?
We are focused on US advertisers. We are seeing massive growth in the US, and we also support US advertisers that are advertising internationally. We saw growth with international advertising in 2015 and expect the same in 2016.
What are your main tips for successful app marketing on Facebook ?
Facebook/Instagram is a unique advertising channel, and there are 2 big challenges that advertisers need to overcome in order to scale efficiently and beat the competition.
Challenge #1: performance volatility
On Facebook and Instagram, performance volatility occurs hourly, and "today" rarely performs the same as "yesterday." Traditional approaches to direct response advertising generally favor more data and older data (due to statistical relevance,) where we favor recent data over statistical relevance. By favoring recent data, advertisers can more effectively scale the ads that are performing best "right now," and they can also protect against risk from ads that are performing poorly "right now." The best advertisers have learned to capitalize on hourly volatility, and our social ad platform, AdRules, helps automate this process.
Challenge #2: creative dictates success
Facebook and Instagram ads consist of a combination of images and text. The difference between strong creative and poor creative can cause swings of 10X (or more) for an advertiser's cost per app install. This means an advertiser's creative will often determine whether or not they can scale efficiently. The best advertisers place a strong focus on ongoing creative testing and optimization, and they never quit testing.
To help understand creative performance, AdRules provides access to real-time reports that are unavailable with Facebook Ads Manager, including hourly performance and creative performance rolled up across many ads. This allows advertisers to understand recent performance and capitalize on volatility in the Facebook marketplace.
What potential does Instagram have for driving growth and installs?
In Q4, we scaled Instagram ads for many of our larger clients. Instagram is now outperforming Facebook from both a volume perspective and a cost perspective for several of our clients. Advertisers are no longer discussing the potential of Instagram, they are now seeing real results, and Instagram is a true game-changer for mobile app advertisers.
Instagram and Facebook are the #1 and #2 traffic channels for mobile app install advertising, hands down. Unless an advertiser is spending more than $2 million per month, they will generally see better results on Facebook and Instagram than any other option available. We recommend that all mobile app advertisers sprint to test Instagram immediately.
How does your technology track mobile app installs on Instagram?
Our proprietary AdRules™ ad management software tracks every mobile app install that results from our Instagram ads. We can also track downstream events for every user and optimize ad spend for these events. For instance, many gaming clients will track the % of users who make in-app purchases in the first 7 days. This allows us to optimize ad spend for revenue producing events and ROI, rather than simply optimizing for a low-cost mobile app install. We took a unique approach to software development, focusing on real-time data and the ability to measure account health indicators. We use advanced analytics and our algorithms are fully customizable, so we are able get incredibly efficient with the ad spend for each unique client.
What do you think the big themes for user acquisition are going to be in 2016?
Mobile will continue to grow – as we saw from Facebook's Q4 earnings, mobile advertising is in a massive growth phase. We expect user behavior to continue to shift towards mobile, and we expect users to continue shifting their time spent from mobile web to mobile apps.
Video ads will become more prevalent – video ads are another growing segment of Facebook's advertising business, and we expect this trend to continue in 2016. Performance from video ads has been exceptional for some advertisers, but only a small percentage of advertisers have direct response video assets readily available. As advertisers see more success with video ads, other advertisers will be inspired to create and test video ads as well.
Expanded reach – in 2014, Facebook launched the Facebook Audience Network to increase the reach of their ads to mobile apps outside of Facebook. In 2015, Facebook introduced the ability to advertise on Instagram, once again increasing the reach for advertisers. In 2016, we expect Facebook to launch another reach-expanding product, and there are a couple of possibilities. WhatsApp and Facebook Messenger are being discussed as the likeliest opportunities.
Outside of Facebook, we expect Google to rapidly expand their mobile app install offering. Snapchat is testing mobile app install ads and we understand Pinterest is considering the same. As a social ad tech company, we look forward to expanding AdRules to any social channel that drives high-quality and high-volume for our brands and advertisers.
What type of people work on the Consumer Acquisition team?
Advertising – we only hire Sr. level talent with extensive experience managing Facebook and Instagram ads. We all get our hands dirty, which means the CEO and CMO are literally launching ads and managing accounts hands-on. We believe everyone on the team needs to be hands-on in order to understand the ever-changing marketplace and to ensure we're always improving our strategies. We are hiring Facebook experts, please check out our job listings.
Technology – front-end and back-end developers
No product team – we developed AdRules without a traditional "product" role. Our campaign managers developed an unbeatable process for managing Facebook and Instagram ads, and then our campaign managers worked with our technology team to build software that automates and further optimizes the process. Most of our competitors began developing a product before they developed an advertising process, which gives us a competitive advantage. The software is built for advertisers, by advertisers who use the software every single day.
If you want to know more about what Tom and ConsumerAcquisition do visit ConsumerAcquisition.com!