Test IO, the rebranded name of Testcloud, has announced its impending launch in the U.S, and the completion of a $5m Series A funding round. The company manages a self-service crowdtesting platform, where app developers can access the skills of more than 20,000 qualified software testers around the world.
The company recognizes the importance of mobile app testing, and 70% of its tests are designed for mobile, including those based on workflow, usability, and the GUI.
Test IO provides developers with fast access to qualified software testers, and has raised $5m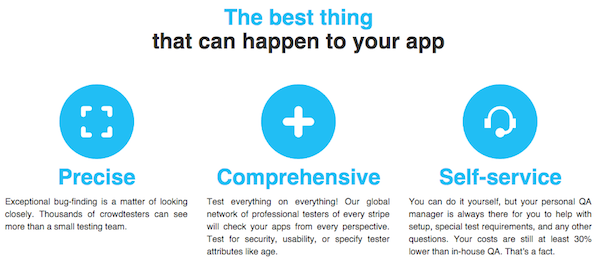 Thomas Gruderich, Test IO's co-founder, said:
"Today's economy is driven by mobile apps and software, and developers at startups all the way to Fortune 500 companies seek faster, cost effective ways to test software through the entire development process. To meet this demand, our priority is to provide a platform that developers can easily manage themselves, yet tap into the speed, quality and efficiency of crowdtesting."
The new funding will be used to push forward with the company's U.S. launch, accelerate its growth, and complete the rebrand which is part of its push into North America. The company counts Red Bull, Volkswagen, and Thomas Cook among its clients. You can learn more about the company by visiting its website here.