Nick Duddy is the founder of Miratrix and has spent 10 years understanding search engines and how they work for the benefit of his clients. In 2013 he turned his eye to App Store Optimization and organic mobile growth and hasn't looked back.
Nick also currently holds a research post at UCL researching the Google Play Store and Apple App Store algorithms.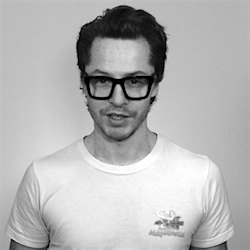 When it comes to mobile phone app promotion many experts in the industry will say that clients need to spend a small fortune on their branding as well as promotion to help promote their app to potential users.
However, this approach may not be that straightforward and, from our own experiences at Miratrix, may not be the most cost-effective way of reaching users as well as.
There's no doubt that clients will want to spend time and money on creating their brand and message because this is how they want to convert app users into paying customers so they will use their branding within an advert's text and imagery to boost their offering.
In many ways, this is a continuation of real world marketing experiences and while it may be successful in other fields, that's not always the case when it comes to mobile phone apps.
To illustrate this point, we undertook the promotion of a mobile phone app that was aimed at helping users of the giffgaff phone offering to top up their accounts more easily. The idea was that by using the firm's own app, the phone's users would be able to top up their account more quickly and more easily than they would do by going into a store or by using a network's own app.
giffgaff Facebook ad #1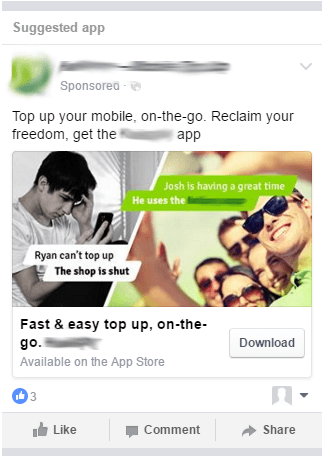 It's interesting because giffgaff is aimed at upsetting the market by offering a cheaper and better service than many networks so it's obvious that they would be keen to promote their own branding to users to help underpin their own excellent offering.
Adverts for the mobile phone app
This meant that when the adverts for the mobile phone app were designed, the branding was used extensively and with relevant imagery. It would make sense that by doing so would help attract potential users and help boost the app's popularity and deliver an impressive take-up of the giffgaff top up service.
The app's UPS is the fact that topping up is done easily and more quickly than by using other apps which is what the adverts effectively said. These adverts took time, creativity and money to create and the branding and messaging was strong. The client wanted to convey this as effectively as they could which is why the text and imagery within the advert contained strong branding.
However, the reality of using this advert showed it had a low relevancy score with their own customers and had an extraordinarily high CPI of £15 ($22).
The next step in mobile app promotion is to reinforce the features and benefits for the app's users which would also underline to giffgaff's customers appreciating that they have a giffgaff mobile phone. To make this point, the promotion was still using heavily branded images with strong messages to help sell the app and the topping up service.
giffgaff Facebook ad #2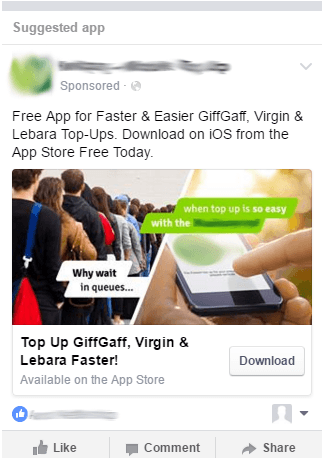 We also worked with the client to illustrate that we should highlight to their customers which networks they could top up with by using the app rather than using the network's own mobile phone app.
Mobile phone app promotion
This is where the result of mobile phone app promotion becomes interesting because the results of the second tranche of adverts were impressive and showed a decrease in CPI of 200%. This shows that by clearly associating the app's use with brands and working to ensure that users knew which networks they could use was important to them and for the results we generated.
While these results were impressive and everyone was happy with a campaign, we wanted to utilise our own expertise and experience in promoting mobile phone apps to test a third variation of the advert.
For this we wanted to remove all branding for the app and instead targeted network-specific adverts with the network's own brand in the image and this led to a further 20% decrease in CPI.
giffgaff Facebook ad #3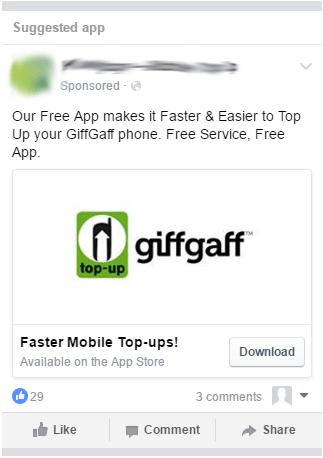 Promote a mobile phone app
Essentially, the message is very simple to anybody who wants to promote a mobile phone app and that's the fact it's important that you don't have to lead with brand messaging but should instead lead with the app's features and benefits for its users.
In addition, this approach also enables a new company who may not have an established brand or image to gain a foothold with potential users and they can also, if it's at all possible, piggyback other better-known brands which will help build trust with their offering by associating it with an established brand.
The bottom line is that mobile phone app users aren't really all that bothered about who is offering them a service – regardless of how excellent or cheap it may be – but are instead concerned with using an app that is useful to them in terms of saving them time and money and having real benefits to enjoy.
If you want to know more about Nick Duddy and his company Miratrix visit his website.