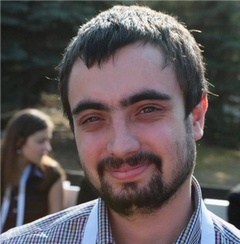 To cover the mobile audience in Russia and the CIS, you don't need many sources of traffic. As you might expect, most of the mobile traffic is found within the apps of major social networks, the apps you find on the first and the second screens of your smartphone.
In Russia these apps include Odnoklassniki (Classmates), Moi Mir, VK (Vkontakte), Facebook, Twitter and a few other services. In the Russian version of AppInTop mobile app markeitng podcast we invited Mikhail Maliy, director of mobile ad sales at Target.Mail.ru to learn how to get a mobile audience from the "big buttons" of the Russian internet at the lowest possible cost.
How is traffic distributed between Odnoklassniki, Moi Mir, Vkontakte, all of which are owned my Mail.Ru Group?
It's not very useful to talk about percentages.  Let me give you some more or less representative figures.  As you'd expect, Vkontakte is in first place in terms of coverage (including mobile coverage).  However, right now Vkontakte doesn't have a finished advertising product.  As for their audience, in my estimation, they have over 50 million monthly active users.
As for Odnoklassniki and Moi Mir, Odnoklassniki has over 40 million monthly active users, and Moi Mir and the Mail.ru portal together have about 35 million monthly active users.
Facebook is a worldwide network with enormous coverage, and it's in first place.  But if you look only at Russian traffic, although I don't have precise data, it seems to me that it is an order of magnitude smaller than we are.
The top apps usually found on the first and second screens of a smartphone have their own advertising networks.  But there is another player on the market called the CPI networks.  Do they have their own traffic, what percentage share of the market do they have, and where does their traffic come from?
CPI networks actively buy mobile traffic from us.  They may be involved in arbitrage, or work directly with clients.  It all depends on their relationships.
They may come to us with some understanding of the offer price, and have some experience working with our advertising products and with our social networks.  They understand theoretically how much app installs in different categories might cost, calculate their margin, and go from there.
We do a lot of work with CPI networks.  That said, we are very selective about our partners.  We try to sit down with every partner that is involved in arbitrage or CPI (that is, if it's big and will work with us directly, and not through affiliates), and try to understand what advertiser that CPI network is working with, what kind of CPI-network it is, and what in-house trackers they have.
We also want to ensure that traffic will not go elsewhere.  Only after completing our review do we place a CPI network on our whitelist and give them access to the Target products.
They contribute significant revenue, something like 30% of Target's monthly revenue at present.  Do they have their own traffic?  Nobody ever talks about this.  No CPI network will disclose if they have their own traffic, with high conversion rates and high volumes, or with lower conversion rates but which costs less.
How do you view the CPI model given the current environment?  Do you consider it damaging?  Elsewhere we see some kind of fraud in 20, 30, 40 or even over 60% of trackers.  Why don't you sell CPI, or do you?
We do, but this is a separate project.
I would differentiate CPI networks which have considerable mobile experience and work exclusively in mobile, and there are quite a few of them on the market.  They may have worked in arbitrage on the web.  Now they are refocusing their business. Maybe several years ago they started to shift towards mobile.
They have gained some expertise, and they are less likely to try to dilute traffic.  Everyone knows who these people are, and it's okay to work with them.
Okay, so you decide to promote a CPI model.  Say an advertiser comes to you who wants installs for 2 dollars, and you know that he has a tracker which will take half of this traffic from you.
You need to understand that demand for one or another model comes from the customers; moreover, as a rule, from customers with considerable budgets.  Of course, there are customers with their own strong marketing teams, in-house teams, which can buy and analyze large volumes of traffic on their own.
As you know, a considerable share of advertising is for game apps. The majority of those apps are not developed in Russia.  When you have an app aimed at the whole world, it's very difficult to use 100,000 traffic sources and analyze exactly which source works in which region and which is most effective in terms of man hours used– it's a complicated process.
Moreover, for game developers right now Russia is not number one target in terms of profitability.  So they can't spend a lot of time on promotion in Russia.  Therefore it's easier for them to work through various partners who convert traffic for them.
I understand that this is in the future.  But let's come back to my question.  An advertiser comes to you and you know that you'll lose half of the revenue because of the tracker they use.  What do you tell them?  Do you up the price?
We won't lose half.  We are integrated with the two most widely used trackers—Appsflyer and MAT.  Of course, we warn every client that one way or another there will be some loss of traffic (around 10-15%).
As for pricing, we don't use individual pricing for installs.  It's a fixed price of 70 rubles (1,43 Euro) plus VAT of 18% regardless of the type of app you come to us with.
And if I come to you with a paid app, will you just not approve it?
We'd probably suggest another solution.  If your app costs a dollar, maybe it makes sense to come to us.  But if it costs more, we will probably use a more comprehensive product to promote it.
One thing I'd like to note is that our primary traffic is in promo-blocks directly from the news feed in Odnoklassniki and Moi Mir.  And what's more, this is a single traffic channel.  You can't buy Moi Mir or Odnoklassniki separately.  But you do get wider coverage this way.
On these social networks traffic is sold only based on the CPC—you pay per click.
We're working on making our CPI product available through the navigation menu.  For example, in the apps Odnoklassniki, Moi Mir and Mail.
The navigation menu—this is when you are in Mail and say you want to get to a certain group.  For example, you want to go from Odnoklassniki to a certain group.  You open the navigation menu, as a rule with a left upper click on the icon, the screen moves a little and from the left side a menu appears with various folders:  Inbox, Drafts, Compose Message.
If you scroll down a little, there will be a showcase ad space.  It's been there for over a year, and it's used to promote our own apps related to the Mail.Ru Group.  Since we know that we don't have enough traffic, that there is demand for CPI and we'd like to satisfy the needs of our clients, we sell CPI traffic in this navigation menu.
How much we generate in a day depends on the situation and the specific app you're promoting, but on average it's several thousand installs, from iOS and Android traffic.
What is your team proud of?  What features and technology do you have that your Western competitors do not offer?
One thing to be proud of is that we were the first to launch this exclusively using Russian traffic.  Here I don't have in mind a Western brother, but our comrades from St Petersburg.  We're proud of the fact that we were the first to do this, the first to launch, and that since November we have continued to develop this, and see significant growth in turnover practically every month, in the double digits, if not more.
We are very interested in developing targeting based on our understanding of the audience.  In addition to the standard targeting which we offer, like gender, age, and geographic location, we have a set of tools, which use targeted lists.
What are targeted lists?  This is where you have some data, and you can upload this data into our system, and your audience will be targeted based on how you described it, based on your cohorts.
Apart from this we have our own targeting, which we develop based on interests.  We recently updated our list of interests—now there are more than 110 items, and we constantly add to it.
Tell us about volume.  Say I'm an advertiser and I came to you with a game.  How much traffic can you give me per day out of all the traffic on Target.Mail?  Is there some kind of limit?
You need to understand that right now there's a lot of competition.  On the whole developers account for more than 60% of all advertising.  Once again, the difference in pricing is very large, because the audiences of the social networks are rather unique and huge, but they're finite.
There are some apps that are in high demand.  They might get 2 to 4, and sometimes 5 thousand installs per day.  Then there are apps  which simply aren't interesting to the Odnoklassniki audience.  That's an important point, because our primary traffic is from Odnoklassniki.  Apps like that can achieve 300-600 installs per day.
Every situation is an individual case  and depends on what audience you are targeting.  There are high-spending audiences, for example men and women aged 25-34.  There are lower spending audiences—40 years and above and under 20.
Do you have different price levels for installs in different categories, say for productivity, business, and games?  Is the price roughly the same or not?
The price is the same.  We recently had a case with a very popular service app offering mixed content, which really surprised me.  Their price per install turned out to be 6 rubles (12 Euro cent).  This stands out from the rest.  Usually the range is from 25-100 rubles (0,5-2 Euro).  It's higher for tablets, because there is less traffic.
If you were to break it down by segment, then service apps are closer to 50 rubles (1 Euro), games around 30-40 rubles (0,6-0,8 Euro), and iPhone apps are also around 50 rubles (1 Euro).  It's very difficult to give an average price for all products and all categories.
If I came to you with a paid app, what price would you offer?  Does it make sense to approach you with that kind of app?
Here you need to start from an understanding of who the audience for the app is and use targeting based on known interests to promote it.
The cases where we've had paid apps haven't involved games.  There was a yoga app and an alarm clock app, etc.
These are service apps and the ability to use targeting by interests to assemble the most relevant audience allowed us to keep the price per install roughly equal to the price the developer charged for the app.
There's a type of advertiser who loves to go after these minimum prices.  They often say that the minimum prices per click Target.Mail offers are too high, and you don't get much for the money. What is your response to that?
It seems to me that in the present conditions it's not entirely correct to talk about a cost per click.  Let's talk about cost per conversion, or install, or other events in the app.  This is more accurate, because you can buy clicks for a ruble per click, but you won't get any results.
Besides, we have an understanding, which we gained in developing our own products such as mobile games or service apps.
We get feedback from advertisers and from when we promote our own products.  Before releasing any tools, we test them first on our own products—on Mail.ru games, on service apps, etc.
We know that we have a quality audience, and a quality audience should not be cheap.  So let's not look at the cost per click, but the cost per conversion.
Could you give 2 or 3 examples of how non-standard targeting allowed you to attract the desired audience?
I'll describe the targeting that works effectively for game app developers and their partners involved in promoting these apps.
In the web version of Odnoklassniki, there is a considerable number of game apps—more than 1,000.  They're in a special catalogue with games, like in Facebook.  More than a third of Odnoklassniki users are part of the gaming audience on the web.  The category of social games, like the ones in Odnoklassniki, is also found in the mobile world.
We have targeting by specific apps.  That is if you were to go to Odnoklassniki and wanted to promote something in the farm category, you'd be out of luck.  You won't find them on Odnoklassniki in any form. So you take the top 5-10 apps in Odnoklassniki by audience size (number of active gamers), get their URLs, go into our dashboard, go to the Audience tab, add these URLs in the special section "Games and Apps."
So you selected 5-10 apps and can start to play around. You can  either include only those users who played all the apps, or those who played at least one of the apps (it's better to use this to get broader coverage), or those who paid in a particular app.  You can create various samples.
You can select an audience consisting of anyone who at least once paid for something on Odnoklassniki.  In doing this, you are making the assumption that if the user plays in one or another category on the web, that he probably will be interested in a similar offering on a mobile device too, even if they're completely different games.  We had a case where we almost doubled the conversion rate.
At the same time don't forget that in putting together this kind of audience you are limiting your coverage.  It probably makes sense to conduct some campaigns with wider coverage, or ones which are either narrowly or medium targeted, to get a more relevant audience.  You can run them at the same time or one after another.
Do you have a Look Alike targeting?  
This is an excellent tool. It  searches for users similar to those which you provide and based on certain criteria entered in the system.
We are developing this tool.  We know that it works very effectively, because we continuously work with our advertisers to get their feedback on what helps them optimize their ad campaign, so that they will bring us a larger budget.
I hope that soon we will accept ad campaigns to run in the closed beta.
You said that you will be starting your own advertising network.  Why? Won't it damage your quality and reputation?  How will you catch all the fraudsters?
Having seen the effectiveness of our traffic, advertisers want to spend more and more money.  Unfortunately, the volumes we have today are limited.  So it was logical for us to look for outside traffic.
We have a lot of experience, since a considerable portion of our team came from Begun and knows how to deal with fraud and how to build an advertising network, so this task is not complicated for us.
As for quality, this will be a separate traffic source, a separate option, a separate platform, and an external resource.  So we won't do much harm to our main product.
How do I become one of your Beta testers?  
You should keep in touch with me and my colleagues.  We are willing to accept volunteers for testing.  Actually it's all rather routine.  There are some people who I have known well for a long time, so I'm in touch with them often.  They call or write and ask "Misha, what's new?  When are you going to release something?  We're ready to test," and we conduct testing with them.
It's not that we will only do testing with them—we're ready to test with anyone, especially those who will give us an outside expert review.
Will there be websites and apps in that ad network?
Of course.  What's more, the network will allow you to buy traffic from the whole network through our dashboard.  We are also looking at our users with an active account at Mail.ru.  We know everything about them—we have an understanding of what kind of users they are. So, this is a certain portion of the audience.
It will have the same targeting which allows you to increase the relevance of an audience and conversion rates—targeted lists, gender, age, geography.   This allows us to optimize quality for the specific tasks the advertiser has given us, whether on the Mail.ru advertising service or using external resources.
VK.com is now part of your holding.  Why not introduce your advertising technology to VK?
I think that technically this would not be a problem for us.  Our team is willing and we're ready technologically, but as for VK, as far as I know, they will have their own solution in the near future.
This is a translated and edited interview from the Russian version of the AppInTop mobile app marketing podcast produced by AppInTop, an automated mobile app marketing platform. Subscribe to the English version of the podcast via iTunes or TuneIn. If you find our materials useful for your profession, please sign up for a mobile app marketing course here.