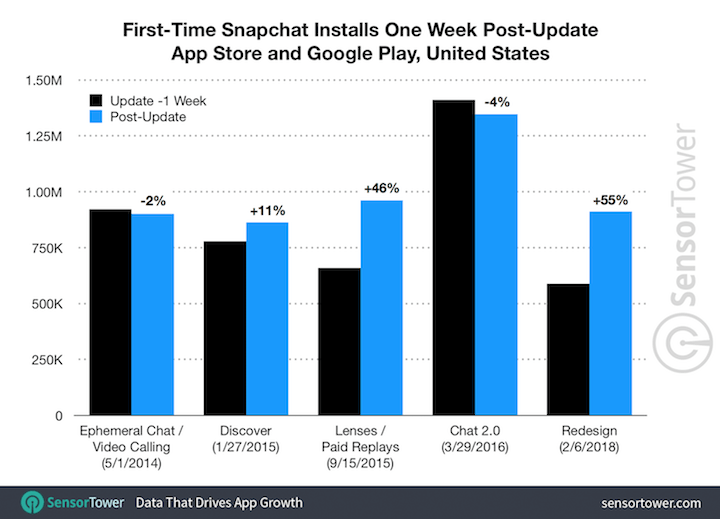 For Snapchat, negative reviews don't mean fewer installs, they mean more, according to Sensor Tower's data. Its most recent update, a controversial redesign, saw installations of the app rocket up by 55%, despite 88% of the subsequent reviews being negative — a trend that has been seen before.
In early 2015, the Snapchat app update introducing Discover attracted poor reviews. In the 10 days following release 76% of the reviews left were negative, yet installs increased by 11%. Towards the end of 2015, when Lenses were added to the app, the trend was even more noticeable.
The update with Lenses was equally unpopular, with 75% of reviews skewing negatively after 10 days; but installs increased by a massive 46%, all compared to previous updates. Updates that have been more popular, have actually seen a drop in installation numbers after 10 days of release.
Sensor Tower's Jonathan Briskman writes:
"It's worth noting that the response to the controversial updates is not necessarily net positive, as other Snapchat users could be deleting the app or switching to a competitor. In any case, our findings suggest that you shouldn't assume that app store reviewer sentiment will impact growth of new Snapchat users like it would for other apps or mobile games."