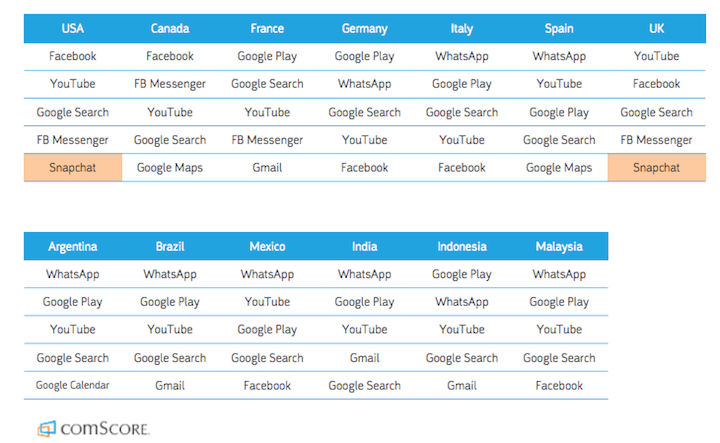 While Facebook's family of apps continues to dominate the top app list from ComScore, it's shown Snapchat has entered into the top 5 for the first time, and in two key markets. Snapchat's appearance in the top 5 apps used in the US and the UK is a significant increase over the 9th position and 16th position recorded, respectively, at the beginning of 2017.
Facebook and WhatsApp claim the number one spot in nine of the 13 markets listed by ComScore, with the rest taken by Google's apps. Facebook's own app rules in the United States, ahead of Google's YouTube, while it's YouTube with dominance in the UK, followed by the Facebook app.
The trend continues throughout the rest of the top five apps in all the markets. Facebook Messenger makes several appearances, but Facebook-owned Instagram does not, leaving the playing field open for Google to assert its superiority. Google Play, Search, and Calendar all regularly appear, along with Google Maps and Gmail.