The ability to send push notifications to users will improve the retention rate for your app, and not by a small amount either. Research shows the average figure can more than double if users are able to receive messages. Over a 30-day period, app retention without push notifications enabled sits at just over 20%, but if the app sends out messages, this rises to 45%.
Similar benefits come on the 60-day and 90-day graphs. After 60 days, apps have a 35% retention rate with push enabled, or 14% without. This drops to an even more worrying 10% after 90 days, but with push notifications active, it's a far more healthy 27%. That's a 150% and 180% increase respectively.
Apps that can send push notifications to users have a better retention rate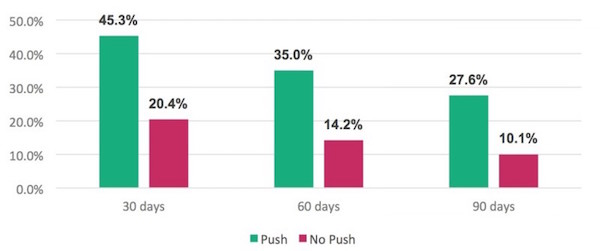 The figures have been taken from data collected from 39 million mobile app users, and collated by Kahuna, a marketing firm specializing in mobile. The company also states the average opt-in rate for push notifications sits at 62%, but if this is boiled down to show rates for iOS and Android, it's not an even split.
This is due to Android automatically enabling push notifications, requiring an action from the user to turn them off, putting the average for Google's OS at 78%. Apple's iOS asks the user for permission upon installation of an app, and the average drops to 46%.