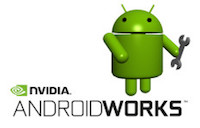 Computing and graphics company Nvidia has launched AndroidWorks, a spin-off product from its successful GameWorks development platform, that's dedicated to building advanced games on the Android mobile operating system.
AndroidWorks is based on the Tegra Android Developer Pack, and although Nvidia produces the Tegra mobile processor, it's not solely for use with its own platform. It integrates the many pro-level development tools, plus Microsoft Visual Studio through Nsight Tegra, and provides a single-click Android app development system.
Nvidia says it aims to "unshackle from the constraints of the Android software development kit," helping developers realise the power of Google's mobile OS, and reduce the time it takes to reliably debug applications.
Nvidia introduces AndroidWorks just as it announces the Android TV-based Nvidia Shield
The release of AndroidWorks comes just as Nvidia launches Nvidia Shield, which is based on the Android TV OS, and will benefit from increased Nvidia-focused developer activity. You can get in-depth information on Android Works features on Nvdia's dedicated page, or simply sign-up for the kit right here.