Nintendo's Animal Crossing: Camp Fire mobile game is the company's second most downloaded mobile title, with 15 million downloads in its first week of release. In its first 9 days of availability, the game took $10m globally according to Sensor Tower.
Looking at revenue, Animal Crossing: Camp Fire comes in behind Super Mario Run and Fire Emblem Heroes for Nintendo. Super Mario Run, taking in both Android and iOS launches, took $24m in the same time, while Fire Emblem Heroes took $33m.
Japan's in-app spending tops charts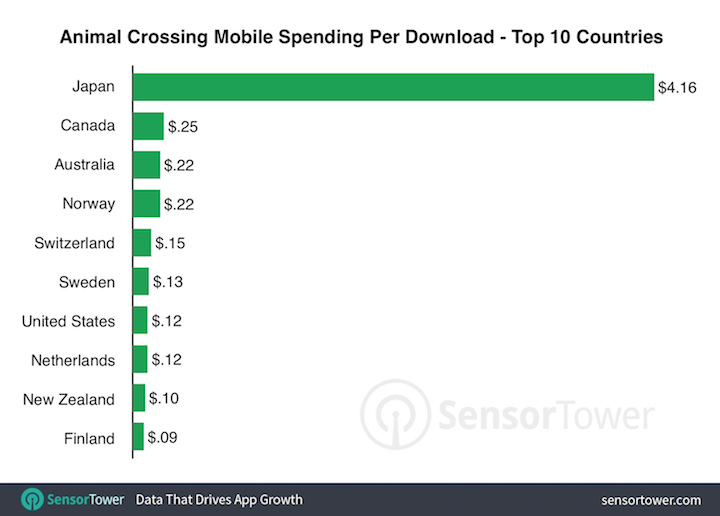 Japan leads the way when it comes to in-app purchase spend per download, and by quite some distance. Data puts Japan's spend at $4.16, while second place Canada only manages $0.25. This means Japan represents 86% of all revenue generated by Animal Crossing: Camp Fire so far.
Randy Nelson, head of mobile insights at Sensor Tower reminds us:
"Bear in mind that these are still extremely early days for Nintendo's latest title, and that the publisher has yet to begin rolling out what will surely be an extensive and long-term campaign of new content and in-game events. In fact, the game is already running its first live event themed around the Christmas holiday."
However, Animal Crossing's average spend in Japan is very close to Fire Emblem Heroes spend, a title which went on to amass $240m worldwide to date.