Google has introduced some important changes to the way apps are updated through the Google Play Store. The alteration affects the size of the update file, reducing it by as much as 50%, meaning it consumes less data for users, which is key for those not connected to Wi-Fi.
It's all down to a new algorithm called Bsdiff, which produces more efficient delta update libraries, provided they are uncompressed. The difference can be dramatic. In its announcement, Google provides several examples, showing a major update file that previously took up 22MB of data, is reduced to 12.9MB using Bsdiff.
The Google Play Store now shows precise information on app update file sizes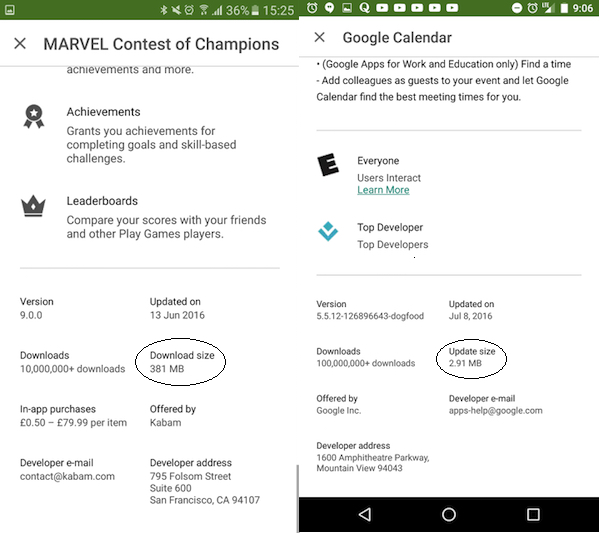 More minor app updates can be crushed down even more. A 15MB update containing only minor changes becomes 3.6MB after applying the Bsdiff algorithm. Google has also put its algorithmic changes to work on APK Expansion Files, estimating initial download sizes can be cut down by 12%, and updates by 65%.
Finally, in an effort to make download and update file sizes clearer for app users, both initial and update file sizes are shown in the Google Play Store, depending on whether the user already has the app installed or not.
Google has given some usage tips for Bsdiff newcomers on its blog here.