Meteor Development Group, known for its Meteor JavaScript platform, has announced an extension of its Galaxy app hosting service called the Galaxy Developer Edition. It's standard Galaxy service is aimed at businesses with considerable needs, and not only contains features that some developers don't need, but is priced beyond the reach of many too.
Galaxy Developer Edition is made for developers who have made personal, or project apps with Meteor, and are looking for a cloud platform from which to manage and operate it. Meteor will charge $0.035 per GB, per hour for the Developer Edition, which it says equates to around $13 each month. This is limited to five 512MB containers.
Galaxy Developer Edition introduces new prices and services suitable for more developers building apps with Meteor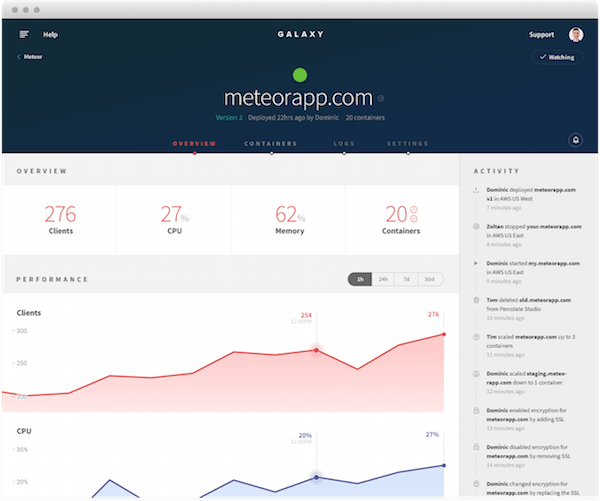 In the announcement blog post, developers are told apps can still be deployed with one command, and metrics will be available, giving CPU and memory use, number of connections, and more during a five-minute window.
It's early days for the Galaxy Developer Edition, and Meteor is staggering the launch, meaning interested developers must apply for access first. "We want to make sure that everybody who runs apps on Galaxy has an outstanding experience," it's stated in the post, "That means we need to onboard new customers to the system incrementally, instead of opening the floodgates all at once."
To use the Galaxy Developer Edition you'll need an invitation, which can be applied for here. To learn more about the company, visit Meteor's profile here.