The latest holiday shopping season has seen sales boosted across traditional retail, eCommerce and mCommerce with MasterCard predicting a jump of 19% in online sales for the entire period.
Now MarketTrack has taken a closer look at the shopping high season to discuss trends in sales and marketing tactics. It says that increased traffic has driven sales and competition, with eCommerce discounts reaching new levels.
During Black Friday, the average discount was 45%, compared to 42% in 2015 across all categories. During 2016, discounts outside of Black Friday were most competitive during the Christmas period.
The research also tracked average daily online prices for top holiday categories over the season to find out when discounts were steepest. Product categories including headphones, home theater systems, and TVs were lowest in price during Black Friday. Small appliances and wearables hit a low point during Cyber Week, whilst tablets and game toys jumped to the bottom later that season. Indeed, games were at their lowest during the week just ahead of Christmas.
MarketTrack says that competitive pricing within the tech and gaming sector is largely due to frequent comparisons of such categories with competitive pricing visibility at all times.
Product category pricing index November to December 2016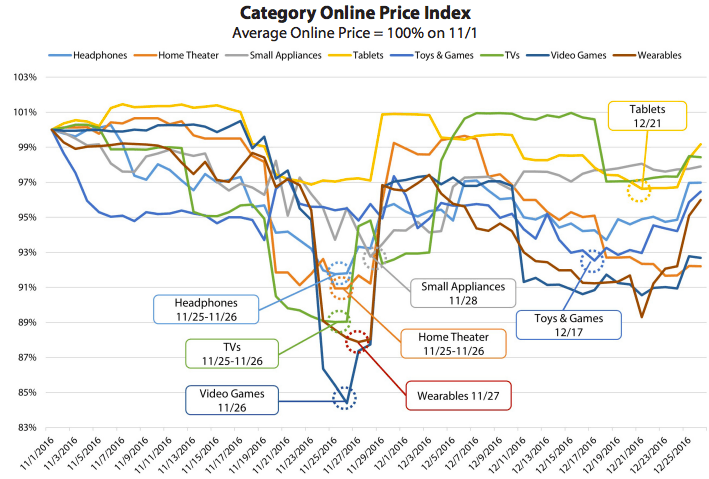 Source: markettrack.com
Mobile ads and marketing initiatives were key in driving consumers to shop at certain destinations this past season. According to the numbers, web and email promotions influenced 33% and 27% consumers respectively to shop where they did. Surprisingly, 48% reported that print campaigns influenced their shopping.
Cross-channel messages drove some of the best results. One example is US department store Kohl's, which ran a last-minute shopping initiative that began on December 19th with a TV ad. It was reinforced the day after through a website initiative and then ran as an online display ad. On the 23rd December, Kohl's boosted the campaign further through email. This ultimately maximised the retailer's reach of shoppers across devices.
mCommerce now accounts for 20% of all digital commerce, according to comScore. MarketTracks, post-Black Friday Shopper Insight Series Survey revealed that 35% of shoppers made a purchase on their mobile devices by December 5th. Retailer Best Buy seized the opportunity in 2016 and boosted its mobile display ads within the app and mobile version of its website promoting deals on popular consumer electronics brands.
In addition, email has become another attractive option for mobile and digital marketers and retailers to explore, offering distinct advantages such as push promotional messaging, discounts and sales event announcements. Retailers increased their opt-in email volume by almost 28% over 2015. During the holiday season from Thanksgiving onwards, that figure jumped to 36%. 69% of survey respondents said they received email promotions from three or more retailers.
Email opt-in volume
Source: markettrack.com
MarketTrack advises that mCommerce retailers wishing to take advantage of the 2017 holiday shopping seasons should pay attention to the timing of their promotional initiatives. In addition, pricing needs to remain competitive and products deals should be valuable to the end consumer. In particular, late-season shoppers can be beneficial targets throughout an advertising campaign.